Premier Sponsor Sealegs International reported another highly successful Onetangi Beach Races recently 
Over 140 Waiheke Island and Auckland Sealegs customers enjoyed an exciting day of racing. This was all despite a less than preferable weather forecast promising 20 knot onshore winds and 1-2 metre swells.
Sealegs beloved event, the Exhibition race, which invites participants to dress up both themselves and their Sealegs craft in a show of ingenuity and creativity, proceeded in spite of the weather in a slightly different format from previous years, with an on-land only display. This didn't appear to affect the crowd or participants who engaged with the same, if not more enthusiasm than in past years.
This year they had a new entry to the winner's circle, Gough and Smith in an ABBA themed Sealegs, as well as regular winners: the water pistol firing Fisher family and the Burridge family as team NZ complete with 'foils'.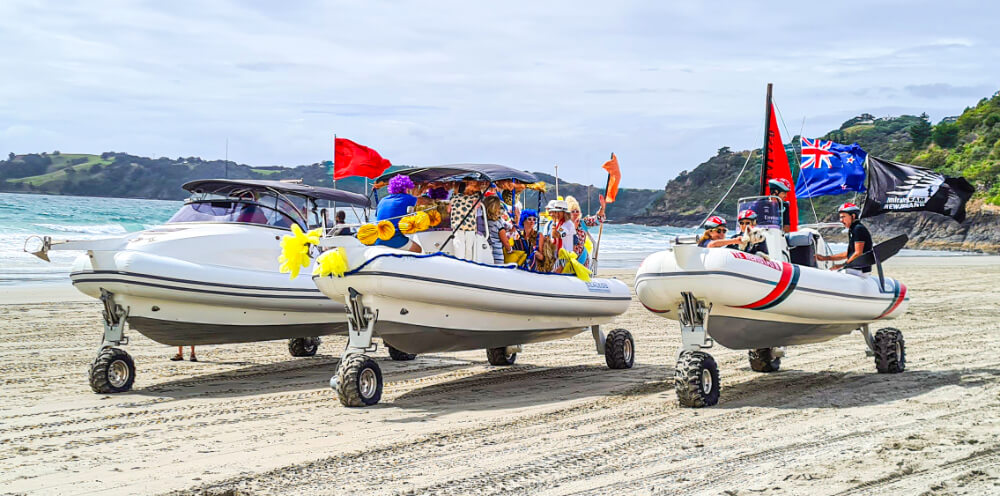 Sealegs Chief Executive Officer David McKee Wright said "the beach races have become somewhat of a tradition, providing our owners a unique opportunity to gather together in one place with their Sealegs to meet with other like-minded owners, speak to Sealegs staff and show off their creativity with their decorated boat and costumes. We weren't going to let a bit of rough weather ruin the day."
During the event, Sealegs Chief Executive Officer David McKee Wright announced that all Waiheke Island Sealegs residents would be provided after-sales service free of charge from their Island-based customer service technician as a way to say thank you for their support and dedication over the years. As the home of over 110 Sealegs, Waiheke Island has the highest concentration of Sealegs per square km than anywhere else in the world.