Tough, stylish and extremely well finished, the Osprey 750XT is an exceptional boat.
Text & Images by Richard Milner
The Osprey brand has been around for years, but it is a recent player in the recreational market. Osprey Boats was born when Lloyd Elliot a kiwis kiwi needed to manufacture alloy hulled boats for the fishing industry. We all know how particular kiwis can be about their boats, so this had to be the right blend of form and function.
Almost 20 years later Lloyd sold Osprey Boats to Malcolm Coffey and Lloyds son Matt Elliot who still works in the business and is one of Malcom's closest friends. It's a real story of the family legacy and not only are they selling boats domestically, but they have a huge offshore market as well. While the boats are highly respected in the commercial sector for harbour boards, conservation trusts and tourism operators they have become a household name with tenders and more recently the recreational market. I have it on good authority that there are up to sixteen or more of them being used as tenders and work boats on Kawau Island just north of Auckland.
In a bold move, Malcom decided to feature one of his winning size ranges at their first ever display at a Hutchwilco New Zealand Boat Show. Not only was it a standout design but it was built to impress with its bright orange paintwork, that stood proudly amongst other brands with a no-nonsense sense about it.
Sure, enough on first glance its quite a peculiar design. It's a pontoon boat sure but it's also got quite harsh sides that don't show the pontoon. Now what's that all about. This look gives me the impression of a warn hardened battle tank, but this was orange, so it certainly warranted a closer inspection.
Of course, like many manufacturers Malcom was quick to tell me how its hull was the smoothest ride at the show. Well, I was going to give him that opportunity.
The day came for our sea trial, and we picked the boat up from Mercury Marine in East Tamaki, Auckland and for a change I had a chance to tow the boat to the ramp. My Ranger ute happily towed this 7.5m boat with the 250hp engine and 400L of fuel. It felt lighter than my fibreglass 6.5m boat.
The ramp was a simple affair with the easy-to-use drive on drive off latch and before long we were heading down the Tamaki from Half Moon Bay in Auckland.
Straight away it struck me how wide the cockpit was and suddenly it dawned on me that there is a reason the boat looks so tough and robust. Unlike other many manufacturers that build their cabin and cockpit inside the pontoon, Osprey have made the most of the usable space and this gives almost another 500mm of useable beam. Now that's not to be sniffed at. It's incredible.
The helm area I must admit I was a little cramped until I realised that the helm seats do move fore and aft and once setup it was a comfortable sitting position. Of course, that didn't last long and soon I was using the bolster position. The cabin is quite tall, and while some smaller builds may find it difficult to see over the bow with ample visibility all round this really isn't a big issue.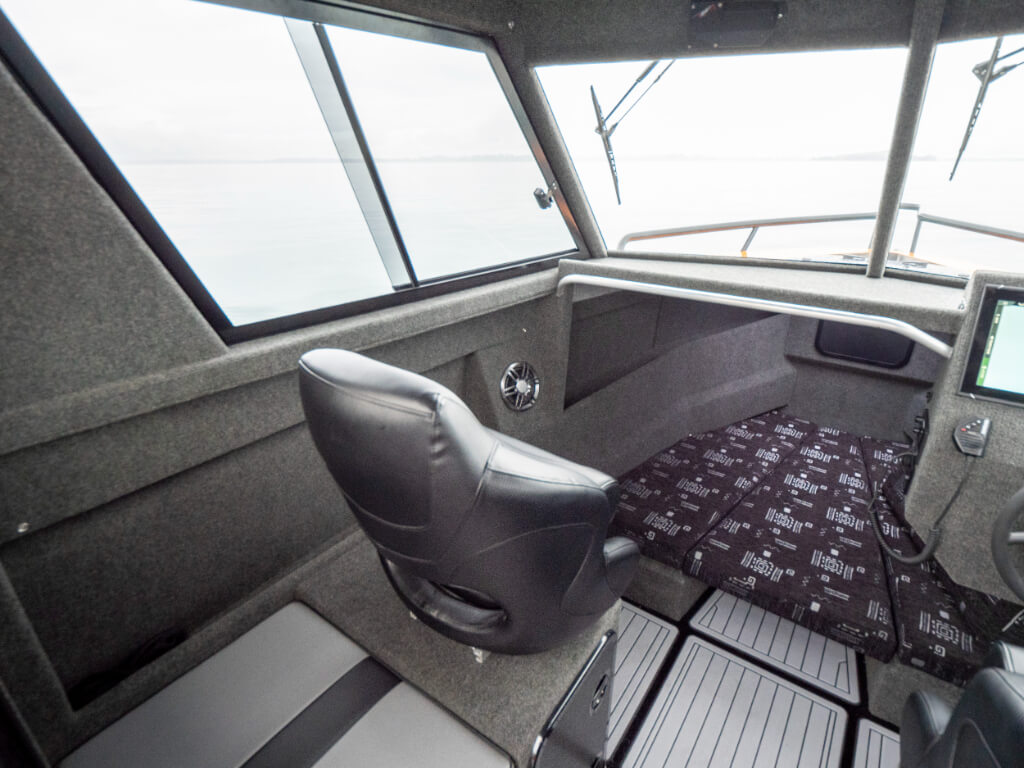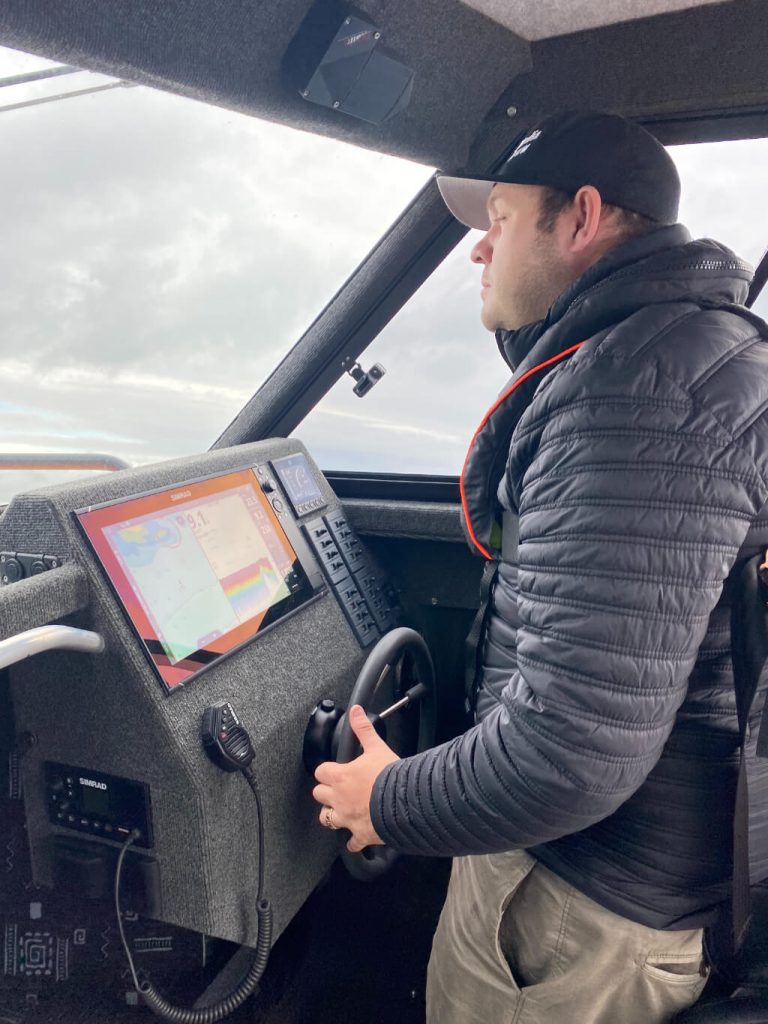 The hardtop is a good size and the roll down clears are a stroke of genius. They use a bolt rope design that is insurance accepted as lockable and a great feature for added security. I'm sure many of us, myself included like the idea of a closed in bulkhead to keep the weather out on a rough return trip but it does separate you from your mates in the back. The Osprey 750HT uses the roll up clears, so it gives you the choice between keeping the weather out, having it partially open with the side clears or totally open. I really like it.
The hardtop can be extended and even a separate head can be added on the portside. This boat came setup with two adjustable seats and two inbuilt box sets behind. These box seats are very large and could encompass a gas cooker. There are tons of storage below the adjustable seats. Storage and space are a real focus for this boat.
Overnighting has been well thought out also. Many boats of this size range require a compromise. More deck space equals less cabin or more cabin equals an uncomfortable night on the water. The Osprey 750HT has found a clever compromise whereby the foot well area of the cockpit fits in squabs for overnighting giving a very comfortable 2m V berth with infill. If you are just day boating, then you can leave these at home or you can bungy them in the bow during those offshore days catching big fish.
The helm is comfortable with good visibility all round. There is plenty of space for a MFD, and other systems and I really like that even though it's a hardtop, Osprey haven't felt the need to hang VHF radios out of the roof. Simple, clean, and functional. Great Stuff. The only gripes in the helm was the throttle box position that felt quite low to me. However, Malcom says that is an easy fix and can be repositioned higher if a client prefers. Indeed, during the build process a new owner is invited to the factory to confirm they like where everything is, and I feel this is a great step in developing a lifelong bond between Osprey and the boats owner. As with everything here, these gripes can be easily rectified and certainly wouldn't put me off this hull or configuration.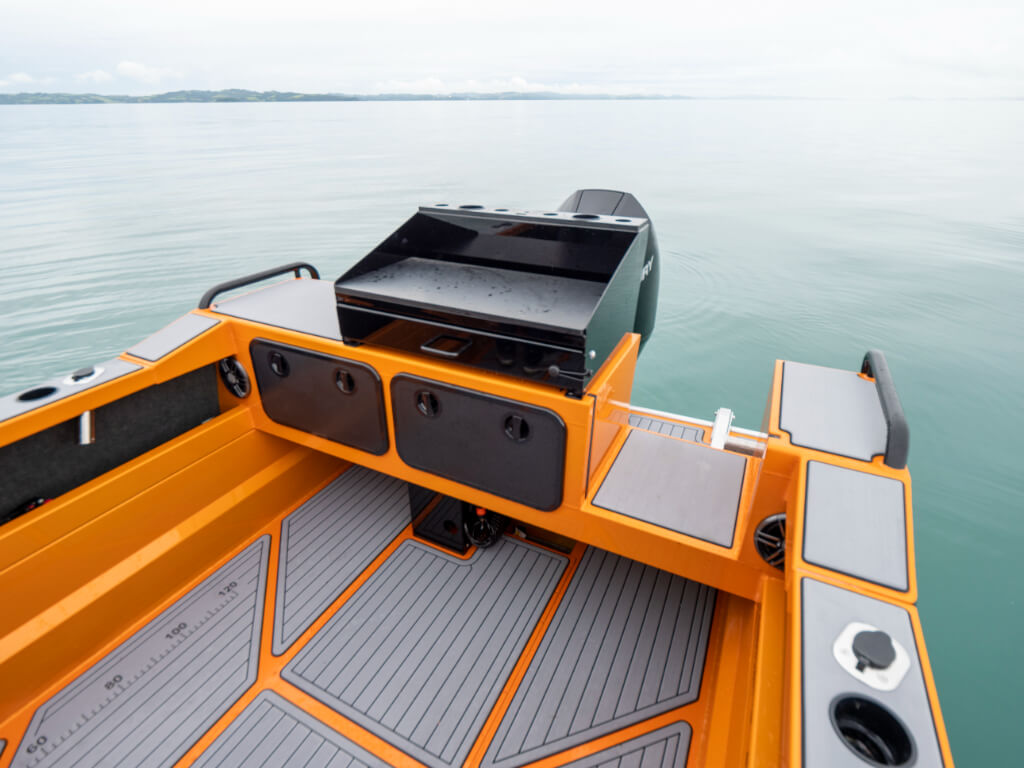 Moving aft, the gunwales are set high and you feel secure. A walkthrough transom is optional as some serious fishing may require some serious reversing and having a closed in transom alleviates the deck getting soaked. Of course, the deck area is loaded with storage and a huge bin in the floor that is optioned with a removable lid or gas struts. Personally, the removable lid would be my favourite as it offers much better multi use options. With the wide area and space being well utilised, this Osprey design really does make maximum use of everywhere.
Given Malcom's statement that the Osprey had one of the softest riding hulls on the market, I was keen to get the snottiest day I could to test this boat and it was all looking like a plan was hatching nicely. Well, that was until mother nature decided to throw a dull Auckland harbour day with zero wind. At best we encountered a 1-1.5m easterly swell behind Motuihe island. The boat performed really well. Stable and agile. The pontoons really did their job and cushioned the ride nicely. There was no hash banging and the helm was responsive. Of course, the boat did perform as a pontoon boat should and wasn't as nimble as a standard hull but still managed some impressively tight turns while all being predictable and smooth. The narrow plate around the outside of the pontoons that serves the purposes of deflecting water, did a good job of moving the spray away and keeping the foredeck dry. I'm suitably impressed.
The Osprey 750HT was powered by a 250hp 4 Stroke Mercury engine and at the upper end of the recommended HP it's no surprises that the boat jumped onto the plane nicely and cruised comfortably at 27kts burning a little under 50l/hr. I got the real sense with this hull that while smooth it was a goer and I found myself pushing the hammer down more as I got to know it. But I'm not known for going slow. That said, at 23kts and 37l/hr the sweet spot also felt very smooth. Flat out we achieved 37kt and the boat rode the waves very well indeed. Dry and predicable into the swell and running. It was truly a pleasure.
The Osprey 750HT is designed to carry 18 passengers. No that's not a mistake. Commercially this hull is often used as a water taxi, and it was designed to be loaded up. The other great feature with the Osprey brand is all their boats are designed and built to survey specs so down the track if an owner decides to take the boat into survey it's not a massive headache to do so. That's future proofing right there.
The hull at its thickest is 6mm alloy and everything about this boat breathes safety and security. Osprey prefer the boats go out on alloy trailers however they do have steel options as well. Their self-retrieval system is brilliant, its simple and it works. It will make beach retrieving a large boat a breeze.
I have to admit that if I ever replace my glass boat the Osprey will be one to seriously look at. Everything is just so well thought out. No compromises in the working area, the helm or overnighting. It's a real all-rounder and it's a real winner.
Model: 750HT    
Priced From: $NZ136,245
Price as Tested: $NZ193,117
Type: Hardtop
Construction: Aluminium
LOA: 15m
Beam: 50m
Deadrise: 23-degree
Height on trailer: 35m
Trailerable weight: 2500 (kg dry)
Test Power: Mercury 250hp
Power Options: 200hp – 250hp Outboard
Propeller: Enertia 16
Flooring: Seadek
Fuel capacity: 300 litres                
Trailer Make: Osprey Elert
Boat Manufacturer: Osprey Boats NZ Ltd
| | | | | |
| --- | --- | --- | --- | --- |
| RPM | Knots | L/h | L/NM | Range  (NM) |
| 1000 | 4.5 | 4.5 | 1.000 | 360 |
| 1500 | 6.2 | 7.5 | 1.300 | 270 |
| 2000 | 11.4 | 11.9 | 1.100 | 320 |
| 2500 | 14.0 | 15.4 | 1.100 | 320 |
| 3000 | 19.0 | 22.2 | 1.200 | 300 |
| 3500 | 23.7 | 27.2 | 1.200 | 300 |
| 4000 | 27.0 | 37.1 | 1.400 | 250 |
| 4500 | 31.0 | 48.7 | 1.600 | 220 |
| 5000 | 35.2 | 71.8 | 2.100 | 170 |
| 5500 | 30.8 | 82 | 2.700 | 130 |
| 5650 | 37.3 | 82.7 | 2.300 | 150 |