The Navetta 48 is the smallest of Absolute's Navetta line-up. However, her comfort level, generous beam, and layout belie her size. She feels like a bigger yacht, as Barry Thompson discovered.
When Absolute released the Navetta 58, the first of six boats in the Navetta range, it was billed as a modern-day trawler that put a whole new emphasis on trawler design and living. 
For a 15m boat, it belies its dimensions with Absolute saying the concept is all about 'space and light'. While the yacht incorporates all the necessary technical aspects a boat of this stature requires, it also offers a spacious environment that would envy much larger vessels. 
Since selling his first Absolute Navetta a few years ago, Gary Erceg (Yachtfinders Global), New Zealand Absolute distributor, has sold several flybridge models in the Absolute range, with the new 48 the second in the Navetta range to be landed in Auckland. However, it seems interest is undoubtedly growing in the Italian brand, with another Navetta 58 due in the final quarter of 2021. 
Gary says the interest levels are exceptionally high at the moment as it seems boats are taking over from overseas travel, and that's undoubtedly a huge plus for the marine industry.
"The Absolute Navetta range appeals to a diverse range of owners, with boats sold to both experienced boaties as well as first-time newbies, says Gary.
He adds that he has had great feedback from clients who praise the Navetta series's performance and ease of use. The owner of Black Swan, the first Navetta 48 in the country, told me he had looked around for some time for the right boat and that the Navetta 48 ticked all the boxes.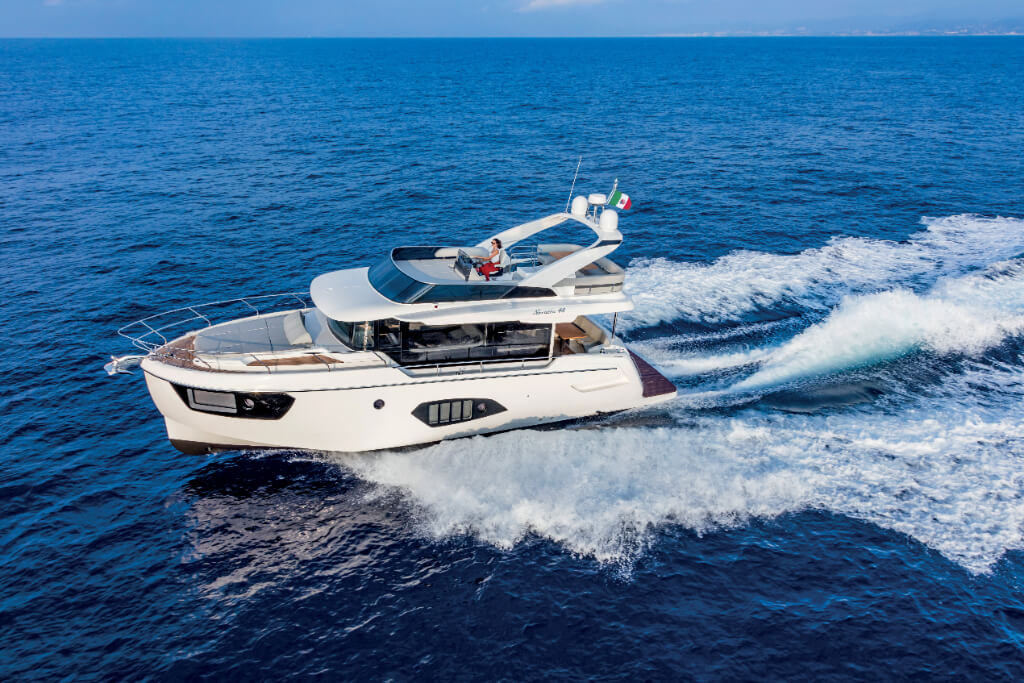 "My wife and I are not big into fishing, so we didn't want a boat dedicated to fishing, but we love to cruise and entertain aboard, so the criteria for us was a boat that did all that in comfort and didn't feel cramped. When Absolute talk about space and light that have certainly got it right with the Navetta 48", said the owner.
He added that the boat is ideal for two couples, and he intends to do some cruising around the Marlborough Sounds in the future.
"Our initial plan was to take delivery of the boat in Italy and spend six months cruising around the Med, but when Covid hit, those plans went out the window", he says. 
Unlike most production boat builders that allow you to pick from a wide range of fabrics, timbers and surfaces, Absolute doesn't give you that option. While there is a choice between leather or cloth upholstery, that's it. If you ask Absolute why the answer is simple; "We are Italian and we know what looks good". Okay, hard to argue with, I suppose, and when you stand back and look at the mix of hues between the fabrics, timbers and surfaces, it's hard to imagine why you would want to change it. Everything blends in harmoniously with perfect colour coordination.
While the Navetta 48 is a three-cabin boat, there is the option of a fourth cabin aft, which can be configured as a single crew cabin or utility/storage space. The owner of Black Swan opted for the full cabin with toilet and shower. Forward is the master stateroom with the athwartships king berth, which provides unimpeded access and is undoubtedly a plus when bed making. There are the usual voluminous storage spaces, a deep hanging locker, vanity unit and a decent sized ensuite.
Two huge side windows plus opening ports – built to CE standards – radiate natural light into the room in keeping with the light and space theme. Darker timbers are accentuated by light fabrics and reflect a warm and cosy space. 
By fitting sliding cabin doors, Absolute has made even better use of the restricted area downstairs and not be constrained by the need for open door spaces.
To starboard is the second guest cabin with twin single berths, also available with a slide together option and opposite, the guest VIP with another king berth and a walk-in wardrobe. The two guest cabins share a second bathroom which also doubles as the day head. The attention to detail is evident, from the raised bowls and mirrored surfaces to the tile-lined shower stall and quality fittings. The two heads are wide, comfortable, bright and equipped with a porthole, allowing natural ventilation.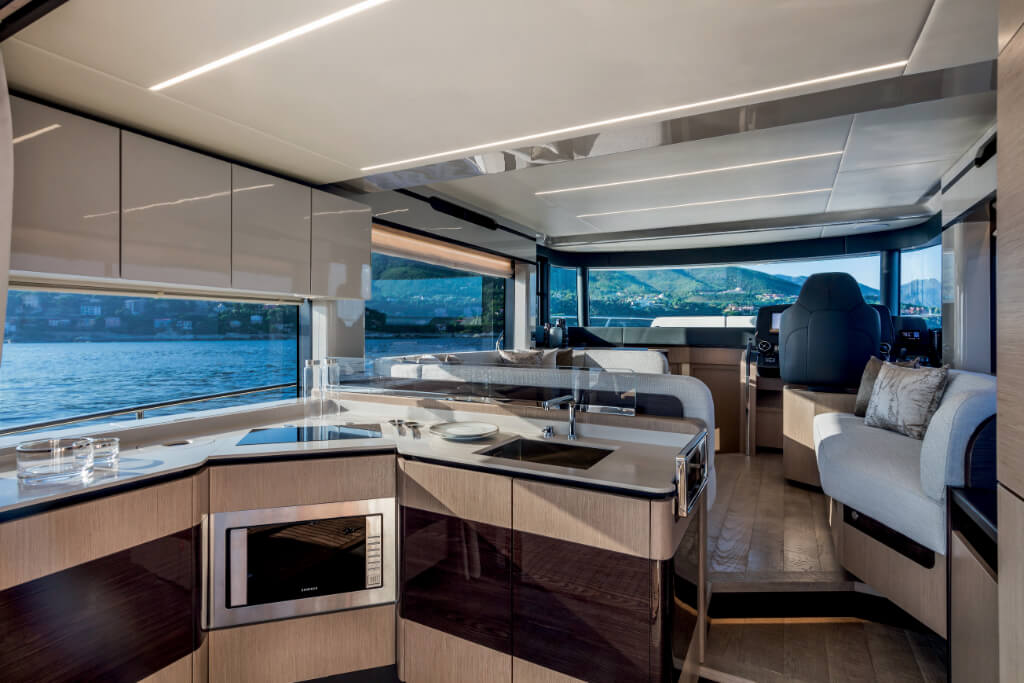 My first impression of the saloon on the main deck was simply, wow. Again, it is designed about light and space, from the high cabin windows to the easy on the eye fabrics and timbers. The functional aft galley, equipped with all the household comforts to the forward lower helm, is seamless and well-conceived. The aft doors slide out of the way to expose a natural flow between the outdoor and internal spaces.
 The helm station is ergonomic, with adjustable seats and side door access to the deep starboard bulwark. The generous U shape port side lounger comes with an adjustable coffee/ dining table, with another lounger opposite.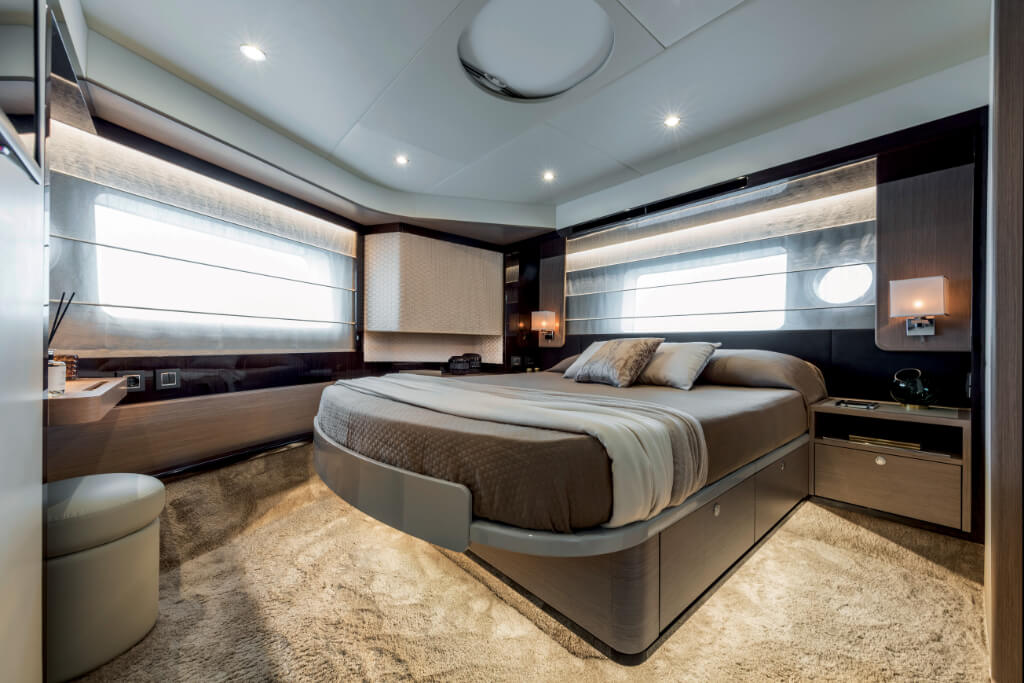 An interesting feature of the Navetta 48 is the split access to the high/low platform, which has a full-width entrance on the starboard side, but very narrow access to port. This is to allow space for a transom door into the optional aft cabin. The aft deck, forward lounge area and upper deck provide al fresco social space for entertaining family and friends. The full cockpit overhanging roof also incorporates a drop-down aft sunshade privacy curtain. 
A broad stairway leads to the open flybridge where you have the option of a full carbon fibre hardtop with drop-down curtains, bimini with an arch or nothing at all. Not until the 64 is a fully enclosed hardtop available in the Navetta range. A central helm station is flanked by a massive sunpad, with an aft lounger and a large table. There's also a wet bar and bbq plus icemaker and fridge. Well set up for entertaining.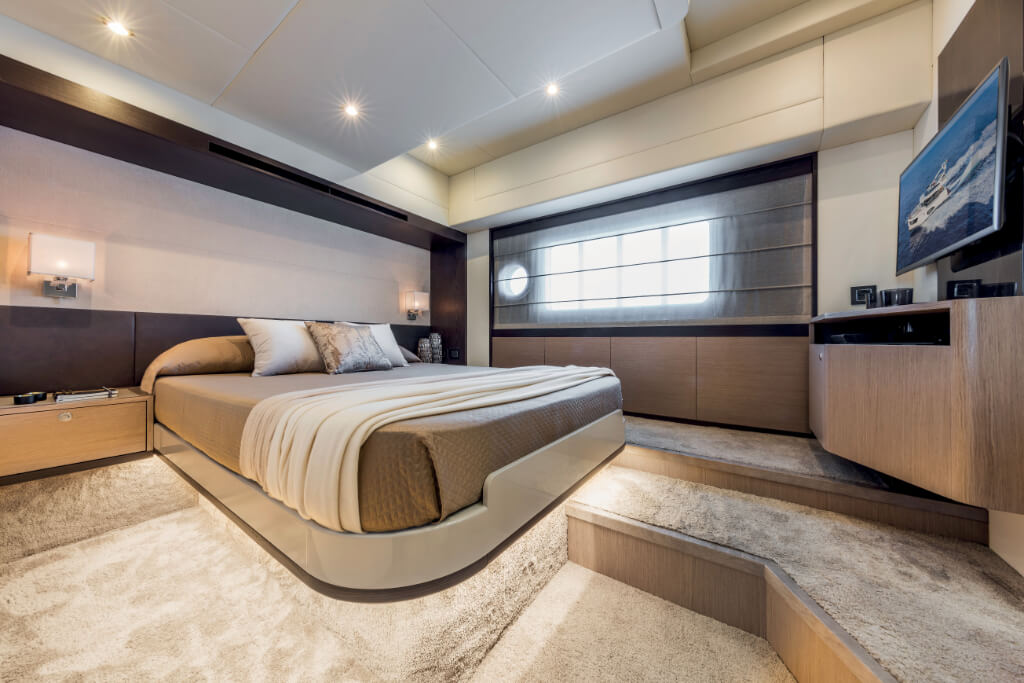 Following a trend that seems to be incorporated on most vessels of this size and bigger is the foredeck sunpad and seating space, which also comes with a detachable sunshade.
While I was only able to experience the Navetta 48 on a mirror calm Auckland harbour, Daniel Harding, Editor of the USA-based Power & Motoryacht, had the opportunity to run the boat in 1m-2m rollers off the coast of Italy and was very impressed.
"Taking the helm, I brought the boat onto the plane at a surprisingly modest 11 knots; this proven semi-displacement hull of the Navetta line was ready to shine. She tracked like an arrow and hit a respectable 27 knots thanks to a pair of Volvo Penta IPS600s. Really, what sets this boat apart is how comfortable and sturdy she feels through the rpm range. Running fast is always fun, but when you're trying to keep tabs on the other guests aboard, bringing her down to 12 knots and staying on the plane was a pleasant option", reported Daniel.
The Absolute Navetta 48 is only available with a pair of Volvo Penta IPS650s.
This is the seventh Absolute Yachtfinders Global has sold since landing the first boat in 2016. The style of the Navetta 48 may be somewhat polarising, and you either love it or you hate it. I find it modern, stylish and highly appealing. If you like the idea of owning a Navetta 48, then you better get your order in soon as right now delivery is out to 2024,
Model: Absolute Navetta 48
Builder: Absolute Yachts
Priced From: $NZ1.6 million           
Price As Tested: $NZ1.8 million
Type: Flybridge Pilothouse
Construction: GRP
Displacement (Dry): 17828 kg        
LOA: 93m
Beam: 65m 
Draft: 04m                                                 
Power: 2 x Volvo Penta IPS650 @ 480hp                   
MFD: 2 x Garmin 12 
Cockpit Flooring: Teak   
Anchor Winch: Quick
Bow Thruster: Quick         
Fuel Capacity: 1800 litres
Water Capacity: 530 litres
rpm
knots
L/h
L/NM
range (NM)
600
3.0
3
0.9
1836
1000
4.7
6
1.3
1270
1250
6.1
9
1.4
1137
1500
7.3
21
2.9
564
1750
8.1
29
3.6
456
2000
9.4
40
4.2
384
2200
10.4
39
3.8
429
2400
11.3
70
6.2
262
2600
13.4
89
6.6
244
2800
15.5
100
6.5
251
3000
18.7
112
6.0
272
3200
21.0
131
6.2
261
3400
24.8
159
6.4
253
3550
26.7
167
6.2
260
Note: Range is based on 90% of fuel capacity, in calm conditions.