Following in the wake of the successful X95, the Princess X80 has been developed to offer a unique boating lifestyle.                    
Due to take to the water in Autumn 2021, the X80 becomes the second member of the X Class 'Superfly' family. The X80 follows the X95's open-living approach, defined by large distinctive spaces which flow into one another to offer the most versatile and accommodating experience, while keeping all Princess Yachts' familiar characteristics of quality in craftsmanship and materials, placing design and style at the forefront.

Yet again, Princess is boldly re-writing the rules of yacht design by incorporating the concept of a 'super flybridge' featuring functional outdoor space, and versatile interior space.
Designed with Princess Yachts' 'open concept', the X80 is the second model in Princess Yachts' new X Class. The X80 layout is defined by large, adaptable spaces that can be used and formatted in a variety of ways, offering the owner and guests a uniquely flexible boating lifestyle. Spatial layout is highly practical and user friendly, offering the perfect use of all onboard spaces for entertaining and hosting, for example with a large informal dining area on the main deck or the option of a dining area in the Sky Lounge.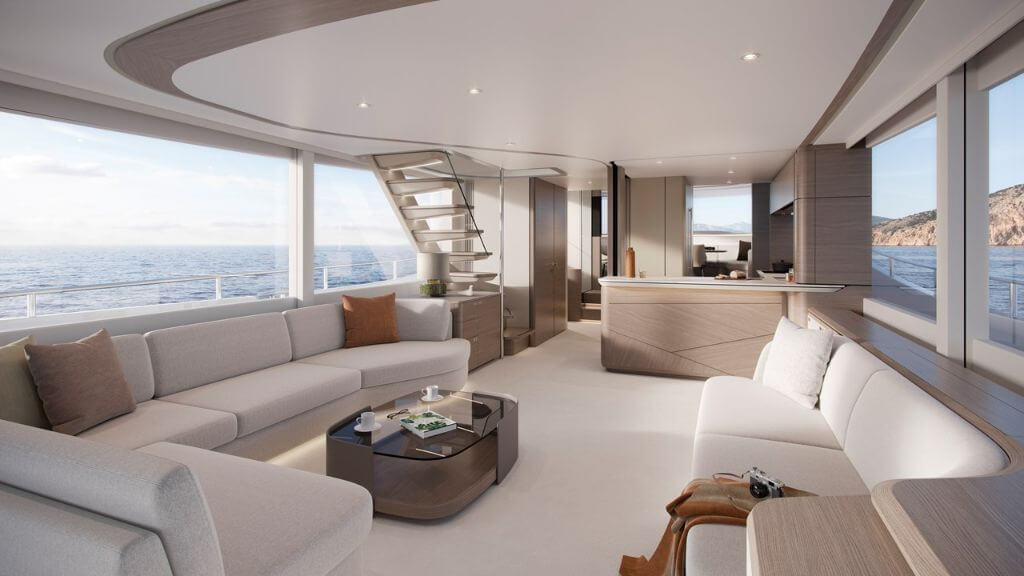 With a focus on exceptional interior living space that is unique for a boat of this size, the X80 draws comparisons to the new design vision and use of craftsmanship on Princess' Y Class Motor Yachts. Flowing forms are sculpted throughout all three decks accompanied by advanced scene lighting selections and elegant furniture which showcase the unique capabilities of Princess's craftmanship. 
The use of light and innovative design continues below deck, where up to eight guests are accommodated across four ensuite cabins.  
The X80 offers further exciting performance, fitted with state-of-the-art twin MAN V12 engines – either 1650mhp or 1900mhp variants – the latter providing a maximum speed range of 29-31 knots, comfort is achieved when stationary and underway thanks to the optional addition of fin or gyro stabilisation.