With the release of the Mercury V12, 7.6L 600hp outboard, it was only a matter of time before we got to see a quadruple setup on an American express cruiser.
A recent online edition of the influential boattest.com featured the first Formula 500 SSC, which combines an open bow and deck layout with a full cabin to create an inviting day boat with overnighting capabilities and offshore cruising. She is powered by quadruple Mercury V12 7.6L Verado 600-hp outboards and is essentially a watersports-oriented express cruiser.

The Formula 500 SSC is intended for owners who want to take off to the islands or other inviting destinations for fishing, scuba diving, swimming, or to use water toys, but who also want a boat large enough for entertaining friends and family as a day boat. By including a master cabin below and an elegant U-shaped banquette forward, and a galley and large head, she can also serve as a cruiser for extended adventures. Her hull, construction and amenities mean that she is a four-season yacht that can go anywhere where fuel is available.
What was interesting was the performance and economy of the Mercury Verado 600, which runs on 91 Ron fuel.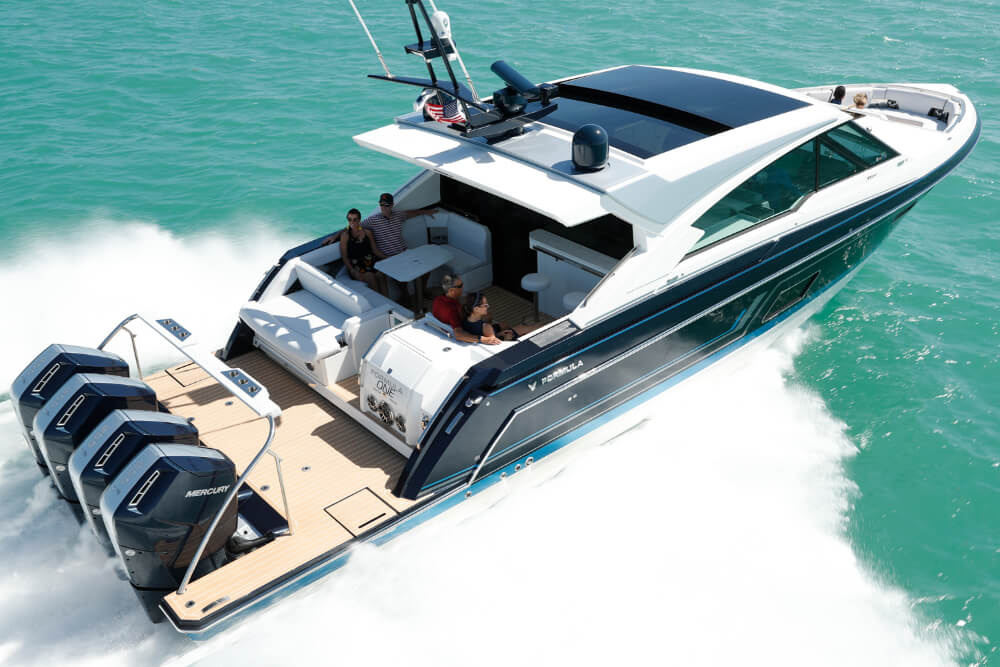 With the four 600-hp Mercury V12 Verados turning 33″ pitch prop sets, the boat hit a top speed of 57.7 knots at 6400 pm. The best cruise came at 5000 rpm, where the Formula 500 SSC recorded 43.5 knots and 444.78 lph.  
Because of the two-speed transmission in the V12 Verados, when accelerating from 4000 to 4500 pm, the fuel burn dropped from 431 lph to 401 lph. Equally remarkable is that the 500 SSC stays on the plane down to 16 knots. One of the signature elements of the SSC series is the sizeable full-beam swim platform that offers easy boarding, plus also the mount for the quadruple engines.