Italian gyro stabiliser manufacturer, Quick Italy has announced the launch of five new 12VDC Quick Gyro Stabilizers.
The new MC² Quick Gyro X2 and X3 stabilisers are the smallest in the extended family. Just 42cm square, and delivering an anti-rolling torque of up to 3,900 Nm, the X2 is perfect for 20ft trailable centre console fishing boats or little day cruisers, while the X3 model suits heavier trailer sportfish boats and small cabin cruisers up to around 27ft.
Already known for their compact design, ease of installation and reliability, the new Quick gyro models are the result of many years' research and technical innovation that guarantee simpler operation and reduced maintenance, in a smaller machine.

The MC²X series stabiliser delivers up to 95% roll reduction from a machine that is physically much smaller than any other gyro on the market. Furthermore, these machines are air cooled as opposed to water cooled! This means easier installation because there is no more holes in the bottom of the boat and no cooling pumps and plumbing. The whole package is much smarter because the patented design of these gyros means fewer expensive parts, less maintenance requirements and therefore less ongoing running costs.
 The revolutionary MC² X DC series comprises five brand-new stabilisers; two of them specially designed for small-sized boats and available only in a 12V version while the other three models are suited to progressively bigger boats, and can be supplied in either the new 12VDC version, or the 240V AC version.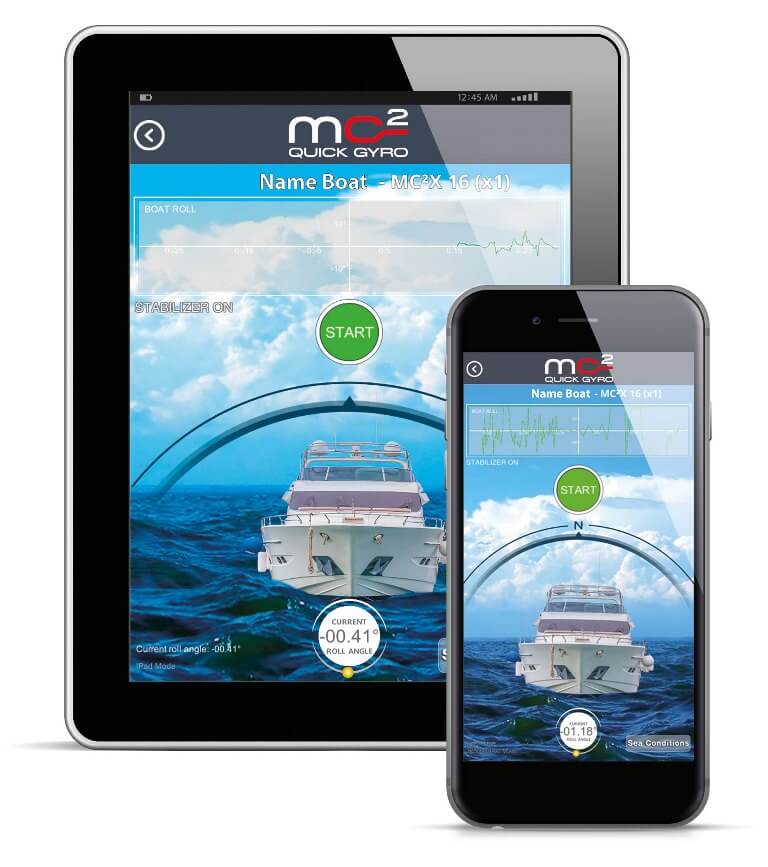 The Quick DC (direct current) stabiliser series represents a true revolution. The main innovation lies in the 12V power supply that means the gyro can run directly from the batteries on board, without the need to run a generator. The batteries on the boat will recharge via the inverter when the engines are running and it is time to go home.
As a result, the overall consumption is significantly lower and Quick stabilisers are now even closer to "silent".
Quick gyros boast a number of innovative, unique features, including its patented vertically spinning mass which enables the stabilizer to distribute the weight on more bearings. Typically, competitor gyros spin the mass horizontally. That forces the mass to "rest" on a single bearing at the bottom which inevitably ends up producing more heat.