WHEN THE OWNER first purchased Colonsay, he knew that he would sometime have to replace the old electronics. For a start, some of it wasn't even working. The Autohelm autopilot was not functioning, the old 1980s vin- tage Furuno depth sounder wasn't showing depth and a very average Humminbird fish finder was hardly readable. There was also no GPS or plotter. He knew that the whole suite had to go, both inside at the lower helm and upstairs on the flybridge. This was not going to be simply a matter of replacing a few instruments and screens; it was going to necessitate complete rebuilds of both dashes. We have reported in past issues on the other refits done to upgrade Colonsay, which started with a Vetus-Maxwell bow thruster and then we saw a replacement of the manual controls to electronics controls.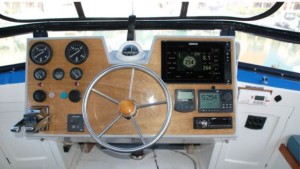 All the old systems were replaced with the very latest NHK MEC electronic controls from BLA. So when it came to the electronics, the own- ers were looking for not only systems that were the latest technology, but would also fit into their rebuild dashes. They needed to blend in without looking out of place with the older style of the boat. The decision was made  to run two new MFDs, with the larger one on the bridge, as that's where most of the driving was done from.
At the lower helm, they installed a Simrad NSS evo2 7" and upstairs a NSS evo2 12". A new Simrad AP28 autopilot controller was fitted to the flybridge only, as the 7" NSS evo2 multi-function display gave them the ability to run the autopilot at the lower helm without a separate controller. The old instruments were retained, but the engine controls were moved to the port side of the panel, with all the auto-anchor and other instruments to starboard. The throttles are now a lot higher than they were so the skipper has them better at hand when standing to drive. The plan was to modernise but still keep the flybridge dash reasonably simple in layout. There are plans to build in a couple of wings, either side of the fascia to mount other power management systems, such as a docking station for an iPad. 
Previously there had not been a lot of thought given to getting in behind the dash to service anything, so the new one has been designed to be completely removable for ease of installation and service. Most of the downstairs station have been replaced with a simpler display and a lot less fussy combination of systems. The old fuel management system was dumped, as was the SSB, radar and the manual controls were replaced with the electronic system. The owners admit they don't spend much time driving from the lower helm, so it wasn't an area of priority.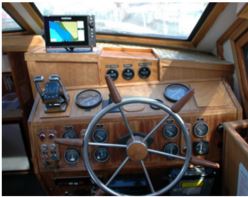 However, it's still got everything that's required if you do have to drive from below. The downstairs helm they admit is still 'work in progress' and isn't likely to be finished for some time. While the new systems are all 'plug & play' technology with dedicated harnesses, not so the old style electronics. With over 30 years of wiring, both original and retrofitted, there was a lot removed during the upgrade, but according to the owners, there is still a lot more to come out. The problem is, it's not quite that simple as a lot of the wiring while not having a clear purpose, may very well be a critical connection to some important component. " It's going to take us a while to check each wire and determine if it does anything useful before we remove it, but that's a job for the winter," say the owners. The entertainment system was upgraded with an Apollo 450 sat dish with 24" Avtex TV, from Apollo Entertainment.
The antenna can receive real-time synchro- nous orbit satellite television signals in both sailing and static conditions. Developed to provide satellite TV reception the TV antenna is of high quality that can automatically search, distinguish, switch, and dynamically capture direct broadcast satellite signals. With so many options available, the owners looked around at all the different MFDs and finally settled on Simrad. The choice to go to Simrad was a simple one according to the owners.
They like the brightness of the screens in daylight, the simplicity of operation and found them very intuitive. While the owners did most of the changes to the timber dash themselves, they called on Marine Electrics NZ, to come in a do all the installation of the electronics. This was done 'dry' before hand to make sure everything worked as it should and then dropped into the dash when the owner's completed building it. Since the new install, the owners say they are extremely happy with the finished product and that Marine Electrics NZ did a first class job. "We can see what's happening now and don't have to second guess things and we have found we enjoy our boating even more, knowing that the electronics are working 100%".
SIMRAD NSS EVO2 – 12" & 7"
The NSS12 & 7 evo2 are engineered for performance, functionality and flexible control. Its TouchSensible interface provides multi-touch interaction for ease of use when cruising, as well as a keypad and a rotary push-to-enter dial for quick and effective use on those days when waves and boat movement make it hard to use a touchscreen accurately. Simrad Yachting's HEROiC software has been optimised for the NSS evo2's widescreen HD display and multi-touch interface, making use of common gestures that smartphone and tablet users will find familiar.
A new Nav page puts key navigational information together in one place, and customisable favourites allow quick access to the functions you use most. The NSS12 evo2's integrated SonarHub sounder combines StructureScan HD sonar imaging, for a 180-degree picture-like view of the bottom, with CHIRP-enabled Broadband Sounder technology, for reliable fish detection and accurate bottom tracking at all depths. The NSS evo2 provides full autopilot integration for control from its TouchSensible display, and the embedded high-gain 10Hz GPS/ GLONASS receiver provides precise location information without external hardware on most fibreglass boats.
NAVIONICS AUTOROUTING / JEPPESEN EASY ROUTING
Automatic routing brings the convenience of in-car navigation to boating, giving you the confidence to navigate unfamiliar waters and letting you get underway with less delay. Navionics Autorouting and Jeppesen Easy Routing are both fully supported on the NSS12 evo2.
SIMRAD AP28 INTEGRATED AUTOPILOT
Colonsay has the whole package; AC42 Pilot Computer, RC42 Magnetic FluxGate Compass, AP28 Dedicated control head, RF300 Rudder Feedback and powered by a Simrad RPU160 Reversible Hydraulic Pump. The AP28 is a reliable, performance autopilot controller with a large, highly visible display that combines with a user friendly interface and a wealth of features. 
It has a very intuitive menu, smooth rotary controller, a range of integrated turn patterns to assist you with fishing, diving, or simply recovering a lost fender and a dodge function allows you to navigate around obstructions without disengaging your autopilot. Other neat features include; constant depth tracking, advanced wind steering and auto tuning. The AP28 is also fully waterproof and is NMEA2000 compatible.
Colonsay has been fitted with a Airmar B744VL Triducer, which has an extended stem-length for the extra height needed for steep-deadrise vessels or thick-hulled wooden boats such as Colonsay. This unit is ideal for all 600 W fishfinders and requires only a single hole in the hull. The B744V's patented valve assembly prevents water from rushing into the hull when the insert is removed for cleaning or storage. 
The innovative housing design allows the T multisensor to be fully recessed into its custom high speed fairing. The end result is a streamlined installation. At speeds above 30 knots (34 MPH), the B744V will produce clear images and solid bottom tracking Features include depth, speed, and temperature in one housing both 50 kHz and 200 kHz when installed with a high- performance fairing and a speed operating range of 1 knot to 45 knots.