Continuing on the heritage of the ever-successful Reflex Chianti 585, Reflex Products has released a new back-to-basics incarnation of this popular model, the SZ 585, Freddy Foote checks it out and realises that Reflex is onto a real winner.
In designing the new Reflex SZ 585 Series, Reflex set about knocking out a lot of the cost of one of its more popular models, the Chianti 585 and creating a more cost effective boating option
"Our other objective was to offer a "value four stroke package" we don't feel the boating public are being offered good value with old school 2 stroke boat packages. Ask yourself would you spend forty or fifty thousand on a new car with the motor from last decades model, it makes no sense." says Reflex Spokesman Matthew Macalister. Teaming with Suzuki Marine (SZ Series), each SZ 585 comes equipped with a grunty 115 Suzuki four-stroke, while another new model, the SZ 515 comes equipped with a 90hp option, all direct from the factory.
Add to that a striking coloured gel coat and graphics package and you're on the water for a whole lot less than a Chianti 585.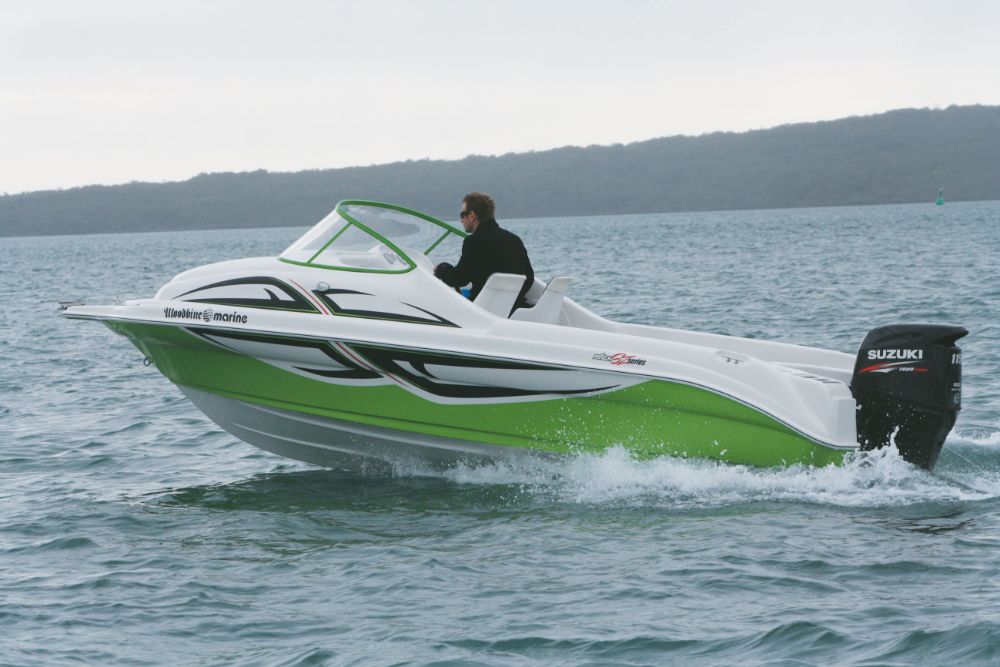 "The 585 is a great boat, and is very popular. But what we've tried to do is to knock out a lot of cost and to save a few thousand dollars in the cost of the hull. We've removed a lot of things that some people won't use in the boat, but should they wish they can specify factory extras or go to a Burnsco and fit things themselves at a later date should they wish."
So what's missing out of the SZ 585 that's in the regular Chianti 585 model? Well, quite a lot actually. Gone are the back-to-back king/queen seats, rod holders, rod racks, cockpit table, bait tank, upholstered squabs – now vinyl.
The layout is much more open than the normal 585 model, as a lot of the regular, standard items aren't fitted.
The SZ 585 doesn't have any bulkheads so there is a nice natural flow between the cabin and large cockpit. 
The cabin area provides two berths comprising two vinyl squabs, each with storage underneath. There is sitting headroom for two adults and the squabs are long enough to lie on – a good place for the kids to have a kip when they get a bit tired from a day on the water. No storage is available in the cabin sides, though the cabin is fully carpet lined up to the cabin top.
With no side decks, there is maximum use made of the beam inside, but it means that you can only do your anchoring via the forward hatch. This isn't a problem and you are well forward so you can easily reach the bollard and fairlead.
The cockpit is big and open, and provides plenty of room for fishing should you wish – has toe kicks on either side of the cockpit for when fighting that fish, or room for tow toys, skis etc. Though there is no seating behind the helm and passenger seat as in a traditional Chianti 585, seating is built into the aft corners.
Seating for the skipper and passenger are via two pedestal seats, with adjustments.
A large clean dash has plenty of room to mount a couple of electronic devices such as a GPS and separate sounder.
Plenty of storage throughout, there is a large underfloor locker in the cockpit and further loose storage space underneath the transom. Further storage is available in the carpeted side shelves along the cockpit sides.
Though it is an option, gone is the underfloor fuel tank on this test boat, paving the way for larger underfloor storage capabilities and fuel storage now coming in the form of tote tanks – which when combined with the fuel economy of the four-stroke outboard, will provide plenty of miles on the water from each tote tank.
Opt for the 85L underfloor fuel tank, and it will take the place of the forward underfloor storage locker.
As previously mentioned, all SZ Series models, the 515 and 585 come pre-rigged from the factory with a Suzuki four-stroke outboard. Standard on the 515 is a 90hp, while on the 585 we see here is the standard 115hp, though should you wish, you can upgrade to a 140hp.
There is one feature on the Reflex that I just do not like, and have commented on it in the past on other models. I'm sorry, Reflex, but you still do not have it right. When at the helm and standing to drive, the recessed sole of the cabin stretches a little too far back into the cockpit, it forces you to stand uncomfortably for fear of almost slipping into the abyss when standing to drive in some reasonably nasty water, take a bad wave and lose your footing and say goodbye to your ankle.
Some people may like it, and that it gives more room to store larger items such as chilly bins, but I'd prefer to see it changed.
Like the Chianti, the 585 shares underwater sections of all Chianti models, featuring a 20-degree deadrise hull with a running plank, quite full bow sections, and double chine spray rails.
Test day conditions were blustery and choppy, and not really the kind of conditions you'd willingly choose to take a 6m-cabin boat out. However, the conditions were representative of what many of us face on the return trip home.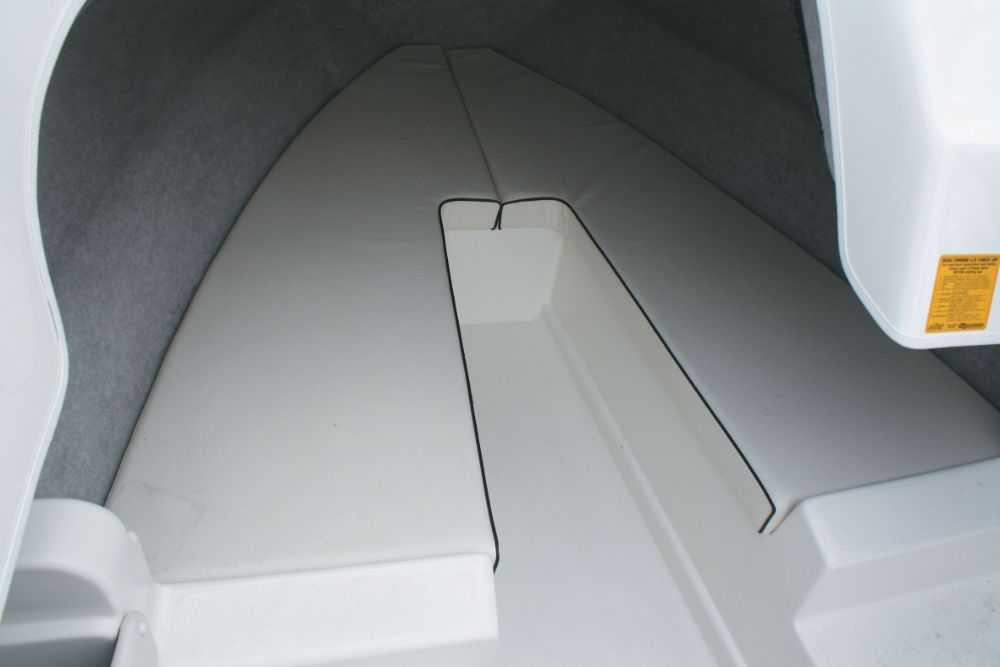 At the helm, and underway, the screen did a great job of keeping us sheltered, deflecting the wind up and over our heads.
Like other Reflex models we've tested in the past, the SZ 585 performed well, and though we weren't exactly gunning it, the boat handled the chop well, and the 115hp Suzuki four-stroke provided more than enough power when needed. A quick squirt showed 41mph @ 6000rpm on the GPS, though we found a more comfortable cruise speed of 24mph @ 4000rpm.
Do you need to upgrade to the 140hp option? I don't think so, as the 115hp Suzuki will provide more than enough power for most people's needs. The only time I think you'd prefer the 140hp option is if you are intent on carrying a lot of gear and people, or maybe want some extra grunt for towing larger adult water skiers.
At all times, the 585 felt secure and sturdy, thanks to the Reflex design team who have created a hull which has been stiffened through an inner liner, incorporating the stringers, floors, bins and side braces in one unit. The resulting internal cavities under the sole provide extra buoyancy.
I love what Reflex has done here with the SZ Series models. To start with, it didn't really make sense, there wasn't a lot in the boat. But once I looked a bit deeper and spoke to them a bit more it made total sense.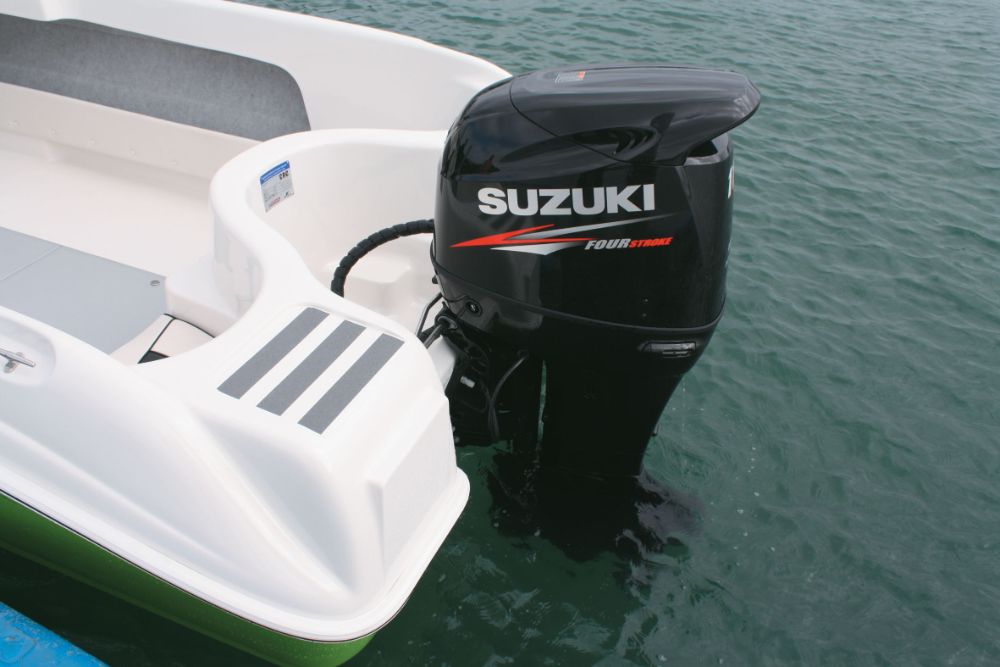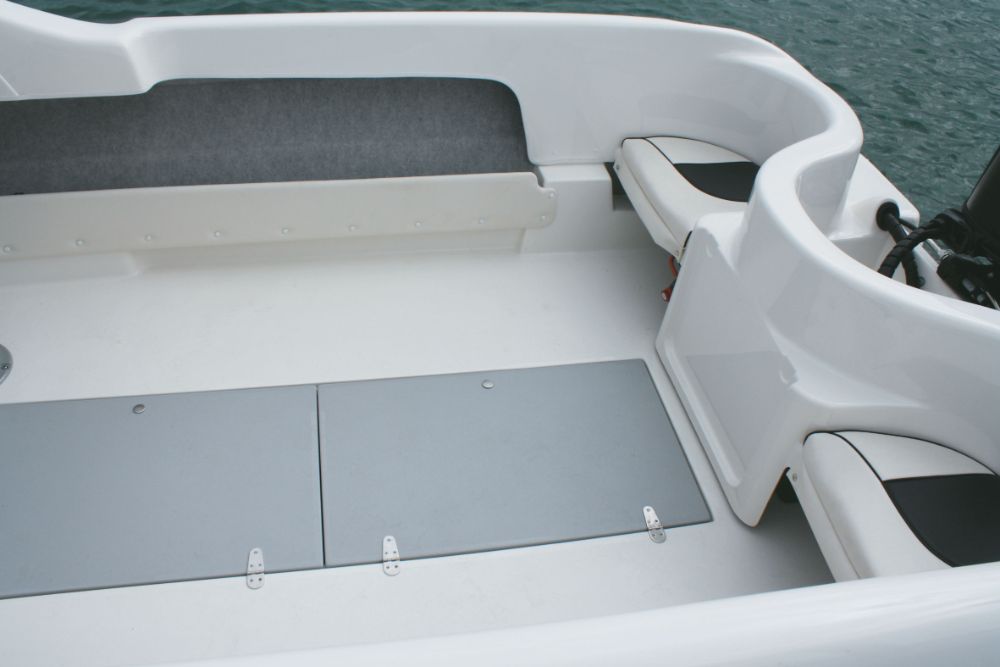 So many boats come out from the factory now with features that you just never use. What Reflex has done with the SZ Series is to give you the basic hull – a great performing one at that plus the latest technology outboard motor + a top quality NZ built multi roller trailer. Most of the non-essential features have been omitted, but you can add them later should you wish.
Not only that, they've made the models look pretty 'kick ass' too! 'Hulk' green won't be everyone's cup of tea, but I like it. Other colour choices include, black, sprint navy, mango orange and many more.
Overall, the Reflex SZ 585 is a full-bodied family cabin boat, an all-rounder, designed to be enjoyed by all. Whether for family cruising and picnicking, fishing or towing water toys, the SZ 585 is suitable for a variety of on-water activities. You can be on the water, with a few thousand extra dollars in your pocket that you would have otherwise spent needlessly.
Model: Reflex SZ 585
Priced from: $43,995          
Price as tested: $43,995
Type: Cabin boat
Construction: GRP
LOA: 6.20m
LOH: 5.85m
Beam: 2.2m
Deadrise: 20 degrees
Height on trailer: 2.2m
Trailerable weight: 1100kg
Outboard: Suzuki 115
Engine capacity: 115-140hp      
Power options: Outboard        
Fuel capacity: Tote tanks
Trailer: Mudgway Single Axle 24 roller
Notable Standard Features on Test Boat
Five-year transferable structural hull warranty, integrally bonded internal liner with non-slip surface, electric bilge pump and Suzuki DF115A four-stroke.
Nav lights, CPC rated.           
Notable Options on Test Boat
Green graphics kit