Sportcraft Boats has been manufacturing and marketing Scorpion aluminium boats for a number of years now and one of the most popular has always been the 470. Recently they introduced a Mk2 version of this popular boat which Barry Thompson went to Tauranga to check out.
Certainly there is a growing market trend in New Zealand towards the larger trailer boats, with boaters wanting to venture further afield from their local waters close to shore. But let's not forget that there is still plenty of boating to be enjoyed closer to home and you can have just the same amount of enjoyment if not more in a smaller boat.
The Scorpion 470 has been around for a few years, an in that time it has undergone a few tweaks here and there to make this great little boat even greater. The new Mk2 version looks very much the same as the earlier versions but there have been some changes which have improved this already great little inshore fishing boat.
The most obvious changes are to the bow area. Firstly there is now a full bow rail, rather than the two small handrails and the small plastic hatch has been replaced by a larger lockable hatch and shifted back a little. This has now allowed for a larger anchor locker which is separated from the cabin by a full bulkhead. Now no water can slosh into the boat interior when you are pulling up the anchor.
Internally the Scorpion 470 now has a flat chequeplate foot pad in the forepeak, which means when you are standing in the hatchway you have a surefooted surface to stand on. Makes anchor chores a lot easier and drier. Construction has not changed and neither has the layout.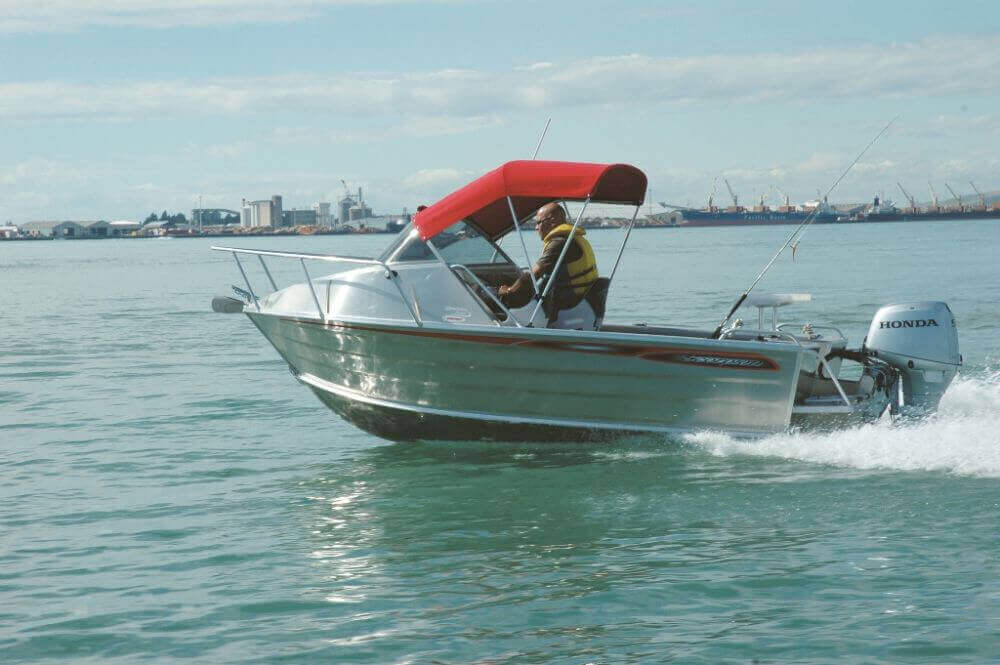 The Scorpion 470 is being bought by a wide range of people, those who are new to boating, whether it be a young guy who wants to get out fishing with a few mates, or a young family, or by those who are more experienced boaters and find that to enjoy their boating they are in need of a smaller, more easily handled vessel.
The overall layout of the 470 is pretty simple yet entirely functional as a day tripper/fishing boat. Forward is a small cuddy cabin that can come in a variety of arrangements, from foot rails that stop gear sliding out, to squab seating and side shelving.
The seating arrangement on this test boat was in the form of two pedestal-style single seats with storage underneath. However, the seating options are very much open and a king/queen style could also be accommodated. This would however encroach into the fishing space. Aft seating was on either side of the transom, with squab cushions available.
Additional storage space is available via full-length side pockets that would be able to house a number of fishing rods, while underneath the transom there is storage space, in this instance taken up by the two tote fuel tanks.
Access in and out of the boat is great, with the use of the boarding platform, and with the accompaniment of a dive ladder as well as the already fitted grab rail would provide great access for divers getting into the boat. Launching and retrieving, as you would expect, was a breeze, and we found the 470 could be launched and retrieved easily by one person.
The 470 is ideally suited to calm inshore waters such as Tauranga's inner harbour, although you could quite safely take it out of the harbour. You need to remember this is a small boat and while the ride and handling in the calm water is excellent, when the sea comes up rough you may be in for a bumpy ride. That's not any fault of the boat, it's just a small light alloy boat with a shallow vee doesn't like choppy water.
I found driving the 470 was better seated and visibility was fine through the screen. The canopy is nicely designed with a wide opening forward section, so you can stand and drive comfortably.
The dash was plain but tidy, with enough room for gauges and controls. Our test boat was not fitted with any extras, or even instruments, that's something a new owner can do. All we had was a GME VHF. With no tacho or speedo it wasn't possible to get the speed/fuel readings for the Honda 50, however on my hand held GPS I did see 33.5mph. When we tested the same boat five years ago with a Mercury 50 2S, the recorded speed was 34.5 mph, so as expected not much difference. Power options are 40hp through to 60hp.
The 470 is an easy and fun boat to drive, not requiring too much trim to get it running nicely. With 50hp the boat seems to be well balanced and it's enough power for a boat this size. As I mentioned we didn't get to check the fuel economy but I would imagine it would be very miserly, especially at mid range.
Handling was great for a smaller boat, and in the calm water it doesn't do anything you wouldn't expect. It's quick on the plane and reacts nicely to a little engine trim. No tabs, but you don't need them on a boat this size.
Stability at rest for a little boat was quite reasonable, with two of us managing to move around the boat surely and safely, and as far as fishability goes there would be enough room for two adults to fish comfortably with a couple of kids.
Sportcraft's Scorpion 470Mk2 comes in a very basic version for $28750, through to a higher speced model with fishfinder, deluxe canopy, bait board, anchor tackle, VHF radio, and extra upholstery for $30159. Overall a very affordable and well priced package considering all the extras that are included.
The 'base' package includes the boat, navigation lights, bilge pump, switch panel, wiring loom, 4 rod holders, bin seats, steering, decal's multi roller trailer, tie down, registration, warrant of fitness, submersible lights, canopy, boarding platform, ladder and a 50hp Mercury.
Make & model: Scorpion 470 Cuddy
Manufacturer: Sportcraft Boats
Priced from: $28750
Price as tested: $30159
Type: Cuddy
Construction: Aluminium 4mm/3mm
LOA: 4.70m
Beam: 2.17m
Deadrise: 14 deg
Height on trailer: 2.10m
Trailerable weight: 750 kgs
Test power: Honda 50 4S
Propeller: 11 ¼ x 13 Alloy
Top speed: 33.5 mph
Power options: Outboard Only
Power range: 40-60hp
Fuel capacity: Tote Tanks
Trailer: Sportline Single Axle