New Beginning
Seaforce 645HT
By Freddy Foote & Bruce Duncan
In recent years the Seaforce name has steadily grown and become more widely recognised as a brand on the New Zealand market. The 645HT is Seaforce Marine's first foray into the production hardtop market. Freddy Foote and Bruce Duncan checked out this new model and were noticeably impressed.
The Seaforce 645HT is based on the Discovery 6.5, a model which the company released in 2000 and has had much success with in that time. A number of boats were then fitted with targa tops and the development of a full hardtop model was an obvious but natural progression.
"We took a prototype model to the New Zealand Boat Show last year to gauge reaction, and eventually went into production of the new model in November," says Ric Lawrence of Seaforce Marine.
The 645HT is lengthened slightly from the Discovery model, and also has the outboard sitting on a pod, all in an effort to extend the cockpit space to maximise fishing space; the overall length is now 7m with the hull length remaining at 6.45m.
For a boat of its size, the 645HT had a surprisingly large forward cabin, with plenty of storage space along the side shelves, under the forward squab as well as under the squabs along each side. Two large infill squabs slot into place, converting the V berth into a large double. The great thing about these infills is that they store away quite easily in behind the helm bulkhead on the starboard side.
The cabin sole is fully lined and self-draining, and even comes with a plug! We're quite sure why you would want to keep water in the cabin, but Mike Boyce, the dealer for Seaforce in Silverdale, tells us that they are quite common on the Seaforce range, and he has one customer who has a similar sized model to the 645HT, he fills it with water and uses it as a paddling pool for his young children, while he fishes out the back. Quite a good idea really!
The helm was very comfortable, and the seats were new Ocean Series pedestals from BLA – quite possibly the most comfortable pedestal seats we've seen on a boat. They were nice and snug when the conditions got rough, and featured a lift-up bolster to lean against when standing to drive.
Forward of the helm were Mercury SmartCraft instruments as well as a large Navman multifunction display unit.
Aft, the 645HT had all the amenities necessary to make it a superb fishing boat. A live bait tank is located just atop the walkthrough in the port corner. It is fully plumbed and sources its water from inside the outboard pod.
Large hatches along the transom house water pumps, hydraulic steering pumps and fuel filtration equipment. Above, a small stainless sink sits neatly in the transom and has a ready supply of fresh water which comes from a freshwater tank which is located further aft, and sits just above the bilge.
Storage space is copious with a large underfloor compartment which sits between the helm and passenger seating, while there is further storage under the king/queen seating arrangement to port. By lifting the rear seat, there is heaps of room for lifejackets, dive bottles and miscellaneous gear.
The 645HT is rated from 130hp through to 200hp outboards, with our test boat fitted with a Mercury Verado 200hp.
The Verado was a good option, certainly providing plenty of power, and giving the boat a top speed of 51.0mph swinging a 19" Vengeance propeller. Mike is still playing with the boat to find the ideal set-up, but reckons he is pretty close with the 19" Vengeance. However, says he might experiment with a couple of others to fine tune.
Ric Lawrence commented that there are a couple of the prototype models out there fitted with 150hp Honda four-strokes, and loaded with a full load of fuel and 5 or 6 passengers still deliver 40mph.  
– Freddy Foote      
Our resident fishing guru, Bruce Duncan, also took time out to go for a trip in the 645HT and shares his thoughts about what he describes as a great fishing boat, that does everything right.
Seeing the Seaforce 645HT for the first time, it like all the other Seaforce models, impressed me straight off. Here was a big trailer boat that was designed to be a blue water boat with high topsides and a good beam that carried forward to give it a balanced solid look with a big, good looking hard top.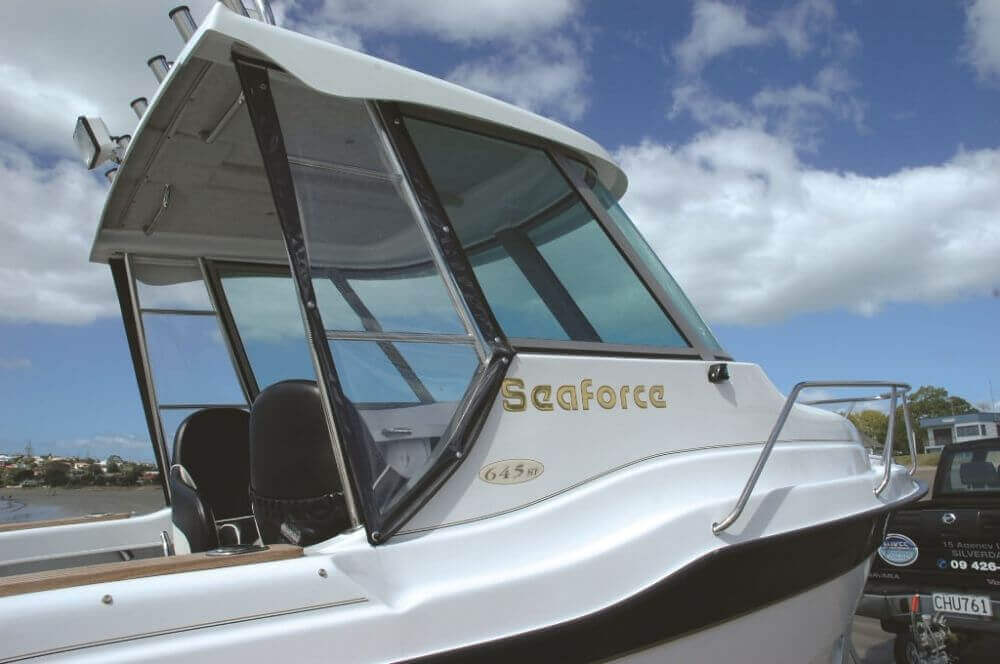 Looks are one thing but the performance at sea in open water is another, so with Mike, the owner of Mike's Marine, being an avid fisherman it was only a question of when are we going fishing? Any boat can be made to look good in perfect conditions so Mike put both the Seaforce 645HT and me to the test by choosing a day when the moon phase was at its worst and we would be forced to fish in a fresh breeze of 15 knots plus, with an opposing tide out in open, sloppy water. To top this off we would also beach launch the big boat and to my amazement it just slid off the DMW multi-roller trailer with no effort or drama. I turned the boat around in knee-deep water while Mike parked the car and trailer. He then stepped on board and fired up the 200hp Verado. Holding the boat head to sea was not a problem and stepping onto the swim ladder, I found a hand rail perfectly placed to help me get aboard. While idling out into deeper water I looked around and as with all Seaforce models the quality of finish and thought that has been put into the 645HT is amazing.
Punching into a short sharp head sea you naturally reach out to steady yourself and you find a grab rail exactly where it's needed, even thoughtfully placed aft on the hard top roof.
Going through the Tiri Channel we encountered a nasty short chop on top of a ground swell which made the waves hard to read, so we were throwing a fair bit of water around. With the broad shoulders and beam forward, the bulk of the water is thrown well clear of the boat but the wind did bring a bit back over the hard top. Although not a standard fitting, a pair of pantograph wipers would give you that extra bit of visibility and security in rough water, or rainy, foggy weather.
To drop or retrieve the anchor, the large forward hatch allows the job to be done whilst securely braced by the large forward hatch. At anchor, despite a fresh wind opposing the tide and a ground swell thrown in for good measure, the Seaforce 645HT rode nicely and with its high sided cockpit you felt secure and could easily brace yourself in the rough water. With fish bin stowage under the stern, a wash down pump (standard) to keep the boat clean and a centrally positioned bait station at the stern you have a huge cockpit area to fish from. Out in 40+ metres of water, ledger rigs soon had us pulling in the snapper on a regular basis and it's only when you are busy fishing do you notice some of the features, such as a cutaway in the face panel of the shelf on either side of the cockpit. As I said before, this is a big boat and in many boats of this size you have difficulty climbing on the deck when coming alongside a jetty. These cutaways allow you to step up onto the deck whilst holding onto the hard top support without becoming unbalanced.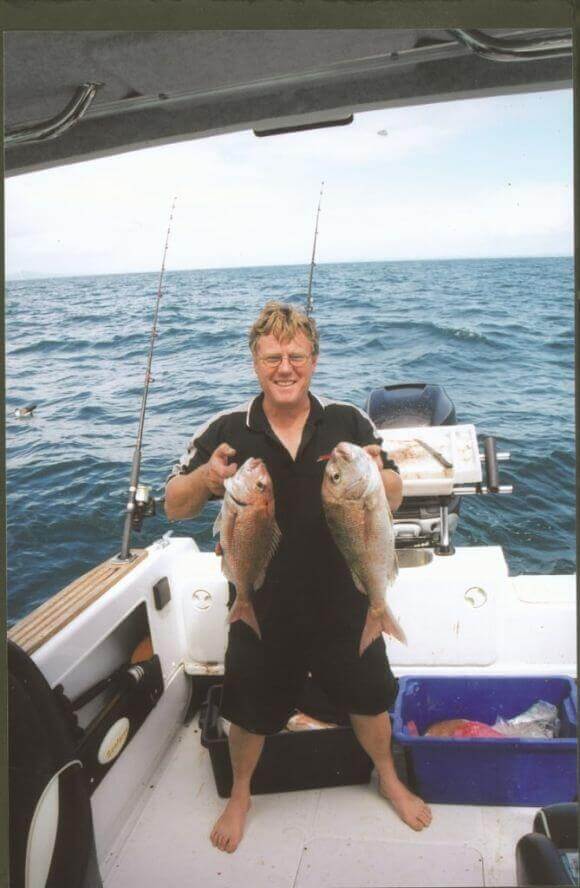 All in all I rate the Seaforce 645HT very highly – it's my style of boat that I could happily use not only to target the local snapper, but also would be totally confident taking offshore game fishing.
– Bruce Duncan
Model: Seaforce 645HT
Price as Tested: $105,637
Designer: Ric Lawrence
Material: GRP
Type: Hardtop
LOA: 7.0m
Beam: 2.4m
Deadrise: 20 degrees
Hull Configuration: Deep V
Trailerable Weight: 1800kg
Height on Trailer: 3.1m
Engine Capacity: 130-225hp
Power Options: Outboard
Fuel Capacity: 180L