Released at the Auckland On Water Boat Show in 2018, the latest Sealegs 8.5m Alloy Cabin is a reinterpretation of the original and according to Barry Thompson is a much-improved boat.
The Sealegs 8.5m Alloy Cabin has, in the short time it has been available, found a diverse clientele, from serious fishermen to those wanting a fun boat for cruising and exploring coastal areas that are only now accessible with an amphibious boat.
As expected, the 8.5m Alloy Cabin has proven a real winner with fishermen and Sealegs designers have considered that when rejigging the boat. There is now a bolt-on rocket launcher, and the rear bait station has been configured with two different options.
You can have a large live bait tank under the cutting board, or space can be converted into tackle storage. It's also the ideal place for a removable bbq. There is a massive kill tank under the cockpit sole, which is now available with split lids to make dropping in your catch a little easier. This is also a good area for your dive gear, wakeboard, skis or any other wet gear.
The transom of the 8.5 Alloy Cabin has been masterfully designed to completely hideaway the Briggs & Stratton 35hp engine that provides the power to the legs. In fact, unless you were told you wouldn't know it was there. Centre stage is the bait station, with a port sidewalk through to the very smart designed side mount boarding ladder.
Apart from a 250-litre fuel tank and a wet locker the voids under the cockpit floor are all sealed buoyancy chambers. U Deck is offered as an optional floor covering, which not only adds a stylish finish to the boat, it's also great to walk on, easy to clean and warm.
While Sealegs has made no alterations to the running surfaces of the hull, as they felt that couldn't be improved on, it is in the cabin top that the main changes have happened. The hardtop is slightly lower with a smoother profile but also done without taking away any internal headroom. While the beam of the boat hasn't changed – it still fits in a container – the cabin is wider and slightly lower. The extra internal beam has been achieved by substantially narrowing the width of the side decks. While the gunnel is still wide enough to walk around, it's not something you need to do often as all anchoring can be achieved from the helm and there is also a sizeable forward hatch for foredeck access.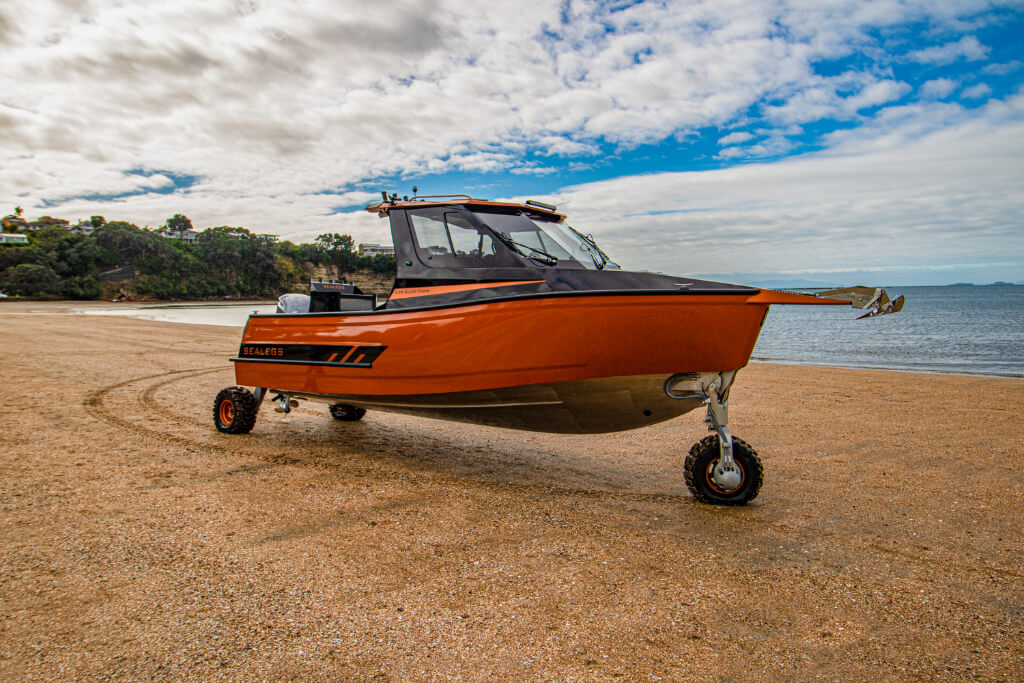 Externally the new model delivers a softer and more streamlined profile with a lower and wider wheelhouse. The hull sides have lost that solid flat look and replaced with swagged lines that add a nice contrast and also a perfect profile for the Sealegs 8.5m Alloy Cabin decal. The rub rails have been changed from a hard edge to a more rounded lip which has also been done primarily for aesthetics. It all works well and gives the new model a more refined look.
Hardtops are great for protection from the weather, but when it comes to boating the icy areas of the world, even a little more protection is called for. In the Pacific Northwest, an active market for Sealegs hardened boaties spent a lot of the time on the water in single digit air and water temperatures, so the ability to keep the wheelhouse warm is a serious consideration. Sealegs offer a fully enclosed wheelhouse which can be either drop down clears or a solid alloy bulkhead with windows and a lockable door. Sliding side windows and overhead hatches let in fresh air when you need it. Add a small diesel heater, and you're as warm inside as the big brown bears feeding on the salmon along the shoreline.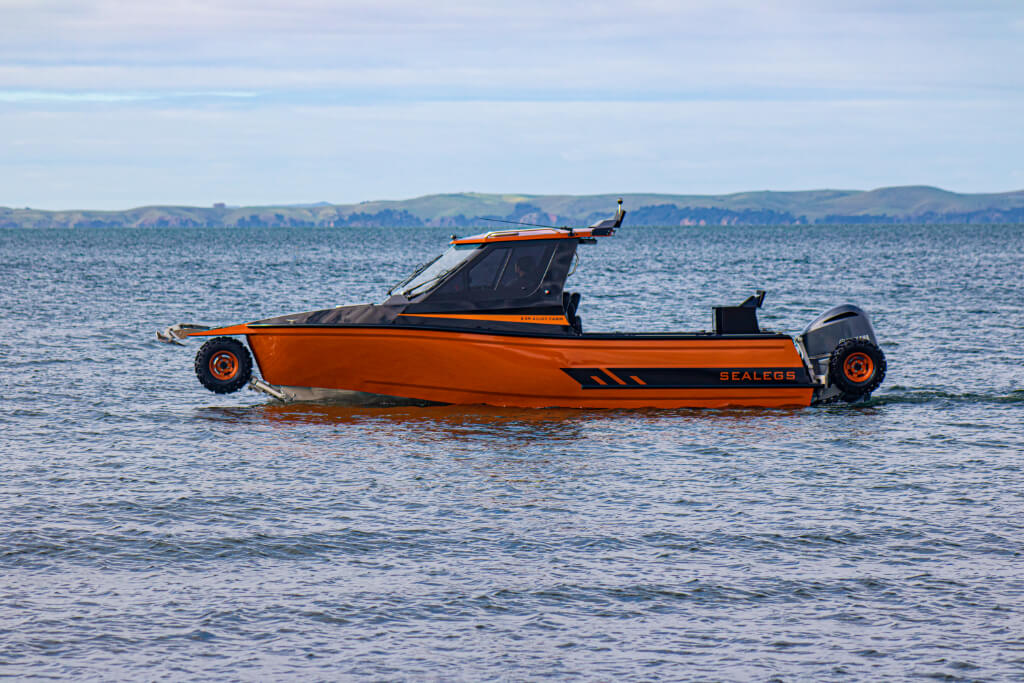 The seating style is again a customer decision with twin Hi-Tech Plastic captain's chairs standard. Our boat was fitted with a king/queen passenger seat on an alloy base and a single Softrider pedestal helm seat. There is a deep cavity under the passenger seat to take a Dometic portable fridge/freezer or a 90-litre Icey-Tek chilly bin and a large storage bin fitted behind the helm seat.
The helm is extensive, and everything falls to hand quite naturally. There is the usual array of instruments and controls for the outboard, plus electronics, and you also have the addition of commands to run the Sealegs System 70. Our electronics package included A Simrad NSS12 EVO 3, Simrad autopilot and VHF plus a Fusion stereo head unit.
Another notable change to the latest 8.5m Alloy Cabin is the previous two panel, two mullion front screen has been replaced by a three-panel design that has no mullions and offers unimpeded viewing. The 6mm toughened glass panels which are joined together with a thin silicone strip can be fitted with a wiper on each panel. Indeed provides a new perspective to the look of the boat.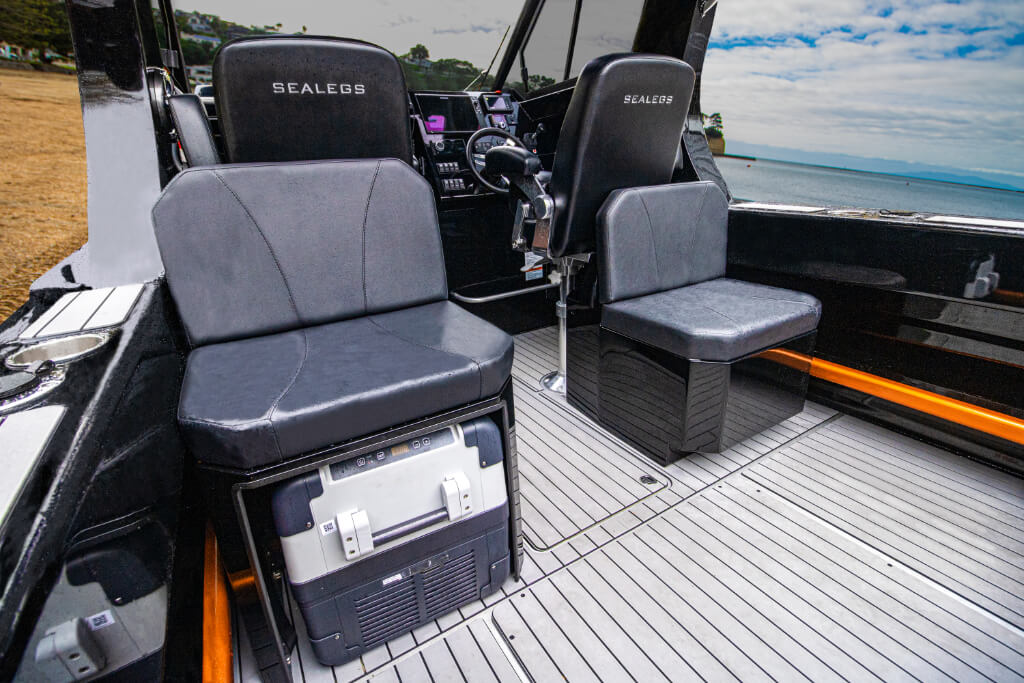 The cabin offers two 1.95m berths with an infill, with a plumbed head under the centre squab and a privacy curtain. There is plenty of sitting headroom, and the overall use of fabric makes the cabin a lot cosier and inviting. The forward bulkhead has a hatch for access to the anchor locker should you have an issue with the drum winch and an overhead hatch.
Innovisions unmistakable DNA comes through in the profile of the hull, with that distinctive plumb bow shape giving it away. While Sealegs has licenced the hull design from Innovision, it is an all Sealegs boat from there. The 8.5 Alloy Cabin is entirely built from the welding of the 5mm hull plates, through to the final fit and finish in the Sealegs factory in Albany, Auckland.
Peter Small, Global sales and marketing manager for Sealegs, describes them as bespoke, which means every boat is custom built to an owner's requirements.
"While the basic hull and cabin top doesn't change, it's what we fit out the boats with and how we configure the seating, transom area and overall layout that makes the difference", says Peter.
Owner's get to run through a detailed options list and tick the boxes as to what they want to be added to the basic boat. At $NZ229,000 you get a package that includes the Sealegs System 70, plus things like a painted hull, bow camera, seating, Savwinch drum winch, and 250-litre underfloor fuel tank.
Then you need to decide on your outboard (Sealegs standard options are a Yamaha 225 or 250, both with EPS, but the factory can fit most brands. Next, it's the electronics and entertainment packages that will need to be considered, and then you are good to go. You don't need a trailer, but there is one listing in the options package.
The Yamaha 250 gives a top speed of 40 knots. It's a comfortable boat to drive and benefits from the Zipwakes when you want to get the ride as perfect as you can. On sea or land, the 8.5m Alloy Cabin delivers it all.
When I walked through the Sealegs assembly plant in Albany and saw most of the built slots taken up with 8.5m Alloy Cabins in various stages of construction, it was easy to believe that this model has been an enormous success. Peter told me that there were only two build slots left for the second half of this year, plus orders were being taken for next year, with production running at about two boats a month. It seems that it is not just the Kiwis that are embracing the 8.5m Alloy Cabin with around 2/3rds sold to local owners and the rest going overseas. Peter says that until now they have not promoted the boat offshore, but have plans to do so throughout Australia, USA and Europe at major boat shows. Two boats a week may not be enough!
Model & Model: Sealegs 8.5m Alloy Cabin

Price as tested: $360,000 (excl gst)

Priced from: $320,000 (excl gst)

Type: Hardtop   

Construction: 5mm /3mm Aluminium

LOA: 8.50 m

LOH: 6.70m           

Beam: 2.31 m   

Height On Wheels: 2.92m

Deadrise: 16 deg   

Weight (Dry): 2250 kgs

Test Power: Yamaha 250hp
Propeller: Yamaha

Power options: Outboard Only

HP Range: 225-250 hp       

Fuel Capacity: 250 litres

Trim Tabs: Zipwake

Winch: Savwinch

MFD: Simrad NSS12 EVO

Entertainment: Fusion Apollo

Decking: U-Deck

On Land Engine: Briggs & Stratton 35 HP

Max on land speed: 7.5 kph     (5 mph)           

Manufacturer: Sealegs
SEALEGS SYSTEM 70
Sealegs amphibious boats, of which there are now over 1200 on the water & land, have been specifically designed and developed to take all the hassle out of the boat launching and retrieval process. The Sealegs system consists of motorised, retractable and steerable wheels which are fitted to specially designed boats to give users a fully integrated, turn-key package.
The craft can be driven from a storage location, down a boat ramp or beach and into the water – all with the occupants remaining in the boat completely dry. Once the craft is afloat, the wheels lift out of the water to be stored against the hull, and the boat is used as normal. When approaching land, the wheels are lowered back into position, and touch the bottom to drive the boat up onto land. Occupants can disembark up the beach or back in the boat store. 
The 8.5m Alloy Cabin is fitted with the Sealegs System 70, which is equipped with all-wheel drive (AWD), power steering (PS or EPS) and automatic (ABS). Other key elements of the System 70 are larger diameter tyres, a longer front fork to accommodate the larger tyres and a 35hp inboard engine.