DÉJÀ VU
Freddy Foote tests the Smuggler Multisport 570, which left him with a distinct feeling of Déjà Vu.
Testing the Smuggler Multisport 570, winner of the GRP Fishing Boat Under 6m award at the Hutchwilco New Zealand Boat Show, left me with a distinct feeling of "have I been here before?" It all seems quite familiar, but a little bit different. In fact it was only a few years ago that I had tested a couple of models with the same heritage as this boat.
As has been widely publicised in recent months, Smuggler Marine has purchased the entire Bonito range and re-badged all the boats and models as Smugglers – now giving Smuggler one of the most extensive ranges of models of any GRP boat manufacturer in Australasia.
The Smuggler Multisport 570 is now what was previously known as the Bonito 535 Multisport – a boat model that I had had a lot of experience with. The Smuggler 570 range continues to incorporate a cabin, bowrider and centre-console model as we see here. More recently we've seen the bowrider model being our very own photo boat (tested in our June/July 2010 Propeller Magazine issue).
A centre console model is not new to New Zealand brands, but it has been some years since there has been a production model available from a fibreglass manufacturer – especially one of this size.
Dave Pringle, MD of Smuggler Marine, says there is a definite niche' in the market for a boat of this type.
"There are plenty of RIB centre consoles available, but a RIB doesn't necessarily suit the needs of all users. We felt that people would love the open layout of a centre console that h as a higher sided profile than a RIB," says Pringle, who added "You won't accidentally gaff a tube on this boat!"
The Multisport still features a moulded floor section that runs chine to chine and part way up the side of the hull. Construction however still incorporates a plywood cockpit sole, with the fibreglass liner sitting on top, rather than replacing it altogether. The boat now features a fibreglass liner on the insides of the cockpit side shelves.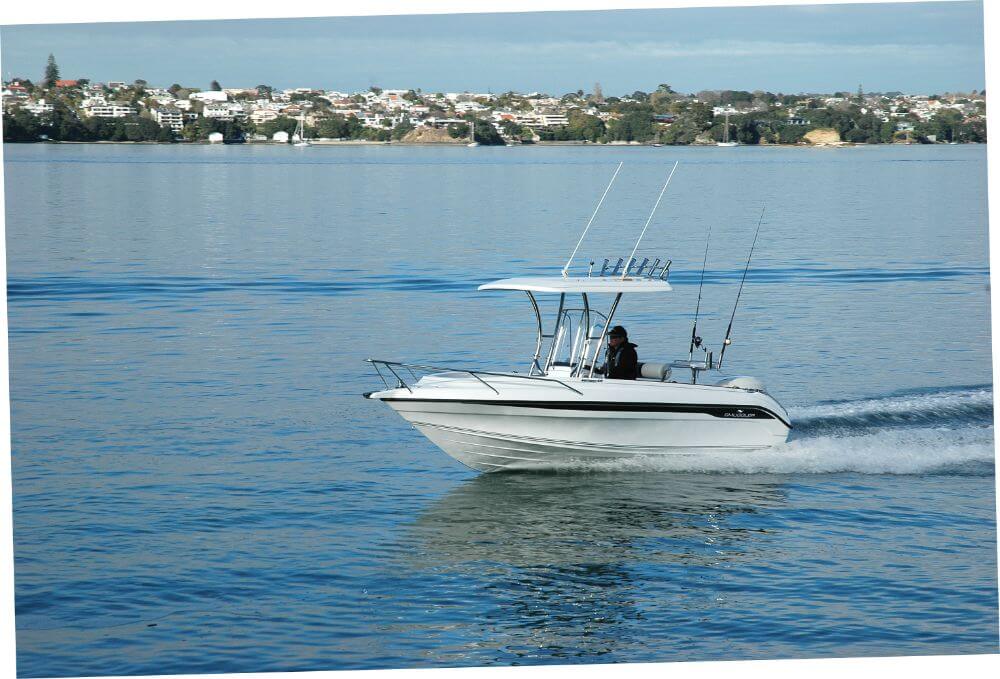 As with all Multisport models, the internal layout can be customised to suit an owner's needs and there is a large accent on items being removable to customise the day's boating as needed. In the aft corners, bin seats are easily removable, to be left at home if not required.
The main helm seat, one of the biggest items in the boat, can also be fully removed if needed. You could opt for a standalone leaning bar should you wish, which would really open up the cockpit. As everything is secured in place with brackets and pins, there is no reason why you can't have both and swap them in and out as needed.
One great feature of the main helm seat fitted to our test boat was that the back rest was movable. More simply, you could sit facing forward while underway, then once anchored and fishing you could shift the backrest forward to then have an aft facing seat.
The targa hardtop assembly can be easily disassembled if you have height issues in your garage. It can be taken off in one piece, or there is an option for a foldaway unit too. The targa top also accommodates a rocket launcher, VHF aerial and an LED floodlight to illuminate the cockpit when fishing at night. Additional cockpit lighting is also fitted into the cockpit sides. A further nice feature of the hardtop was the inside of it was finished neatly, having been lined with vinyl.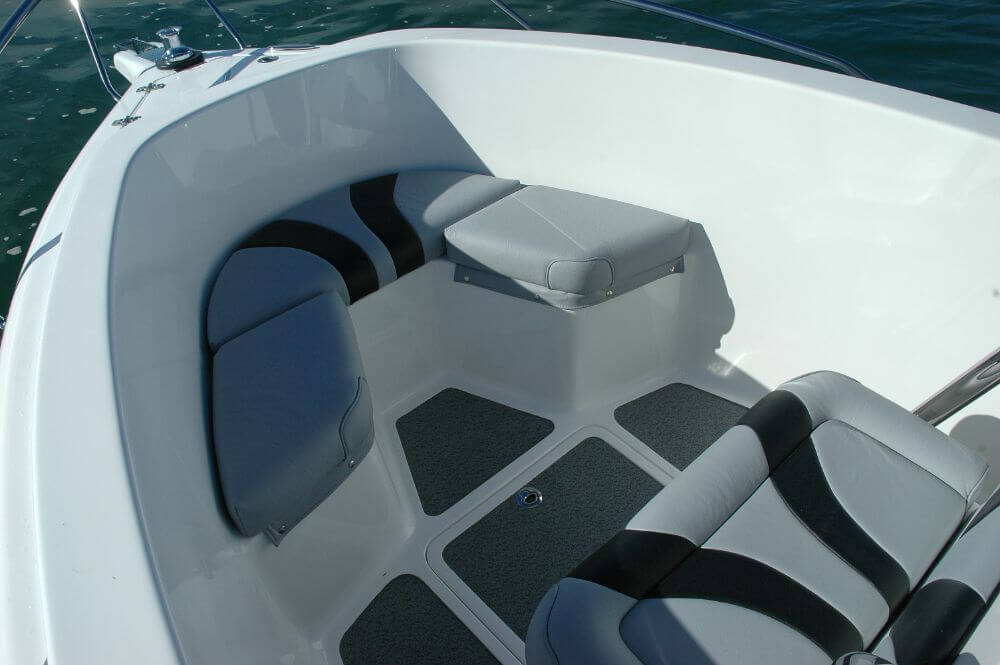 The helm was neat and stylish, and housed an Eagle multifunction display, a VHF, dual cup-holders, handrails and the regular engine instruments by Evinrude. The internal dimensions of the helm console are certainly huge, giving plenty of room to stow all your gear for the day.
Back aft, there are features aplenty. In the port corner there is a small storage locker, while immediately behind that, set into the port boarding pod, is a fully plumbed live bait tank, which is accessed from above. A similar storage locker is located in the starboard corner and a small sink with wash-down hose close by is a feature.
A transom curtain hides away batteries, oil tanks and other onboard systems, while various Tallon receivers will cater to a variety of accessories that can be fitted such as dive bottle holders etc.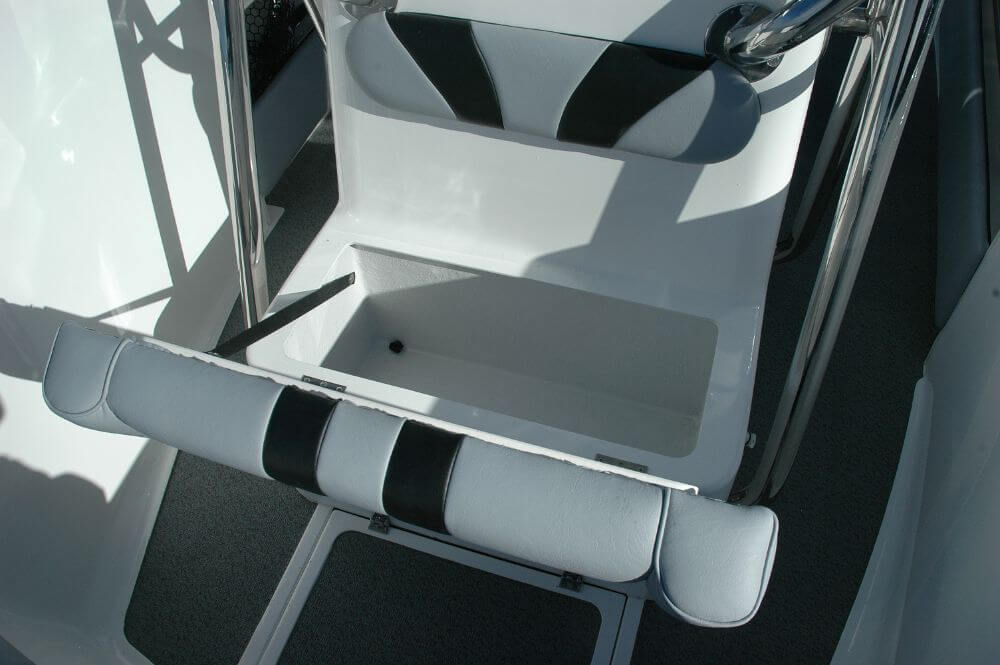 In the aft section of the cockpit is a large storage area, which is self-draining and is ideal for wet gear, or to store the day's catch. It also features removable carpet if you want to store larger items such as dive bottles, to get them out of the way.
For'ard and immediately in front of the helm console is a chilly bin seat. Forward of that is an aft facing V-shaped seating arrangement complemented the bow section with storage underneath, and also housed the control for the capstan forward. Under the floor is a storage locker identical in size to the aft one in the cockpit.
This particular model's layout essentially provides forward facing seating for six people. There are another couple of seats forward near the bow, facing aft. There are six rod holders built into the tops of the gunnels, with a further four built into the bait board, not to mention the rocket launcher above. Having somewhere to store a rod is not going to be an issue and the cockpit side shelves provide ample storage for 6 a further 6 rods as well as gaffs and nets.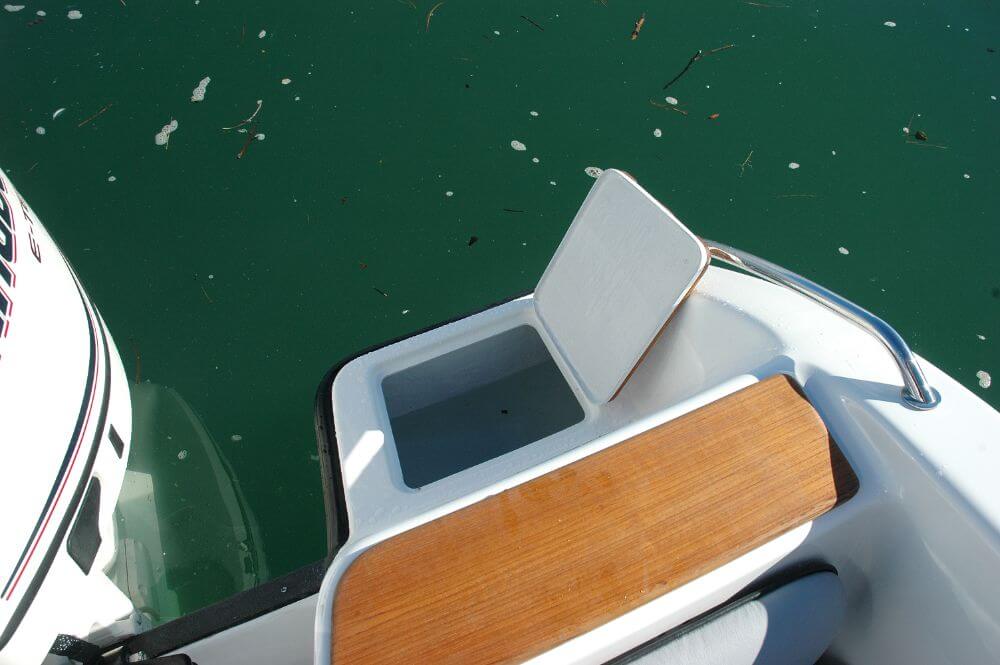 Our test boat was fitted with an Evinrude 115hp E-TEC direct injection two stroke. Running a 17" Viper propeller and still being a relatively fresh motor, it proved to be no slouch and cracked the 40mph mark with 43.0mph @ 6000rpm. The boat will cruise comfortably at 30mph pulling 4500rpm and according to the E-TEC gauges was consuming 25 litres per hour. 41 litres per hour at wide-open throttle.
The 570 is rated for 90-150hp, with the 115hp being the preferred option.
I found it to be the perfect match for the hull, giving the right balance or performance for the type of boat and the type of boating it is intended for. The 115hp engine packaged with the 570 makes it pretty much foolproof boating, and someone with very little boating experience would easily be able to take this out for a day on the water and be able to master it very quickly.
However, these hulls traditionally love a bit of horsepower, so if you're after a little extra zing and are a competent driver and as we have demonstrated on our Bowrider 570 model, it will more than handle 150hp, making this a 50mph boat.
Feeding the E-TEC 115 is a 120-litre built-in fuel tank, though there is an option for tote tanks should you specify a smaller horsepower engine. The cockpit sole historically was raised in order to accommodate a big underfloor fuel tank.
As you'll see by the accompanying photos, test day was mirror smooth, so finding rough water to check out the handling just wasn't going to happen. However, having had a lot of experience in the prior 535, I can say without hesitation that the hull is an excellent performer.
You can really turn the boat in sharply and dig in hard on corners without the hull breaking loose. A double turn-down chine gives it a very soft ride, and more importantly, being an open centre console, a very dry ride. It is the kind of boat in which you would feel comfortable venturing further afield, or as a lot of us encounter, a boat that will go well when it cuts up rough as we're heading home.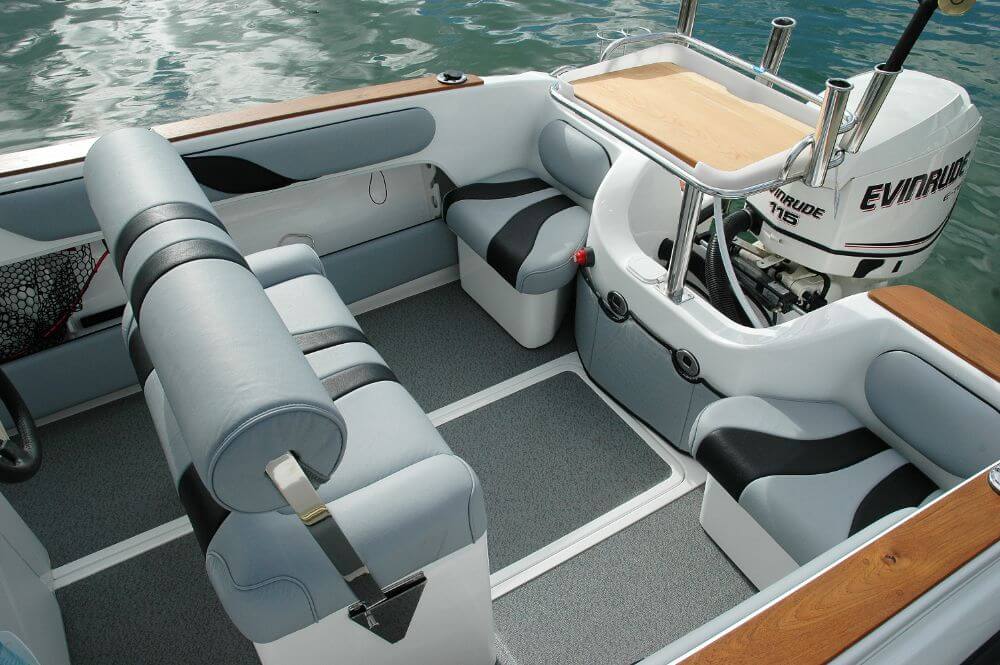 The rigidity of the targa top section was put to the test when we tackled a couple of large ferry wakes – hardly a shudder or wobble was felt through the boat. Some centre consoles opt for the canvas Bimini top, though Pringle says it's actually no cheaper and thinks the hardtop gives the boat a better look.
Being targeted unashamedly at the fishing market, this boat's stability at rest was really fantastic. Two of us moved around the boat easily, with very little heel being experienced.
Driving the Multisport 570 was an absolute pleasure. I found the seated position suited me best, given the fact that conditions were very light, and it was winter! The large windscreen provided awesome protection from the biting winter chill.
This will be a great boat in the summer for exploring the Hauraki Gulf or wherever you may be. Not that I'm saying you can't boat during the winter, just rug up and you'll be fine. The standing driving position was excellent, affording plenty of visibility forward over the windscreen and the engine throttle control to the right was within easy reach.
Overall, I agree with the boat show judges that the Multisport 570 is a real winner. It's a boat that is going to be very adaptable to so many uses. It will make a great boat for families to use on general days out on the water, while at the same time it can be customised to be a well appointed fishing machine.
The centre console layout gives you the ability to fish six people at once should you need – which you'll struggle to match in other craft of the same length. Despite its being a centre console, I was really quite overwhelmed with the amount of storage available.
Depending on how you wish to have your Multisport 570 fitted out, you can get one on the water for as little as $49,700.
Dave Pringle commented, "As you see this boat, it's fairly highly spec'd. We released it only just in time for the boat show. We really wanted to show off every aspect – just what is available and what can be achieved with the right ideas."
The Bonito name may be gone, but the Smuggler name is set to further entrench itself into the future history books of kiwi boating.
Model: Multisport 570
Designer: Smuggler Marine
Priced from: $ 49,700
Price As Tested: $ 69,750
Type: Open, centre console
Construction:  Fibreglass
LOA: 5.75m
LOH: 5.3m
Beam: 2.24m
Deadrise: 21 degrees
Height on Trailer: 2.85m (rocket launcher down) 2.38m (HT folded down)
Trailerable Weight: 1300kg
Engine Capacity: 90-150hp
Power Options: Outboard only
Fuel Capacity: 120 litres
| | | |
| --- | --- | --- |
| Revs | Speed MPH | Litres/hour |
| 1000 rpm | 4.5 | 1.1 |
| 1500 rpm | 6 | 2.5 |
| 2000 rpm | 7.6 | 4.8 |
| 2500 rpm | 8.5 | 10 |
| 3000 rpm | 12 | 15 |
| 3500 rpm | 19.7 | 17 |
| 4000 rpm | 26 | 22 |
| 4500 rpm | 30.5 | 25 |
| 5000 rpm | 35 | 31 |
| 5500 rpm | 40 | 36 |
| 6000 rpm | 43 | 41 |
Speeds recorded on a Lowrance GPS