One of the first new 2014 models to be released and just in time for the Hutchwilco New Zealand Boat Show is the Stabicraft 2050 Supercab. Stabicraft is again supplying the prize boat for the show. we sent Freddy Foote along to check it out.
First off, the new Stabicraft 2050 Supercab isn't just a bigger version of the company's popular 1850 Supercab. It in fact boasts not just a longer hull, but a newly designed one, more ergonomic cabin and Stabicraft's innovative Game Chaser Transom and Arrow Pontoons. Sounds all a bit technical thus far, so let's get into the nitty gritty of some of these Stabicraft branded terms.
"Arrow Pontoons" I hear you say. What are those exactly?
For Stabicraft, the Arrow Pontoons are a big step forward in removing the compromise between ride and stability. Looking at the shoulder sections, you see the pontoon welds are raked back. This has reduced the surface area where the shoulders connect with short seas. By doing this Stabicraft says it has softened the ride dramatically, all while maintaining the stability and safety inherent in its pontoon design. Does it work? It sure does – more on that later.
"Game Chaser Transom?" What?
The Game Chaser Transom is a profiled transom to deflect water around the transom to reduce drag when reversing. It also increases the reversing speed and all-important manoeuvrability when trying to land that prized fish at the next tournament. So basically it allows you to chase the game!
Stabicraft says that not only will game fisherman appreciate how cleanly it backs down and how controllable it is when backing down, it is particularly useful at the marina too where the ability to turn the boat extremely easily will be appreciated.
The Game Chaser Transom also increases buoyancy aft, giving better stability with heavy outboards, something that maybe isn't quite so necessary on this particular boat, given that a modern four-stroke 150hp outboard like this Yamaha F150 we have here is pretty light already.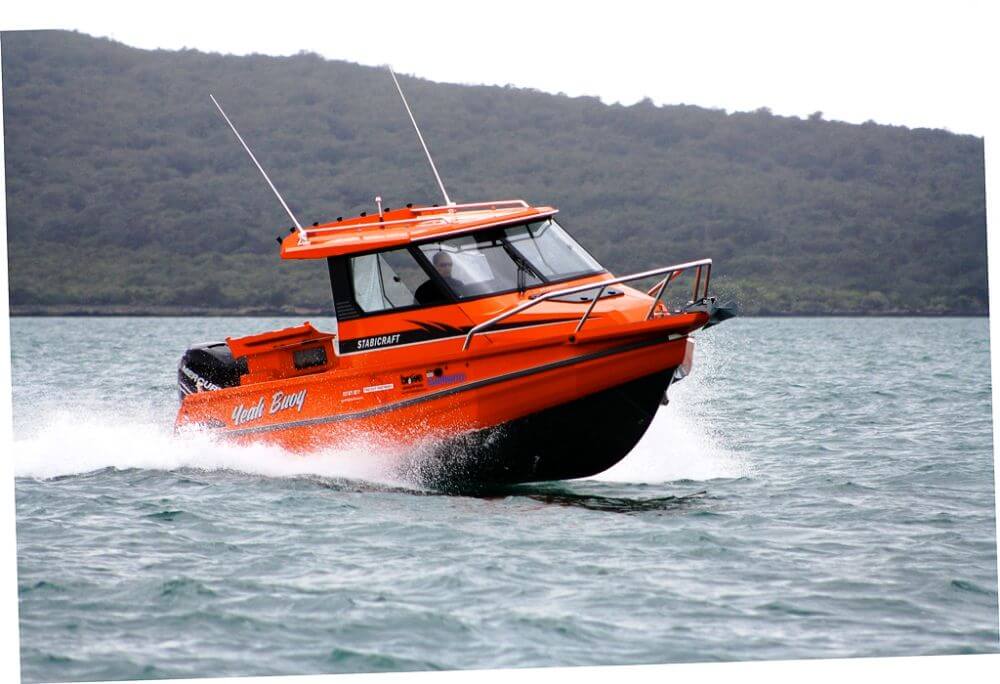 Stabicraft says the new 2050 Supercab has been designed to be more agile, with better features the best fishers will appreciate. And compared to the outgoing 2050 model, the ride has been dramatically improved over its predecessor through the use of the successful Arrow Pontoons and Game Chaser Transom.
"The 2050 has been one of New Zealand's most popular models for almost 10 years so for us to do a complete redesign was an exciting challenge," says Stabicraft Marine Australasian sales manager, Sean McColl.
"We listened to what people needed and wanted in a boat this size and focused on getting that right. Now that things like the Maxwell winch and extra-large live bait tank are standard, plus our innovative pontoon and hull changes, we think fishers will love it."
Fishing Appeal
Like all Stabicrafts, as soon as you step onboard the 2050 Supercab, you quickly gather a sense that it is targeted at fishermen.
At the helm and flush mounted into the powder coated dash was a Furuno GP1870F fishfinder/chartlpotter. Should you wish, the dash will accommodate up to 14in monitors. Standard from the factory comes a Maxwell RC6 capstan anchor winch, all operated from the helm. And as always, visibility is great with the one piece curved toughened glass windscreen.
A Uniden VHF and Fusion stereo system were mounted over to the left, within easy reach of the skipper and the front passenger. The forward section of the dash was carpeted and provides a non-slide area for other items to sit.
I'm a big fan of sliding side windows in hardtops, and though I was disappointed there weren't any on this boat, they do come as an option.
Forward at the helm, cantilever swivel seats at the helm and for the front passenger not only provide dry storage underneath, but given that it's up off the floor, it allows for easy wash-down and clean-up after a day on the water.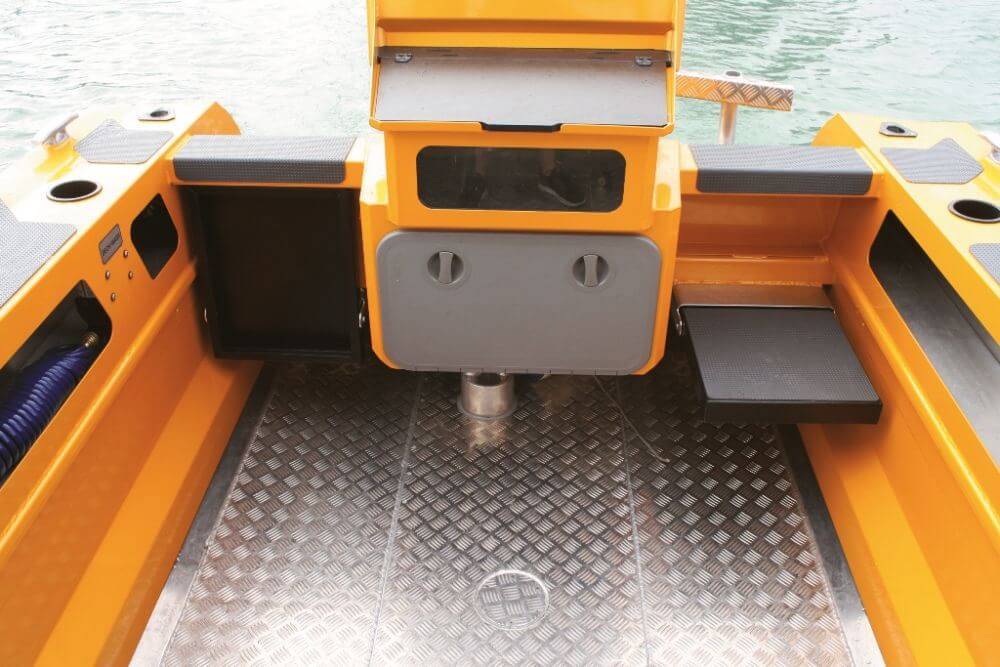 I loved the seating configuration. The lift-up bolster-style seats were big and comfy, were really nice to sit in while underway, and were versatile enough that you could lift up the base and create something to lean against when underway and standing to drive.
As in other Stabicraft models, the company has done a lot of work in the ergonomics of not just the helm area, but also the whole boat. Everything is positioned correctly and just where it should be.
As I've seen on same generation Supercab models, a small step-over bulkhead divides the helm area from the forward cabin. This allows you to store an array of gear up there and not have it slide back into the cockpit when underway.
The cabin is configured in a traditional Vee berth with optional squab infills and whilst it is not massive, it does provide a great place to keep gear stored in what Stabicraft describe as the 'Dump Zone' or simply a place to retreat out of the sun, and for the kids to chill out when needed. Extra storage space is available under all three squabs and via side shelves in the cabin itself.
The cockpit feels large and spacious, with plenty of storage throughout. Large side pockets run each side of the cockpit and provide storage for extra rods and gaffs, etc., and also house the wash-down hose system on the starboard side.
Under the floor you'll find a US Coast Guard compliant 150L fuel tank and from what Stabicraft say, it's an exceptionally hard standard to manufacture to, one that says a lot about the overall focus on safety.
Four rod holders are fixed into the coamings, two each side, and further rod storage is available above in the rocket launcher.
Aft, the large live bait tank complete with viewing window is positioned in the centre of the transom as standard, as are the alloy rod holders and bait station above the tank itself.
In the aft corners, the rear seats fold up for fantastic access to the rear of the boat when angling.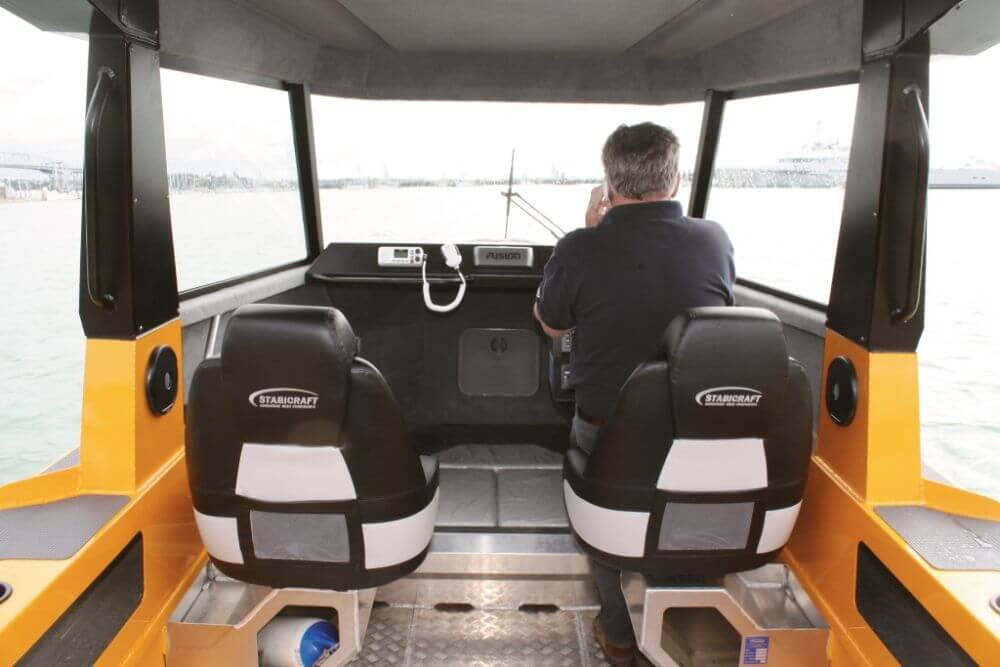 The Stabicraft 2050 Supercab is rated for outboards from as low as 115hp through to 150hp, with this particular model partnered with Yamaha's popular Yamaha F150 150hp four-stroke outboard.
If game fishing is your thing, then the 2050 Supercab can easily be set up for this, and running with the Yamaha F150 will return some pretty impressive figures.
Here's what we observed out on the test. At 1500rpm and 6.5mph, the Yamaha was using just 4.9L/h.
Put the throttle down to a cruise speed of 22mph @ 3500rpm and fuel use was 18.1L/h or 2.2km per litre of fuel.
At wide open throttle the 2050 Supercab and Yamaha 150hp package will hit 46.6mph at maximum revs of 6000 and will use 62.8L/h of fuel.
The Yamaha F150 I thought was a good match and delivered a great mix of out-of-the-hole punch, mid-range torque and top end speed. In addition, it was quiet, and it had excellent fuel economy.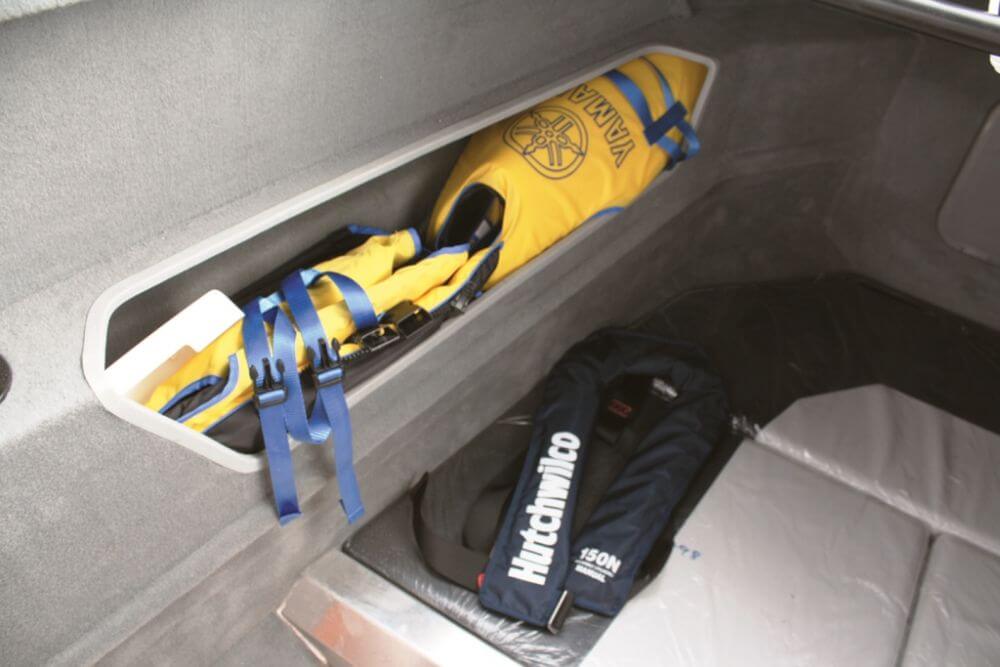 Underway the ride was really good, and compared to previous models you could definitely feel the improvements made via the Arrow Pontoons.
Now we probably have to give special mention to the paint scheme of this craft because it really is quite stunning.
The actual colour is called Ford Tangerine Scream from PPG – as seen on 2013 Ford Focus ST models. The product used is what PPG calls its "GRS" Basecoat Clearcoat system. (Global Refinish System) PPG GRS is a globally recognised and used refinish paint system formulated for high levels of resistance to chemical and environmental wear whilst offering outstanding colour and all-round paint performance. Not that you really care about that – it just looks awesome!
Everyone who goes to the 2014 Hutchwilco New Zealand Boat Show at the ASB Showgrounds in Greenlane, Auckland on 15-18 May can be eligible to win this great prize.
To qualify for the draw, visitors to the show need to buy a $20 admission ticket (complimentary tickets are not eligible), collect all seven stamps from the clearly-marked stamping booths, correctly fill in their ticket (including answering a simple question) and place their completed, stamped ticket in the entry box by the prize boat display in Hall 5.
The draw will be made shortly after the 2014 Hutchwilco New Zealand Boat Show closes on Sunday, May 18. The winner will be phoned immediately and be able to pick up their amazing new boat package (on its registered and warranted trailer) the next morning!
Model: 2050 Supercab
Priced from: $80,000
Price as tested: $100,000
Type: Alloy hardtop pontoon
Construction: Aluminium
LOA: 6.2m
Beam: 2.4m
Deadrise: 20 degrees
Height on trailer: 2.80m
Trailerable weight: 1500kg
Power: Yamaha F150
Propeller: 17 Inch Reliance
Engine capacity: 115-150hp
Power options: Single/twin outboard            
Fuel capacity: 150L