It has been a number of years since Surtees Boats produced a boat over the 8m mark, but due to demand they have done it again. You'll struggle to find a trailer boat much bigger than their new 8.5m Game Fisher. Freddy Foote checks it out.
This particular Surtees 8.5 Game Fisher has been built for an Australian owner, and has a lot of custom extras as specified by him, but for the large part the standard features and design of the big 8.5 ticked all of his boxes. The 8.5 Game Fisher is designed as an all-rounder with all the amenities to be a very comfortable day boat, yet should you wish, and indeed as the Australian owner tends to, it has adequate overnighting capabilities yet still has a whole host of features and all the working space to allow for fishing and whatever activities he should choose.
From the outside the boat visually is well balanced with a good split between cockpit and cabin size compared to the overall length of the boat itself, and with the extra wide beam of 2.8m it certainly is roomy. The layout configuration is fairly standard and is what Surtees say works well for customers.
Forward, the very large forward cabin has a traditional vee berth and with the addition of two in-fills converts to a very largely and comfortable double.
There is plenty of storage underneath, and also a toilet under the squab forward of the helm bulkhead. For added privacy, a drop down curtain can be dropped across the cabin door.
To the port side of the main saloon area is an L-shaped dinette. This table can drop down, and with the addition of an infill, forms another bunk for sleeping accommodation. Plenty of storage is available underneath, which is accessed via two lockers.
Opposite there is a small kitchenette with a sink and two-burner gas stove, with drawer storage underneath. Forward of that and underneath the helm seat is a 75L fridge unit.
Stepping out into the cockpit through the double cabin doors, you are greeted by a very open and roomy work area.
The spacious cockpit has high gunwales that give you a safe feeling when moving around. Very large cockpit shelving takes care of storage for rods and other items on both sides, whilst a rocket launcher is located above.
The aft starboard corner features a walk through onto the boarding platform, whilst underneath is a good sized live bait tank with viewing window. Across the transom itself is a large storage locker which houses batteries and other onboard systems, and a sizeable bait station is located above.
A washdown hose is in the starboard after corner of the cockpit, while in the forward corner is a storage locker and housing for the califont (fed by the 100L onboard water tank) and seat for passengers. A drop down seat resides opposite and is completely movable to wherever you want to position it in the cockpit.
At the helm, everything is well appointed and positioned for easy viewing or access. The helm seat is nice and elevated and gives you excellent viewing forward when helming. The seat has a built-in bolster, which can lift up, allowing you to stand and helm should you wish.
Sliding windows on both sides are a great feature, as is a sliding window at the aft part of the main cabin area. With all the windows and doors open, it will be a nice airy and cool environment on those hot summer days.
One of the neat things at the helm was the Ultraflex Power steering, which is not to be mistaken for the standard hydraulic steering. Essentially the steering can be adjusted on the fly to three different settings and three different levels of feel. Essentially ranging from light steering through to heavier if you prefer to have more of a feel for the boat underway.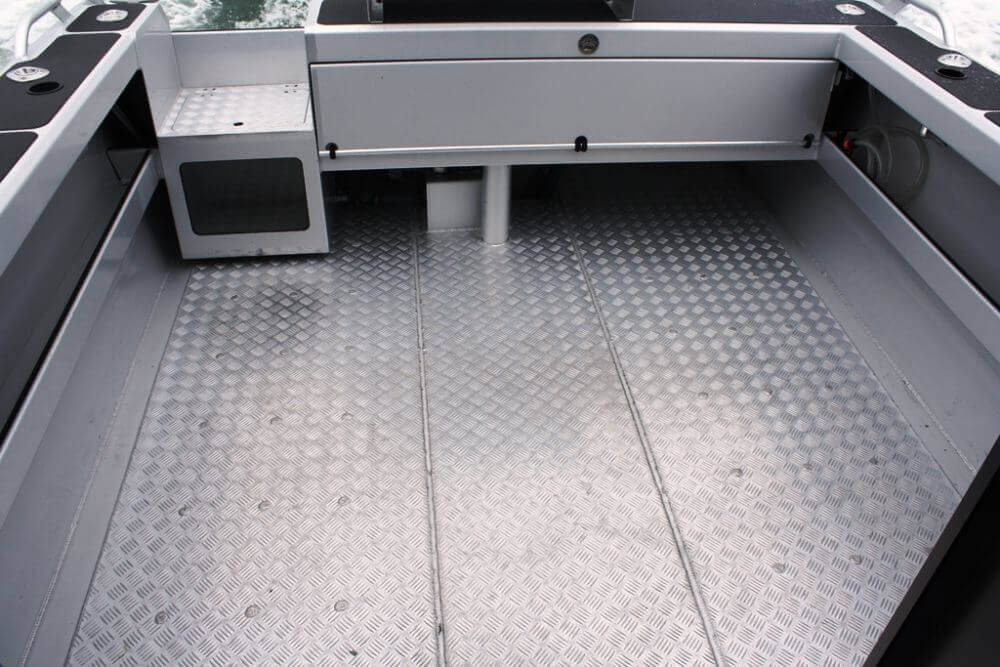 Triple wipers keep the view clear in rougher conditions, through the three-piece windscreen,  – something we frequently used in the mixed conditions off the Whakatane coast. And trim tab controls were down to the left within easy reach.
The owner of this 8.5 Game Fisher specified a bow thruster as an optional extra, mainly due to the fact that it will be housed on a cradle, and due to tight navigational issues a bow thruster is needed to get the vessel in and out of it's home base.
He also specified a solar power system to ensure onboard systems are kept powered consistently, most importantly the onboard fridge for extended trips away.
An adjustable flat screen TV is located over to the port side mounted on a bracket, fed entertainment via the satellite TV system also onboard. There certainly won't be any dull moments onboard this vessel.
This 8.5 Game Fisher was powered by the throaty and powerful Yamaha F350 V8 outboard and it was a good match, providing plenty of grunt and punch out of the hole. The hull is rated from 250hp onwards, but I feel you would need a minimum of 300hp to get the best out of the hull. A diesel stern drive option is available as an option, with at least one of the new 8.5's in production due to have a diesel power plant. Twin four-stroke outboards are also another option to consider.
On the water, the big 8.5 Game Fisher achieved 40mph with the Yamaha F350 V8 outboard. The throttle was responsive and the big wide 8.5 ate up anything we threw at it on test day.
The overall ride was very very good, and it would certainly handle whatever conditions you throw at it. Test day conditions were rough and changeable, and we took it from all sides. The hull did nothing unexpected, and although we took a fair bit of spray on the windshield, it was largely due to the gusty conditions picking up spray and throwing it back in our direction.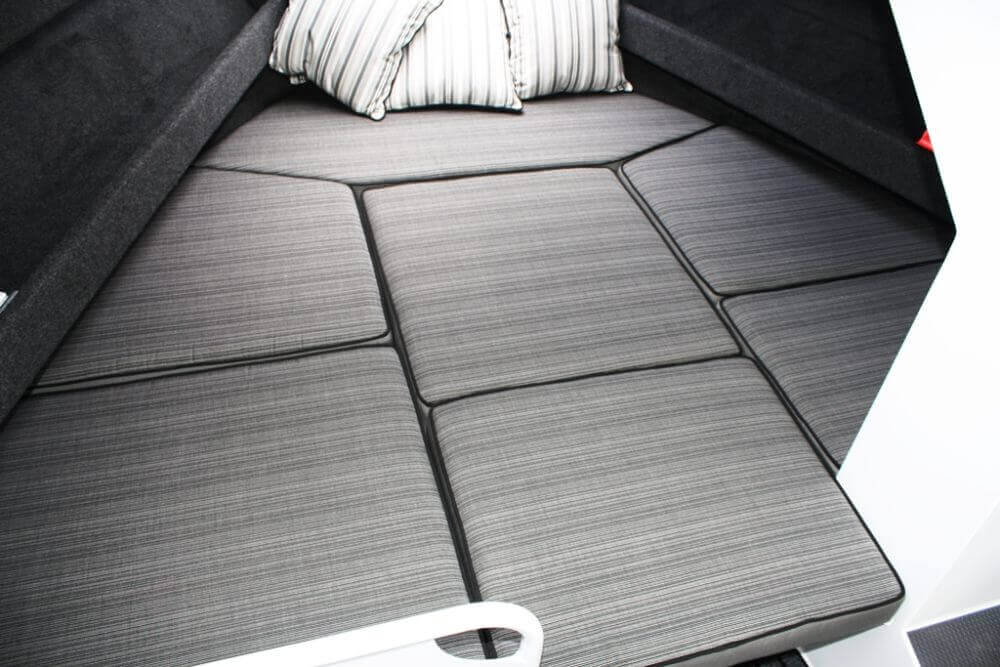 The 8.5 Game Fisher also features Surtees flooding keel system, allowing 200L of water ballast to be taken into a chamber built into the keel. This adds extra stability to the boat when at rest. Though it wasn't fitted at the time of test, a hydraulic gate system was going to be fitted to this 8.5 to hold that water in when underway, adding extra performance for rough water handling – though in given my experience on the day, I don't think it really needs it.
Back at the ramp, the 8.5 Game Fisher is very much trailerable, though it is close to the limits of what you can comfortably tow around. It weighs in at 3250kg including the boat, motor and trailer, but that is minus loaded up with fuel, which with the addition of that would put it up at 3500kg.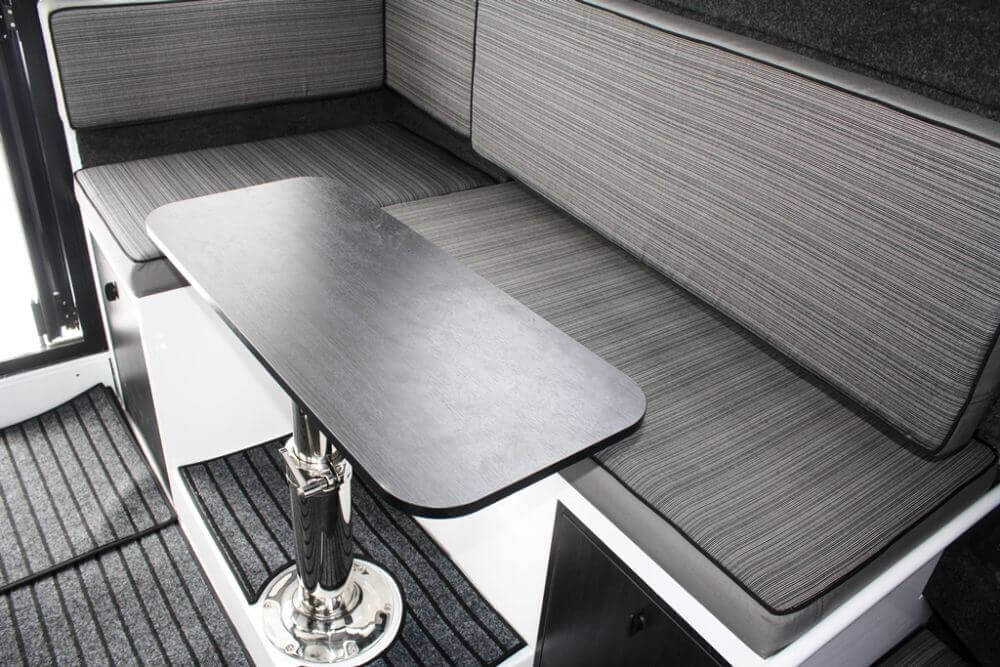 The 8.5 comes with a heavy duty tandem trailer with Carlisle brakes with S/S callipers on all 4 wheels including springs, LED lights, dual jockey wheel, dynamic winch rope and Surtees quick hitch system. The quick hitch system is something Surtees have had for years, and it's a catch system that allows you to load the boat on and off the trailer without having to use the winch.
As tested, this rig was $315,000. Yes, that's a sizeable amount of change for a trailer boat. But keep in mind some of the option that were specified by the owner such as the Yamaha F350 outboard, bow thruster, 4 X large solar panels and regulator, upgraded Garmin Chirp Sounder, triple batteries, satellite TV, Ultraflex power steering and Garmin autopilot and you'll soon see where the dollars go.
Still, packages start from $285,000 and with the extensive list of standard features you are getting an incredible amount of boat for your money. If you are in the market for a large semi-custom trailer boat, then the new 8.5 Game Fisher should be on your list.
Make &Model: Surtees 8.5 Game Fisher
Manufacturer: Surtees Boats
Priced from: $285,000
Price as tested: $315,000
Type:  Hardtop
Construction: Aluminium
LOA: 8.65m
Beam: 2.8m
Deadrise: 18 degree
Height on trailer: 3.21m
Trailerable Wgt: 3250kg (Dry)
Test Power:   Yamaha F350
Propeller: 15 X 16 ¼ Saltwater series XL
Maximum RPM: 5500
Top Speed: 40mph
Power Options: Outboard or sterndrive
HP Range: 250-350hp
Fuel capacity: 450L
Trailer: Tandem anxle, braked.
1000 rpm
3.5mph
 
5.2lph
1500 rpm
6.5mph
 
9.3lph
2000 rpm
8.0mph
 
15.1lph
2500 rpm
10.5mph
22.1lph
3000 rpm
14.0mph
30.5lph
3500 rpm
22.0mph
42.0lph
4000 rpm
26.5mph
53.0lph
4500 rpm
31.0mph
67.0lph
5000 rpm
33.5mph
86.0lph
5500 rpm
40.0mph
110lph