Author : Barry Tyler 
The Steber name over the years has been synonymous with a quality 'all-rounder' boating package, encompassing a timeless hull design. What do change however, with each new evolutionary model produced – are the internal and external appointments, specification and aesthetics. The latest model to receive this 'attention' is the Steber 47 Flybridge Cruiser which graphically illustrates the company's adherence and dedication to ensuring the product is 'current' – with an interior fit-out entirely in keeping with a 2009 model.
There is a very good reason behind Steber International's envied worldwide reputation as a builder of excellence in the commercial sector –the seaworthiness of its hulls attracts diverse operators who often work in the worst of conditions, miles out to sea. The by-product for the pleasure sector is that this reputation and respect instinctively transfers to the recreational side of the iconic family-owned business, for Steber works on the theory that you do not re-invent the wheel – you don't mess with something that works so effectively well – you just keep the pleasure models 'current'.
As such this latest 47 Flybridge Cruiser is far from an actual new model within the Steber range, but having had the pleasure of testing the very first 47 ever produced I am pleased to proclaim that the model has indeed very much moved with the times as regards all of the aforementioned. Balance was one of the nicest aspects of this Steber, for it was certainly very easy on the eye as regards the actual 'lines' of the vessel. Just the right amount of space had been devoted to each aspect of the boat, so as to keep the lines completely in proportion and complementing of each other.
All-encompassing was another descriptive which sprung to mind, to describe the number of audiences this boat appeals to. A significant number of owners have been drawn to this particular model, for its fishing prowess. The semi-enclosed hard-top offers protection from the elements yet courtesy of its open 'back', it also offers a clear view of proceedings below at deck and water level. The huge and decidedly uncluttered (teak-floor) cockpit area offered sublime working space, there was significant underfloor and side hatch wet and dry storage provision in this cockpit area also, the coaming tops were free of anything to damage or snag lines and there were a number of rod-rack storage points both inside and outside of the vessel.
It also appeals to the cruising fraternity for as a cruising and seafaring family, MD Alan Steber and his team go to often extreme lengths to ensure there is every available feature aboard that ensures an extended-stay situation is all the more pleasurable. The 47 was economical to run, well insulated so it was quiet underway both from a hull as well as engine noise perspective and it was more than adequately appointed in aspects such as ablutions, galley, refrigeration, electrics and flybridge detail. It was certainly not cramped for room in any facet and most of all it was simply – a comfortable ambient boat to be aboard.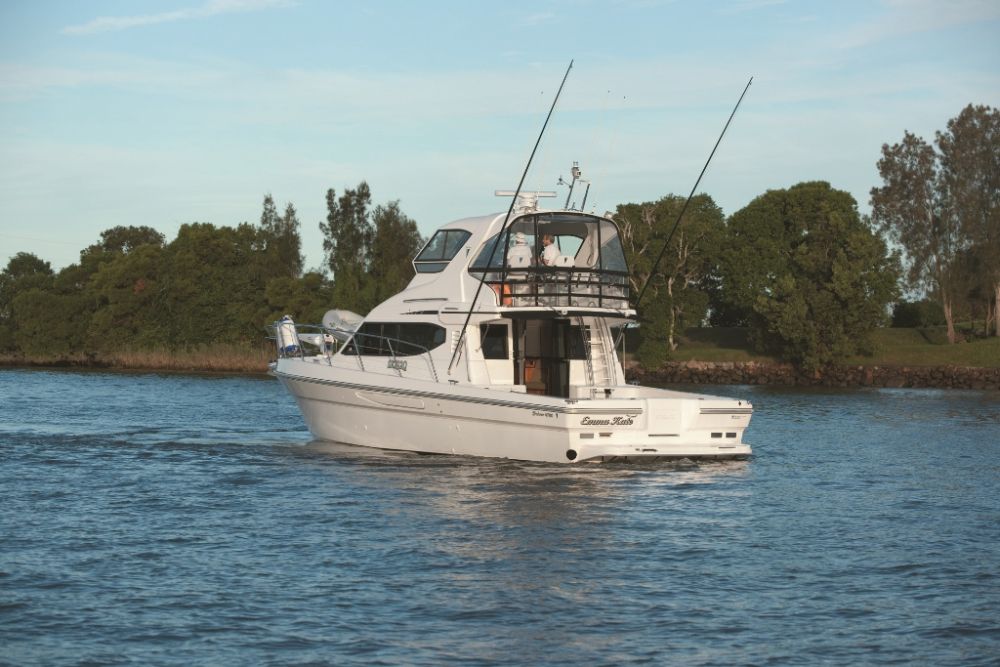 As a family boat it was practicality personified! Steber has a propensity to listen to its customers' wants and needs then incorporate these into future designs, but also obvious was the influence of a designer who appreciated the finer points of boating – before he/they worried about the exact angle of the flashy window designs, the contemporary/alfresco/art-deco refinements, the marble toilet seats or where the fluffy dice would hang!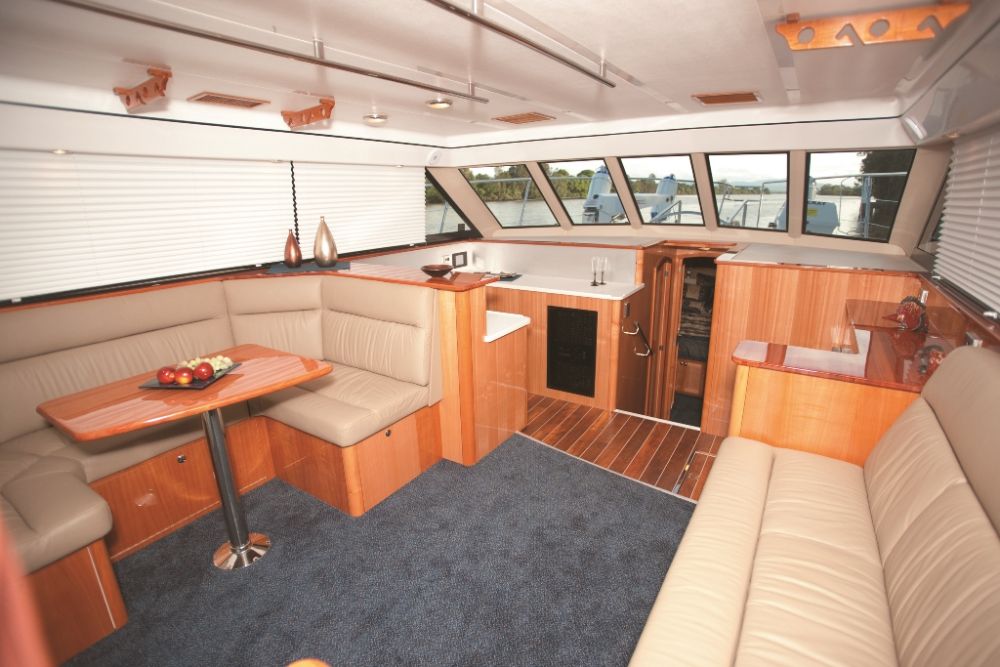 I often refer to the term trade-off when describing the layout of a vessel, for in my mind a successful interior design is all about trading room here or there, so as to provide more space allocation to another more deserving aspect of the boat. Take for instance the cockpit on the Steber 47. One could well conclude after stepping on board, that the cockpit was an over-kill in terms of actual area. It was huge, and I concede it may not be the choice of a lot of people but for those into their fishing, outdoor entertaining or general family play-time with the 'toys' – it was just fine.
Stepping inside, I found no evidence either that this (cockpit) space was at the expense of internal volume. Here the saloon was an uncluttered spacious room with all the expected features including saloon pelmets, fabric pleated blinds, and nicely presented southern myrtle woodwork. To port as you entered through the extruded aluminium framed doors, was the very upmarket dining setting for four adults (five at a squeeze). I say upmarket for as against the exterior gelcoat finish, here it was an instantaneous in-your-face reminder that this was far from a practical but no-frills fishing boat for the boys.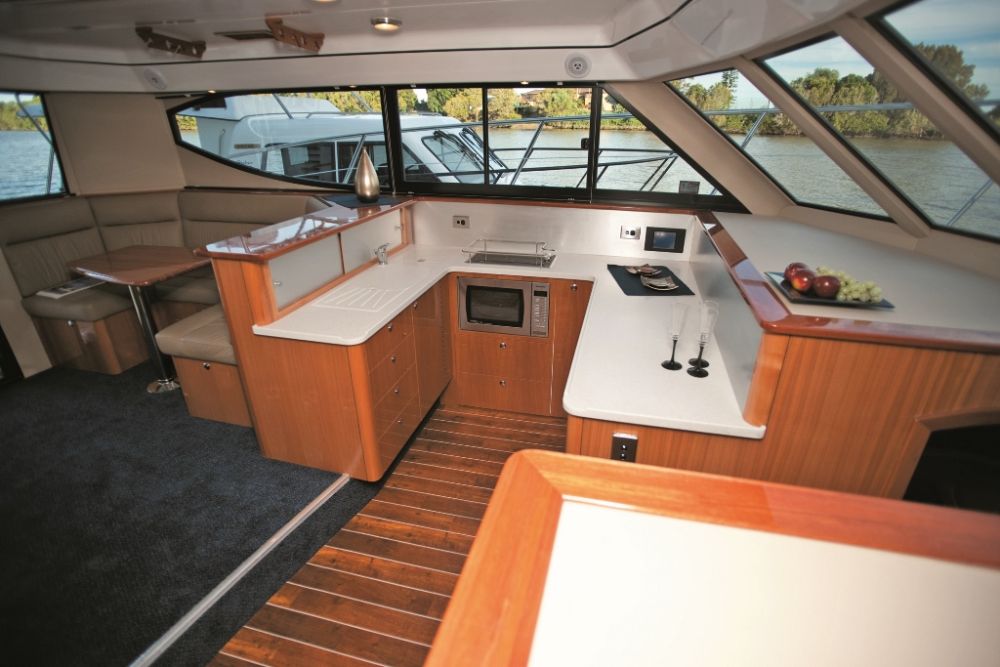 Opposite this dining setting was another lounge which added the 'coffee' or entertainer appeal to this room. Forward of this dining feature was the galley, again a surprisingly large devotion to space. Features included a two-burner electric stove, large microwave convection oven, large sink, garbage receptacle, a can-crusher (most important), generous bench and servery space and cupboard and drawer provision, and a brilliant slide-out pantry.
Opposite the galley was the 'cool-store' combo of bench-style side-by-side 140-litre refrigerator and 140-litre freezer, with above and beside that the 'entertainment' cupboards and drawers devoted to glass and bottle storage. The layout was simple yet effective and while I concede there were none of the traditional features such as chart table, grandiose entertainment modules or lower helm station, the trade-off to me was this uncomplicated 'living' potential imperative in an extended-stay situation.
Besides, you always had the upstairs flybridge level which in reality accommodated the usage expectations of the entire spectrum of cruising, fishing, and family application, with its size, appointments and attention to detail. In reality here was where you would spend most of your time whether it was in the heat of summer when the side and front windows (and the AC, if you get really desperate) provided good ventilation, or in the winter when the enclosed aspect of the hard-top would keep you warm and snug.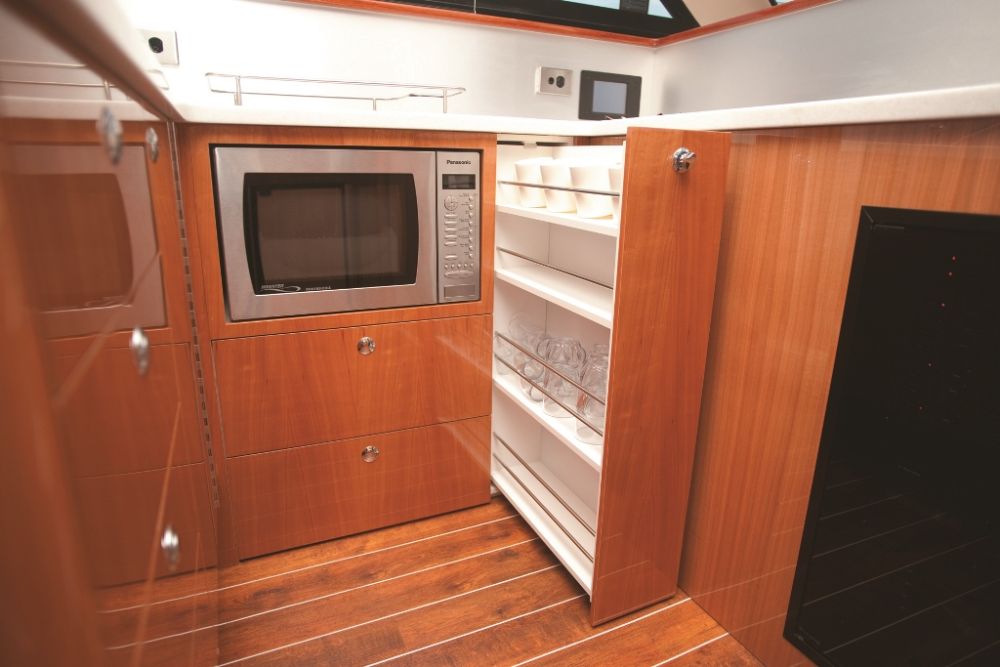 The central helm module was an absolute work of art which was complemented by the latest in G-Series Raymarine electronics. There was room for skipper and friend seated on the double chair at this helm station and guests would be accommodated around the U-shaped lounge forward of the helm. I especially appreciated the simple fold-down table at the front of the helm module, and, the pull-out base ahead of this again that transformed the guest lounge into a full double berth. A great place for unexpected guests – or someone you wanted kept out of the way!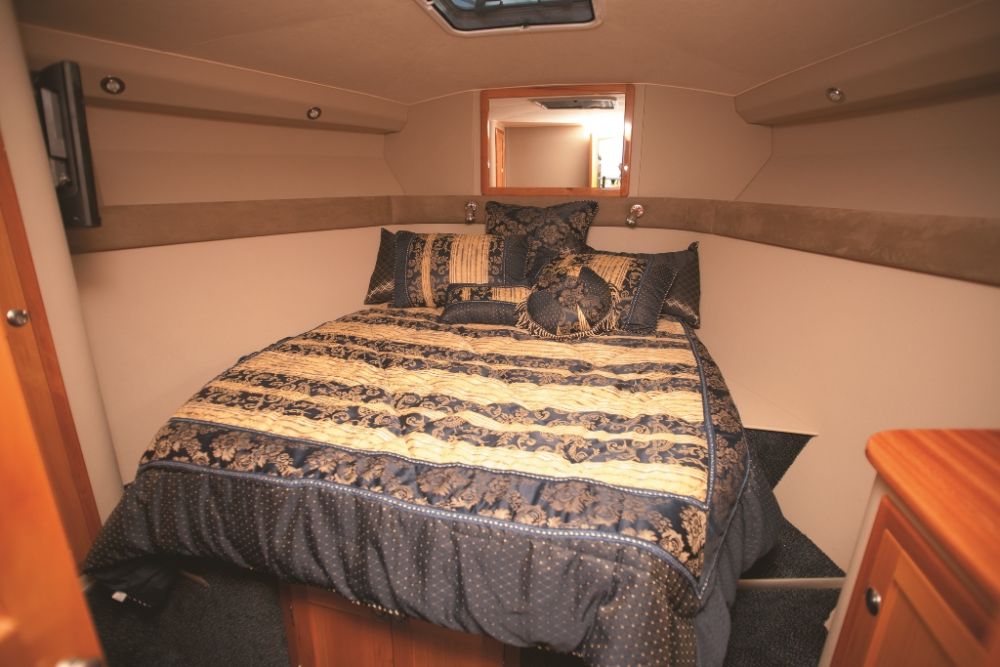 There are a number of different layout variations for the Steber 47 with in this instance the owner opting for a two-cabin configuration. We had a large cockpit and flybridge level, a generous saloon area and now the question was seemingly answered, as to where the trade-off had occurred – with two instead of three bedrooms, and just the one bathroom.
Before I go one word further let me emphasise that in no way do I see this as a 'second-best' compromise. Pull the trigger and lets get shot of that notion forthwith, for understand the reality of taking a bit here and giving a bit there, remind yourself of what you have seen thus far, and like me you will surely be most relaxed with the concept.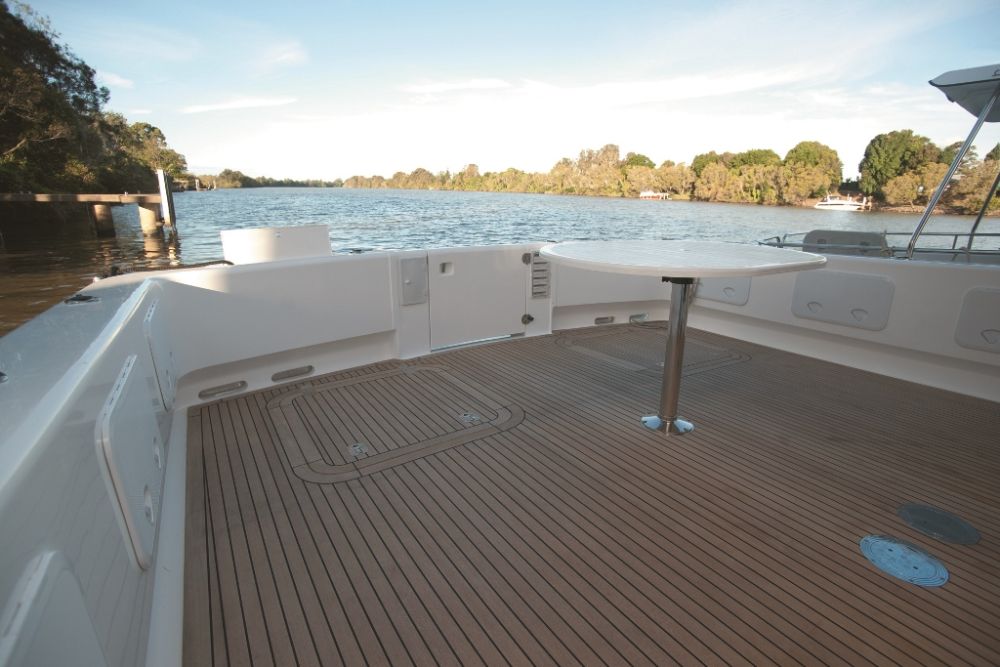 Into the bargain, I only needed to pop my head into each room down below to fully appreciate that in this guise the 'spacious' theme still very much prevailed – less but more! The master cabin was in the bow and like the dining setting was very much a fashion statement. Featuring a queen-size island berth, decor was a pleasant mix of suede and vinyl wall and ceiling panels, carpeted floor, and beautifully presented glossed southern myrtle wood finish. There were no port-holes but there was an overhead hatch and of course there was a good supply of air-conditioning (7.0kW) on hand.
Other features included his and hers hanging wardrobes each side, a large television and the obligatory stereo and DVD system. Aft of this room was to starboard, the one bathroom complete with vanity, overhead hatch ventilation and separate head and shower cubicles. In the context of the overall layout concept for this vessel, one good-sized bathroom is quite sufficient.
Opposite the bathroom was the guest accommodation; quite brilliant really for if it was a bloke's trip away there was accommodation, Pullman-style, for two. If it was a couple they would have the lower double-sized berth and if it was a family situation mum and dad are below and the one cherub who was invited along, would be in the berth above. Décor and appointments was the equal of those in the master bedroom up front.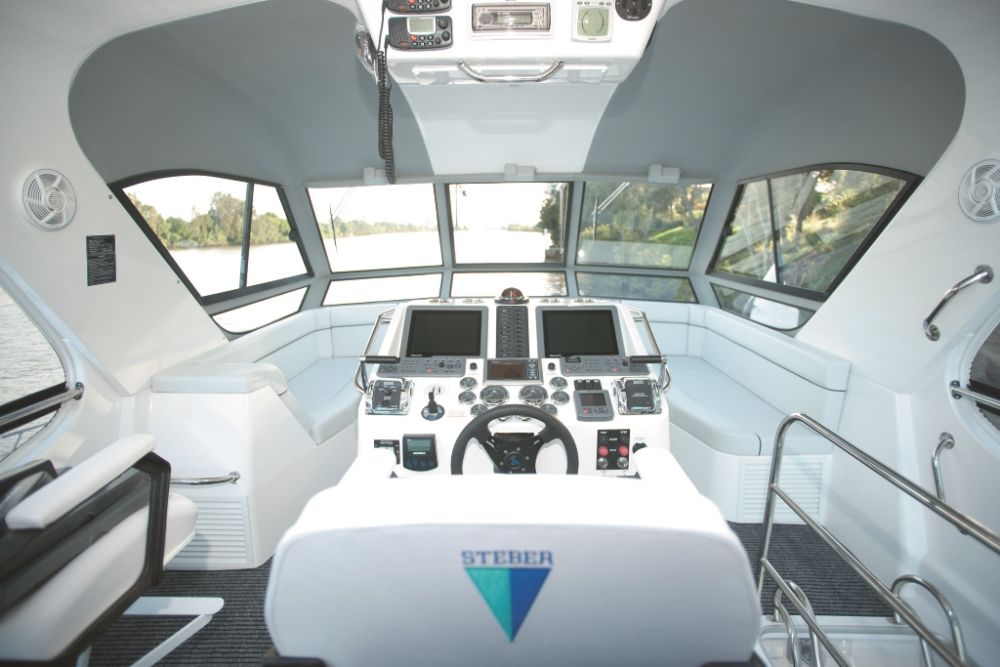 The Steber 47 quite frankly had performance and handling to match its layout credentials. Power was a surprisingly modest pair of 715hp, 10.8-litre, inline 6-cylinder QSM11-M Quantum Series Cummins MerCruiser Diesel engines which ran through Twin Disc MGX 5114A (2.04:1 ratio) gearboxes and conventional shaft drive, to a pair of 4-blade 30" x 36" Teignbridge Aquafoil propellers. I say modest, and it offers some insight into the efficiency of the hull also, for the 47 romped along at a most impressive 32.6 knots at the maximum 2500rpm.
This efficiency then equated through to the incredible cruising ability of the package for at an all up weight of 19 tonnes the composite GRP-constructed hull then motored 'sedately' along at its most efficient cruise speed of 24.4 knots at 2000rpm. At that speed it was using just 123L/h, for 5.04 L/NM. At that, the 3000 litre fuel payload would provide a range of 595NM – impressive in anyone's book!
Confirming the fact the Steber was power capable also, in a long-range cruising situation, the onboard 24V power system consisted of the house supply of four 225Ah AGM batteries in two banks and two 225Ah batteries for the engines. Power generation for the shore power and onboard 240V AC systems was courtesy of an Onan 13kVA genset which ran in tandem with a Zantrax 1800-watt inverter and Mastervolt Chargemaster 24/60-3 charger.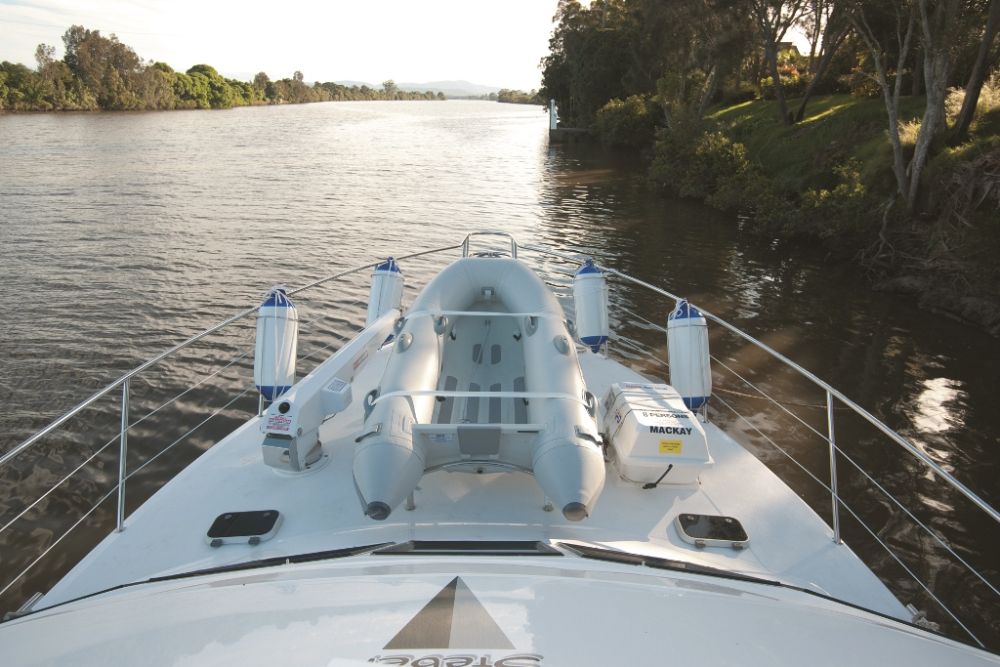 Steber is certainly not a company that started with a roar, failed to land the big prizes then faded fast, it is a company which enjoys huge respect from a discerning recreational as well as commercial audience, who know what they want in a vessel. If you wanted to quantify it further, simply the brand is robotically efficient – it just does everything as it should, without fuss. It performed exceptionally well with what I considered to be a relatively meagre power plant and above all it was precise and handled well at its top speed. As far as value for money went – considering the Steber 47 Flybridge Cruiser was fitted with discretionary extras like remote CCTV camera system, Reelax game poles, cockpit canopy overhang, self-draining hatch gutters, two transom live-bait tanks, teak rod racks, teak cockpit deck and remote control search-light it is certainly most competitive.
Design Name: Steber 47 Flybridge
Year Launched: 2009
Designer: Alan Steber
Interior Designer: Alan Steber
Builder: Stebercraft
LOA: 15.00 metres
Beam: 4.70 metres
LWL: 12.50 metres
Draft: 1.20 metres
Displacement: 19,000 kg
Max Speed: 32.6 knots
Cruise Speed: 20-25 knots
Construction: GRP and foam and balsa sandwich cored composite
Fuel Cap: 3000 litres
Water Cap: 580 litres
Engines Make: 2 x 715hp Cummins QSM11-M