VERY SPECIAL
 Boat Show's Grand Prize a striking $250,000 winner                               
The 2019 Hutchwilco New Zealand Boat Show Surtees/Yamaha Grand Prize is their most impressive and most valuable yet.
Each year, organisers of the Hutchwilco New Zealand Boat Show, New Zealand's longest-running, largest and most popular boat show, offer those attending the event the chance to win a rather spectacular Grand Prize package. No "pie in the sky" offering, this prize is drawn and won at the conclusion of each show.
This year's package is not only the show's best yet, it is almost certainly the best and most valuable prize ever offered at any boat show, anywhere in the world!
Worth a truly astonishing $250,000, the Surtees/Yamaha Grand Prize consists of a striking Prowler Red Surtees 750 Open Cabin boat, powered by twin 150hp Yamaha 4-stroke outboards. It also features Yamaha's new Helm Master Boat Control System, an $18,500 Hosking Trailers custom tandem braked trailer, complete with Balex Auto Boat Loader, a $17,000 Garmin electronics package and a quite amazing array of electronics, accessories and "extras".
About to enter their fourth decade, Surtees Boats was founded in the early 1990s by the fascinating Neil Surtees. Neil is the sort of immensely creative, immensely practical, can't-stand-still sort of bloke that brings to mind that famous quote from the movie The Castle: "He's an ideas man."
A keen fisher, Neil was looking for a boat to tackle the big waters out from Whakatane. Unable to find one that met his needs, he simply designed and built his own. He also incorporated many of his great ideas and, before long,
other local fishers were taking notice. Not surprisingly, they wanted one, too and Surtees Boats was born.
Surtees is now one of (and probably the) largest manufacturer of plate aluminium boats in New Zealand (no mean feat, considering just how many alloy boatbuilders there are in this country).
Their range runs from the 495 Workmate up to the 850 Game Fisher and comprises over 21 distinct models. The 750 Game Fisher at the heart of the boat show's Grand Prize is one of their biggest and is available in two configurations: as an Enclosed Cabin or, like this one, as an Open Cabin.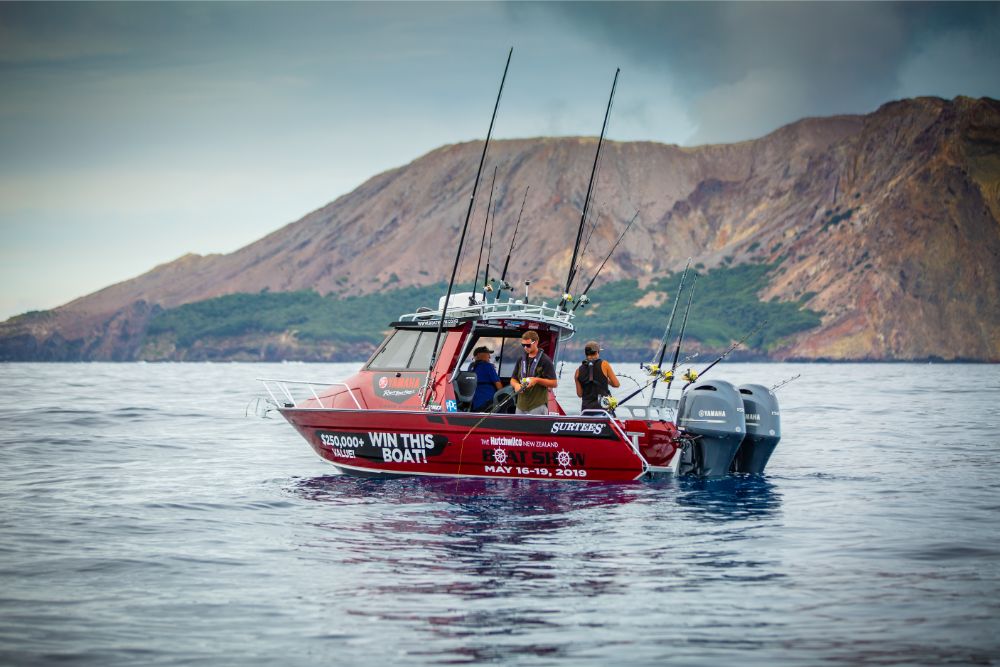 Like all Surtees boats, this year's Grand Prize is, as the company's strapline proudly proclaims, "built to fish". Everything around the marvellously uncluttered cockpit seems specifically designed to make it easier to fight and land big fish.
The rod holders are a good example. There are 21, which is pretty amazing on a 7.5-metre boat. They are well positioned, too. Four down each side deck (three with handy drink holders right alongside); three at the back of the centrally-mounted custom Surtees baitboard; six up in the rocket launcher and another four in a clever mobile rod rack that hangs off the bottom of the side lockers and can be placed anywhere on either side.
There is also the obligatory livebait tank under the port step to the platform, wide toe-kicks for bracing oneself when fighting the big ones; wide anti-skid covered gunwales to rest on when the fishing is slow, a large Icy-Tek ice chest to keep the catch cool and a Jabsco washdown pump to make it easy to clean up.
The 750's three batteries (two starting and one house, and their accompanying isolating switches) are in their own locker high up out of harm's way in the centre of the transom. Alongside, again in their own locker, are the two fuel filters and priming bulbs.
The entire cockpit floor, the boarding platform, the bulkheads in the side lockers and even the top of the boarding ladder are attractively protected by comfortable SeaDek flooring. Not only does this look exceptionally good, it is also great to stand on, especially during a long day's hard fishing.
For those that love their gamefishing, the prize package also includes a set of Oceanblue outriggers a comprehensive Hella LED lighting package for night fishing and entertaining.
Although the model is known as an Open Cabin, it is actually more of an "open hardtop". While the helm station and the rest of the area under the hardtop are open to the cockpit, the actual cabin comes with a lockable sliding door, for both privacy and safe stowage.
There is also a huge amount of practical stowage in the wheelhouse. There is the big flat area of frontrunner under the windscreen; two big open lockers in front of the port hand seat; a smaller one in front of the driver; two partially enclosed and another open in the outer port bulkhead and a matching one for the driver. The driver also has a handy space behind the control binnacle and there is yet another open locker under the port seat.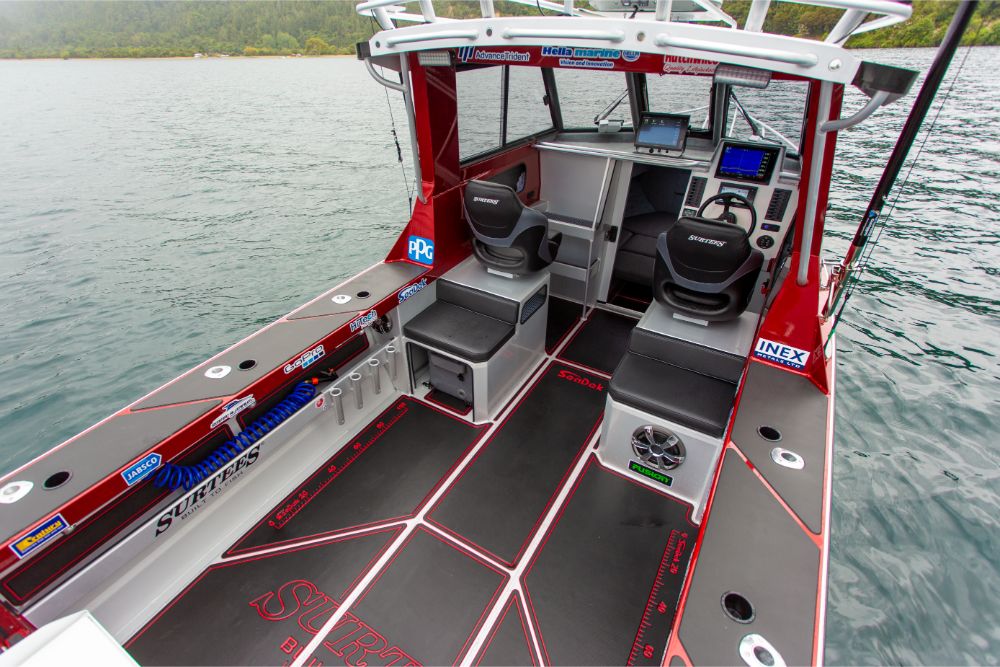 One of my pet peeves is a lack of adequate ventilation in a hardtop. Especially when one is slowly trolling for gamefish on a warm summer's day, the heat and lack of air flow can quickly become Sahara-like. Luckily most manufacturers now include sliding windows to help alleviate this but Surtees has gone one better: the bottom of the 750's centre windscreen panel can pivot open, too.
There is no shortage of either comfort or practical electronics here, either. The two main seats are Hi Tech Plastics' top-of-the-line moveable bolster seats. Exceptionally comfortable and versatile, they enable one to sit in a conventional position, perch high up on the bolster for a raised view or stand supported by the seat at one's back.
There are a plethora of well-positioned USB charging outlets (6 in total), a Hella Marine red/white light centred overhead and the Garmin VHF and Fusion Apollo stereo system handily placed above the windscreen. This latter connects to twin speakers at the forward ends of the side lockers and a big bass speaker installed in the queen seat behind the driver.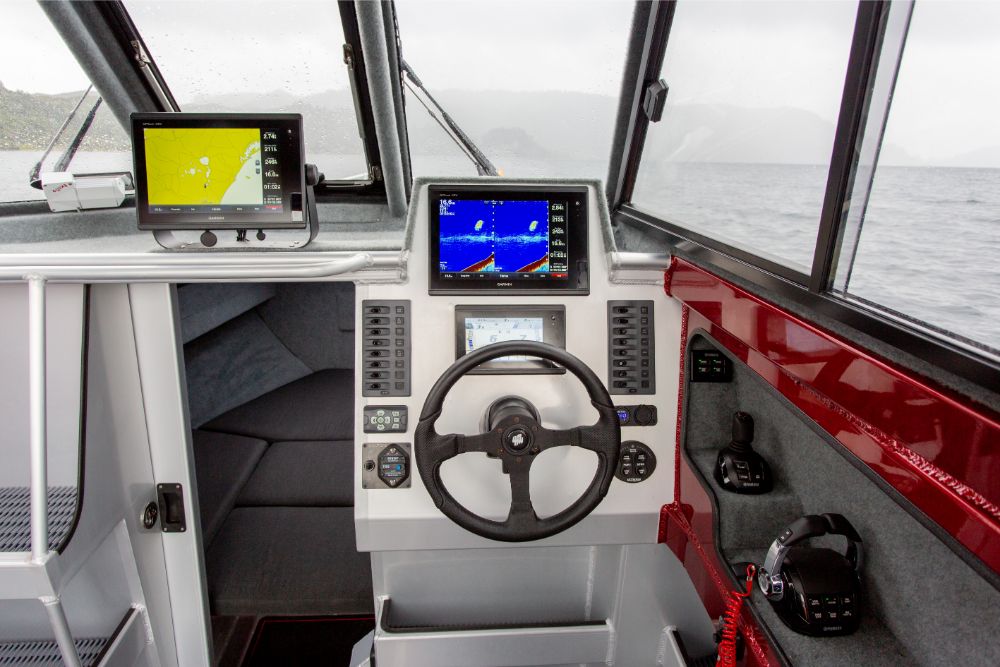 To ensure the lucky winner knows both where they are and where the fish are, Garmin have installed an incredibly comprehensive electronics package. Worth more than $17,000, it has at its heart twin 12in GPSMap multi-function displays. Complete with GPS and chartplotter, these also display feeds from the dual CHIRP sonar and 1kW transom mount (able to quickly pick out fish in both shallow inshore waters and in depths up to 600m, and see the seafloor at up to 800m) and the GMR24 high definition radar (boasting a 48 nautical mile range and featuring bird mode and a chart overlay function to make it easier to quickly identify objects, both on shore and at sea, at night).
Ensuring the Grand Prize can safely anchor over a favoured fishing spot or in a snug anchorage, Surtees have installed a Lone Star GX3 Drum Winch. A mid sized drum anchor winch worth over $4000, the GX3 features an oversized 1500w IP68-certified waterproof motor, Italian-made transmission, emergency manual release and stainless steel machined and anodised aluminium construction.
Making this Grand Prize even more special, this Surtees 750 Game Fisher is the first boat in New Zealand to be fitted with Yamaha's new Helm Master boat control system. This exceptionally clever technology not only makes coming alongside a jetty or docking in a berth literally as easy as pointing a joystick in the direction you want to travel, it also comes with an array of innovative and very practical applications.
Designed primarily for mid-sized and larger outboard-powered boats with two, three or four engines, Helm Master basically takes control of the outboards' gear shifting and throttle functions, especially at low speeds.
Using Helm Master's intuitive joystick, one can literally manoeuvre in any direction: fore and aft, diagonally or around in circles. While that might sound more fun than practical, believe me, it's not. For example, on the Grand Prize's inaugural run on Lake Rotoma, in a steadily mounting breeze, I needed to bring the boat alongside the jetty. Normally, this would be a bit challenging: approaching an unprotected wharf, downwind, in a fair breeze, in an unfamiliar, reasonably high-sided boat.
With Helm Master, it was a piece of the proverbial. I just set up the boat on a diagonal heading and used the joystick to counteract the wind and slow the approach. As we came alongside, the joystick enabled me to simply hold the 750 parallel to the jetty while the lines were attached.
In addition to this virtually total control over the boat's low speed manoeuvring, Helm Master has a number of other features that are especially appealing to those who love to fish.
These SetPoint modes include StayPoint, FishPoint and DriftPoint.
In StayPoint, one can select a GPS point and the boat will head straight there and will then maintain station, using the Helm Master to hold both its position and its heading. FishPoint is used to hold a position over a reef or other structure and DriftPoint ensures the boat maintains its heading as it drifts.
Another feature, Pattern Shift, enables trolling at speeds below what would normally be possible, down to as slow 0.4 knots.
By combining Yamaha's enhanced binnacle control, its Command Link Plus CL7 Premium Touchscreen Gauge, push-button start/stop switches, an RFID key fob and that innovative joystick, Helm Master also allows skipper to use those SetPoint modes to move forward, rearward or sideward by 300mm increments or rotate the bow by 5 degrees at a time.
The Surtees/Yamaha Grand Prize boat comes complete with a very special Hosking Custom Tandem Trailer. Specially designed and built for the Grand Prize, it comes complete with a Trailparts Credo multi-volt, wireless brake controller. This will allow the lucky winner to simply "plug in and go", using any vehicle with a 3500kg towing capacity without having to install a hard-wired brake controller.
The custom Hosking trailer, worth around $18,500, also features multi-rollers, a self-centring roller combination and a 15:1 NZ-made winch. Rated to 3500kg, the maximum for a light trailer on New Zealand roads, it comes complete with Treadway light commercial tyres and fantastic-looking alloy rims.
It is also fitted with a Balex Auto Boat Loader, worth an additional $7500. With the Balex Auto Boat Loader one can launch or retrieve the boat with a simple push of the button on the remote control. One can be on board, on the ramp or on the jetty, it really doesn't matter and this will be a real boon if the winner is launching or retrieving singlehanded in unpleasant conditions.
Rounding out this quarter of a million dollars worth of prize boat is a full set of Hutchwilco inflatable lifejackets and a year's Yamaha Marine Insurance.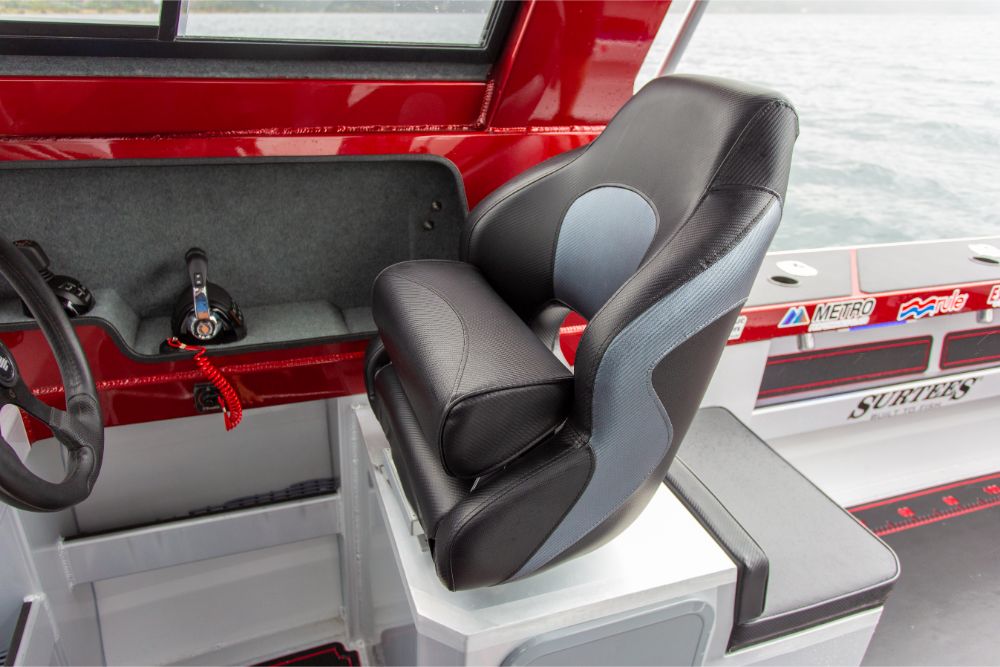 The Surtees/Yamaha Grand prize boat package will be drawn between 7pm and 7.30pm on the final day of the show, Sunday May 19.
In order to be in the draw, visitors to the Hutchwilco New Zealand Boat Show, at the ASB Showgrounds in Greenlane, Auckland on May 16-19, need to have their $20 admission tickets stamped at all 8 stamping booths strategically positioned around the show. They then need fill in their contact details, answer a couple of simple questions and be ready to answer their designated phone number when the draw is made. Tickets to the show are available at the gate or online at www.boatshow.co.nz. Tickets bought online receive a second, bonus entry into the Surtees/Yamaha Grand Prize draw and are also automatically entered into another draw for a powered Viking Kayaks' Reload package worth over $8000.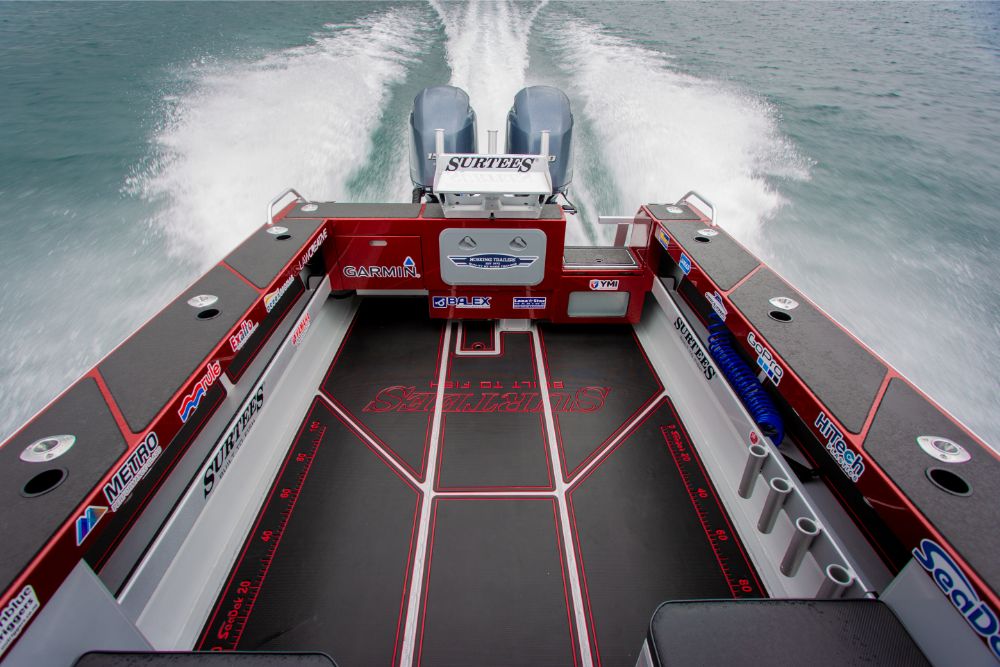 Model & Model: Surtees 750 Game Fisher Open Cabin  
Price as tested: $250,000
Priced from: $150,000
Type: Trailer cabin boat    
Construction: Aluminium
LOA: 7.5m                          
Beam: 2.5m  
Deadrise: 20 degrees   
Height on trailer: 3150mm
Trailerable weight: 3000kgs
Test Power: Two x Yamaha DEC 150hp 4-stroke outboards Power options : Single or twin outboards, inboard diesel sterndrive
HP Range: 200-350hp                
Fuel Capacity: 400 litres
Trailer: Hosking Trailer Custom Tandem Trailer