TAKACAT RELEASE NEW T460LX
The T460LX is the newest addition to the Takacat range of portable inflatable catamarans and, at 4.6m, is their largest model to date.
 It is one of the largest genuinely portable inflatable catamarans on the market due to the original Takacat removable Tube Transom. The T460LX boats oversize 550mm dia tubes offer superior buoyancy with the additional safety of a four-chamber tube system.  
Pressure relief valves are standard to avoid over-inflation or heat expansion. The air deck inflatable floor is a durable design for a wide range of uses, with heavy-duty inflatable and rigid floor options. The T460LX is rated to take up to a 20hp outboard and rated to take eight persons or 830kgs working load. With its 4 + 1 safety chambers, raised floor and open/removable transom design, the 460LX is well suited to a wide variety of uses such as fishing, diving, flood rescue, coach and support boats through to the true adventurer.
Takacat is an innovative New Zealand based company located in Auckland. Since 2007 the company has been committed to bringing to the New Zealand and international markets a new and exciting range of catamaran inflatable boats, which offer the key attributes of safety, stability and speed with great versatility and ease of use characteristics.
The range comprises 9 models from  the 2.4m GO Series through to the new T460 in the LX Series. The Takacats are designed for quick and easy assembly. No mucking around with heavy and complicated floorboard systems. Inflation is either with a manual or electric pump manual pump takes 5 – 15 minutes depending on the Takacat size and your fitness level.
The innovative, fully removable transom enables the Takacat to be rolled-up smaller, easier and lighter than traditional inflatable boats that have a fixed transom. A big advantage when it comes to handling, transportation and/or storage. Ideal for the caravan, motor home and foldaway tender markets.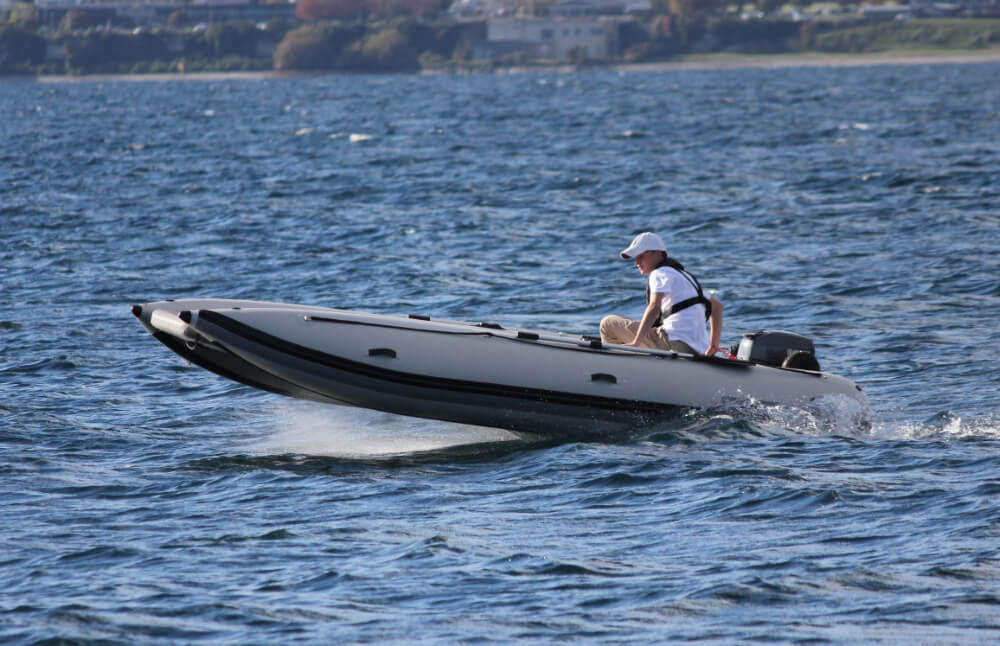 The Takacat LX and Sport Series offer true portability. They can be fully deflated and will fit into most cars, SUVs, etc. They can be transported either inflated or deflated on roof racks. They can also be stored easily on boat decks and duckboards and take up little space when stowed away for storage. Takacat's T460LX is constructed using a complete glued system and available with PVC or Hypalon tubes.
Unlike conventional ribs or inflatable boats Takacats can now be re-tubed simply and cost effectively due to our revolutionary transom design. The fully removable high pressure air deck floor system, and tubes are not fixed or glued to a hull or transom. Therefore there is no hassle or costly process to have your aged of damaged tubes re-made and replaced. You just simply order a set of new tubes from Takacat.
Takacat's 460 LX can be fitted with a quick release wheel system that makes launching and retrieval easier than ever before. This opens up a wide range of launching locations where it is not possible with other types of boats. Takacats are light in weight for their size and are well balanced both on and off the water. As an added bonus all models from the T340LX to the T460LX feature an inflatable airdeck floor that can be used as a SUP when not using the boat with the fin provided.
Paul and Helen Powney have taken on distributing the Takacat inflatable catamaran range for New Zealand and the Pacific Islands. Founded by Greg Sowden in 2007, Takacat has become a global success with well over 10,000 boats sold worldwide through a global distribution network.
Paul's career has been involved with the marine industry for well over 25 years, starting in the RNZN as a weapons electrical mechanic then working for diesel engine distributor TransDiesel in various sales and management roles before joining The NZ Sailing Trust as their CEO.
Takacat NZ has opened a new Showroom on Auckland's North Shore at Unit 8, 3 Oracle Drive Albany.