The Best Just Got Better
By Barry Thompson
When I tested the Tristram 600 Cabriolet four years ago I said then it was the best of the best and about as perfect as you could make a bowrider. Well the new Tristram 640 Cabriolet just proved how, when you think something is almost perfect, it can get even better.
Okay, so a bowrider doesn't suit everyone. They are not much use for overnighting, towing game lures or for serious offshore fishing on the West Coast. But then they were never meant to be. What they are good for, no I'll change that to great for, is all-round family boating.
Having owned one now for a number of years, I can vouch for the usability of a bowrider. We fish, dive, wakeboard and go family boating. We also do it in most weathers and I have lost count of the times I have had to explain to people that because it's a bowrider it doesn't mean it's going to drop its bow into every wave it comes across. It's all to do with the shape of the bow sections of the hull.
That's where the new Tristram 640 Cabriolet really comes up trumps. It is based on the well proven hull of the 641 Avant Garde (released in 1998) which has a conventional underwater shape with deep 22 degree deadrise at the transom, two strakes per side, a pronounced keel, deep forefoot and plenty of bow flair, all of which helps towards its soft and predictable ride. More importantly, it also means that even with a couple of adults in the bow or four kids, the forward sections have the ability to provide adequate lift. This is a very dry boat.
Although we didn't get the opportunity to test the new 640 Cabriolet in rough water, it certainly made easy work of the messy Auckland Harbour chop. With a combination of boat and ferry wakes and wind against the tide, the water was certainly confused enough to get a reasonable feel for the hull's ride and handling.
Having experienced the 641 Avant Garde I know that this is one of Tristram's best hulls and as managing director/designer Lance Fink said during the test – "It's such a great hull that I couldn't improve on it in any way and I will not be changing it as long as I am building Tristram boats".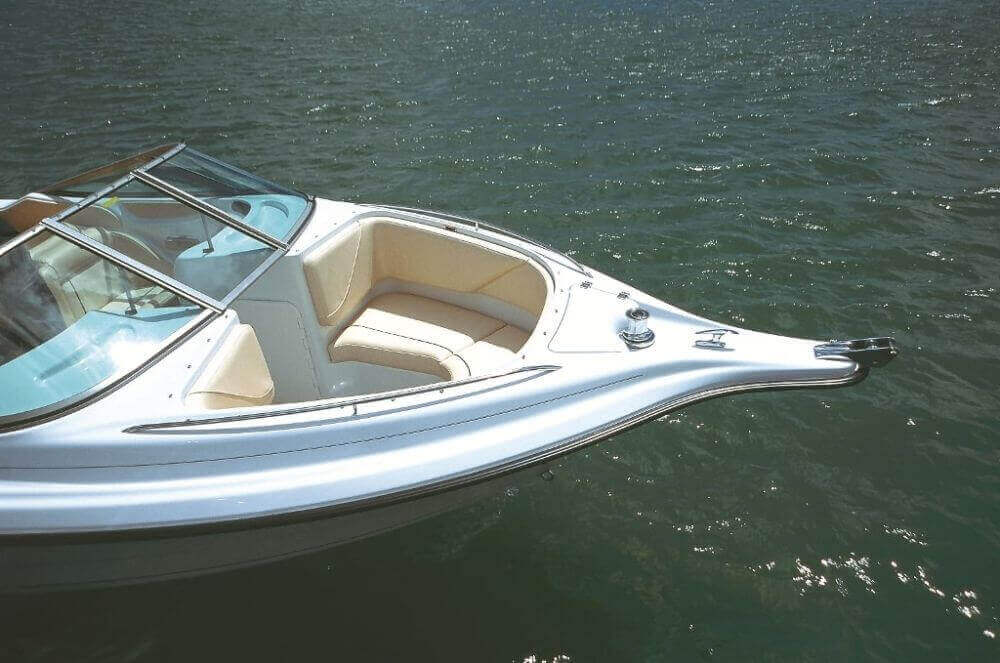 While the 600 Cabriolet (based on the 581 Prima hull) has become one of the best selling locally built bowriders, it just wasn't quite big enough for some potential owners. Tristram knew they had a winning formula with the 600 so when plans for a bigger boat were first discussed, the overwhelming decision was to retain the visual appearance and practical layout of the 600 Cabriolet.
The 640 is very much like an over-grown 600, albeit on another hull. There's a little bit of the 641 bow and transom amalgamated with the 600 deck. The cockpit sides are higher than on the 600 Cabriolet and 641 Avant Garde.
"We were being told by our customers that while the 600 Cabriolet was great, they wanted a similar style of boat that was bigger, so they could take it offshore and also one that offered a larger cockpit area for fishermen and divers.", said Lance.
He added, "By using the Avant Garde hull we were able to achieve everything we wanted and also, by its being a slightly larger hull, it gave us the flexibility to make a few refinements to improve both the layout and the handling", added Lance.
The seating and everything forward of the dash is the same as the 600. The bow features three padded cushions covering deep storage lockers. Our boat was fitted with an optional Maxwell VC3000 capstan, which certainly makes the anchoring tasks a simple procedure. The locker is not suitable for a full auto anchoring system.
When the weather gets a little nasty or you simply want to keep the bow section protected, a clip-on vinyl cover does the job. It's when you see things like the domes mounted on a raised moulding around the lip of the open bow to provide a better seal for the canopy, that you start to appreciate the attention to detail throughout every aspect of the 640.
Meticulous detail and presentation is foremost in all Tristram boats and the new 640s are no exception. Some would say that it's just too good to be used as a fishing boat….even if the rear carpet can be removed. Maybe they are right!
Splitting the bow and cockpit are a matching pair of huge lockers, accessed through large hatches. The 640 has copious storage and there are plenty of areas to get your gear stowed, be it wet or dry. There's even a small fabric lined open locker for your keys and cellphone.
Between the forward consoles there is a split level underfloor locker with excellent double hatch access. This moulded locker has been especially designed to take water skis and wakeboards. It also has a deep recess for stowage of a trio of dive bottles. A new feature in the 640 Cabriolet is the moulded side rod holders and the recess for a hand held fresh water deck wash.
There's also abundant dry storage in the back-to-back moulded seat bases, so there are no excuses to having gear loose in the cockpit. Central to the underfloor area of the cockpit is a 200-litre stainless fuel tank and the areas either side are fully sealed buoyancy compartments. Foam filled cavities forward provided extra buoyancy and contribute to the boat's quiet ride. Sealed underfloor chambers are independent of the inner cockpit and deck liner.
Not everyone likes to drive a boat seated and while I did find the helm position fine, I am not sure if having a fixed helm seat is going to suit everyone. The moulded seat base does however mean that there are no other seating options. Twin back-to-backs are standard, along with a removable starboard side jump seat. There is also storage within the portofino stern area as well as the location for the batteries, oil tank and being a CPC boat, a large bilge pump. 
I did like the fact that when you stand to drive, you still have the controls and helm in easy reach and you can place your feet in comfortable and secure positions. Nothing worse in rough water than losing your footing! Continuing that dedicated attention to detail theme, all the carpets are rebated into the fibreglass moulding, so there's no chance of kicking up an edge.
Our test run on Auckland Harbour was in fact the first time the Tristram 640 Cabriolet had got wet and the first time designer Lance Fink got to try it on the water. It was also the first 640 off the production line. Powered by a Yamaha 200HPDI, with just 15 minutes running on the hose, I wasn't allowed to give the throttle more than one very quick rush to its maximum 5800 rpm. Not only did I have Lance alongside but three Yamaha outboard executives were aboard our photo boat. Damn! The boat felt so good I just wanted to give it everything and enjoy the ride. The hydraulic steering was great and gave a positive hull response at any speed.
For the one 'supervised' run the GPS showed 52 mph, but I'm sure than with a bit more time on the engine and even a change of prop (we ran a 19" 3 blade Yamaha) that would increase by at least another 5 to 8 mph.
For those interested in trolling we got the speed down to 3mph @ 600 rpm and 8.5mph @ 2000 rpm. Wakeboarders would find about 20mph @ 3000 rpm about perfect and it is the sort of boat that in the right water I felt you could cruise all day at 40.5mph @ 4500 rpm.
The Tristram 640 Cabriolet is an extremely versatile boat that is destined to be another winner for the builders. While the bowrider market has never been huge in New Zealand, Lance admits to being more than pleased with the sales over the past four years of the 600 and is certain that the 640 is going to be even better.
It's a boat that is designed with both fresh and saltwater boating in mind and will be just at home on Lake Tarawera trolling for trout as it will be in the Hauraki Gulf towing a wakeboarder or bottom fishing for snapper.
While Lance feels that you can always go bigger with any concept, the 640 Cabriolet in his opinion is the right size, layout and combination for this type of boat and has no immediate plans to make a bigger bowrider. For those who like the 600 but have always yearned for a bigger version, then your wish has been granted. As a bowrider the 640 Cabriolet has few equals in its class.
So if the 600 Cabriolet is near faultless, how would I describe the 640? As a versatile multi-purpose bowrider it is as close to perfection as any builder is ever going to get. Impeccable might just be the right word to describe Tristram's latest creation.
Model: Tristram 640 Cabriolet
Price (Boat Only): $33,500
Price as Tested: $71,000
Designer: Lance Fink
Material: GRP
Type: Bowrider
LOA: 6.40m
Beam: 2.42m
Height on Trailer : 2.0m
Deadrise: 22 degrees
Trailerable Weight: 1600 kg (est)
Engine Capacity: 150hp – 200hp
Test Power: Yamaha 200 HPDI
Power Options:  Outboards Only