Hamilton's Tristram Marine have been steadily developing their model range over the last couple of years. More recently they have introduced a new model to fill a small gap they had in their size offerings, the new Tristram 701 Vanquish. Freddy Foote steps aboard to review this boat.
I took a phone call from a reader a little while ago, to discuss a couple of boat options he had on his short list. He made a comment to me that often boat builders build a boat to fill a gap in their model line-up, some with great success, others not so much.
It's a comment that resonated with me and one that I had to agree with. Sometimes you go out on a particular model and it's exceptional. Then you go out on a similar model either 500mm longer or shorter with high hopes of it being just as great, and you are sometimes left surprised that it's not as good as the other models in the range.
In the case of Tristram Marine and their new 701 Vanquish model, the boat is treated as all new. The Tristram 701 Vanquish is one of two new additions to the range, the same hull also available as a hardtop model. But for the most part, the 701 is a larger version of the 641 Offshore and a slightly smaller version of the 741 Offshore.
Tristram Marine have spent a long time sculpting the optimum hull form, and the Tristram 701 Vanquish gets a fine entry forward, with a strake and chine design that gives plenty of lift. Tristram use CAD to design their hulls, so the dimensions throughout every aspect of the boat are exact with very fine tolerances. In the development of the Vanquish, the company also used hydrostatic testing to ensure the hull would float and perform correctly to suit engine weights between 250kg and 310kg.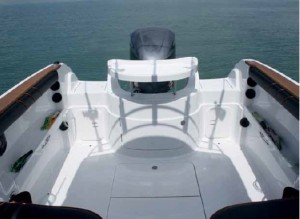 As I had previously tested both the 741 Offshore and the 641 Offshore, I was quite interested to see what the differences would be. Or would there be any at all. The design philosophy behind the Vanquish and its 'Offshore' counterparts is to make the boat extremely fishing friendly. This design parameter is immediately apparent once you step aboard and you see that the Vanquish shares all the lineage of its Offshore relatives.
Aft, low profile walk-throughs are built into both transom corners, with the port side having a stainless boarding ladder flush mounted into the port side boarding platform. Additionally, in both corners, catch tanks are integrated into the transom walkthrough, which can be plumbed to create a live bait tank. This particular boat had a plumbed tank in the port corner.
In the centre section of the transom, a large locker houses batteries and other onboard systems and is easily accessible via a substantial hatch. Smaller lockers in either corner provide additional storage and access to other onboard systems. Also positioned in the centre is a removable bait station, that can be swapped out and replaced with a ski pole.
Gunwale thigh-padding runs along the upper inside edge of the cockpit sides and below you'll find recessed storage racks for rods – a feature I really love. A healthy sized underfloor storage locker in the cockpit is accessed via two adjoining lift-up hatches. It's a big space and a great feature, big enough to store 3-4 dive bottles should you choose.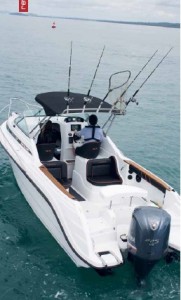 Removable clip-in carpet does come with this boat, though it was removed from the cockpit for the purposes of our test day. It gives a nice feel underfoot when not fishing, but should you wish you can easily unclip it. The seating configuration consists of twin back to back seats on moulded bases, with the aft facing seats lifting up to reveal cavernous storage space underneath. In the cabin itself, a large V-berth transforms into a large double berth with the insertion of a squab infill. Further storage space comes in the form of side shelves that run the length of the cabin area. The forward squab lifts up and reveals the porta-potti and there is a privacy curtain for those wanting to use the head (electric toilet optional).
Access to the foredeck is via a tinted polycarbonate hatch, although with a helm operated Maxwell RC8 automatic rope/chain capstan taking care of the anchoring, I see very little need to go up there. The dash is ultra-modern, stylish and functional. Provision has been made to flush mount large multifunction displays, up to 14″ and on this boat we see a 9" Simrad NSS EVO 2 multi-function display fitted. Auto retract trim tab controls are within easy reach to the left of the wheel, while the VHF and Fusion stereo systems are located down to the right, below the engine throttle control. Above, the skipper and passengers are well protected by the targa style top, which can fold down out of the way for storage purposes.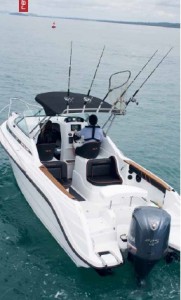 Our test boat was powered by a Yamaha 225hp four-stroke, but you have the option of anything from 200hp – 300hp. The 225hp Yamaha on our test day managed to achieve just on 50mph. At a nice cruise of 30mph @ 4000rpm the Yamaha was consuming 37 lph of fuel.
I found the 225hp performed exceedingly well. It wasn't overly noisy but there was a slight resonation at around 3700rpm. Overall, it gave exceptional punch out of the hole and delivered respectable fuel figures. Test day conditions were beautiful for boating as we explored the inner Waitemata harbour and around Motuihe Island for photo opportunities.
We did manage to find some patches of disturbed water and the Vanquish didn't hesitate as it sliced through the rough stuff, keeping the passengers on board in comfort and dry.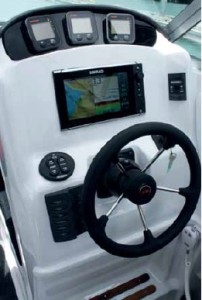 The seating position in relation to the helm is extremely practical and certainly comfortable. The helm seat allows you to sit nice and high, with excellent visibility forward through the curved glass windscreen. Underway you get minimal wind in your face, and you can fine-tune the seat by sliding it forward and back if needed. A teak finished footrest below keeps your legs elevated and comfortable.
At rest, the boat was ultra stable, and three of us moved around the cockpit with no excessive lean apparent. Rod holders were exactly where needed, with a number in the cockpit recessed teak coamings, built into the bait board as well as in the Targa top/rocket launcher.
Overall, an exceptional package. You can see that the Tristram Marine design team have thought long and hard about every aspect of this boat. Nothing has been overlooked and everything works well together. The Tristram 701 Vanquish combines all the traits needed to make a serious fishing boat, with all that is needed to provide a pleasurable family day on the water. It's a great boat for those who might not necessarily want a hardtop, but yet it still offers some versatility with the targa top.
The newly designed hull works exceedingly well, and as I have said before, the Tristram hull's perform when it matters. I would say that in it's size bracket, the 701 Vanquish is arguably one of the best performing boats out there. So where to now for Tristram Marine? Over the last number of years, they have developed some market leading models and seem to have a boat for every segment of the market. Or have they? Only time will tell to see what they release next.