Back in September 2011 we tested the Tristram 741 Offshore, a model the Hamilton-based company had released late in 2010. Now, with the release of a widely anticipated sterndrive model, we see the next evolution of the 741. Freddy Foote checks it out.
If there is ever a boat brand you look forward to testing, it is always a Tristram.
I'm not quite sure what it is, but Lance Fink at Tristram Marine always gets it right. When I tested the outboard version a few years ago, I summarised the boat by saying "In my opinion probably the best performing GRP hardtop of around 7.5m that I've tested – period! If there is a better boat out there, I haven't been on it."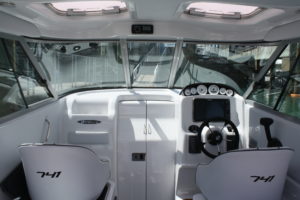 Upon reflection, pretty passionate words at the time. How was Lance going to wow me this time? Could he wow me again? I was about to find out.
What made this test even more interesting was that as we put the boat in the water, Lance revealed to me that he hadn't actually been in his new model on the water yet, and he was just as excited as I was to see how it would go.
According to Fink the 741 Offshore outboard version has been a phenomenal success for the company. So why develop the diesel sterndrive version?
"Accessibility to fuel was one of the main reasons why we developed this model. There are a lot of people who do their boating around places such as the Coromandel Peninsula, where they can't access petrol on the water at wharves, but they can access diesel," says Fink.
"Having the sterndrive option gives the boat more appeal, and to a wider market."
The new 741 Offshore sterndrive is largely the same layout-wise as its outboard sibling, though obviously it has a new and redesigned stern section. Accurate in its design and construction, it has had its plugs cut on a CNC machine, as well as being designed using CAD software.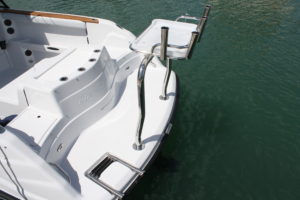 The 741 Offshore Sterndrive is targeted at the offshore fishing market, where it boasts an excellent cockpit space for 5 to 6 anglers, live bait tank, and unbeatable rod and accessory storage. Above all, it has the same bluewater performance and exceptional design traits for which Tristram is renowned.
Fink's design philosophy to make the boat extremely fishing friendly is evident as soon as you step aboard.
Aft, low profile walk-throughs are built into both transom corners, the port side sees a stainless boarding ladder flush mounted into the large full width euro style swim platform.
In the port corner, a live bait tank is built into the transom walkthrough, while an identical sized catch bin is located on the starboard side.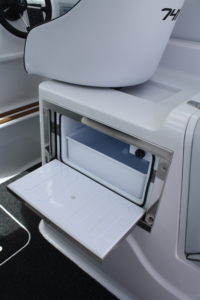 A truly enormous bait station is positioned centre and when not in use is easily stored in the cavernous space under the port side passenger seating.
A prominent feature of the 741 Offshore is the substantial cockpit. Thigh padding runs along the upper inside edge of the cockpit sides, and below you'll find recessed storage racks for rods, with additional shelf storage located below, and a gaff/boat hook holder below that – a really great and well designed feature that I love.
While time constraints of our test day didn't let us do any serious fishing, we did test the stability of the boat at rest, and with two 'fishing' in the cockpit, it clearly illustrates how roomy it is, and having 5-6 anglers fishing comfortably is definitely do-able.
A healthy-sized underfloor storage locker is situated aft in the cockpit – large enough to store three dive bottles, and is accessed via either a larger locker or a smaller one, slightly aft towards the engine.
Tallon Elite receivers are located throughout the boat, and are used as cup holders, or switched quickly for a different attachment for whatever situation presents itself – another great feature, and gives the boat a clean, flush, finished look.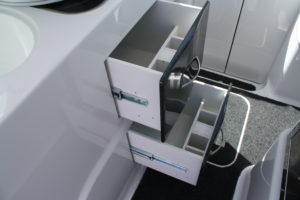 The seating arrangement is a very functional and traditional king/queen arrangement and not only provides ample and comfortable seating, but also copious storage underneath.
The 741 Offshore is complete with a galley; the front passenger seat lifts forward to reveal the gas burner. Just behind that is the small sink unit, fed by the 100L fresh water tank. Opposite, under the helm seat is a fridge unit, with its pullout door opening inwards into the companionway, opposite that are twin slide-out drawers for storage of other galley necessities.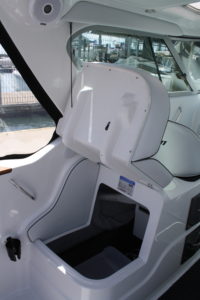 On both sides of the 741 Offshore, the aft-facing passenger seats lift upwards and provide access to the cavernous storage space below. Gas struts are gone, just attach the cord to its hook hidden above near the roof and the seat stays up to allow access.
Above the helm area, two hatches line the roof of the hardtop, and are frosted – a nice feature as it allows light from above whilst providing some protection from the sun.
The overhead hatches also provide extra ventilation when cooking, as do the sliding windows on both sides. The internal roof section inside the helm is finished nicely with vinyl trim padding, giving a warm feel to the helm area and providing sound dampening of engine noise.
The large forward cabin can be fully sealed off and locked for privacy or security, by pulling the sliding door across. As you step down into the cabin, a large V-berth transforms into a large double berth with the insertion of a squab infill.
Further storage space comes in the form of side shelves that run the length of the cabin area. The forward squab lifts up and reveals the porta-potti.
Due to customer demand, the 741 Offshore sees a more roomy cockpit by removing the forward toilet cubicle which was enclosed. Privacy is now assured by the sliding cabin door and the now forward position porta-potti.
This is the second 741 Offshore Sterndrive diesel to hit the water, both being powered by the 265mhp Mercury Diesel TDI with a Bravo 3 sterndrive.
When we tested the outboard version, it was powered by a Yamaha 250hp four-stroke outboard, though since then, Yamaha 300hp and 350hp outboards have been the most popular outboard options, delivering excellent economy according to Fink.
Making a comparison to the 250hp Yamaha four-stroke, it delivered 47.0mph at 5600rpm, swinging a 17" Saltwater Series propeller and consuming 92.5L/h.
A cruise speed of 32mph at 4000 rpm had the Yamaha 250 four-stroke using 44.5L/h.
A 741 Offshore with a 350hp Yamaha V8 outboard, will see the hull cruise comfortably at 31mph @ 4000rpm and use 41L/h of fuel.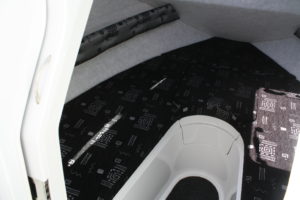 The 265mhp Mercury Diesel TDI certainly didn't lack performance. With two of us aboard and a full load of fuel and water, it achieved 45mph @ 3800rpm and using 52L/h of diesel.
Cruise along at 34mph @ 3000rpm, and it uses 30L/h.
The overall performance of the TDI on the water was quite phenomenal, its great mid-range torque and twin counter-rotating props popping the 741 up on plane very easily.
Also, it was one of the quietest diesel sterndrives I've ever encountered. Lance and I were able to converse really easily at the helm without having to yell or shout. I reckon it's quieter than some petrol sterndrives I've encountered in the past.
Behind the wheel, the seating position is can be adjusted fore and aft to allow you to stand should you wish. I don't know why you would need to, as the high-seated position is perfect, and the ride is so good you'd never really need to stand.
The single helm seat, mounted upon a starboard storage compartment and fridge unit, has the skipper seated high, with plenty of visibility forward – right through to the bow.
As with any new Tristram, the helm itself is ultra modern. Engine instruments were fitted above a large Raymarine multifunction display. Trim tab controls are within easy reach downwards to the left of the wheel, while the Fusion stereo system was mounted up above in the centre. Side windows, combined with the overhead hatches, assist with airflow through the helm area.
Last time I tested the 741, conditions were glassy calm. Not this time around! A stiff breeze blowing 20-25 knots presented some choppy conditions. Perfect!
The 741 Offshore just ate it up, and could easily handle more if you were to throw it at it. One thing I noticed was how well balanced the boat was. Trim tabs were fitted, which I thought would be a must on a day like that, given that the boat has a big hardtop. But during half a morning of running up and down the harbour across all kinds of water, I didn't touch them once!
After I was done with it, this particular 741 was off to be anti-fouled, and then was being driven to its new home in Whitianga. I was almost a wee bit jealous that I couldn't tag along for the delivery journey!
Overall, a superb ride; in fact if you haven't experienced the ride, I suggest you try and get yourself on a Tristram to experience it for yourself.
I was very pleased to see how stable the 741 Offshore was at rest – throw some weight to one side and it will hardly budge.
One word to summarise the new 741 Offshore sterndrive – awesome.
It has absolutely everything you need and more, combined with the Mercury Diesel V6 TDI, it's a fantastic package. I may have found my new favourite boat!