Wave WiFi's Freedom LTE-A Dome combines a MIMO WiFi transceiver and a SIM-activated cellular system in a convenient, easy to mount format.
The Freedom LTE-A Dome combines a dual-band 802.11 N/AC MIMO (multiple input/multiple outputs) WiFi transceiver and an LTE advanced MIMO cellular system with a built-in SIM slot. This allows users to access WiFi hot spots on shore or switch to cellular data sources for fast, reliable internet connectivity.
The compact dome configuration, single wire (POE) power over ethernet detachable cabling, and standard marine 1 "-14 mounting make installation easy.
The Freedom LTE-A uses Wave WiFi's proprietary GUI (Graphic User Interface), making it easy to identify, choose, and access internet sources. The Freedom's dual-band capabilities mean it can connect to both 2.4Ghz and faster 5.0Ghz WiFi signals that many marinas now offer.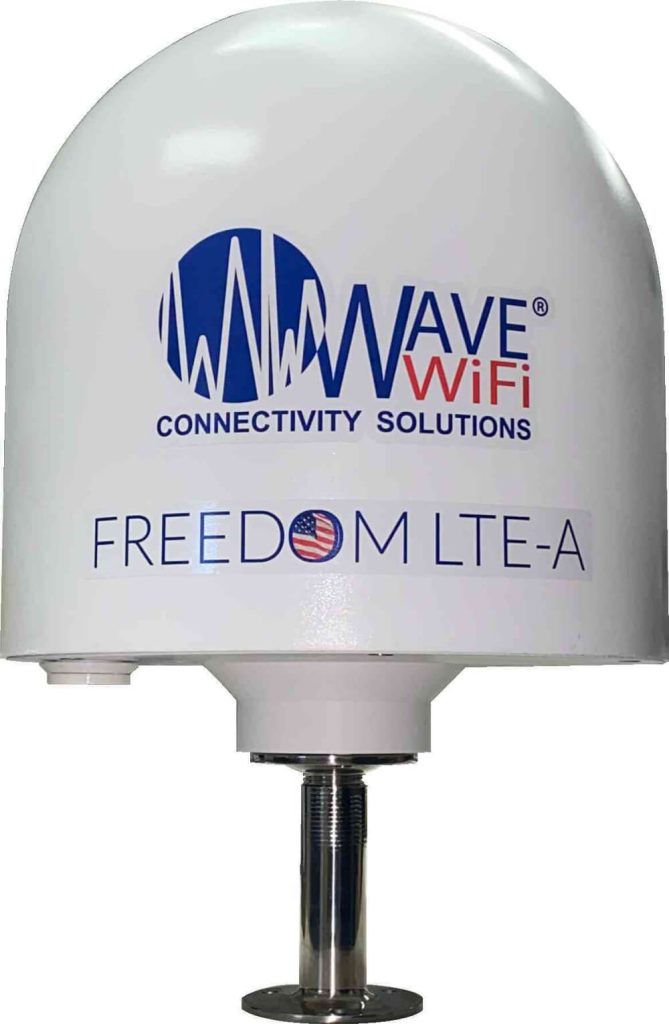 When no WiFi signals are accessible, the unit can easily switch to cellular data sources using the built-in SIM slot and cellular antenna. For added convenience and when travelling in foreign ports, the SIM card can be changed to take advantage of local rates and prepaid programs.
Combine the Freedom dome with one of Wave WifI's routers/network controllers like the dual-band broadcast MNC-1200 to connect multiple onboard devices wirelessly. Add an MNC-1250 for an additional SIM slot for cellular redundancy and to easily switch between cell sources.