New Zealand's Coastguard fleet of 75 vessels is almost all made up of RHIBs and it's easy to see why. Robyn Visser looks at why they are such a crucial asset to New Zealand's most important maritime rescue organisation.
24 hours a day, 7 days a week, 365 days a year you'll find Coastguard vessels out on waters – saving lives at sea. As a charity, Coastguard has over 2,200 dedicated volunteers who commit thousands of hours to help people in distress and bring them safely home to their families.
Since Coastguard's inception, volunteers have relied on rescue vessels to carry out their work, and the hours spent on training and search and rescue operations has meant a constant need to maintain and replace those vessels.
RHIB, or rigid-hulled inflatable boats, make up the majority of Coastguard's fleet of 75 vessels. There are a few exceptions – Coastguard Auckland has as part of their fleet a 15m high-speed foil-assisted catamaran, while Coastguard Tauranga also uses a 13m catamaran. But for the majority of Coastguard units, their primary rescue vessel is an RHIB.
RHIBs are the preferred choice for Coastguard rescue vessels for various reasons. The inflatable tubes are softer which helps when a Coastguard vessel comes alongside another vessel to aid them, and so avoids any potential damage done to both vessels. They also aid in floatation so that if the vessel becomes swamped with water, the inflatable tubes prevent the vessel from sinking completely.
Thanks to the hull shape and design, RHIBs also allow for more comfort at high speeds in rough conditions. This enables our volunteers to get to rescue areas faster but still safely, and so reduces the victim's risk of drowning or hypothermia and increases their chance of being found.
Throughout the years, Coastguard has seen many changes to their fleet as technology and search and rescue practices have advanced. Two Coastguard units – Coastguard North Shore and Coastguard Waihi Beach, have recently welcomed new RHIBs to replace their existing ones, each unit has its history of vessels they've used and the development of those vessels over time.
The North Shore unit was introduced in the 1990s as there was a huge need for a high-speed all-weather rescue craft on the North Shore to service the outer harbour and inner gulf areas. For over 25 years, Coastguard North Shore have used RHIBs as their rescue vessel of choice.
First came Waste Management Rescue, a 6.7m Naiad semi-inflatable vessel. She was then replaced with a 9m Rayglass Protector, which served them well until 2007 when the decision was made to replace her with North Shore Rescue – a purpose-built 9.5m alloy RIB rescue vessel.
North Shore Rescue had the difficult task of searching one of the busiest boating areas in New Zealand, and so in 2011 she was refurbished and refitted from bow to stern, with a fresh paint job and new equipment such as a state of the art Simrad electronics package – giving her a new lease on life to carry on with many more years of service.
After clocking up more than 12,000 hours on the water, Coastguard North Shore replaced North Shore Rescue with a brand new boat of the same name. Their new vessel is a vital upgrade and a crucial life-saving asset for the Hauraki Gulf.
North Shore Rescue is a 9.5m AMF designed Quick Response Vessel RHIB. It is the same vessel type and size as its predecessor, but with key differences and improvements especially in its interior design and ergonomics.
The new vessel is much more tailor-made for the North Shore crew's needs. It has straddle-style suspension seats which carry the body weight of the volunteer rescue crew while allowing them to keep their feet on the floor.  This ensures the volunteers are vastly more comfortable and allows the crew to withstand hours on the water without getting tired – a critical improvement for the health and safety of volunteers.
Another key difference of the new vessel is that the dashboard and forward cabin roof have been lowered to give a better field of vision, especially for shorter crew members. The glass area extends further down the cabin too, allowing for better all-round vision which is essential in a search and rescue operation. The building of the new vessel was so precise that to get the right ergonomic fit for every crew member, a full-size cabin mock-up was built so that the crew could position everything exactly how they wanted it – from the lighting to the equipment, grab rails, seats and storage bins.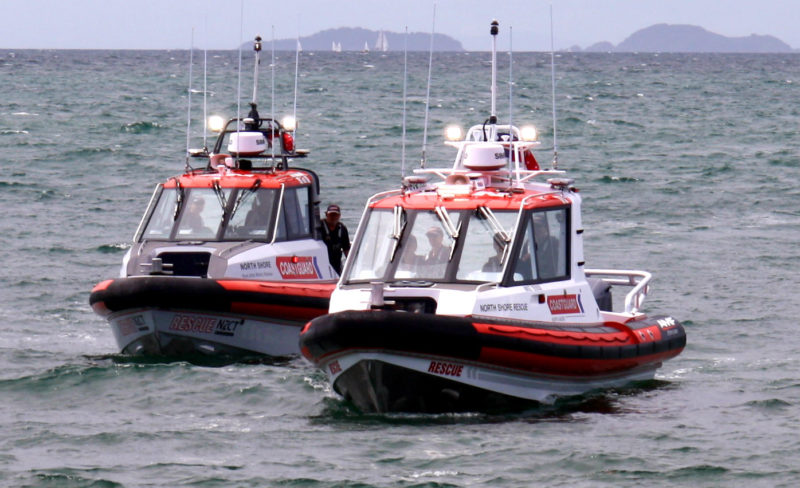 Coastguard North Shore have upgraded their rescue vessels many times since their inception, and while they have changed the types of engines or suppliers or the size of their vessel, they have never considered changing from an RHIB to any other type of vessel. John Kothe, who is the head of the boat building committee, says this is due to the inflatable tubes being much safer to travel in during heavy seas, and that they avoid damaging other boats when they have to come alongside them.
Like Coastguard North Shore, Coastguard Waihi Beach has made significant developments in their rescue vessels since they began as a unit. When they were established in 1990, volunteers immediately began fundraising for their first rescue vessel – a 6m fibreglass Shark Cat named Waipaopao.
Nine years later Waipaopao was replaced with Search One, Coastguard Waihi Beach's first RHIB. As an 8.5m Rayglass Protector rigid inflatable powered by two 150hp Yamaha two stroke outboards, Search One was a significant step up from her predecessor. An upgrade of the motors to 200hp four strokes in 2003 led to significant improvements in fuel efficiency and crew comfort.
Then in 2003, volunteers were hard at work raising funds for another rescue vessel, Search Two. The 5m jet boat was launched to navigate and search the shallow waters of Tauranga Harbour, and has made a significant difference in navigating the difficult areas that Search One, a much larger vessel, cannot do.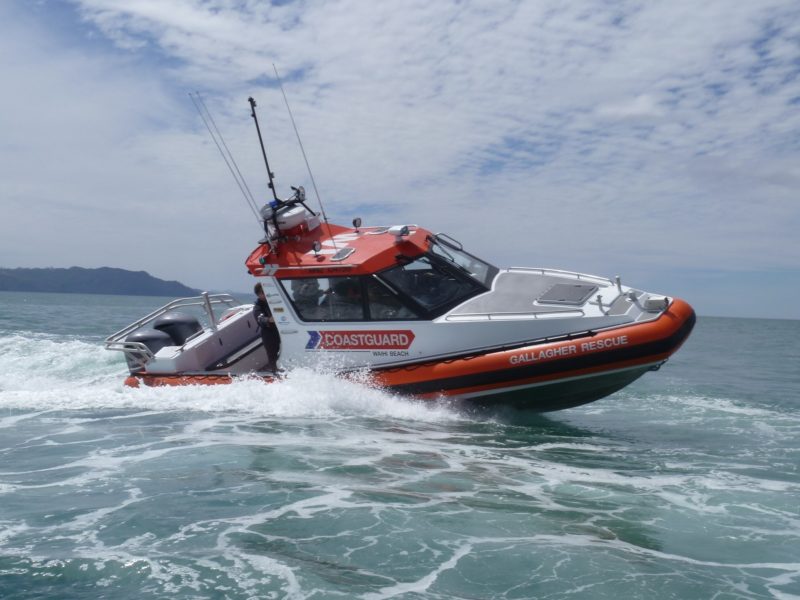 In early 2012 Search One was replaced with Gallagher Rescue, a 9.5m Naiad powered by twin 250hp Yamaha four stroke outboards, and since she has hit the water, there has been a huge improvement in crew comfort and operational ability.
The latest edition to their fleet came this year with Avoco Rescue, a 5.8m Naiad-designed RHIB powered by 115hp Yamaha outboards. Avoco Rescue replaces the 13-year-old Search Two and has seen significant improvements to the crew's comfort and ability to respond to incidents. It is 0.8 metres longer than its predecessor, giving more room and comfort on board. It also has a walk-through design, enabling two extra crew to be on board and can accommodate the transportation of medical and search and rescue equipment, as well as a stretchered patient.
Other improvements include radar capabilities, which help with safety at night and in limited visibility when performing search and rescue missions for a missing person or vessel, twin outboards over single jet for reliability, side by side seating rather than tandem style, and a Bimini top for protection from sun and rain.
Going from a fibreglass catamaran like Waipaopao to an RHIB was a simple choice for Coastguard Waihi Beach. Volunteers at the unit say they are a better vessel for crossing a bar, especially when taking a hit from a breaking wave as the inflatable tubes act as a shock absorber. The crew also spend a large amount of time alongside other vessels in all kinds of conditions and the tubes act as large fenders, reducing the risk of damage to both vessels. In their experience, they've also found that RHIBs make it easier to get people on board when they are in the water as they can be safely dragged over the tubes and that the added floatation of the hull makes it much less likely for the vessel to sink.
As the charity saving lives at sea, Coastguard requires vessels that take care of the safety of its volunteers as well as those they assist in and on the water. Coastguard New Zealand has always been proud users of RHIBs and throughout the years they have become the organisation's preferred choice for rescue vessels.