Feel like getting out of this Covid lockdown and spending some of that loose change, then consider renting The Flying Fox for a week. 
It will only set you back $US4 million for seven days of ultimate luxury. Jeff Bezos, the richest man in the world and Amazon founder, is offering his $ 400 million megayacht, The Flying Fox, to anyone with enough money to be pampered beyond belief.
While he intends you to use The Flying Fox extensively, Bezos rents it out to other wealthy people like Beyonce and Jay-Z when he is not using it. They recently took a vacation on the expensive yacht, renting it out for $US4 million a week.
Bezos commissioned the yacht in 2019, but there was never a confirmation that the ship was in his name. While various industry sources name the billionaire as the official owner, others claim he hasn't even stepped on The Flying Fox.
And while The Flying Fox offers absolutely everything for you to relax, enjoy and spend quality time with your family and close friends, it is reported that Jeff Bezos also commissioned another bespoke yacht, for which he will pay over $ 500 million with a helipad and a support yacht.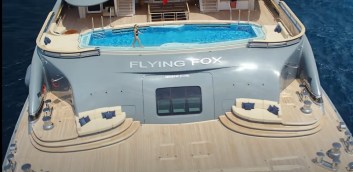 At 136 m (466 ft) and four decks, the Flying Fox is the fourteenth largest yacht in the world. It has a beam of 22.5 m and a volume of 9,022 GT. Built in 2019 by Lürssen Yachts, it has two helipads, a 12.2 m pool, a two-deck spa with health and wellness facilities, and a cinema. The Flying Fox is powered by two MTU 16V 1163 M84 diesel engines that take it to top speeds of 20 knots and a cruise speed of 15 knots. 
The interior design is also impressive, and Espen Øino managed to give the yacht a sleek and elegant exterior, despite her enormous size. She can accommodate up to 22 guests in 11 cabins, all with private ocean view terraces. The master suite occupies the entire upper deck, measuring 328 square feet (30 square meters). The interior of it has a luxurious and contemporary decoration created by Mark Berryman Design. In addition to the listed facilities, there is also a disco, gym, sauna and water sports equipment. To meet all of her needs, she has 55 crew members on board, including chefs and masseurs.