AN OWNER'S VISION REALISED
With a long history with McLay Boats, when Stewart & Henrietta Vaughan started researching their next boat they found it hard to go pasT the brand that they already had a great affection for.
 This new model for McLay Boats, but it is fifth and to date the largest McLay that the Vaughan family has owned. The back story to how the 851 came about, involved a close collaboration between designer and builder Steve McLay and engineer and owner, Stewart.
Initially Steve was asked if he could take his 801 and extend it 3/4 of a meter to 8.8 LOA. The answer was not recommended, as the length to beam ratio was already out to the maximum. The best option was to start from a 'clean sheet' and develop a new larger model. The 851 hull is not only longer, it is wider than the 801, although still retains a very similar 18 deg deadrise hull.
"I had fixed ideas on what I wanted in the layout and fortunately Steve was happy to work with me and the family, right from the initial concept hand drawings to 3D imaging which my son, Mathew did", says Stewart.
It was May 2020 when Stewart started negotiations with Steve and after a lot of  back and forth discussions, with drawings being tweak, changed and finally signed off for everything from the helm design to the transom layout, the first plate for the McLay 851 was laid in November 2020. Delivery was a little delayed due to Covid and other supply issues, with the boat being launched in June 2021.
Stewart wanted an all-purpose weekender that he and his family could also gamefish from. It had to have all the comforts and amenities to make extended stays on the water comfortable.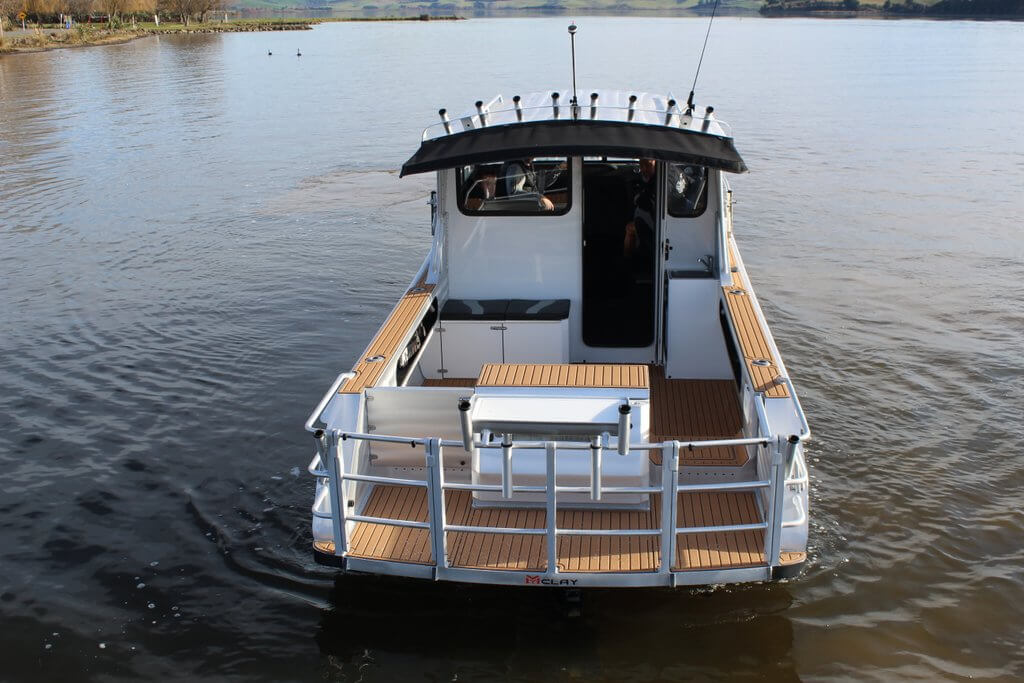 He wanted a boat that would comfortably sleep up to 4 people, have extended offshore capabilities with the range to go out wide. This also dictated the power decision, which Stewart felt needed to be diesel. After checking all the diesel sterndrive packages that were suitable for the boat, he decided on the new Mercury Diesel 3.0L, 270hp diesel package with the Bravo 3X leg.
"I didn't want an engine that would protrude too far into the cockpit and it needed to have the overall geometry so the engine box was still at a natural seat height. The Mercury Diesel fitted all the criteria and I also liked the fact that all the service points, are at the front of the motor and easy to get at when required", says Stewart.
The result is it all looks like a normal transom with an integrated seat that just happens to also be the engine box.
Top speed of Te Ika Nui is around 31.5 knots, which gives a range of over 250nm and 58.7 lph. Cruising at around 22 knots @ 3000 rpm, the fuel consumption drops to 27.5 lph and the range increases to around 375nm.
As the boat will be used a lot for trolling lures, speeds around 7-8 knots will be more common. Te Ika Nui has a range of nearly 550nm @ 7 knots and a very lower fuel consumption of 6.5 lph.
While I never had the chance to run the new 851 in any rough water I have had plenty of experience in large McLay's in adverse sea conditions. Such as crossing Foveaux Strait in a howling Southerly or being monstered by short steep waves on an angry Lake Te Anau. On both those occasions the boats performed extremely well, offering as good a ride as you would expect in the conditions. In the case of the 851 Gen 2, the size of the boat and the overall weight (in excess of 3000 kgs loaded) attribute much to the way the boat handles rough seas so well.
Stewart and his son Mathew also designed a higher than standard gunnel height and spent sometime configuring the aft deck area. Very spacious for a boat this size, it features a full wrap-around cage, twin drop down ladders and double 600mm wide accessways from the cockpit. There are hinged doors to close off the openings, which are specifically designed to keep the water out of the cockpit when backing up on a fish. There is a wet locker to starboard and a live bait tank to port, plus a detachable bait station on the aft railing. Both fresh and salt water hand held systems are also fitted.
The cockpit has been designed for fishing, with open spaces and seating that Stewart says has all been ergonomically designed. There are 23 rod holders throughout the boat, so it's fair to say that the boat will be used extensively for fishing, both bottom fishing for snapper and chasing big game. Under the forward twin seat is a 95 litre slide out chilly bin that slides back under the dinette seating so there is ample provision for keep the catch fresh. All the underfloor cockpit spaces are taken up with buoyancy, and a central 500 litre fuel tank.
Once again the layout of the wheelhouse and cabin spaces was as important as the outside, so the engineering thought process once again came into focus. "I wanted a three seater dinette, small compact galley, 2m head height, as well as a generous helm, so it all had to fit perfectly", said Stewart.
The rear bulkhead door was offset to allow for the dinette, which at 1.8m long can be converted into another berth. A drop down rear window and opening side windows provide good airflow and ventilation. The helm is spacious enough for a large MFD and a single swivelling helm seat is used. It's a great driving position either seated, standing or bolstered.
Storage areas have been found in every available space, with an exceptionally cavernous underfloor locker. A Duetto MK2 dual voltage 10-litre hot water system complete with Vetus 90 litre fresh water tank and pump is fitted under the galley space and provides water for the galley and the transom shower.
Forward, the accommodation has a large vee-berth with a central infill and head under the forward squab. There is the addition of a single pipe berth to starboard and a deep port side shelf.
As an engineer, Stewart knew what he wanted when it came to the layout and where everything was to be positioned on the boat. This led to a detailed analysis on every aspect of the layout, and the result is a very personal boat that has been well thought out and meticulously conceived.
Brand: McLay Boats
Model: McLay 851 Gen2
Price as Tested: $320,000 (circa)    
Type: Hardtop
Construction: 5mm/4mm alloy
LOA: 81m
LOH: 51m
Beam: 75m
Deadrise: 18 deg
Trailerable weight: 3500 kg
Weight (Hull/Engine): 2750 kg
Test Power: Mercury Diesel 3.0L V6 270hp
Drive: Bravo 3X
Power Options: Sterndrive or Outboard
Propeller: 21" Bravo 3 XR
Max Speed: 6 knots
MFD: Raymarine Element 12                        
Flooring:           Ultralon
Tabs: Zipwakes
Water System: Vetus
Anchor Winch: Savwinch
VHF: GME
Fuel Capacity: 500 litres
Water Capacity: 100 litres
Trailer Make: Toko Tandem
| | | | | |
| --- | --- | --- | --- | --- |
| RPM | Knots | L/h | L/NM | Range  (NM) |
| 700 | 3.6 | 1.03 | 0.3 | 1500 |
| 1000 | 5.2 | 2.47 | 0.5 | 930 |
| 1500 | 7.1 | 6.16 | 0.9 | 510 |
| 2000 | 9.0 | 12.33 | 1.4 | 320 |
| 2500 | 14.8 | 19.5 | 1.4 | 320 |
| 3000 | 21.7 | 27.5 | 1.3 | 340 |
| 3300 | 25.1 | 32.85 | 1.4 | 320 |
| 3500 | 26.3 | 37.62 | 1.5 | 300 |
| 3700 | 27.0 | 43.7 | 1.7 | 260 |
| 3900 | 29.3 | 50.6 | 1.8 | 250 |
| 4150 | 31.6 | 58.7 | 1.9 | 230 |
To allow for adverse conditions, range is calculated on 90% of the fuel capacity.