Kiwis lead the world in amphibious boat technology and one of the latest amphibious boat brands to arrive in the country, sporting local design and built, Orion' legs' is the Asis 8.4m Amphibious RIB.         
Builtin the UAE, the Asis brand is well established in the military and professional market, but it is only recently that the company has expanded into the recreational sector. 
The range extends from 2.8m- 6m tiller steer RIBs to centre console RIBs from 6m to 9.5m, plus four amphibious RIB models from 7.1m to 9.8m, running the Kiwi designed and manufactured Orion amphibious drive system. 
Although only new to New Zealand, ASIS is a world leader in the manufacturing of RIBs for the military, professional and leisure sector, and are sold in over 80 countries worldwide. The ethos stamp of ASIS Boats says it all: Design, Safety, Performance, Quality and Innovation. Their boats come with European CE approval, NMMA and ABYC. They also have approvals from different maritime authorities including USCG Sub-Chapter T, SOLAS.
Auckland based, Gulfland Marine landed their first Asis well in time for a release at the 2020 Hutchwilco New Zealand Boat Show, but that never happened with the cancellation due to the Covid-19 situation. 
Gulfland's Craig Lewis said he looked at all the amphibious models when making his first purchase, and while he feels in time the 7.1m will be the biggest seller, he chose the 8.4m version which was the middle option. At 9.8m, the largest of the trio is a huge boat that also came with an equally huge price tag. 
When you talk to Craig about buying an Asis, he says you start with a blank canvas, and it's all about ticking the boxes, from the style and colour of tubes, to the console, seating and canopies. The base boat starts at around $NZ348,000 and then goes up from there. Our boat was very highly speced and had a retail of $NZ454,830, which included a custom-made alloy trailer from Whangarei based, Custom Alloy Marine. 
"I looked around for a really high quality trailer and the team at CAM certainly delivered that", says Craig.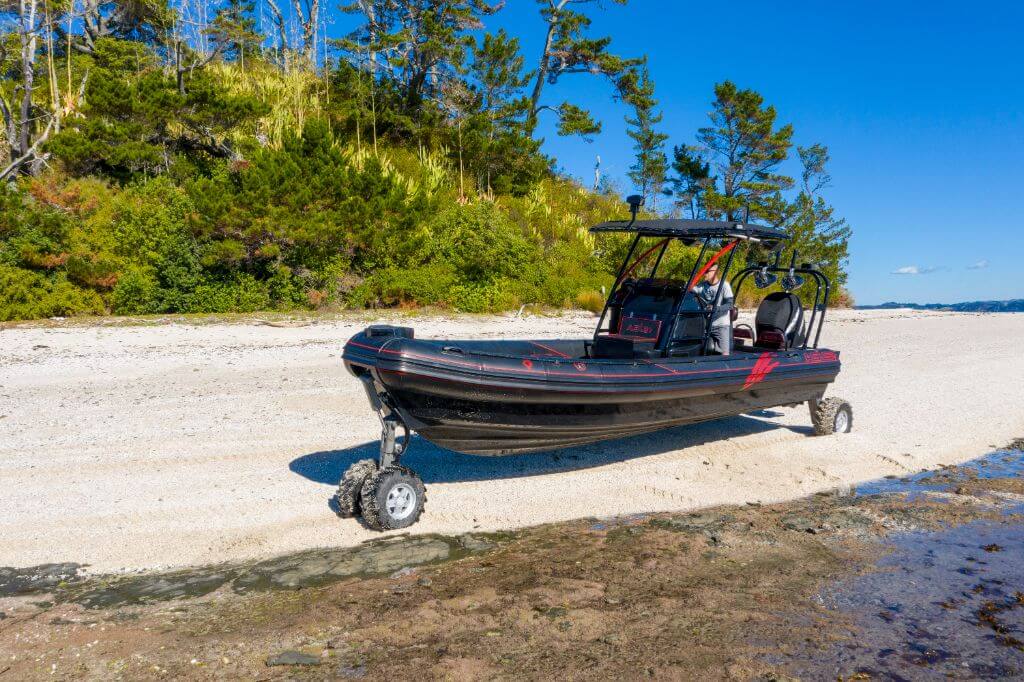 The fully braked tandem trailer was specifically designed for the amphibious system, with a host of strategically placed rollers and was an effortless task driving the boat both on and off. Craig added that while not everyone will want a trailer, it's a necessity if you plan to move the boat to different destinations.
Craig says he chose the 8.4m model as his first foray into the Asis brand as it was the ideal size to show people a boat loaded with extras. His second model on the way from the factory is a 7.1m version that comes with a retail starting price of $NZ262,500 with a Mercury 150 4S and no trailer.
When you buy and Asis, one of the first options is if you want an aluminium or fibreglass hull. The fibreglass hull is hand-laid with the ASIS, concave "Reverse-Chine design." The aluminium hulls provide strength, durability and corrosion resistance. ASIS Boats uses CNC design and cutting to achieve outstanding quality and consistency of all aluminium components.
The second thing to consider is not just the colour of the Hypalon 1650 Dtex tubes, but also do you want the conventional air-filled tubes or foam-filled. The air tubes consist of 5 to 7 non-connected air chambers (depending on the size of the RIB), making the tubes safe and reliable giving the extra performance and comfort expected from a RIB.
Foam Tube is mainly a choice procured by the military & professional users. They might find themselves in very harsh environments and hostile situations and do not want to lose on the extra manoeuvrability and performance that a tube gives. Also, they don't deflate when peppered by an AK47!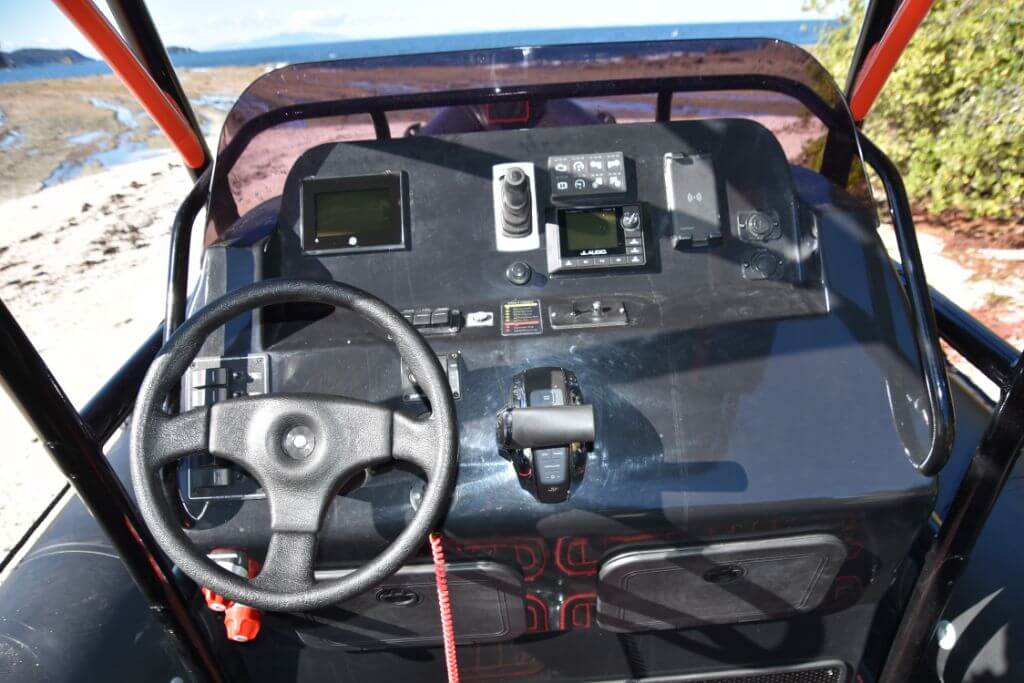 In our case, we had the fibreglass hull with air-filled Hypalon tubes, although with an extra layer of carbon fabric for strength and wearability. They also come standard with a rope lanyard down the outside of the tubes.
"From my point of view, I find the attention to detail on the boat is right up at the top end, and that really impressed me when I first set eyes on the boats.
"I have always maintained if I am going to stand behind what I sell, be it a boat or motor, it has to be a quality product, so I had no hesitation in bringing the Asis brand into our line up", says Craig.
We don't all like the same layouts when it comes to seating, and your Asis can be configured with just about any option. Bucket seats, leaning posts, benches, jockey seats, shock mitigating and much more are available.
Our 8.4m was fitted with a pair of jockey seats mounted on fibreglass bases and a full-width aft bench seat. Further seating forward saw a bench seat ahead of the console and a long U shape forward lounger. Storage is available under the aft and forward lounge seats, with the space inside the large console reserved for the Honda petrol generator and electronics that power the Orion system. A programmable logic control system is installed to ensure continuous monitoring of all amphibious functions and maintaining the optimal performance of the craft.
Another option is the anchoring system, where you can have a drum winch with a through-hull arrangement or an auto capstan on the solid fibreglass foredeck. Again that's your choice.
There is also a wide range and styles of consoles available, with our 8.4m fitted with the widest one available. Notably, it was still an easy step-through from the aft cockpit to the bow section, and you don't have to stand on the tubes. The wider console allows for plenty of space to mount electronics, gauges, nav equipment, JL Audio stereo and all the necessary switches. There was also the digital display and controls for the Orion amphibious system and an area big enough for a flush mount 12″ MFD. Craig says he waits till a boat has an owner before fitting any electronics, especially the MFD as people often favour different brands and sizes.
We all like some weather protection, even with a centre console, so like everything else on the Asis 8.4m, there are loads of choices. You can choose from a wide variety of shading options, from fixed or folding T-tops, removable Bimini tops to extended canopies. Drop some clears off the solid alloy bimini supports, and you can get even better weather protection. I was impressed with the support structure, which is sturdy and robust. The same goes for the rear arch which on our boat was deck-out with a serious pair of speakers, spotlights, wakeboard tow hook and a couple of rod holders.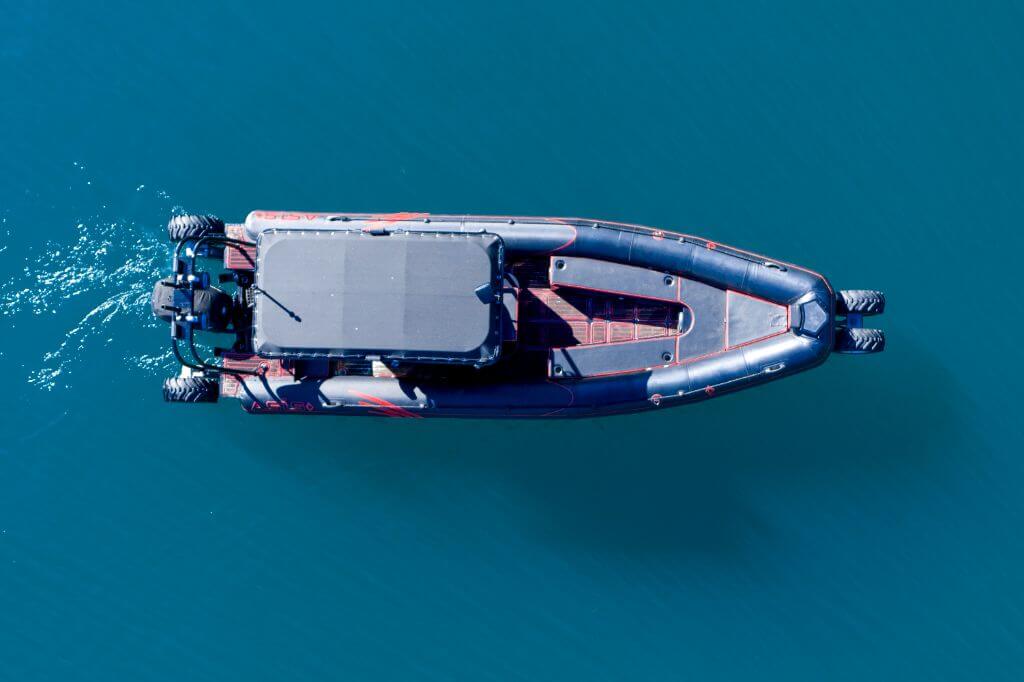 The Asis 8.4m uses the Orion S25 system which is available in both three-wheel and four-wheel versions, (as on the Asis 8.4m) and has full time all-wheel-drive and ABS braking. The S25 is built to handle the harsh saltwater environment, with all alloy parts hard anodised and synthetic, corrosion proof hydraulic hoses. 
The S25 uses an air cooled 40hp Briggs & Stratton EFI petrol engine for power, with the fuel scoured from the main fuel tank for the boat. No separate tank is required. At 420kg, the four-wheel drive S25 is the lightest amphibious system on the market.
The Orion S25 has an on-land speed of 9 km/h, with continuous run time and will accept a maximum drive incline of 19%, which is the equivalent of a 10 deg slope depending on the terrain. It can operate on a wide variety of surfaces.
The Asis 8.4m is available with a single or twin outboards as low as 150hp to a rated max of 350hp. It's a hull that will certainly surprise you as to just how much horsepower it can take. We ran from Manly beach to Beehive Island, just south of Kawau Island and back in relatively choppy water with a 1/2m swell, and the boat ran at 27 knots without any vices. It has the feel of a stiff, stable boat underfoot, with no bangs, no rattles and no hull noise. Underfloor is all filled with foam buoyancy which along with the tubes acts as a great sound deadener. Given the underwater shape and deep deadrise, I am confident it would perform exceptionally in the rough. At around 2500kgs with a single engine, it is not a light boat, and that certainly helps in maintaining a soft dry ride.
I wasn't very impressed with the jockey seats, and while they are great if you intend to drive a lot of the time standing, they don't offer the comfort of a conventional bolster seat. However, that's your choice when you tick the options box. The screen does provide excellent wind protection, and as for spray, I don't know as we took none aboard.
As this was Gulfland's demonstrator, they decided to drop on a very well used Mercury Verado 225 for the review, with the plan to put a brand-new engine on for the new owner. We recorded 36 knots first time out and pulled 5500 rpm. Given some time with the setup and prop selection, I am sure that could be increased 2-3 knots without any problem. 
The ideal engine would be something in the 250-300hp range.        
Amphibious boats, no matter what brand, are ideal for those that still want to go boating off the beach and don't want a trailer and a big SUV to tow it. The Asis 8.4m is unquestionably well-built and robust, taking its heritage from Asis building military and professional boats for many years. The Asis amphibious range goes that extra step and mates performance, handling and design with luxury finish and presentation.
Boat Design Name: Asis 8.4m
Year Launched: 2020 / New Zealand 
Builder: Asis Boats 
Price as Tested: $NZ454,830 (*Incl trailer)
LOA: 8.8m 
Beam: 2.55m 
Weight: 1450 kg
Deadrise: ??
Tube Diameter: 0.45m
Fuel Capacity: 454 litres
Power Type: Outboard Only
Max Horsepower: 350hp 
Test Power: Mercury Verado 225
| | |
| --- | --- |
| Rpm |  Knots |
| 1000 | 4 |
| 1500 | 6 |
| 2000 | 7 |
| 2500 | 11 |
| 3000 | 13 |
| 3500 | 16.5 |
| 4000 | 19 |
| 4500 | 27.5 |
| 5000 | 31 |
| 5500 | 36 |
Speed rounded off the nearest 0.5 knot