Based on an extended 645, the Aqualite 665HT with its fresh look aluminium hardtop has taken over as the company's market leader. Barry Thompson went to Timaru to check out the newest model from Aqualite.                       
Aqualite came into the pontoon boat scene late by local standards, but quickly established a reputation as one of the better looking and better performing rigid buoyancy brands on the market.
"In general, Aqualite purchases are boaties with experience, who know what they want in a boat and can see beyond the glitz and  appreciating how good a boat is on the water, both in handling as well as practicality", says Stuart Loveday of Aqualite Marine.
Stuart knows that many of his customers have been through the process of buying new boats that didn't really suit their purpose, although they may have suited the budget at the time.
"We find that Aqualite buyers are already well informed on how good the boat performs and the biggest decisions to be made is on the layout options".
Aqualite have been building aluminium pontoon boats since 1995 and introduced the restyled models in 1998 it wasn't long before their reputation for sea keeping boats with good aesthetics got around. Early pontoon boats had a somewhat tarnished reputation for being ' aesthetically challenging', but with the Aqualite that all changed. Today the pontoon or rigid buoyancy boat as some would prefer to call it has come alongway and looks are not really an issue.
When Aqualite started building boats they focused on the smaller models such as the very popular 601 and 535, however times have changed and like most aluminium boat manufacturers the orders are for bigger boats. Currently the Timaru factory is building three more 665 hardtops and has an order for a full lock-up 725HT, as well as a client keen on starting an 8m-hardtop weekender.
"This is the area of the market where we see ourselves growing and whilst we really only have the capability to build 15 to 20 boats a year, we want to be able to customise everyone so that what an owner gets is exactly what he wants and not just a slight variation on a stock design", said Stuart.
The 665HT is to date the largest Aqualite built and the first of their new generation hardtop models. The company introduced a large hardtop model in 2003 using a fibreglass roof and flat screens but they believed that they could do a lot better. A lot of research went into the new 655HT before it was released at the Christchurch Boat Show in 2005.
"We mocked up at least half a dozen hardtops until we found the one we really liked and that was a challenge considering we had to design everything around the standard Taylor windscreen compound curve front screens", said Stuart.
The end result is a full aluminium hardtop with safety glass screens that blends positively into the deck line and looks well matched to the boat. Certainly a 100% better than their first attempt. Extra weight of the hardtop over the open boat is 320 kgs, which has proven only slightly heavier than the grp version.
Having spoken to Stuart at the Christchurch and later Waikato Boat Shows I was keen to look over the 665HT and see if it was as good on the water as the previous 601 SRV I tested in the Bay of Islands a few years ago.  This time the test venue would be Timaru on Aqualite's home water and Stuart assured me that the water conditions would be rough, as that's all they ever get at Timaru.
Well believe it, it was calm, in fact so calm that Stuart almost pulled the test. However having assured him I had already some rough water seatime in other Aqualites and having spoken to a few recent owners, I knew how well the boat would perform before I stepped aboard. As the hull and pontoon design has not changed since earlier models, I was confident of the boats ability in most sea conditions.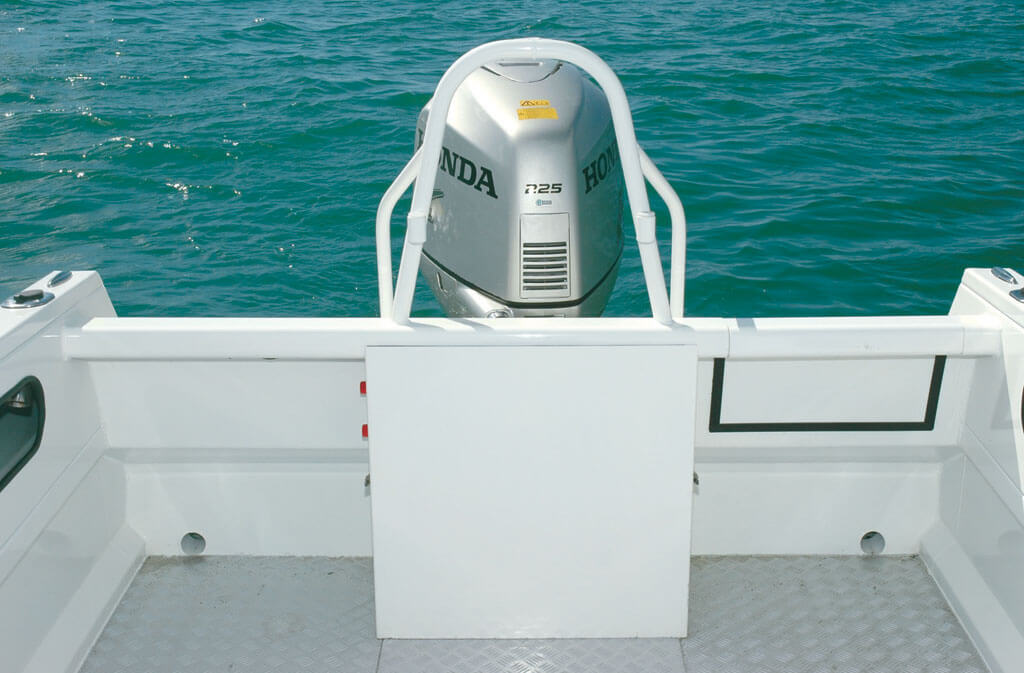 The 665HT I tested was the first built and is now used by the company as their demonstrator. The boys in the shop weren't too happy with me being there on a Friday, as they couldn't take the boat out for their usual end of week fishing trip. When you go fishing out off Timaru that means a 41nm trip straight out to a sunken ship for massive Blue Cod and Hapuka.
"Mostly we come back punching all the way into a Southerly, and it's then when you really appreciate the benefits of a hardtop", said Stuart.
The water's off Timaru were nothing more than a gentle swell with a little breeze knocking the tops off. Flat out, with little fuel aboard and no gear the Honda 225 pushed the 665HT at 50.2 mph @ 5800 rpm, swinging a 19" 4 blade Solas propeller. The boat has previously been swinging a 19" three blade Solas and while the speed was slightly up, the handling in the rough water wasn't as good according to Stuart.
"We've found the 4 blader really bites in the rough and gives the boat plenty of push through the waves without any cavitation, such as we experienced with the three blader.
"However depending on your water conditions the boat may be better suited to different props and really it's up to the owner whether he is prepared to sacrifice a little top end speed for better handling when the sea conditions get nasty. I know which choice I would make!", says Stuart.
Part of the reason for the Aqualite's exceptional rough water handling and ride is the 23 deg deep vee hull and the rigid inflatable aluminium tubes. Both soften the ride in their own way and although there was the usual 'tinnie' slap when underway, the ride was brilliant.
During the test our boat was lightly fuelled and as already mentioned had no gear. This meant it was very quick to plane and nimble when driving but I found excessive cavitation in turns if the trim was anymore slightly below midway. Stuart assured me that with a belly full of fuel (200 litres) and the usual fishing and diving gear aboard, the 655HT settles better in the water and the cavitation disappears.
Aqualite don't fit trim tabs, but I would, as no matter how good the hull is, the windage on the hardtop will always lay a hull over and it only takes a little tab to bring the boat back on the level path. I hate driving boats on a lean and given plenty of sea breezes I am sure the 655HT would be not different.
Although during the test we didn't have the southerly, wind or rain to contend with I could appreciate the benefits of the hardtop. Cosy, protected and comfortable, yet still with exceptional visibility and headroom. There are sliding side windows if you want a little fresh air through and a windscreen wiper to help you see where you are going in the bad weather.
Whilst on the driving habits of the boat I liked the standing position and the fact that Aqualite don't fix the helm seat to the cockpit sole without first consulting the owner. This way the seat base, complete with slider is where you want it and not where someone of a totally different build has decided it should go.
"Southern boaties tend to stand when they drive, but for some of the Auckland based boats we have fitted different seats and even footrests", said Stuart.
The seating layout is varied, with twin swivelling Softrider seats and pedestals being the standard fit. Traditional back to backs and even a newly developed seat base with big storage capability and back-to-back high/low seats are available.
Aqualite have chosen to still retain a moulded grp split level dash. The main reason for this is that all the instruments and electronics are then isolated from the aluminium hull. A positive/negative 'buzz-bar' is also supplied so everything is wired straight back to the battery and not through the hull. There is plenty of space with flush mounted electronics, gauges, switch panels and other accessories. On our test boat we had a Navman Tracker 5100 and a Raymarine DS600X fish finder bracket mounted. Stuart says he went for the bracketed units because he likes the fact you can tilt them down away from direct sunlight.
Considering the majority of 665HT owners will probably spent a lot of their time on the water fishing, it's not unexpected to see a very spartan, yet totally functional self-draining cockpit. The standard cockpit sole is cheque plate, but you can have flat alloy with rubber tube matting or even clip-on carpet.
There was limited external storage space provided on our test boat with the usual side shelves for rods, as well as a massive underfloor wet locker. As an option you can also have a further two underfloor lockers, sandwiched in between some fore and aft stringers, in an area otherwise being used as sealed buoyancy chambers. The standard 200 litre fuel tank is forward of the underfloor locker and there is also space available for a freshwater tank. For those with a penchant for long distance cruising you have the option of larger fuel tankage to 300 litres.
A central panel covers all the accessories such as the bilge pump, batteries and oil tank. With open space either side for access right to the stern. Stepping aboard from the boarding platform is made that much easier with a removable alloy transom panel. You have the option of either a port or starboard transom door or both if you can't make your mind up!
There is wide open  access into the cabin with a traditional v-berth style layout with sitting headroom for at least four-five adults and 1.9m berths for those that want to overnight. An optional infill completes the whole cabin area as one big berth. Storage is available in narrow side trays that have an optional backrest or under the berths. Aqualite will fit a fully plumbed-in head or a portapotti, with the addition of a modest curtain for privacy. The external anchor locker (generous 800mm drop) can be accessed via a large forward deck hatch although with the full auto rope/chain C400 winch everything can be done from the helm.
The target for Aqualite is certainly the discerning buyer who appreciates a good standard of finish coupled to good looks and equally good performance and handling traits. As most of the Aqualite's are custom built each boat tends to differ a little from the previous. Being aluminium there is a whole lot of changes that can be made to personalise the boat. While stainless rod holders and drop down flush mounted cleats are standard there is a still a lot you can add to the 655HT to put your own stamp on it.
Being successful in a niche market is all about delivering exactly what the client wants and with the Aqualite 665HT it seems that the builders have got it right.
Model: Aqualite 665HT
Priced: From (Boat Only)        $46,800          
Price As Tested: $90,000
Type: Hardtop
Construction: 5mm/3mm aluminium
LOA: 6.75m
LOH: 6.65m
Beam: 2.44m
Height On Trailer: 3.01m
Deadrise: 23 deg
Trailer able Weight: 1650kgs
Engine Capacity: 150hp – 225hp           
Power Options: Outboard, sterndrive or jet.
Fuel Capacity : 200 to 300 litres
750 rpm
 
3.5 mph
1000 rpm
5.0 mph
1500 rpm
7.5 mph
2000 rpm
9.0 mph
2500 rpm
17.5 mph
3000 rpm
23.5 mph
3500 rpm
28.0 mph
4000 rpm
23.5 mph
4500 rpm
39.0 mph
5000 rpm
45.0 mph
5500 rpm
48.0 mph
5800 rpm
50.2 mph
All speeds recorded on a Lowrance GPS  and rounded off to the nearest 1/2mph.