A Step Forward
By Freddy Foote
An all-new model from Bayliner in the form of the hugely functional VR5, we send Freddy Foote to sunny lake Taupo to check out this new model.
It's been well over 10-years since I've been aboard a Bayliner, and in that time a lot has changed with the brand. The company appears to have evolved, now more configurations and a whole raft of new models designed to appeal to a wide range of boaties around the globe.
One of these new models is the Bayliner VR5. Built at a Bayliner factory in Poland…. Yes, Poland… The Bayliner VR5 was introduced in 2016, bringing uncommon style and space maximization together in a new high-value model for Bayliner that by all reports has been well received by consumers and the boating press alike.
In fact, the VR5 has been awarded both The Miami International Boat Show Innovation Award for outstanding runabout and Boating Industry magazine's Top Products award.
The new VR5 Series builds on Bayliner's V-bottom runabout heritage while adding form and function and is truly a step forward for the brand regarding functionality and finish.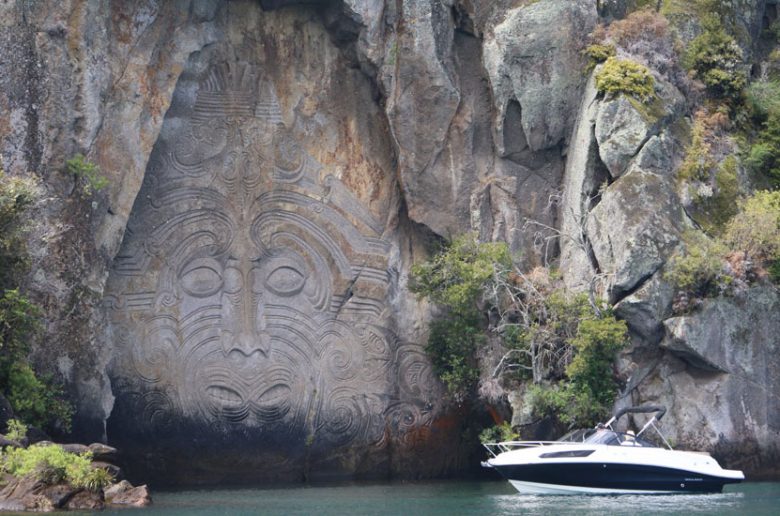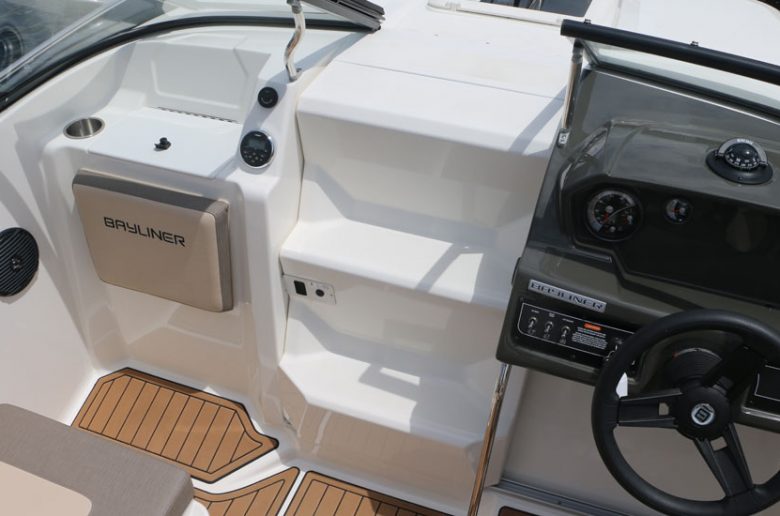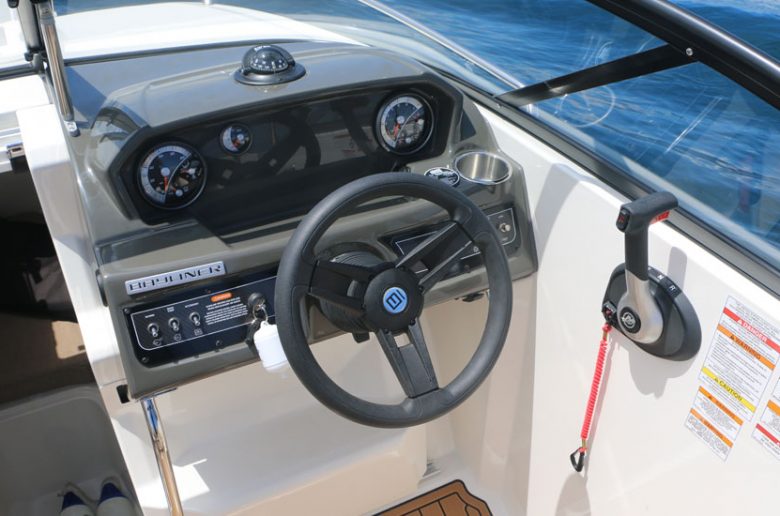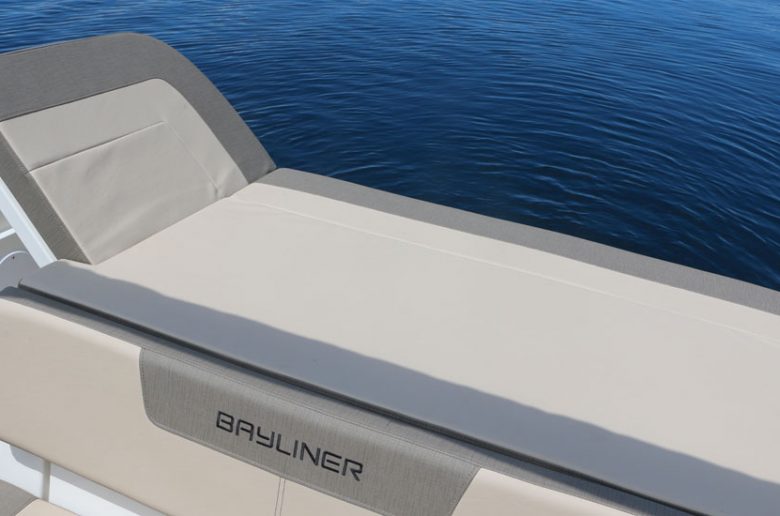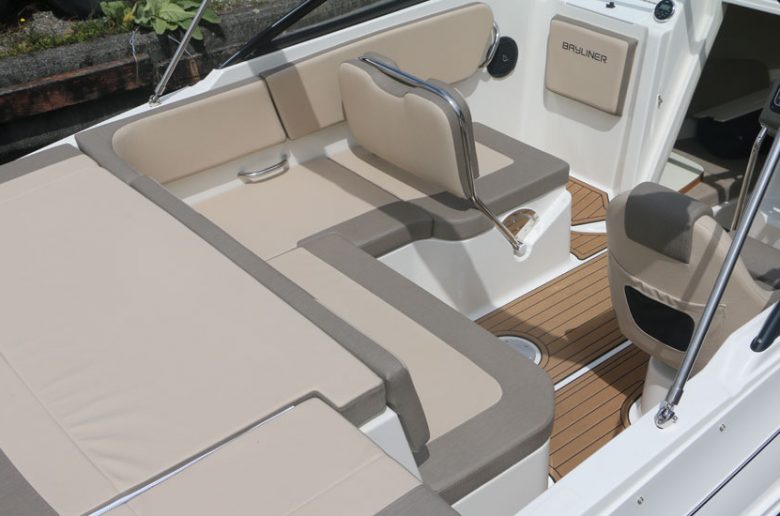 Forward, the boat employs Bayliner's new 'Beam Forward' design, which carries the full 8 feet of beam further forward in the boat than has been traditionally done.
The self-bailing cockpit features Bayliner's new AftAdvantage design that increases the aft seating area by extending it to the aft most point of the running surface, then adding the swim platform at the end of the running surface.
This keeps the platform apart from the usable interior space, rather than encroaching on it. The result is a boat that maximizes space and value like never before.
The VR5 is available in two power configurations, the sterndrive as we see here on our test boat, as well as an outboard version. The same hull is also available as a bowrider.
Traditionally when manufacturers offer an outboard version of a model, they redesigner the transom to incorporate the outboard power configuration. Not so here, Bayliner has kept it ultra simple.
Essentially, they have just built a pod onto the swim platform for the outboard to bolt onto, leaving the rest of the cockpit intact.
Lakeland Marine also had an unrigged outboard version sitting in its showroom which I got to have a look over. Lift up the aft seating and where the V6 sterndrive used to be is now a truly cavernous storage locker where you can store large items such as tow toys, chilly bins and even the kitchen sink.
Other than that, the VR5 outboard model is identical to its sterndrive counterpart. The outboard verion of the VR5 is rated for outboards from 150hp-250hp.
Across the transom, there is a full-width swimming platform that is finished with Ultralon and features a retractable boarding ladder as well as a hand rail and a towing eye for water sports.
The Ultralon finish is throughout much of the boat and gives not only a nice stylish finish but is nice under foot. This comes as an option, alternatively you can opt for carpet matting throughout which is removable.
To the starboard side of the swim platform, there is a walk through into the cockpit, accessed by listing up a section of the aft sun pad.
The cockpit has a distinct accent for entertaining. Across the aft section is a large L-shaped seat with storage underneath, with the passenger seat to port opposite the skipper having an adjustable back rest so if desired a passenger can face aft – a great option if you're towing the kids on water skis or tow toys.
There is also a cockpit table that can easily be inserted or removed, and by swivelling the helm seat around, the skipper and passengers can all sit around the table.
There is plentiful storage throughout the boat, especially under the L-shaped seating and on either side of the engine which is accessed by lifting up the entire rear seating configuration. You'll also find a cockpit shower for washing down on the transom.
Forward, there is a spacious cabin, where there is an upholstered vee-berth, with side shelves, and storage underneath. A Porta Potti is also fitted as an option. An insert can be added convert the vee berth to a full sized double.
The cabin can be closed off via sliding a moulded GRP door, which slides in behind the helm. When the cabin is closed off, the door itself provides steps up onto the foredeck which can be accessed by opening the centre section of the windshield.
Why the need to get up onto the foredeck when anchoring can be done from the helm? Well, there is a large sun pad that clips into place, making it a great place to sunbathe should you choose.
Speaking of the sun, should you need a bit of extra shade, then there is a bimini top can be unfolded to cover the cockpit and helm area.
The helm consists of a single bucket seat on a pedestal which is adjustable back and forward. It also features a lift up bolster in the base which will provide a little extra elevation should you need.
The dash is a stylish moulded plastic one-piece unit, with two analogue gauges flush mounted, with room for a small navigation display to be fitted in between. A cup holder is close by, an array of the usual onboard controls, including the windlass control which is fitted at the factory.
In front of the front passenger seat, there is a small hatch that lifts up to reveal a small sink with faucet fed via a 37L water tank which also feeds the transom shower, with cup holder and controls for the stereo system alongside.
The VR5 was a pleasure to drive. There was plenty of protection via the large curved windscreen, and the seat kept you high enough so that you could view forward with no both.
Standing to drive was easy, the helm wheel wasn't too far down, and the throttle was within easy reach.
Our test boat was fitted with a 250hp MerCruiser 4.5L MPI Alpha V6 petrol sterndrive. While there are also options for a 170Hp diesel, through to 135hp and 200hp petrol sterndrives.
The Mercruiser provided impressive punch out of the hole and returned a healthy top speed of 38.5 knots at 5000rpm, and there was a comfortable cruise of around 32 knots at 4000rpm.
Wind noise was minimal, even at near maximum throttle two of us were able to converse easily without shouting.
The 250hp MerCruiser was the perfect match for the boat, and I wouldn't want to go any lower horsepower wise. Punch out of the hole was great, though we didn't encounter too much rough water on an almost mirror-smooth Lake Taupo, I feel given the size and weight of the VR5, it should have no problem in handling itself well in rougher conditions.
Overall, I loved the VR5. It is well and truly a huge step forward for the brand, and I would quite happily have one of these parked in my driveway. $88,000 as tested I thought was a remarkable price, and with the level or appointment and features, I don't think much else out there currently available can match this.
Model & Model:  Bayliner VR5
Price as tested:  $88,000
Type:  Cabin 
Construction:  GRP
LOA:  6.23m                           
Beam:  2.44m
Deadrise:  20 Degree
Height on trailer:  2.3m
Trailerable weight:  2100kg
Test Power:  250hp  
Propeller:  Vengeance 17P              
Power options: Sterndrive/Outboard       
HP Range:  150hp-250hp                 
Fuel Capacity: 132L 
Trailer:  Tandem
Notable Standard Items
Port seating forward, reverse lounger, cockpit cober, cockpit table, sink& faucet.
Notable Options on Test Boat
Ultralon, Porta Potti, Windlass, 250Hp Mercruiser.
| | |
| --- | --- |
| RPM | Knots |
| 1000 | 5.9 |
| 1500 | 7.0 |
| 2000 | 10.0 |
| 2500 | 17.5 |
| 3000 | 25.0 |
| 3500 | 29.0 |
| 4000 | 32.0 |
| 4500 | 35.0 |
| 5000 | 38.5 |