New Breed
The Commando 3.9 Scout is the first model to be released by the new owners of Commando Boats, and while unashamedly aimed at the niche rowing market, it should prove very popular with sheltered water fisherman.
When Phillip Barrack brought the established Auckland based Commando Boats, it heralded a new era for this hugely successful brand. Started 24 years ago by Bruce DeBaugh, Commando Boats has been at the forefront of aluminium boat building in New Zealand and while maybe not one of the high production players, the brand has established an enviable reputation, particularly in the commercial market. If you've seen an outboard powered barge or rubbish boat on Auckland Harbour, chances are it was built by Commando Boats.
New owner Phillip still plans to continue that tradition but is also keen to develop new markets. Being an enthusiastic supporter of rowing, he could see a niche market for support tenders.
"The idea behind the 3.9 Scout was to develop an entirely new small boat package that was purpose designed for the rowing support and coaching market", says Phillip.
The Commando 3.9 Scout is based on the long discontinued Commando 12 but with a wider beam, longer LOA and a higher freeboard. Phillip was looking for a sturdy, strong and stable platform that offered a low wake attitude and the necessary speed to keep up with the fastest of skiffs. It seems he has achieved all he wanted in the 3.9 Scout.
Ray Bryant of Bryant Marine, in Half Moon Bay, was given the task of rigging the first boat just before me taking it out for a run on the Tamaki River. Firstly this is a calm water boat and isn't designed to be anything else. Overall length is 3.9m, with a beam of ??m and a shallow ?? deadrise. Construction is a 3mm bottom and 2.0mm sides all pressed at the Commando factory. A wide, downturned chine and double spray strakes either side help to create a dry boat and soften the ride.
One of the necessities for the rowing community was the ability to be able to stand up when running alongside a skiff. The 3.9 Scout can be built with a full length or half length flat chequer plate floor, something that a lot of boats this size don't offer.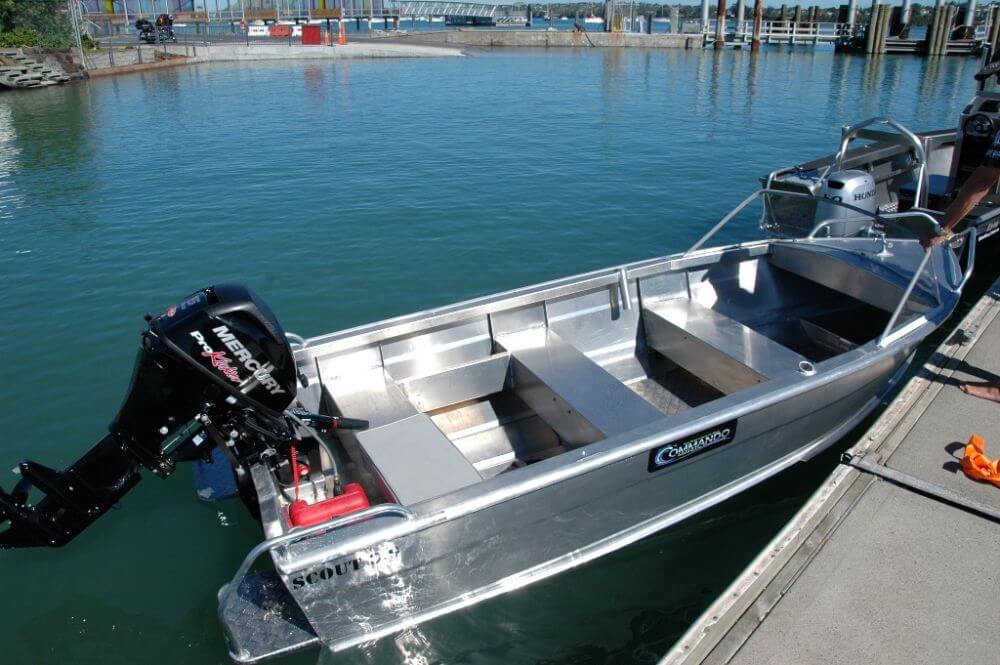 While the 3.9 Scout is essentially targeted at the rowing support market, it is also equally suited to inshore sheltered water fishing. It's the type of light, easy to handle, low powered open runabout that has been very much part of the Kiwi boating lifestyle since the first Parkercraft 12 was released over 50 years ago.
The standard boat comes with twin bench seats with built-in inflation tucked under, with a third bench seat option. This allows you to configure the boat to suit your needs. If you are into your fishing, then I would suggest the two bench seat option more suitable.
Our boat had the three seat option plus a 300mm Perspex screen. The standard boat comes with a 250mm high alloy solid screen, which acts as both a windbreak and spray deflector. The Perspex screen also makes a good anchor point for a canopy and allows you to still see through the screen when driving.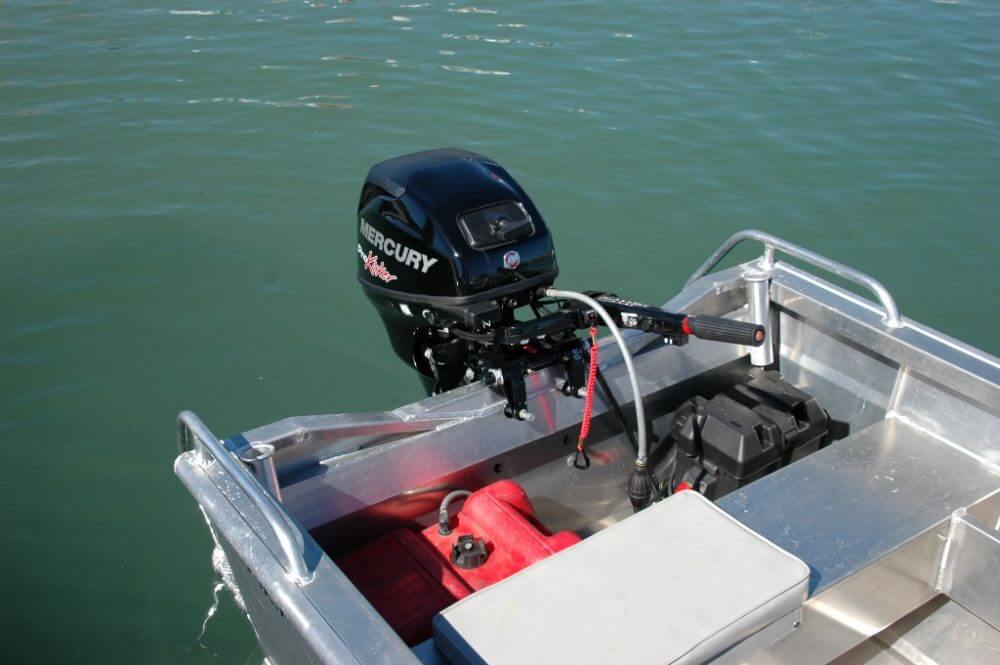 I made the comment that it looked like you could forward mount the steering, but Ray was quick to point out that the hull is too narrow in the forward sections to accommodate that much weight, without running bow down.
"We can totally reconfigure the layout and fit a centre console, which still leaves plenty of useable space around the boat and keeps the weight balance where if should be", says Ray.
There is a small storage space under the foredeck to keep the anchor, but if you prefer, Commando can make an open deck anchor locker. Old story, being alloy it's amazing what can be altered.
Steering is done by tiller from the rear seat and that seems to work fine. Power options are up to 20hp. Our power for the test was a Mercury Pro Kicker 15, a 2S, electric start engine with a tiller option. This gave a top speed of 36 km/h.
The Pro Kicker differs from the standard Mercury 15, through having power trim and tilt, electric start, a bigger gearbox and a taller gear ratio. Essentially it's an engine design to push weight at slow speeds, with good low down torque. Ideal engine for the rowing community, where speed is not essential…well for the support boat that is!
There is space aft of the rear bench seat for a 25-litre tote tank and battery, on dedicated raised trays, or if you're running a manual engine, room for two tote tanks. Not that I would suggest you would need them as the Mercury 15 will go a long way on 25 litres.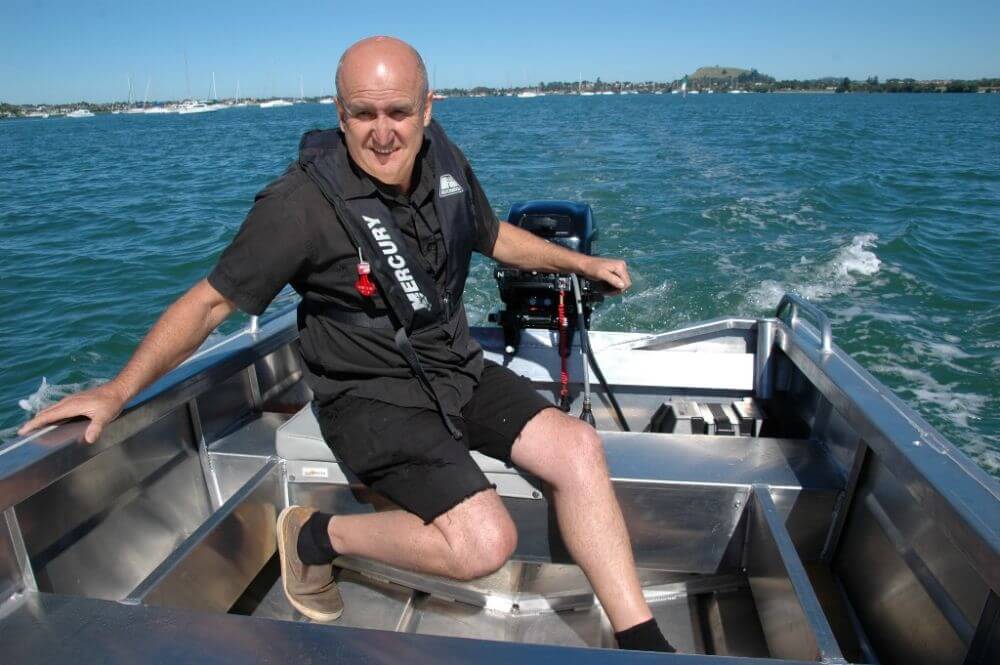 When you are aiming a boat at club level, there is always a question of costs. Commando Boats have managed to put the boat together with a $5500 (inc GST) price tag and that relates back to $15000 – $17000 for a total package such as we tested.
It's a back to basics boat that comes with not only some great ideas and a very practical layout but also the pedigree that the Commando name is so well known for.
Model: Commando 3.9 Scout
Builder: Commando Boats NZ Ltd
Priced From: $NZ15000
Price As Tested: $NZ17000
Construction: 3mm/2mm
LOA: 3.90m
Beam: 1.50m
Deadrise: 13 deg
Power: Mercury Pro Kicker 15
Propeller: 3 Blade Alloy 9"
Top Speed: 36 km/h
Power Options: Outboard Only
Trailer:  Commando Alloy