Deck or hardtop, boat's need hatches.
Deck hatches are on a boat for a reason. Well, several reasons, depending on their size. They offer direct access to the outside from below decks, provide ventilation and natural light and can also do a lot to enhance the look of your boat and break up what can be a very bland foredeck space.
From 4m through to over 40m, if a boat has a deck, then it's likely to have a hatch. There are some straightforward reasons why boats have deck hatches. It is quite normal now to see trailerable cabin boats with sides decks that are so narrow they are not safe to walk around, so it is the only access to the foredeck and anchor locker.
This is not an issue on non-trailerable boats, but the foredeck hatch serves an essential purpose not just when it comes to ventilation and light, but also as a route of escape in an emergency such as a fire or sinking.
In a trailer boat if you have an auto anchoring system, then you may only ever need to go forward to free up a bound warp or chain on the capstan. Standing in the deck hatch opening gives you a safe, secure space to reset the rode, especially useful in heavy weather.
The foredeck hatch in trailer boats has not always been part of their standard equipment. Kiwi trailer boats from the 60s-70s often didn't have any dedicated foredeck hatch, so you needed to either walk around the side decks which was very unsafe in a small trailer boat or lean over the front screen to do your anchoring if you had a soft-top convertible. Although you don't see them now, convertible hardtops with clip-on or fold back vinyl tops were quite common in the 1960s-70s in New Zealand. Runabouts, of course, were no problem and in both cases, the screens were far enough forward to reach the forepeak anchor locker.
With the advent of larger cabin boats, access to the foredeck wasn't quite that easy, so some dedicated way of easily reaching the anchoring gear was needed. Earliest examples were a fibreglass moulding with a translucent panel in the centre, which had the bonus of letting light into the cabin. This is something that you still see on production boats today.
However, it wasn't long before deck hatches became the norm, and we started to see a wide range of options. There are more than 15 different brands of deck hatches available, and they come in a variety of shapes, sizes, styles and materials. Most offer a range of standard sizes and shapes that will suit most boats; however, some brands such as New Zealand manufacturer Cule Marine provide custom solutions which are particularly useful when retrofitting older or obsolete hatches or when a customer requires something outside the norm. Being locally operated they are well positioned to deliver one-off or small production runs of hatches that are non-standard as to size, shape, materials or components.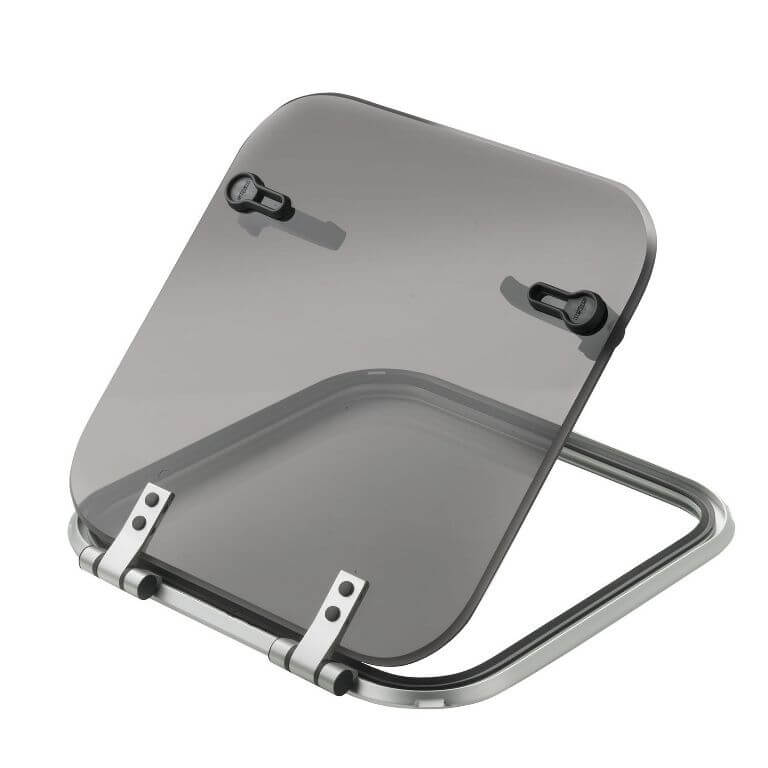 Sandbrooks, once a major supply to the Kiwi boat market, no longer manufacture hatches but they still make and sell a lot of lids for the old Sandbrook hatches as found on most of the popular Kiwi trailer boats and launches of the 1990s/and early 2000s. They also offer replacement lids, handles and hinges.
Moulded acrylic either frameless or framed used on Fyran, Buccaneer, Rayglass, etc, etc
Hatch shapes can be square, rectangular, trapezoid or round. Typically manufactured with aluminium frames they are also available in stainless steel and polycarbonate. Aluminium frames are either anodised or powder-coated, depending on the colour required, and fitted with 8 or 10mm cast acrylic in the lids. Acrylic is used instead of glass because it is stronger, more shatter resistant, lighter in weight and easy to fabricate.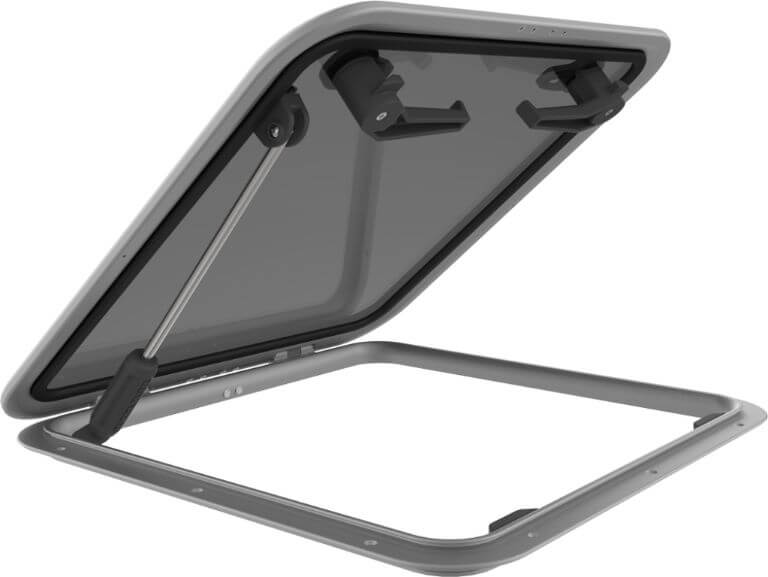 These qualities make it ideal for use in hatches although it's worthwhile noting that when purchasing hatches, it's important to consider the warranty being offered on their acrylic because the harsh NZ sun can destroy cheaper products with poor UV stabilisation resulting in crazing. The inherent strength and shatter resistance of acrylic, makes the hatches tough and robust enough to walk on.
Now, with the advent of auto anchoring on trailer boats, the need to go to the foredeck has significantly been reduced. But you still need access in case of a problem that can only be fixed manually.
If your trailer boat is an overnighter such as a larger hardtop, then a deck or hardtop hatch is an excellent source of natural airflow when you are anchored up at night. You can get them with internal inserts to tidy up the appearance from within the cabin plus bug screens should you be parked up somewhere like Fiordland where the mossies are as big as sparrows!
Another essential aspect is that they must be watertight. This is not usually a problem in today's production and custom boats but can be an issue in older boats, especially if you are looking to retrofit or replace one. If you are going to change or retrofit a hatch in your boat, then you also need to consider what style will suit, not just when it comes to aesthetics but also fitting to the deck shape. It is preferable to replace a hatch with the same dimensions, right down to the radius of the corners.
Unfortunately this is not always easily achieved as older hatch models and brands become obsolete, however a custom hatch can be a good option in situations like these and can reduce time and money otherwise spent on expensive deck modifications. Another alternative to consider is building a plinth over the original hatch opening to enable some flexibility with the installation of a new hatch that may not be the exact dimensions.
If you like things smooth on your deck, then there is the flush hatch that can fit seamlessly into a specially created recess in the deck to give a seamless look. These are very common on launches and cruisers where the foredeck tends to be used a lot so that you can eliminate the dreaded stubbed toes. A low profile hatch still offers that soft, stylish look and are most common on trailer boats. Then there is a medium profile hatch which uses thicker acrylic and deeper frame sections, and is very popular on larger offshore yachts, where deck thickness may be deeper.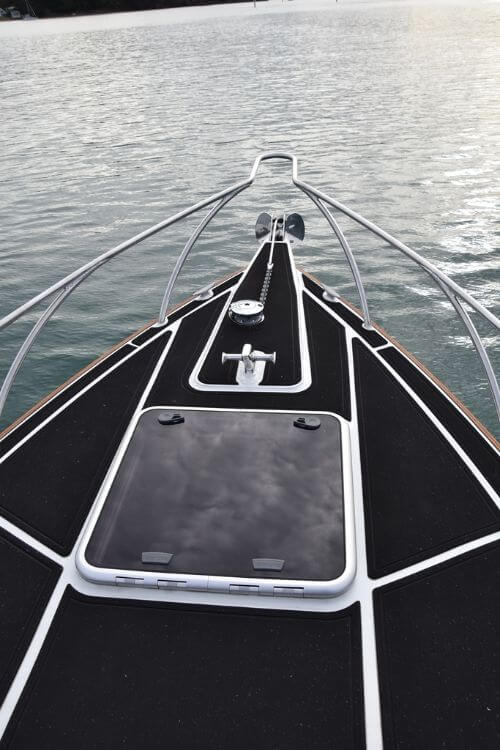 The first indication that a hatch seal may need service or replacement is a drip inside the boat. Drips ruin internal woodwork, joinery, and finishes. Water in the boat can lead to mould and all the associated problems that go along with it. 
All seals and gaskets should be flexible and pliable to the touch; they may look OK, but over time they may lose their plasticity and not seal as well as they once did. Changing them out is often relatively easy by simply buying new seals from the manufacturers and installing them in place after the old ones have been removed. 
However, it may also be an excellent time to upgrade your old hatch. If you are a DIY sort of guy, then be very careful removing the existing hatch to avoid damaging the internal fabrics or deck space around the perimeter of the hatch.
Once you have the old hatch out, this is an ideal time to check the cut out size (hole size) to find the ideal replacement hatch. If you can't find a hatch to fit exactly you essentially have 3 options:
Consider going slightly larger if you have the ability to increase the existing hole size.
Create a plinth to accommodate a hatch with slightly different dimensions or corner radius.
Consider a custom made hatch to fit the hole exactly.
It's also important to check the depth of the hatch frame is suited to the thickness of the deck and that it will fit perfectly on the contour of the deckline. Hatches need to be installed on a flat surface. It's important that the bonding agent used is allowed to cure before screwing down the hatch base otherwise it can result in leaks under the base frame. Several brands of bonding agents are available and its best to check the manufacturer's guidelines. Take your time and be patient as there is nothing worse than fitting a new hatch or even just replacing the seal to find that when you have finished it doesn't fit properly, and the hatch may continue to leak.
It's important to buy the right hatch for the right purpose. Plastic hatches will not endure the elements like an aluminium hatch will. Furthermore some hatches must meet Category 1 requirements to be used in boats heading offshore.
Not all acrylic is created equal. Be mindful when purchasing that the manufacturer offers a guarantee on the acrylic which is particularly relevant here in NZ with our harsh sun.
Consider how easy it will be to get replacement parts for the hatch including new handles, telearms or seals. Are they stocked locally or overseas? Are they readily available?
Style. You want a hatch that is going to look good in your boat. Today there is more flexibility than ever to mix and match colours and styles to best suit your boat. Choices can be made about the colour of the frame, the acrylic used in the lid and the corresponding componentry. Another consideration is how the hatch looks in place: flush, low or medium profile.
Manufacturer's warranty. Sometimes things go wrong. Do you have confidence that your manufacturer will stand by their product, offer repairs or refund easily?
Price: custom hatches vs deck modifications; is the workmanship and materials between differing brands comparable.