Prolific designer and respected boat builder combine to produce a Kiwi production sedan cruiser that is as sophisticated as it is easy to operate.
When I first started writing about things marine, back in the early 1980s, one of my monthly tasks was to visit Auckland's numerous boat building yards and report on the various vessels taking shape there. Unbelievable as it may now seem, it used to take me the best part of four days. A day across the bridge in the north, a day in the west, one in the east and the fourth in the south, primarily around East Tamaki.
While some yards were building one-off custom boats, the majority were engaged in the manufacture of a truly staggering number of production launches and yachts. Around a decade later, they were almost all gone. A combination of the 1987 sharemarket crash, a high Kiwi dollar and the arrival of ready-to-go imports saw a once prolific industry almost completely obliterated. As we neared the end of the 21st century's second decade, there wasn't a single production boat over 12m being built in New Zealand.
Or was there? Just as we were about to close the door on 2019, the 13m Huia hit the waters of Auckland's Waitemata Harbour.
A collaboration between Bill Upfold, arguably New Zealand's most prolific powerboat designer, and Allan Tongs Boatbuilders, one of the country's longest established and most respected builders, Huia is an Elite AT43. It is also a genuine production sedan cruiser. 
At his yard on Auckland's North Shore, Allan Tongs has been building traditional and composite boats, mainly launches, since 1983. In recent years, he has been joined in the business by son Nigel and it has been the latter that has largely driven this move into production boat building.
Recognising that most buyers these days prefer a production-style vessel — wanting a "brand name" boat, liking the shorter wait time and preferring to be able to actually view and walk through a boat rather than having to imagine it — Nigel and Allan started working with Bill
on a possible design.
They initially used their own 12m Elite as a starting point and then produced a combination of concept drawings and renders to show to prospective clients. They received a "really positive" response and, after some further refinement, had their first buyer. The tooling process started in April 2018 and Huia was launched last December.
Recognising that types of people in the market for a vessel like the AT43 are increasingly younger and often without an extensive boating background, the Tongs were determined to "keep things uncomplicated". The AT43's three-cabin layout, for example, caters equally for two couples and a brace of kids as it does for a mates' fishing trip.
The stove and oven are gas, reducing current drain and meaning that there is no need for a generator. The boat's 240v needs (for the electric fridge/freezer, a seldom-used microwave and a scattering of power outlets) are easily met with increasing battery capacity (660a/hr) and a 3000w inverter.
Instead of the traditional twin-screw arrangement, there is just a single Cummins QSC 600hp diesel, shaft driven through a tunnel. Any difficulty manoeuvring is taken care of by the addition of bow and stern thrusters.
(Should a buyer prefer a twin-engine installation, the Tongs have an alternative twin tunnel mould ready to accommodate it.)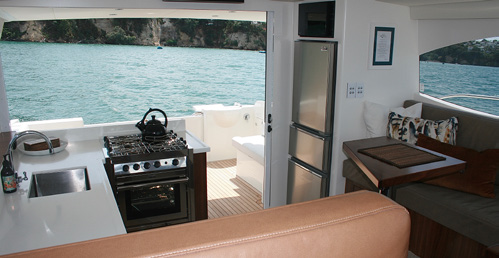 There are numerous other examples of the Tongs' focus on simplicity, too. Recognising that most people these days carry their music library in their pocket, they have done away with the tradition music stereo system and instead installed an attractive, slim-line Sonos voice-activated speaker above the entrance to the cockpit. Linked to Alexa and Bluetooth and/or WiFi, it can simply be ordered to play virtually any tune in the world, give a weather update or perform a multitude of other tasks.
The design brief for the AT43 was for single level, sedanstyle suitable for family cruising and fishing with a big emphasis on entertaining, either inside or under the substantial overhang protecting the cockpit.
As a result, there is great flow between the saloon and the cockpit, thanks to the cavity-sliding door (which disappears behind the fridge module) and the separating window, which drops down behind the oven.
The galley is an in-line design with the gas oven and stove positioned aft and therefore easily able to service both the cockpit and those in the saloon. For'ard of this is a long Hi-Max bench top, running all the way up to the back of the helm station. Under it are numerous soft-close drawers and in a cavity behind, the pop-up TV. There is also a slideout pantry and a handy spice locker by the entrance to the cockpit.
That electric fridge freezer unit is across on port and forward of that is the raised settee. Because this is a reasonably long affair, the question of how best to position a dinning table was a tricky one. Make it too long and those seated in the middle have to squirm along a considerable distance to get to their place. Make it too short and the access is easy but the number of diners able to be accommodated is significantly reduced. Bill and the Tongs creatively solved the problem by installing twin square tables near each end of the settee.
When the numbers are few, they are more than adequate and access is easy. When there's a crowd, an easily-added dropin just slots between the two to create a full length diner. The décor combines American walnut, white walls and ceiling, Mocha-coloured leather upholstery, plush pile solution-dyed nylon carpet and hard-wearing Karn Dean flooring. There is plenty of ventilation thanks to the large twin sliding hatches at the front of the saloon and the sliding windows on each side.
Huia's extensive overhang ensures that a large proportion of its cockpit is safely undercover and protected from harsh sun or any rain. There is a barbecue forward to port, with the gas for it coming from a bottle in its own locker out in the portofino. There is a matching locker, for the stove/oven, over on starboard.
The outdoor dinette, another square walnut table and an L-shaped bench seat, is completely under the overhang and easily serviced by the galley. There is, as one would expect, plenty of stowage and again the emphasis has been on ease of use. Under the thwart dinette seat is a "dial-able" custom-made fridge or freezer, depending on the setting chosen from the panel alongside the helm seat.
Under the fore and aft seat, the Tongs have built a special bracket to accommodate the tender's 3HP outboard, making it far more accessible than had it been placed, as is often the case, down in the lazarette.
Other notable cockpit features include a wash basin with pull out shower in the port transom and a brace of stainless steel pushpit-style upstands, complete with rod holders and a bait board. These latter have been specifically designed to allow Huia's tender, with motor still attached, to be brought on board for short trips between anchorages. For longer trips and when on the marina, the tender, a Tru-kit inflatable catamaran, lives upright on the duckboard on a set of custom-made davits.
This all leaves the large lazarette with easy access to the batteries, tankage and steering and loads of free space for anything else.
Although the Tongs do offer a twin cabin layout, the triple version is obviously more popular. A real bonus on a vessel of this size, it has been achieved by positioning the master cabin in the bow, having the guest cabin partially positioned under the saloon settee and running part of the "bunk room" under the helm and another part behind the shower. Again there has been a big focus on simplicity and ease of use. The master berth is a comfortable, high island with stowage in drawers under and in a small hanging locker. There are opening ports and a large Cule hatch fitted with Oceanair blind and mosquito netting. The guest cabin contains another queen-sized berth that can be set up either fore and aft (for taller guests) or thwart. Another opening porthole provides the ventilation and there is a dresser/drawer unit. Between the two main cabins are separate shower and toilet areas. The doors for these have been painted white to provide a more airy feel and the toilet
door, when not in use can be swung across the walkway to provide privacy from the saloon. 
The third cabin has two bunks and provides access to the engine room.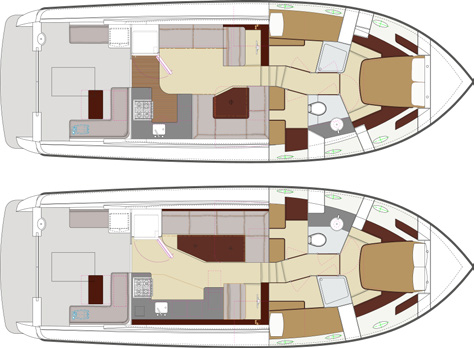 Huia's owner has opted for a Raymarine-centred navigation, control and
communication system. At its heart are twin Axiom RF12 touchscreen MFDs with a remote keypad for use in rougher weather. These are connected to a 3D sonar module, a M322 thermal camera, complete with AR200 Augmented Reality (which overlays diagrams and information onto the real-time feed from the camera), an integrated gyro-stabilised EV200 autopilot and a bow camera. There is also a Ray63 VHF with built-in GPS and AIS, an i70 multi-band wind instrument display and an STV 33 satellite TV aerial connected to the smart TV in the galley.
The dash also houses the controls for the MaxPower bow and stern thrusters, a Cummins digital engine display, controls for the windlass, trim tabs, spotlight and wipers and monitors for the batteries and various tanks (fuel, water and holding).
Being a Bill Upfold design, the performance and seakeeping of this new model was never going to be an issue, and it isn't. With a loaded displacement of 10.5 tonnes, it can reach a top speed of 28 knots with its single 600hp Cummins.
It cruises economically at 18-22 knots and performs well in the rough. After spending some 60 hours running time on her, Huia's owner says she has exceeded all expectations.
"Bill and I went looking for a boat for me to buy," he says. "I wanted something sophisticated, uncomplicated and easy to use — and relatively inexpensive." Bill mentioned the AT43 project he was working on with the Tongs and Huia's owner immediately saw the appeal.
So, how does he feel 6 weeks and 60 hours after taking delivery?
"It's a great boat," he enthuses. "It gets through the water really well, doesn't create a huge wake the back and is exactly what I wanted: really easy to operate.
"I'd definitely recommend the Elite AT43."