Previously marketed as the Explorer Jet Tender, the all-new Lamont T430 Jet Tender is a whole different boat. Barry Thompson went North to Omaha Beach to try out the first of the new breed.
While the Lamont brand is new to boating, it comes with a heritage that stems back quite a few years. When Andy Lamont brought Explorer Boats in 2018, he inherited a range of RIBs and a fledging jet tender business.
"The biggest difference between those earlier boats and today's models is we have repowered a Yamaha TRI four-cylinder engine coupled to a Solas 6" jet pump", says Andy.
He added that one of the main reasons for the change was to have a universal power platform that any Yamaha dealer around the world could service.
"We also dropped the twin driveshaft design for a single shaft, changed to water-feed seals which are good for 10,000 hours and rejigged and simplified the whole drive train", added Andy.
There is also a two-stage muffler to help lower the noise levels and stop any water backing up the exhaust. As an extra safety item, a fire suppression system is provided in the standard package. Flushing the engine can be done without lifting the engine cover and there is an option for an electric shut off valve to prevent the engine flooding when being towed.
The Lamont T430 is offered with a 100hp Yamaha 100 TRI as the standard engine, but you can get a bit more power from the Yamaha 125hp TRI. Not sure I would bother as I found the 100hp unit was more than enough. On calm waters off Omaha Beach, we had the T430 running upwards of 34 knots. 
At first, I found it very flighty and so instantly responsive to any helm movement that I had trouble keeping the boat straight. I even managed to do several unintentional jet spins, but at all times, it felt safe and was totally dry. Actually, they were a lot of fun, and after I familiarised myself with driving the boat (jets have never been my forte), I did plenty more, controlled and intentional. The 100hp offers instant acceleration, and I am sure it has enough torque to pull a slalom skier up from a deep water start.
Previously used as the hull for the Viking jet, the T430 has been lengthened, with longer strakes and a redesigned transom area. The aft deck area was raised to fit the new engine into the engine space, and the transom platform is 200mm longer. Now well suited for a coolie bin and more area for divers, skiers and swimmers. A transom boarding ladder assists in getting back on board.
Considering the size of the T430, there is a surprising amount of space and dry storage areas. The full-width aft bench seat hinges up for engine room access, so there is no space for any gear. However, the console offers its share with all areas under the forward and side seat utilised for gear storage.
Our side console was reasonably spartan with a speedo, on and off switches and a switch panel. Mind you, what else do you need in a boat like this. There is room for a bracket or flush mounted MFD, a Fusion stereo and a small VHF.
The bow area features another seating area, with a good size anchor locker beneath. Not sure if you could fit a small drum winch in the space, but it would be worth looking into. The Lamont T430 is available with an extended bowsprit, or if you have a length issue in your tender garage, it can be changed for a shorter version that gives the T430 an overall length from the forward rubbing strip to the back of the jet unit of 4.30m.
The Lamont T430 is indeed a versatile craft and a lot more than simply a tender for a big boat. While it will certainly suit a tender garage or on deck storage (lifting hooks are available), it is also a great little family fun boat. Fish, dive, tow water toys, it's very Kiwi in design and layout, which adds to its appeal.
"While I see a good market in New Zealand, our main drive for the Lamont Jet Tenders is with export, firstly into Australia and the Pacific Islands we are also looking at Europe and the US.
"I feel our boats are far more practical, versatile and offer more space than some of the overseas jet tenders, and they are more than just a ship to shore tender", says Andy.
Hull #1 was sold to a Kiwi owner who plans to use the boat as a family fun boat for towing water toys.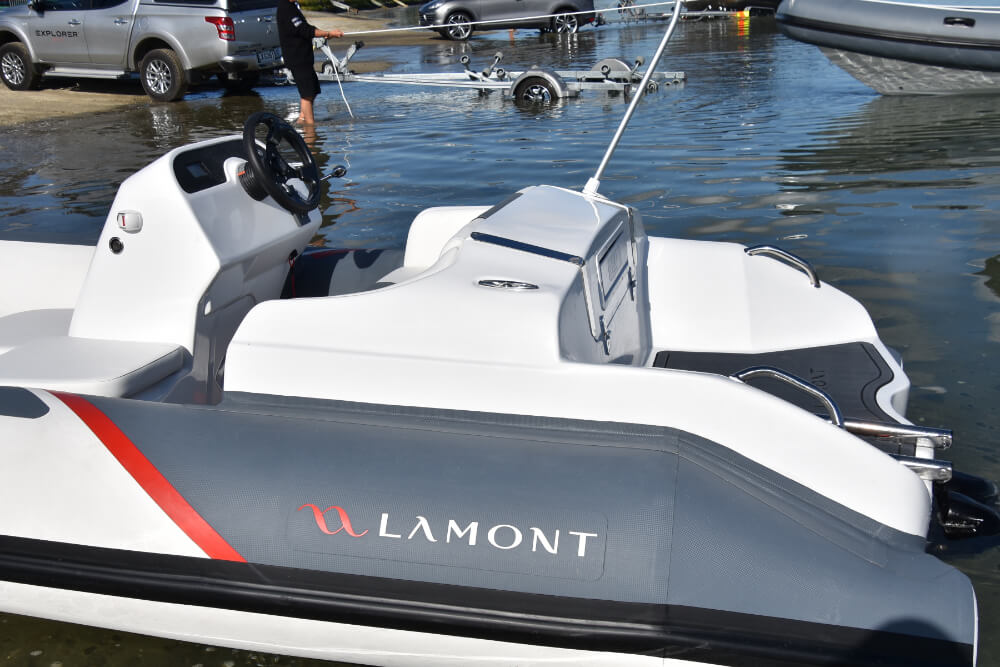 Boat Design Name: Lamont T430 Jet Tender
Builder: Explorer Boats
LOA: 4.20m 
Beam: (External) 1.98m
Beam: (Internal) 1.05m             
Construction: GRP / Hypalon
Trailerable Weight: 600 kg (approx.)
Weight (Hull/Engine): 390 kg            
Fuel Capacity: 55 litres          
Engine: Yamaha 100 TRI
Jet Unit: Solas   
Power Options: 100-125hp Yamaha TRI                                  
Max Speed: 34 knots
Floor Covering: Sea Dek          
Priced From: $NZ55,000
Price as Tested: $NZ57,000