Nuline is one of the newest names in the alloy boat market and has been developed as a range of affordable, entry level boats with an emphasis on quality.
 Text by Barry Thompson
The Nuline range stems from a desire by the owners of Woodbine Marine to have their own brand identity. After many years as a Fyran dealer, with the demise of that brand, Sam Harvey, MD of Woodbine Marine says they were left with a void in their range that needed to be addressed.
Sam explains; "We could see a real gap in the market and from experience knew what was needed in the way of boat sizes and styles to fill it. The Nuline range was born and our plans are to develop and nurture it as the market and our customers dictate".
Nuline was designed as a range of affordable, quality built, boats with custom layouts that have a bent towards fishing, diving and general family boating. Currently, the range comprises two hull sizes; the 4.5m 45 and the 4.8m 48, with both available with an open dinghy layout, runabout/cuddy or side/centre consoles. The hulls are identical, apart from the larger model being 300mm longer. Both are construction with a 4mm hull and 3mm sides, plus a 4mm chequer plate floor and what looks like a more than the average number of stringers. With a background in building commercial boats, the builders of the Nuline range for Woodbine Marine, have carried on that same requirement for a commercial grade toughness but with a recreational quality finish.  It certainly shows.
While there may only be 300mm difference between the boats, the feeling on water is quite different, with the 480 especially good in the more choppy water. Might have also had something to do with the centre console and extra weight which can certainly help the ride and handling. Our experience on the Tamaki River with a 48 centre console and a 45 DG tiller steer probably wasn't enough to really test the two boats to the max, but they both felt solid and predictable and very easily driven with the moderate horsepower.
The standard 45 DG tiller steer dinghy offers seating for four, with two aft corner seats and two forward cushions on alloy frames, with deck mounted alloy grab handles. If the seats were hinged they could be dropped out of the way when fishing. The seating up forward is a little different style to most, but being an alloy boat, it's also very changeable so you can have what you like. The wide side decks come with four flush mount rod holders, plus there are a boarding platform and well-placed handrails for you and your passengers. A drop down boarding ladder is optional.
The chequer plate floor has natural buoyancy under, so there is plenty of flotation in the boat. While our boat had a single level floor, you could have a raised casting deck built into the bow area, which would also double as a big dry storage area. The tote tank can be tucked under the port side seat and there is room for a second one under the driver's seat. This area can be used for a battery if you have an electric start outboard. However, one tote tank is probably going to be all you will need for a day's boating. I wouldn't image that a 30hp would use much more than 8-9 lph flat out and half of that cruising, so 25 litres is going to give you plenty of time on the water.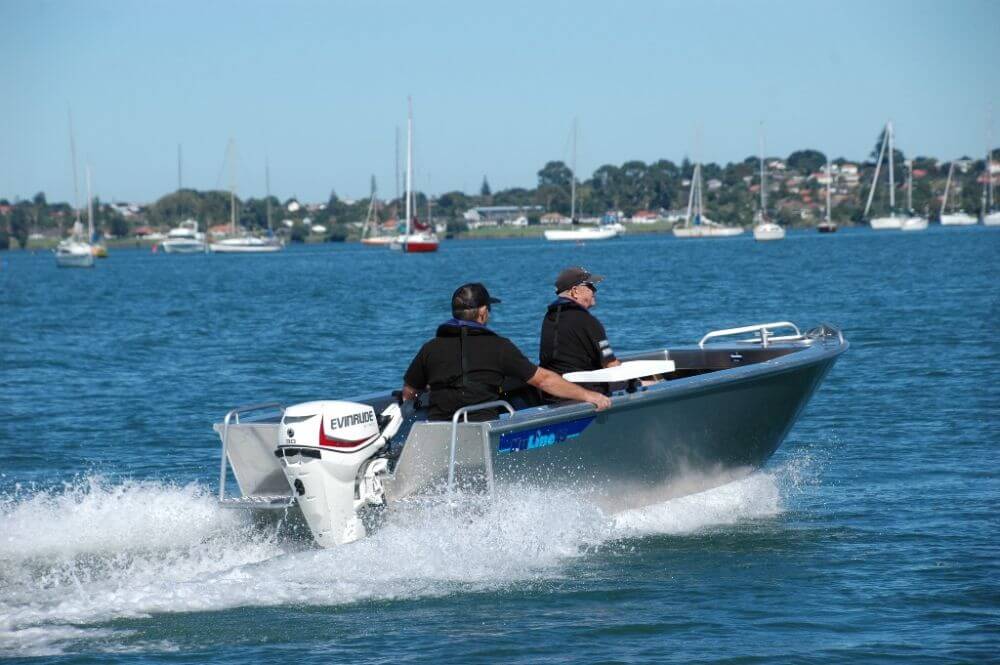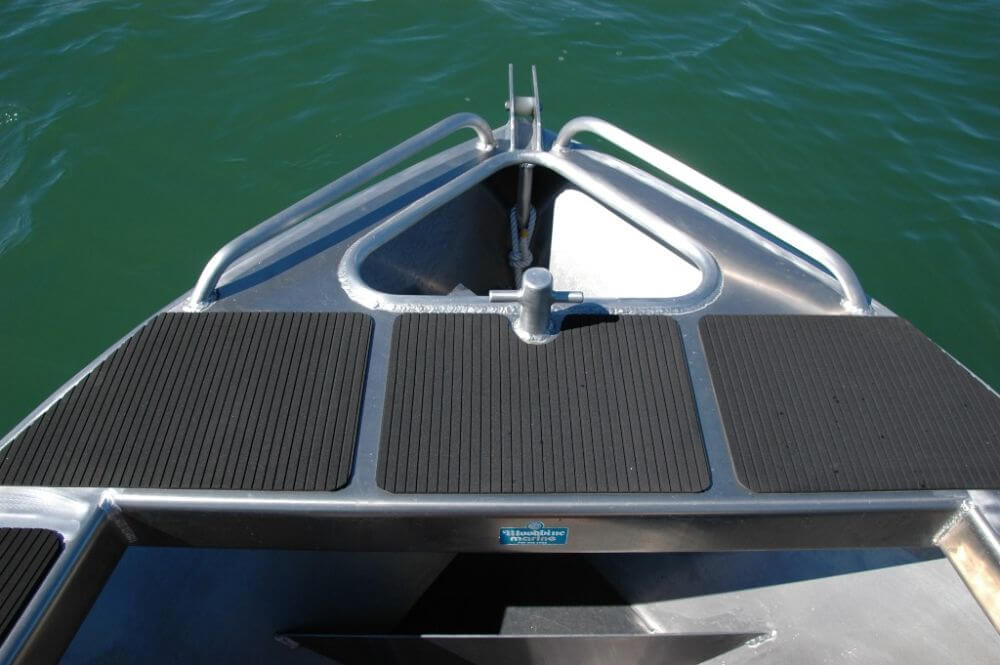 Storage is available in 2m long side trays and a locker under the foredeck. This can be altered to include a solid hatch or a soft vinyl curtain. The 45 DG comes with an open anchor locker and if you delete one of the bow rails you could easily fit a Minn Kota. If you like the idea of an auto anchoring system, then I suggest a small drum winch would be ideal and would slot very neatly into the locker. There is plenty of space on the lower shelf for a battery to run both a Minn Kota and a winch.
Our boat had an optional side mounted bait board, which can be fitted anywhere you like on the boat thanks to the Railblaza mounts.
Power options are obviously outboard only, with a choice of 2 stroke or 4 stroke engines from 25-40hp. Our boat was running an Evinrude ETEC 30 and was the perfect size engine for the boat. Top speed was 21.6 knots (40 km/h). It was quick to get on the plane and run maximum rpm with the weight of two guys, plus some gear.
If you are looking for a small, versatile, lightweight dinghy for fishing/diving or just towing the kids around, then you need to put the Nuline 45 DG on your watch list. It is also extremely well built and to the highest standards, so it's a boat that's certain to be tough and durable. For $NZ16995, you get a boat, on a trailer, powered with a 2 stroke Suzuki and everything you need to go boating. Only extras on our boat were the seat squabs.
While currently there are only two hull sizes available, this is certain to change and already there are plans for a bigger volume 5m version. I predict Nuline is a brand we are going to see a lot more of.
Model:  Nuline 45 DG
Priced From: $NZ16995
Price As Tested:  $NZ 20990Tiller Steer
Construction: 4mm/3mm
LOA: 4.50m
Beam: 1.90m
Deadrise: 13 deg
Trailerable Wgt:   440 kg
Power: Evinrude 30 ETEC
Propeller: 12" 3 Bld Alloy
Power Options:    Outboard Only
Fuel Capacity: Tote Tanks
Trailer: Hoskings