REGAL STATUS
Regal's 2000 is one of its smaller boats, but the 2000 still comes with the same legacy of excellence and innovation of all the other models.
Back in 1999 I was introduced to my first Regal, a 2550 and with that also my first look at Regal's patented FasTrac design, which incorporates a step in the bottom of the hull running diagonally from the waterline to the keel around the middle of the boat.
This is certainly not unique to Regal and it has been common on offshore powerboats, both cats and monos, for years. In fact, my last offshore raceboat, a 10m Robson monohull, had two huge steps. 
The FasTrac feature, designed into all Regal sport boats since 1996, does exactly the same job of providing a cushion of air under the planing surface of the boat, increasing top speed. Regal also claims that it saves on fuel, but I was unable to verify that one way or the other. Regal have also added a reverse chine and inverted strakes to improve the tracking of the boat. I do know that it works well at high speed, but I'm not sure that it really has much effect or advantage at low speeds.
The FastTrac design is not just a one size fits all package and differs from boat to boat. Regal tweaks each hull to change the strakes, steps and deadrise to optimize it for each particular model. One thing that remains constant is the quality and finish of every boat, from the stainless steel fittings to the French stitched upholstery.
The Regal 2000 is one of the smaller boats in the company's bow rider fleet and one of 16 models in the range.
Regal's 2000 bowrider, with its wide 2.6m beam, offers plenty of room in a compact, easy to trailer package. Regal also incorporated lots of storage, something often lacking on smallish boats. While its wide beam is most noticeable aft, it pays off forward as well, with a substantial bow seating area. Large upholstered seat backs in front of the windshield and another in the bow, plus side bolsters provide 360-degree padded comfort, with port and starboard handrails and drink holders for convenience. Our test boat also came with an optional infill cushion that converts the bow area to one large sunpad.
Regal hinges the bottom seat cushions along their aft edge and adds gas strut supports to keep them open, allowing easy access to long, deep storage compartments beneath the seats. These compartments continue aft beneath the windshield to store long objects, and the seat backs just ahead of the windshield also lift, giving additional access for bulkier items.
Like most American bow riders there is no real provision for anchoring, with the bow deck area taken up with a navigation light and a couple of pull-up side cleats. That's absolutely fine if you are mooring up against a jetty or even pulled up on a beach, but if you are serious about anchoring you need to look at fitting a custom built separate anchor pulpit with wider fairlead and bollard. This can be done quite neatly in stainless and really adds a lot to the utility of the boat without detracting from the sleek lines. The locker under the forward squab makes a perfect anchor locker and if you use 8 plait nylon rope rather than 3 strand nylon you'll get around another 1/3rd more warp in.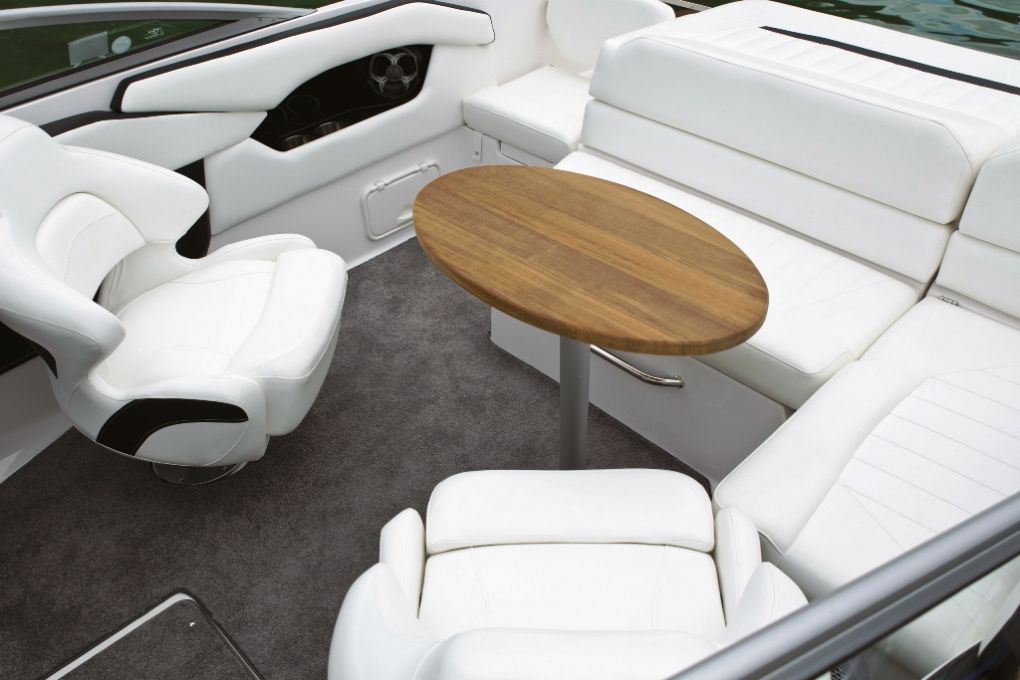 The wide beam also enables Regal to widen the windshield walkthrough without encroaching on seating, and this also allows a wide hatch in the walkthrough deck to access the ski locker beneath.
Immediately behind the windshield the 2000's beam really pays off. It is one of the only boats in its class with a one-piece curved windscreen glass for unprecedented vision from the helm. Forward of the passenger seat is a deeply recessed lockable space. There is plenty of room at the helm, with an adjustable tilt steering wheel, comfortable swivelling bucket seats with ample legroom and space outboard of the seats for drink holders and handrails, plus lots of room between the seats to walk through.
The forward bucket seats are multifunctional, with four-way adjustment so you can set them where it best suits you. The advantage for the driver is being able to be positioned in the best possible driving position for the conditions, be it lower down, tucked in behind the screen, or higher up and looking over. The helm is also adjustable to make things a little easier and the seat base incorporates a flip-up bolster so you can drive in a semi standing position – something I like to do when driving in rougher water.
Regal's attention to detail, quality hardware, and upscale features are noticeable here too. Easily viewable around the leather grip wheel is an array of engine instruments which includes a speedometer, tacho, digital depth, and multifunction displays. All the rocker switches set out below are easily accessed on the split level facia.
An interesting option available for the 2000 is Regal's own, Regalvue, a multifunction touch screen that displays engine data, GPS with chart plotter, cruise control, digital depth, speed and engine disgnostics. Regalvue works in conjunction with the Fusion stereo with a waterproof iPod and iPhone dock that gives you complete control over all your music. You can even add a video camera.
The Fusion entertainment system, which is fast becoming a marine industry standard, is standard in the Regal 2000 and comes with CD, DVD and iPod docking. Standard are six Fusion speakers. If you want more you can upgrade with a performance package that includes a transom remote, subwoofer and amp.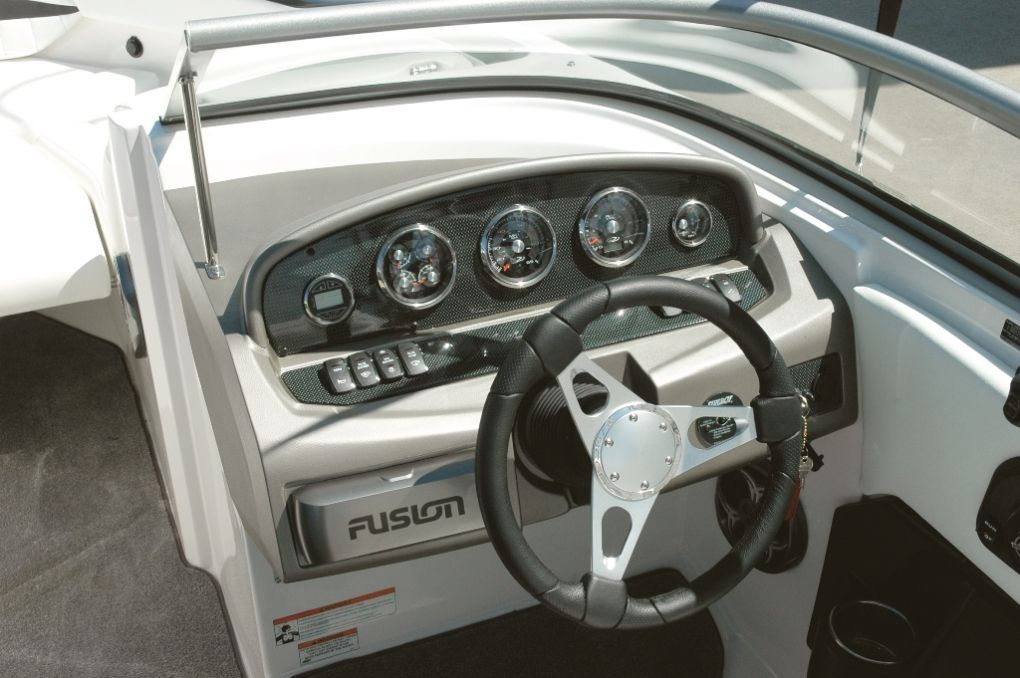 A little farther aft, the boat's beam allows a starboard side transom walkthrough as well as L-shaped cockpit seating. The port side seat lifts, hinged at the back with a gas struts, to access a huge storage area. There is also more dedicated storage beneath the sun pad on the port side. The aft part of the cockpit seat as well as the centre section of the sun pad both sit atop the engine hatch, with more storage under this hatch and gas struts allow the engine hatch to be lifted easily and held up safely. In the centre are a large removable Igloo cooler and even more storage. Particularly on a boat this size, a removable cooler can be much handier than having one built in, as it can be taken ashore. An optional teak table can be fitted around the L-shaped lounger.
The cockpit sole is finished in antiskid gelcoat and comes with a clip-on carpet so it's easily cleaned after a day on the water. Large cockpit drains get rid of any unwanted water to a transom sump area and auto bilge pump.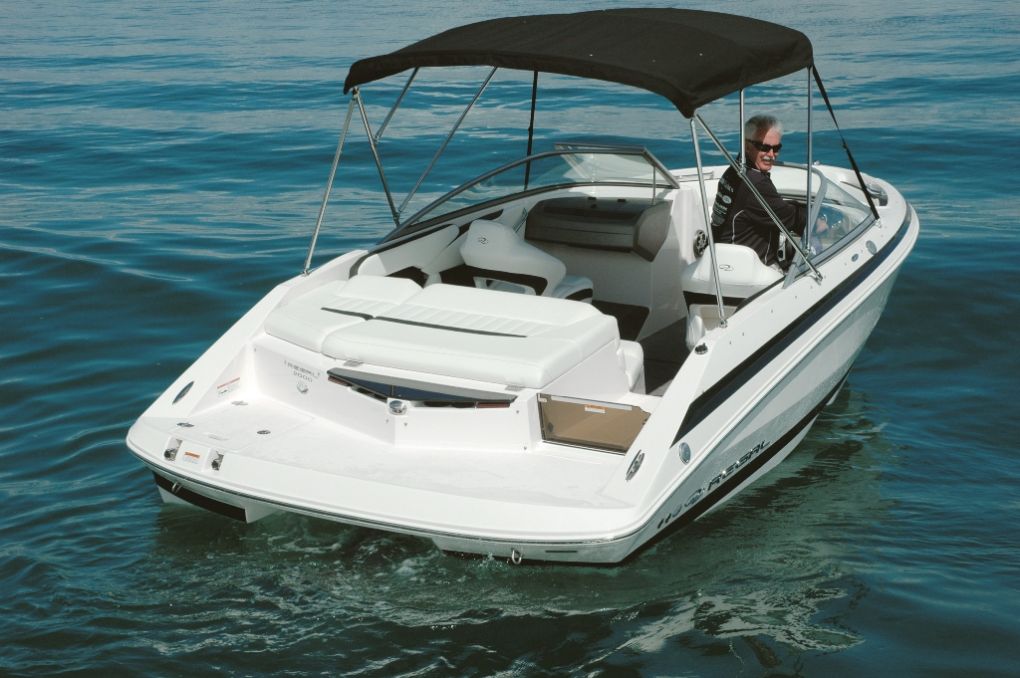 The Regal 2000 has a dedicated transom walk-through so as there is no cushion to hinge, flip over or remove. The walkway is therefore unobstructed at all times for easy boarding. Because of the transom walkthrough, the sun pad is only a bit over 1.5m wide, not quite long enough to allow an adult to lay completely flat. Regal offers an optional filler cushion, though this creates more seating, not a larger sun pad. Back on the swim platform, the stainless steel telescoping boarding ladder is concealed beneath a hatch with additional room here to store a few dock lines, made possible because the hull extends all the way to the back edge of the swim platform. There's also a ski hook recessed in the centre and bilge blower outlets neatly hidden away under a fiberglass panel. You'll also find a couple of LED transom lights which are an extra measure of safety when trailering, although are not usually wired up for boats sold in Australia or New Zealand.
In the centre of the boat, however, the hull is recessed beneath the swim platform for the stern drive. This keeps people in the water clear of the outdrive as much as possible and is a great safety feature, particularly for when towing water toys.
It was nice to see that the stainless steel bimini comes as a standard item with the 2000, something that you can't do without in the summer. Mounted on stainless stays, the whole lot simply folds down when you need to stow the boat, making the height on the trailer of just over 2m.
Regal sell sterndrive boats only and the 2000 is available in five different power options from either MerCruiser or Volvo Penta. Our test boat was fitted with a V8 MerCruiser 5.0 MPI @ 260hp, running through an Alpha 1 leg. The lowest rated horsepower package is the Volvo 4.3Gi @ 200hp and the largest, the Volvo Penta 5.0 GXi @ 270hp.
Our test boat topped out at 56mph @ 5000 rpm on a flat calm, mirror smooth Broadwater.
The 2000 will still perform admirably with a 225hp V6 Volvo 4.3 GXi, returning a speed of 48 mph.
The FasTrac hull harnesses this power well, with great control in tight turns and effortless straight tracking.
Acceleration is amazing and the 2000 requires very little trim, even at high speeds. It's a boat that you feel at ease driving hard and knowing it's going to do what you want when you ask it. I really enjoyed cruising along at around 35-40 mph and felt very comfortable and relaxed.
This is a boat that offers a lot and delivers more. Innovation in design and excellence in finish and fit out, the 2000 is an outstanding bow rider. Okay, it's not a fishing boat and there are no rod holders or fish bins, but that's not to say you couldn't cast a rod over the side and still catch fish. But then it was never designed as a fishing boat. This is a no-nonsense family orientated boat with a layout to match. It's ideal for everything from towing water toys to taking the family to some secluded beach for a picnic.
While its wide beam offers more room for its length, and the FasTrac hull provides bigger performance for its horsepower, Regal's 2000 bowrider offers one other thing a bit harder to measure…huge fun.

Model: Regal 2000
Builder: Regal Marine
Country of Origin: USA
Designer: Regal Marine
Price as Tested: $A63,131
Type:   Bowrider
Construction:   GRP
LOA: 6.15m
Beam:  2.60m
Deadrise: 20 degrees
Height on Trailer: 2.10m
Trailerable Weight: 2317kg
Engine Capacity: 220-270hp
Power Options: Sterndrive only
Fuel Capacity: 158 litres
Performance – Mercruiser 260
| | | |
| --- | --- | --- |
| RPM |   | MPH |
| 1500 |   | 8 |
| 2000 |   | 12 |
| 2500 |   | 24.5 |
| 3000 |   | 31 |
| 3500 |   | 38 |
| 4000 |   | 45.5 |
| 4500 |   | 49.5 |
| 5000 |   | 56 |
Speeds are rounded off to the nearest 0.5 mph