Pachoud Yachts latest power cat Rua Moana, is a partnership forged on the sea, by two people coming together across two oceans, to produce two hulls sailing in the same direction. 
A partnership between an American and Kiwi owners, Rua Moana, is operated by Cruise New Zealand, which currently has a trio of Pachoud powercats in its stable. Rua Moana is the latest, largest and most luxurious in its charter fleet.
This 26.2m powercat is a Kiwi design collaboration with exterior styling by Andrew Ogilvie of Pachoud Yachts, interior design by Kit Carlier Design and the naval architecture by LOMOcean and Pachoud Yachts. Every centimetre of the boat is custom built and was conceived from initial design sketches to launching in just over two years.
Launched in June 2020, Rua Moana is unquestionably New Zealand's most luxurious charter powercat, where guests are elevated to the highest level of privilege. Aimed at the international charter market, as well as local corporate and special occasions, Rua Moana can be chartered for a minimum of a half-day for up to 60 people or extended charters for up to eight guests. 
 "We felt there was a real gap in the New Zealand charter market for a vessel of this quality and size. Essentially we wanted to offer a luxury lodge on water, and with four guest cabins, three crew cabins, seven bathrooms, 446 sqm of floor and deck space and over three levels, I feel we have achieved that", says co-owner and captain, Craig Armstrong.
He adds that what sets Rua Moana apart is the incredibly high level of finish with the most minute aspect benefitted from fastidious attention to detail and devotion to effortless luxury. The interior décor is streamlined and clutter-free, producing a feeling of light and space. Hard surfaces are smooth and sleek, and soft furnishings are lush and inviting.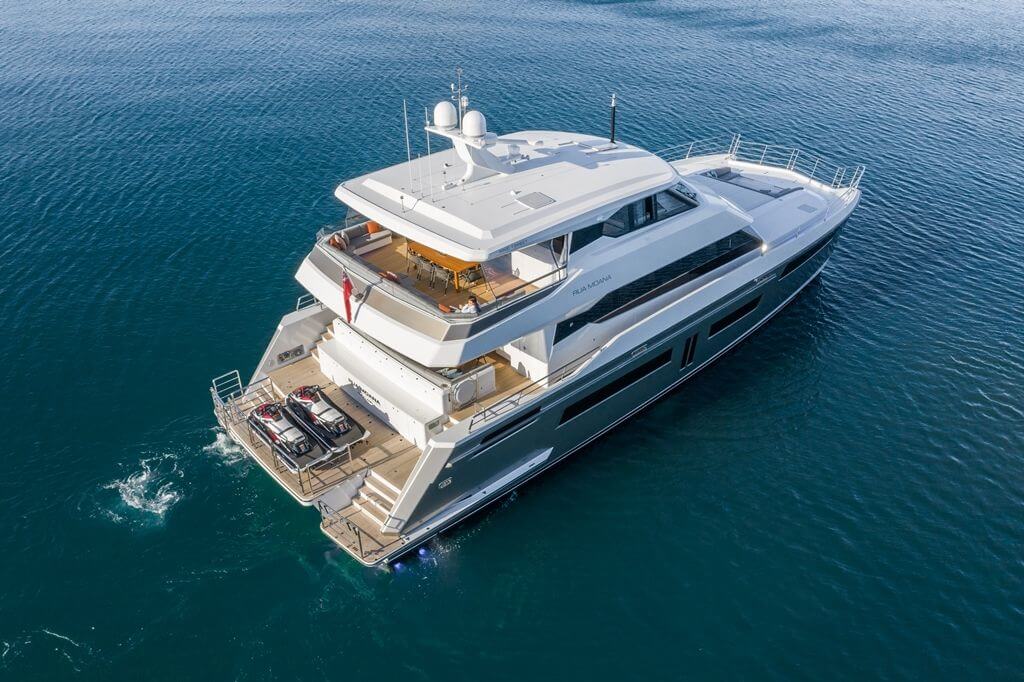 Deep 100% wool New Zealand carpets soften footsteps and minimise sound to enhance the profound sense of peace and wellbeing that embraces you as soon as you step aboard Rua Moana. A chef's galley, indoor and outdoor dining areas, main saloon, media room and wine lounge complete the main floor with a state of the art flying bridge and sizeable outside deck located upstairs. There is room to be social and space for privacy, without compromising either one.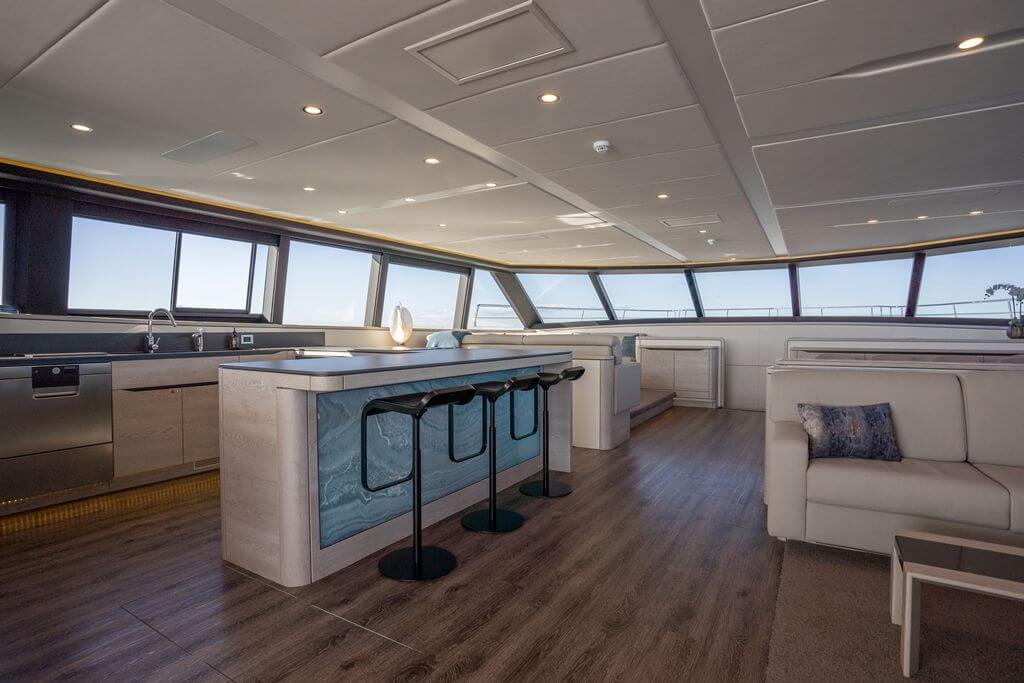 Being a custom build, the cabin configuration is designed to suit the charter situation. There are four guest cabins, each with a King size bed, large picture window and ensuite bathroom. The master suite features a walk-in wardrobe and a large ensuite bathroom finished with a colour changing Onyx stone backlit panel. All the cabins have electric carbon fibre venetian blinds, individual sound systems and climate air controllers. Each is named after a Kiwi destination, that could be visited during an extended charter. The attention to detail in each cabin even includes artwork that relates directly to that area. But it goes further as Armstrong explains.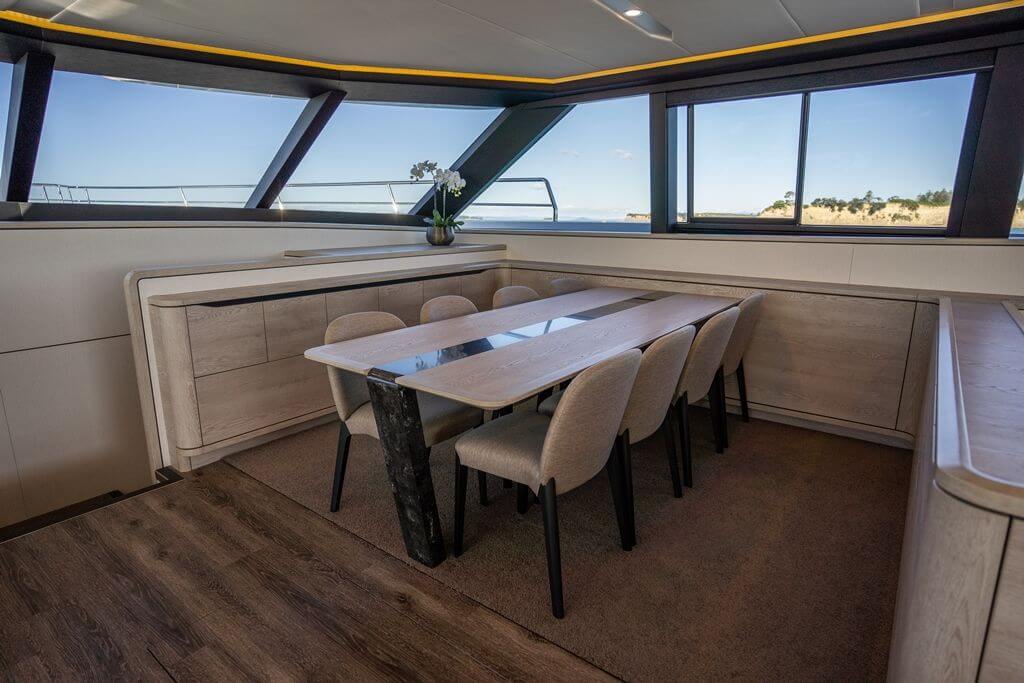 "You can have a beautiful boat, but what we want to offer is a real Kiwi experience and take clients to visit those local artisans that made the artwork that adorns their stateroom. Also, while most superyachts tend to focus on the crew being seen but not heard, for us, the whole boat is designed to offer a more intimate experience with a cohesive atmosphere.
"We have a large open galley so the guests can see what our world-class chef is preparing and the extra-large lounging areas are open and relaxing. It's all about our guests being involved or not, it is their choice, and we do our best to cater to every requirement.", says Armstrong.
There is a media lounge in the port hull which includes a 65" pop up TV, ensuite and doubles as an overflow cabin when required. There are ten TVs throughout the boat, so there is no chance of missing what's happening on the course during the America's Cup or following your favourite sport.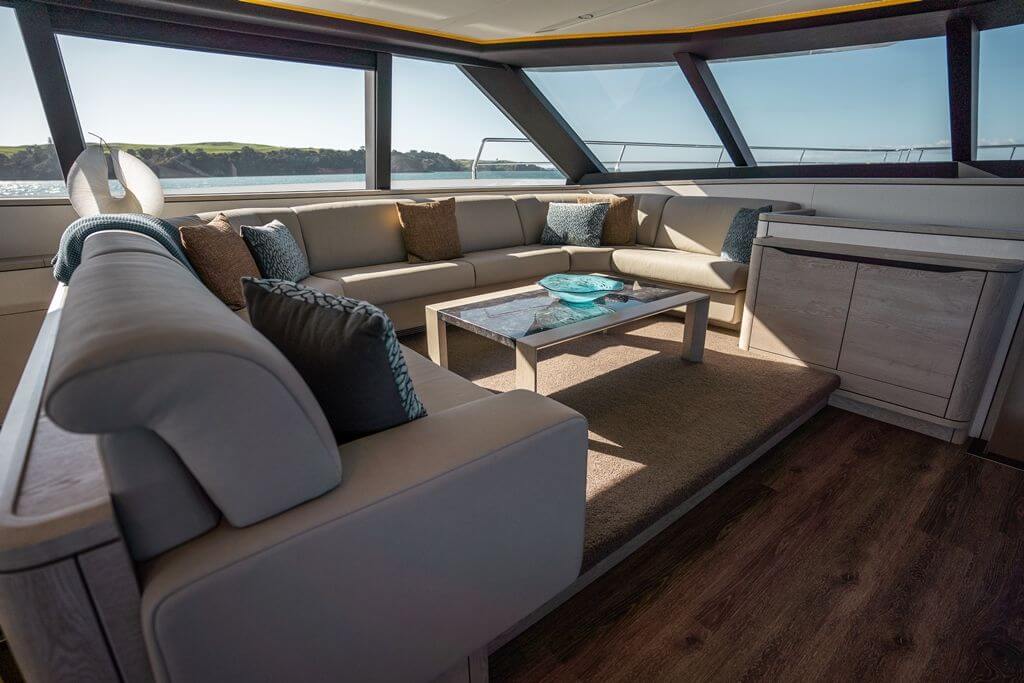 The saloon is incredibly spacious, but without any trace of ostentation. There is a feeling of fine detail and finesse, and that a lot of thought has gone into every aspect of the look and style of the decor. Regardless of where you are seated in the saloon, you have uninterrupted views through panoramic windows with black surrounds softening the visual impact. To port a large commercial galley, complete with a dishwasher that has a 3 min total cycle, double door fridge and two steam ovens. When you are offering a boat that takes day charters catering for 40-60 guests, you need a serious galley, and Rua Moana certainly has that. Forward on the main deck is a substantial U shape lounge, with the formal dining table for ten and a smaller wine lounge opposite.
Why a wine-lounge? Simple. The American owner owns several vineyards in New Zealand and obviously appreciates his wine. So not only is there a 144-bottle fridge secreted away behind the bookshelf, but also a pop-up cellar for the owner's reserve collection of reds.
A sweeping internal staircase takes you through to the impressive upper deck and helm. There's no doubt this lofty space with its panoramic views will be one of the most popular areas on the boat when cruising. The helm comprises a quad set up of glass Furuno 24" screens with as many Besenzoni helm seats. There's an L shape settee to port and another pop-up TV. The aft deck features wrap around seating and a large dining table in the centre, plus yet another drop-down TV for your outdoor cinema. Electrically operated clears all round keep out the bad weather.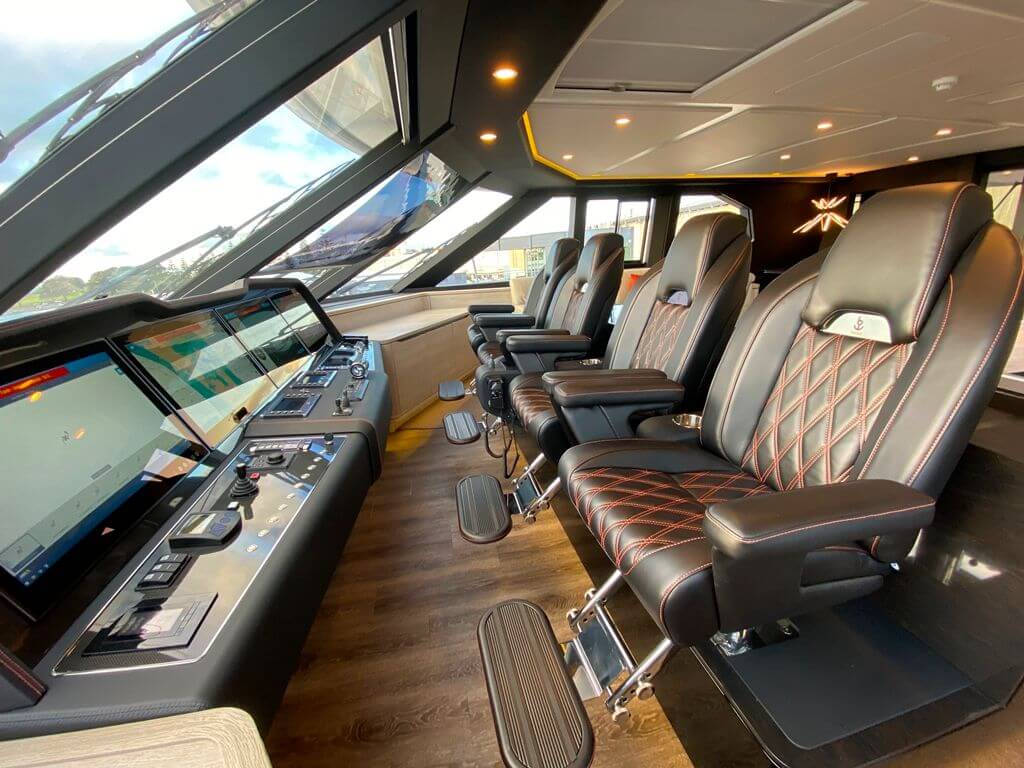 Rua Moana has generously proportioned outdoor areas, which include a submersible beach platform at the stern, and a large salt and fresh water spa pool on the foredeck that can fill and heat to 40 deg in 90 minutes. The impressive rise & fall stern platform that drops 600mm below the waterline is tucked in between the hulls and is used to stow the twin PWCs. A 4.35m Williams jet tender, Seabob underwater scooters, a full complement of diving and fishing equipment and a myriad of water toys are housed in a garage under the rear deck.
The aft deck area is complete with twin wine fridges, wet bar, day head, main laundry and central settee with twin tables. A nice touch is the under seat heating. There is also access either side to each of the crew cabins, engine room, lazarette and the tender garage. A full set of wrap around electrically operated clears is also used downstairs.
ENVIRONMENTALLY CONSCIOUS
There is however, a lot more to Rua Moana than the superb layout. It is a boat that has been built by environmentally conscious owners and has been designed from the ground up to minimise her environmental impact.
The hull design is extremely efficient enabling her to cruise at 18 – 20 knots, with a top speed of 23 knots, using a fraction of the horsepower of similar volume boats. Fuel figures are very impressive, with the pair of 966hp MTU 8V2000, using 4.5 lpnm @ 10 knots, for a range of 4650nm and at 20 knots, 16 lpnm for a range of 1300nm. Pachoud commented the Rua Moana is the most efficient semi-displacement hull the company has ever built.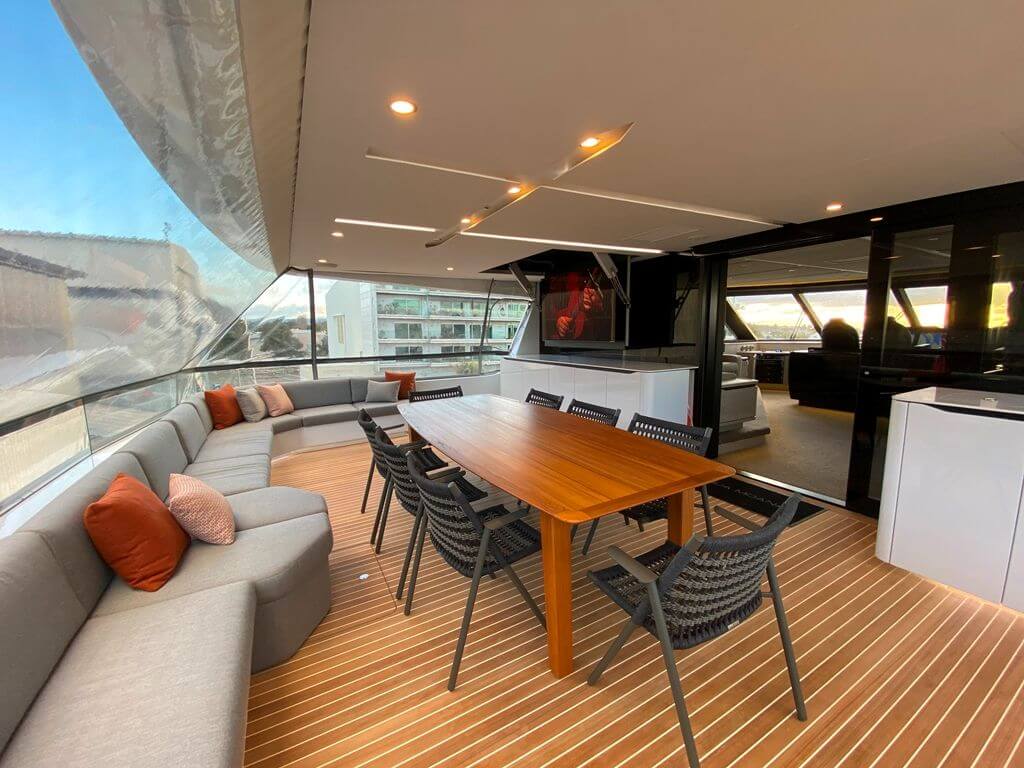 The systems onboard have been chosen for energy efficiency, and Rua Moana can operate in two modes. Quiet ship mode, which takes advantage of DC refrigeration systems, natural ventilation, standalone heating systems, etc. and Eco-hotel mode. This utilises a pair of quiet variable speed generators, inverter brushless DC air-con, low power strip lighting, etc. providing the full superyacht services at a fraction of the noise and emissions levels.
A pair of super efficient Webasto diesel heaters are used to heat the water only when required, such as the 2500 litre spa pool on the foredeck.
The eco-hotel mode used when Rua Moana is at anchor, means you have all the same amenities running that you would expect to find in a luxury lodge or hotel onshore.
The vessel is fitted with chilled and sparkling water taps to eliminate the need for plastic bottles and even comes with a glass to sand bottle crusher. There has been a lot of attention paid to the choice of internal materials and finishes which Pachoud Yachts, Mitch Pachoud, describes as a cruelty-free interior. There are no leather or animal products with faux leather and the highest-grade vinyl used throughout.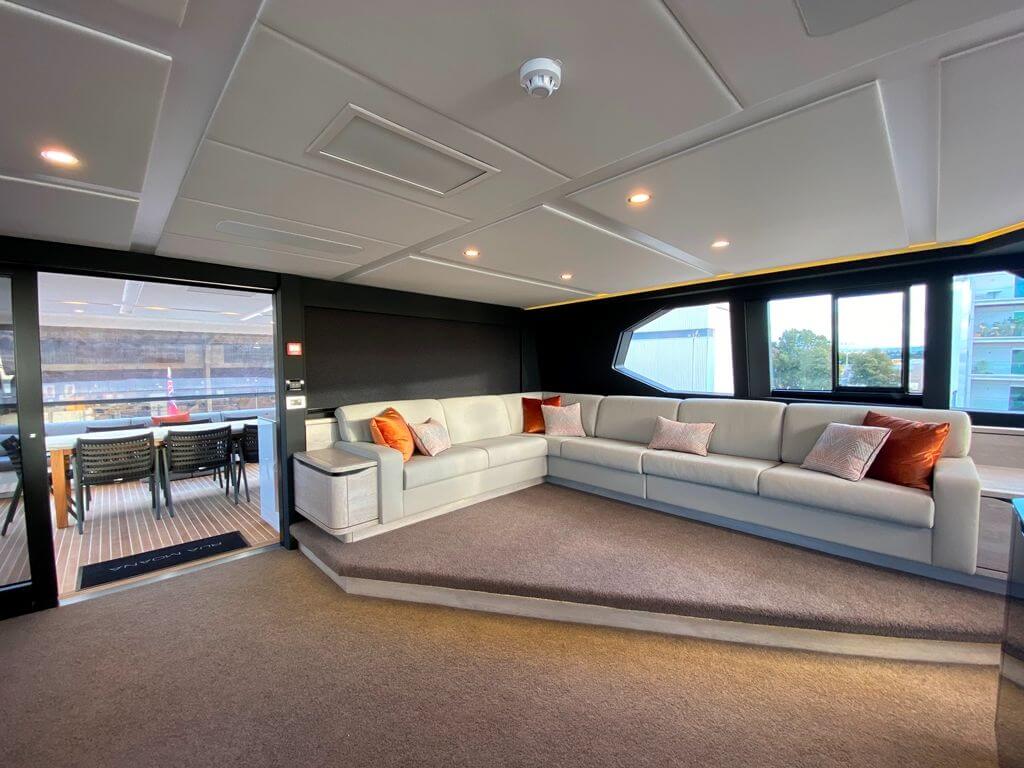 As the American co-owner of Rua Moana is particularly passionate about reducing deforestation, internally there is minimal timber used with most of the surfaces sustainably produced alternatives; either a high-pressure laminate that has the appearance of Oak or a dark ceramic. Oak trim has been used which has then been hand-painted to match the laminate. He is also passionate about the protection of our oceans and Rua Moana will be used to educate and help create awareness of projects such as Peter Burling and Blaire Tuke's Live Ocean Foundation.
As you would expect in a vessel this size, there is a full sewage treatment plant on board, plus all the cleaning materials, including the sunscreens, have been specially chosen to minimise the environmental impact.
The fluid lines of its catamaran hull design and computerised ride control systems maximise comfort and fuel efficiency, and at the same time minimise wake disturbance to the delicate coastal ecosystems of her cruising waters.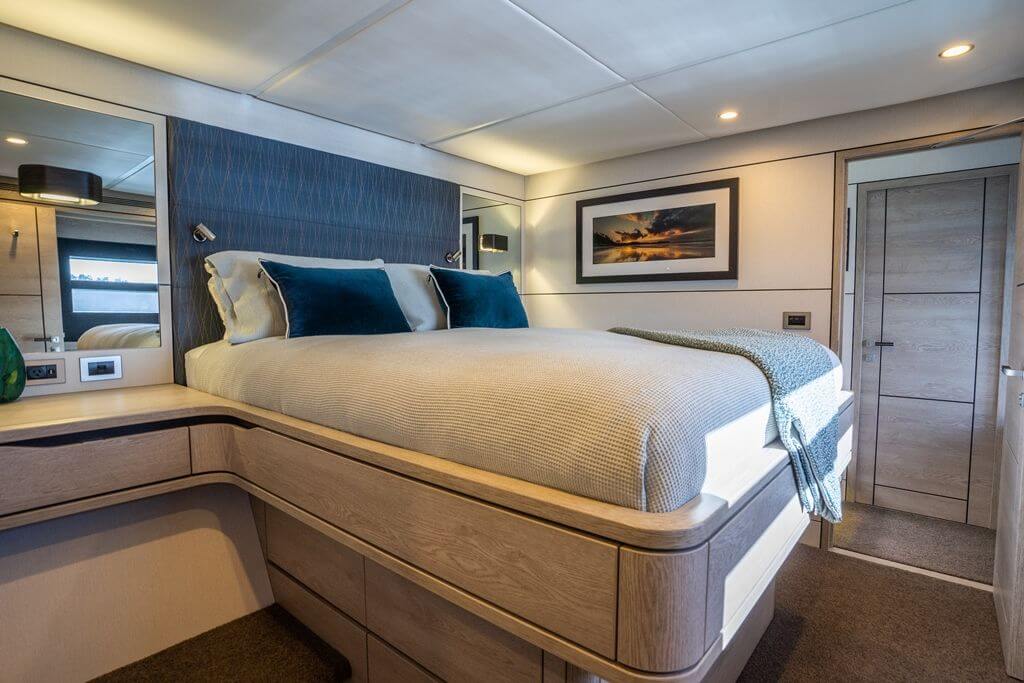 When it came to the construction of the boat, Pachoud Yachts were extremely conscious about the environmental impact and minimising waste, without compromising the structural strength and integrity of the boat.
Displacing 94 tonnes (mid load), Rua Moana is built using an engineered sandwich core laminate with a variety of grp, Kevlar and carbon. The hulls are painted in a metallic Bentley grey, befitting of the bespoke appearance of this outstanding powercat.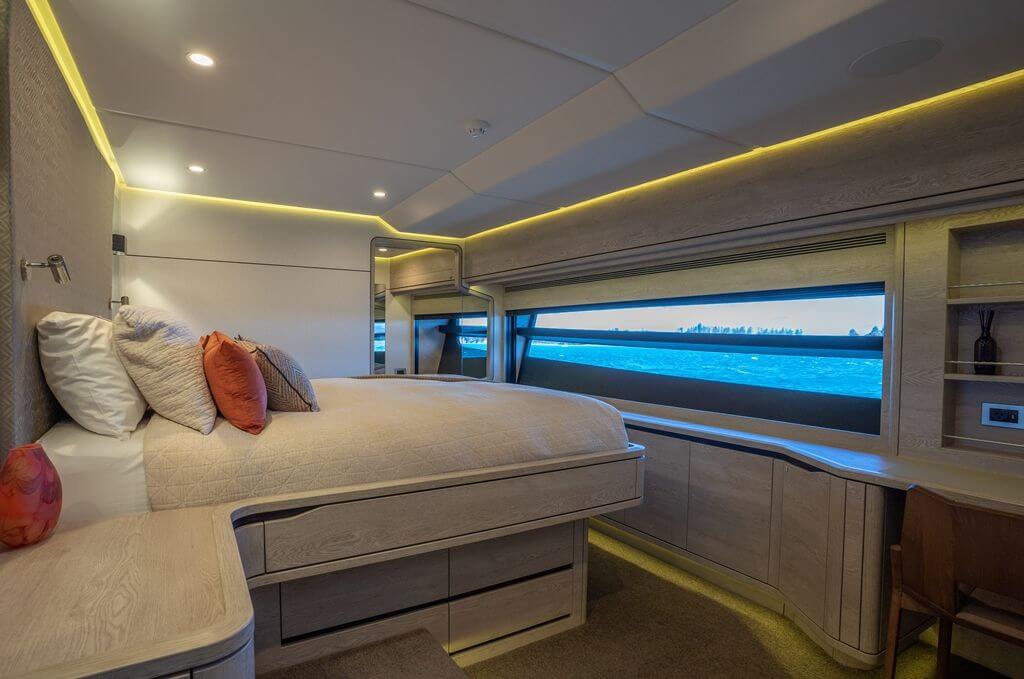 Rua Moana's permanent base is the Auckland Viaduct Basin, and her primarily focus will be in and around New Zealand, with plans during the winter months to take her to the Pacific Islands. Despite the COVID-19 crisis interest and bookings have been very strong both for during the Americas Cup period and beyond.
"Once the world can travel again, I am confident we will see even stronger charter bookings. We work in closely with most of the high-end luxury lodges in New Zealand and international agents who are looking for different experiences for their wealthy clientele.
"Surveyed for up to 80 people we also see a strong domestic market, for special occasions based around day charters in the Hauraki Gulf", says Armstrong.
Pachoud Yachts have literally 'smashed this one out of the park' and in my opinion – and many others who have been aboard – Rua Moana is quite simply the most stunning powercat ever to come from a Kiwi yard. Wish I could afford to charter it for a few days. Now that would be a great story.
Design Name: Rua Moana 
Year Launched: 2020  
Builder: Pachoud Yachts  
LOA: 26.20m  
Beam: 9.50m  
Draft: 1.50m  
Displ: 94 tonnes  
Max Speed: 23 knots  
Cruise Speed: 18-20 knots  
Construction: Epoxy Composite  
Fuel Cap: 21000 litres  
Water Cap: 6000 litres  
Engine Make: 2 x 966hp
MTU: 8V2000  
Drive Train: Shaft  
Generator: 2 x Fisher Panda Variable Speed  
Diesel Heaters: 2 x Webasto  
Interceptors: Humphries  
Thrusters: Maxpower  
Air Con: Frigomar  
Sunroof : Webasto  
Anchor Winch: 2 x Maxwell  
MFD  Furun: 24 x 4  
Priced From: POA