Rae Line Boats latest addition to their range, the 205OB, further reinforces the company's commitment to becoming a leading builder of bowrider boats in New Zealand. Barry Thompson went to Christchurch, the home of Rae Line, to check out the new model. 
The 205OB extends Rae Line Boats range to five models, with the 186 CX and 186 OB Cabin Cruisers essentially the same boat, one with sterndrive and the other with outboard power. The same goes for the 180 BR and the 185 OB, which are identical in most respects apart from sterndrive or outboard power options. 
Rhys Williamson, the owner of Rae Line Boats, says the emphasis on new models is expanding the bowrider range. He sees this is a continually developing market with a lot more potential for his brand.
"Kiwi's love bowriders, for their versatility and suitability for family boating, and I see a real niche in the market for this style of boat that is designed and built by Kiwis for Kiwis.", says Rhys.
While based on the 190 Cuddy Cabin hull that has had an impressive reputation for being a very stable and well-performing hull, it is different. This is essentially a whole new boat from the hull to the deck and internal layout. Plus, it is outboard only, where the 190 Cuddy was strictly stern drive.
Rhys says that they initially took a 190 hull removed its inner planning strakes before moulding another transom section which extended the boat by a further 500mm to an overall length of 6.30m. The transom was also redesigned to suit a 25″ shaft outboard. The modifications continued through the upper section of the hull's sides, creating a new shear line and overall profile of the boat. This also added more freeboard to the hull's sides and gave the new 205OB a more modern and stylish style.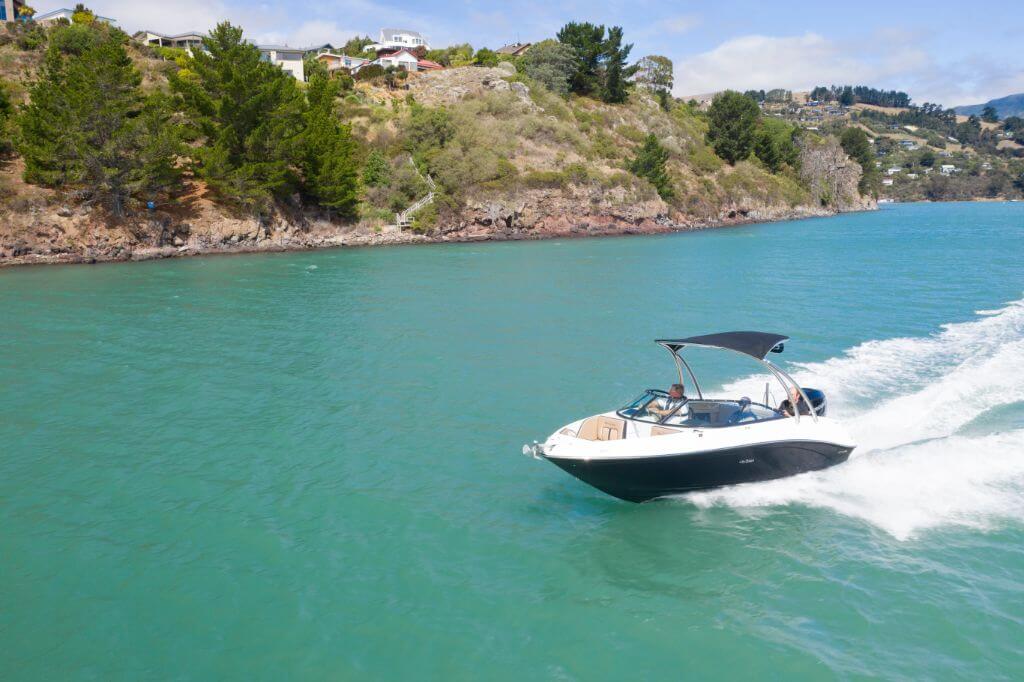 "The 190 had three strakes per side, and I felt that if we eliminated the inner strake, we would get a better ride, and this has certainly proved to be the case, especially in the choppy water", says Rhys.
It didn't stop there, with a new two-piece internal liner and impressive 2m long ski locker. Plenty of space for rods, skis, wakeboards or even dive bottles. This also forms an essential part of the boat's structure and is tied into the total stringer system. The 205 OB is positively buoyant, and all underfloor spaces that can be, are filled with foam.
The bowrider style does somewhat limit any unconventional layout, and the 205OB is certainly very typical of all bowriders but comes with a flash of class. There is an attention to detail in the 205 OB that is often missing in mass-produced trailer boats. The boat looks chic, from the quilted inserts to the stitched branding, plus the seat and panel style.
There is storage under the squabs, which runs right back under the two consoles. Plans may include side entry lockers and upper shelves to increase the storage capabilities. Forward is the deep anchor locker, which in our boat housed a drum winch.
At this stage, there is only one cockpit seating layout option which sees a full-width rear bench seat and twin forward swivelling bucket seats. The rear bench features a removable starboard squab to allow easy access through the open transom door on to the boarding platform. If you don't have the optional Fusion subwoofer, there is a moulded step included. The aft deck and, as well as the entire cockpit and bowrider flooring, is finished with U-Dek. To port is a moulded recess for the telescopic ladder and to starboard a deep wet locker. Plans are to offer a lot more seating with options for either a rear L-shape or U-shape seating arrangement. Based on many US bowriders' style, the more seating focused cockpit is designed for those that prefer towing water toys and socialising rather than fishing or diving.
However, in its current layout, the 205 OB is still very much a Kiwi all-rounder with space and attributes to make it a combo ski-fish-dive boat. Our boat was set up with serious water sports in mind, hence the X-Air wake tower and the amazing Fusion sound system. This came complete with six 6″ Signature speakers, Fusions's latest 12″ subwoofer and a pair of 8.8″ Signature tower speakers. The sounds were exceptional, and the sub certainly accentuates the bass.
The 205 OB has a new dash that is capable of taking a 12″ MFD. Our boat had a 4″ Vesselview display and Smartcraft gauges, Fusion RA210, USB charging ports plus switches for the tabs and drum winch. While this is a boat you would typically drive seated, tucked behind the screen or in the bolster position, there is enough space with the seatback to stand.
Again the attention to detail is presented on both consoles with imitation carbon fibre vinyl eyebrows, a carpet lined deep glovebox, drink holders and a deep recess behind the passenger handrail.
The new 205 OB is rated for single outboards, 175HP to 300hp, with the review boat running a Mercury 250 Verado. With three aboard and a full tank of fuel (175 litres), we recorded a maximum speed on the calm waters of Lyttelton Harbour of 40 knots @ 5500 rpm, swinging a 19″ Inertia propeller.
If you want to go a little faster, then a Mercury ProXS V8 250 will climb that up to 47 knots @ 5700 rpm. At wakeboard towing speed, around 2750rpm @ 15.5 knots (18mph), fuel consumption was a reasonably conservative 21 lph. 
The Rae Line 205 OB hull is a modest 20deg, and in the relatively calm sea conditions, the hull rode exceptionally well, with no vices. Running into either a short choppy head sea or following sea, I found I needed to play with the trim to get the best riding attitude. Once I got it right, I was able to sit back and enjoy the ride. The high bow and side profile mean it is a dry boat, and we never took a drop of water on board. Acceleration from holeshot is rapid, and there is plenty of prop bite if you are going to pull a couple of slalom skiers out from a deep water start.
The overhead X-Air wake tower bimini affords some protection from the sun, with about 2m clearance under it. There is an optional soft top bimini with clears, should you not want to go to the extra expense of the specialist tower.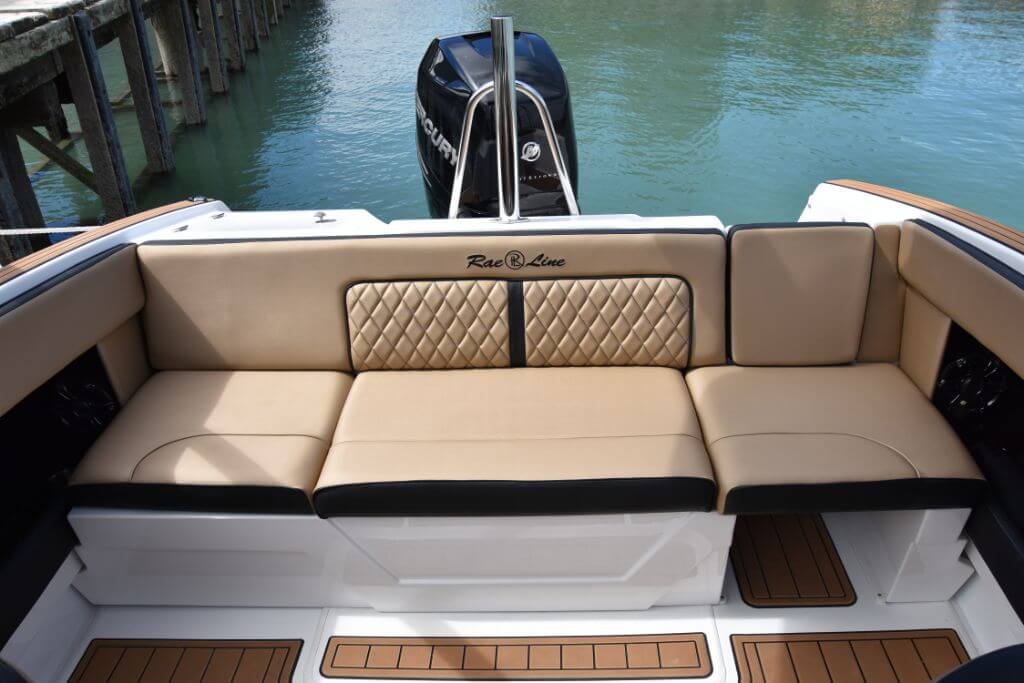 The 185 has been on the market, firstly as a Sea Ray and then a Rae Line, for over 20 years. With over 300 built, it is from this extensive pool of owners that the 205 OB is pitch. Rhys says that many 185 owners have asked him for a bigger version, and the 205 OB has been built to fill that void. Boat #1 was sold to a previous 185 owner. 
Fully designed and developed in-house, the new Rae Line 205 OB has all the features any good NZ made boat should have while being integrated with well-styled lines and pleasing proportions to offer up a very versatile bowrider. It's a boat that will be just as comfortable offshore as it would be in an enclosed waterway. Look for something even bigger from Rae Line in the future as they add more models to their range.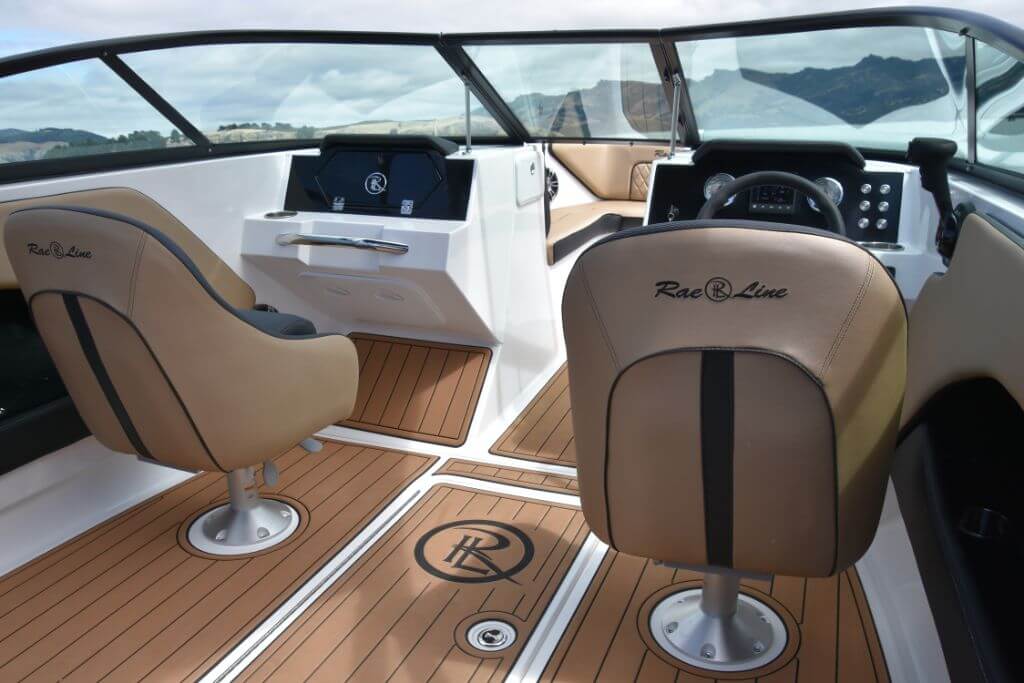 Model: Rae Line 205OB
Priced From: $NZ104,000
Price As Tested: $NZ136,000
Type: Bowrider
Construction: GRP
LOA: 6.30m
Beam: 2.45m
Deadrise: 20 Deg
Height On Trailer: 2.1m   
Trailerable Weight: 1820 kgs (Std boat no options)                      
Power: Mercury 250 Verado
Power Options: Outboard Only
Power Range: 175-300 hp
Propeller: 19" Inertia
Fuel Capacity: 175 litres
Trailer: Watercraft
Manufacturer: Rae Line Boats
| | | | | |
| --- | --- | --- | --- | --- |
| RPM | Knots | L/h | L/NM | Range  (NM) |
| 650 | 2.5 | 2 | 0.800 | 190 |
| 1000 | 4.5 | 4 | 0.890 | 170 |
| 1500 | 6.0 | 7 | 1.200 | 130 |
| 2000 | 8.0 | 12 | 1.500 | 100 |
| 2500 | 10.5 | 18.5 | 1.800 | 87 |
| 3000 | 19.0 | 24.5 | 1.300 | 120 |
| 3500 | 23.5 | 31 | 1.400 | 110 |
| 4000 | 29.0 | 40 | 1.400 | 110 |
| 4500 | 33.0 | 51.5 | 1.600 | 98 |
| 5000 | 36.5 | 77 | 2.200 | 71 |
| 5500 | 40.0 | 100.5 | 2.500 | 63 |