Ramco is one of the oldest names in alloy boat building and while the brand has been quiet for the last few years, it's all changing.  Barry Thompson went to the Marlborough Sounds to check out one of their most popular models.

Built in Rangiora by Ramco Boats New Zealand, a division of Icon Brands, the Ramco name is going through a growth curve, with the appointment of a much-enlarged dealer network throughout the country now in progress.
Ramco, once a  brand you could just about buy in every town and city in the country, has come out of hibernation and according to Director of Ramco Boats, Kevin Jenkins, 2016 is the start of the new growth cycle for Ramco.
"We have been talking with some boat retailers throughout the country who are keen to add the Ramco name to their franchise and consequently we have ramped our production programme up to meet the demands", says Kevin.
I have tested dozens of Ramco's right back to their very first runabouts in the 1980s and it is a brand that has stood the test of time. It is an iconic name that at its height saw annual production more than 600 boats a year and was number one in the production alloy boat market.
When Icon Brands picked up Ramco a few years ago, the first thing they did was consolidate the expansive range and brought along designer Scott Robson to give each boat a new look. Some models were tweaked, others dropped and most replaced with new designs from the keel to the top of the hardtop. Ramco boats are now available from 4m to 8.3m in length.
Kevin points out that quality and attention to detail is paramount in the build process. "We put a huge importance on making certain that every boat that leaves the factory is built to the highest standard, with care and precision in every detail".
To back that up, Ramco offer a 5-year manufacturer's warranty.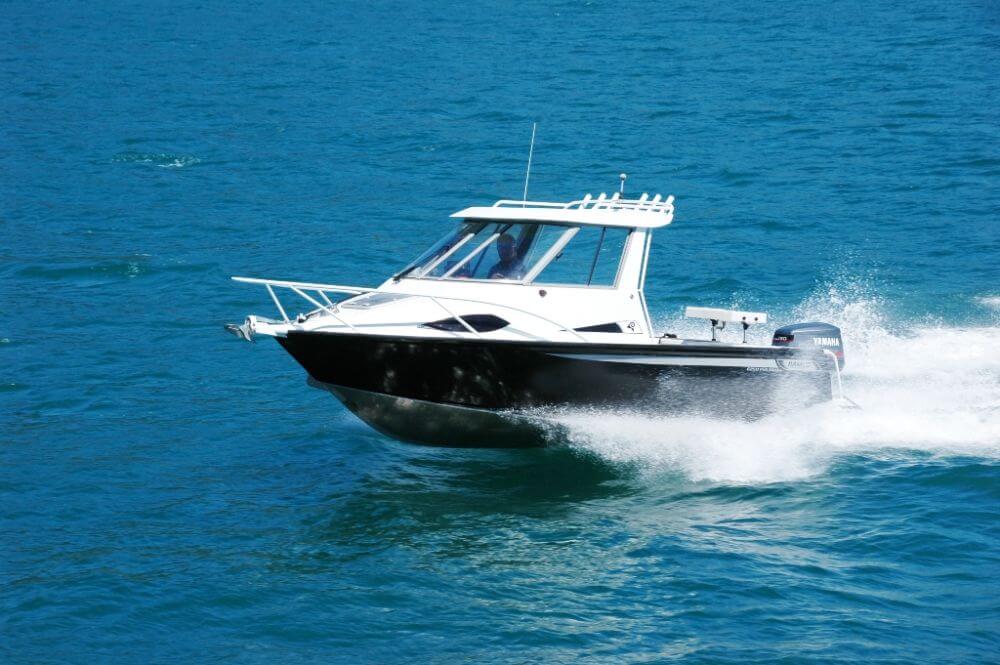 The Fishmaster 6250 Hardtop started live as the Ramco 600 but was given some hull changes to not only improve the balance of the boat but also to offer more cockpit space. Now 300mm longer it was also to fit in between the 6m and 6.5m Ramco hardtops.
The Fishmaster 6250 Hardtop has been around for four years and has proven one of the most popular of the larger hardtops in the Ramco range. In all, there are five hardtop models from 6.0m through to 8.45m and all are also available as cuddy cabins or centre console models.
The layout of the Fishmaster 6250 is, as the name suggests designed around fishing, so naturally our test boat came with all the extras. As the company demonstrator, it came with all the fishing orientated add-ons and then some.
When you buy the basic 6250 standard features, include such items as twin moulded pedestal seats, underfloor fuel tank, hydraulic steering, boarding/dive ladder and a full nav light package. As well as the usual deck hardware, handrails and storage lockers, the 6250 comes ready to go boating.
It's what you add after, that transforms the boat and gives it your personal touch. For example, extras on our test boat included a  Simrad 7" fishfinder, walk-through transom, Maxwell windlass, trim tabs, live bait tank, wash down hose, dual battery set up, painted hull and sliding rear bench seat.
The forward cabin space comes with the conventional twin single berths with storage under and a central infill. The berths are a generous length, with plenty of sitting headroom and I liked the cosy atmosphere of the fully lined interior. I don't like being exposed to a raw cold and clinical alloy interior if I am using the cabin overnight. There are storage trays either side and space for a head under the forward squab.
While all the anchoring can be done from the helm, there is a deck hatch should you need to access the anchor locker or winch.
Hardtops are great when the weather isn't. Be it cold winter winds or hot balmy days, the hardtop provides great protection. Sometimes it's hard to get the aesthetics right when designing a hardtop for a boat of this size and there are some awful examples on the market. However, Ramco and designer Scott Robson have nailed it. The profile is perfectly balanced and the flow from the bow to the rear of the hardtop is pleasing to the eye. It's also functional, with good standing headroom, handrails for passengers and wide screens that give great visibility. Toughened glass means you can add wipers and sliding side windows help with clean air flow. Cabin lights and fully lined roof and side panels are also standard.
The flat dash is designed to handle all the usual electronics, switches, controls, etc. and you have the option of either bracket or flush munted fishfinders and MFDs. We had great sounds from a Fusion IP700 marine entertainment system and a 7" Simrad took care of all our data from under the boat.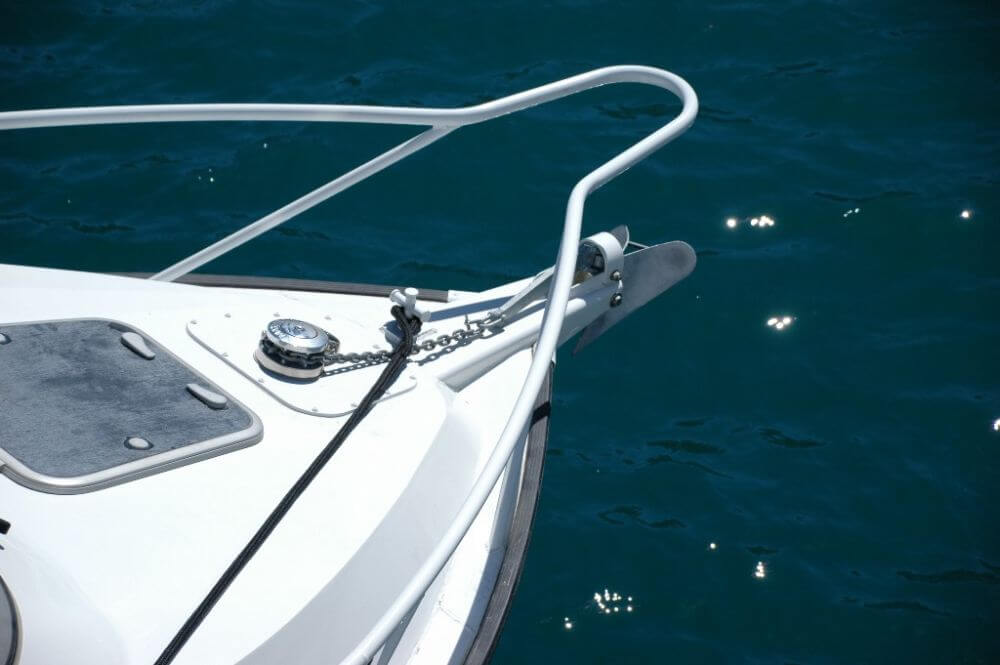 The cockpit is open and practical so you can maximise the fishing workspace. The seating layout has been kept to minimum with a single helm pedestal and a back to back to port. This features the same Marine Tech seat base as the helm, but the box base provides extra storage as well as a small aft seat. You do have other seat choices such as twin back to backs to give you more dedicated seating or twin pedestals if you want to maximise your fishing space.
Our boat came with an extra sliding bench seat that allows you extra seating for three more when required and can be either left at home or taken off and placed in the cabin out of the way when fishing.
Storage for rods is in wide side shelves or rod holders both in the side decks or overhead in the rocket launcher. Underfloor storage is provided forward of the fuel tank, (90-180 litres) with sealed chambers either side providing positive buoyancy. Ramco uses a 3mm checker plate sole, with optional tube matting or carpet.
The business end of the cockpit has been designed for fishing with a central bait board and a live bait tank built into the walk-though transom opening to port. A drop down ladder is also standard, with a six pole option.
Our boat was running a Yamaha 130 2S, which returned a top speed of 33 knots (38mph). The 6250 is rated to 150hp, which is about as much as you would want on this hull. Although test day was reasonably calm, I have had some experience with this hull before and I can testify for its excellent handling in moderate to rough seas.
The deep 21 deg deadrise certainly helps the ride in the rough and I was very impressed by the quietness of the hull in the short choppy seas. However, you still need to be aware that this is still only a 6.2m boat so it does have its limitations. In the calm, of course, it proved viceless.
It hangs on tight in the turns and even with only 130hp was quick to plane and reach maximum speed. My choice for best cruise in the calm Marlborough Sounds water was around 5000 rpm @ 27mph. The hull and engine package were quiet enough for a two stroke.
The Ramco 6250HT is a good all round entry level hardtop. It's well built, looks good and is well priced. Like Ramco's of the past, the 6250 is a good wholesome kiwi boat with all the functionality without the frills.
Model: Ramco 6250 HT            
Priced from: $NZ65,000
Price as tested: $NZ76,000
Type: Hardtop
Construction: 5mm/3mm alloy
LOA:  6.25 m              
Beam: 2.33 m
Deadrise: 21 deg
Height on trailer: 3.10m  
Trailerable weight:  1250 kgs
Test Power: Yamaha 130 2S
Propeller: Yamaha 17-K
Power Range: 115-150   
Power options: outboard only
Fuel capacity: 90-180 litres
Trailer: Ramco alloy          
| | | |
| --- | --- | --- |
| rpm     |   | knots |
| 1000 |   | 2.5 |
| 1500 |   | 4 |
| 2000 |   | 5 |
| 2500 |   | 7 |
| 3000 |   | 9.5 |
| 3500 |   | 13 |
| 4000 |   | 20 |
| 4500 |   | 24.5 |
| 5000 |   | 27 |
| 5500 |   | 29.5 |
| 6000 |   | 33 |