Following the success of the Chianti 515 and 615, the all-new Reflex Chianti 485 retains many of the innovative ideas of the previous larger models, but also incorporates a lot of new ones in its more compact size. It's a boat that provides a great compromise of fishing, cruising, and family boating needs at an affordable price.
When Reflex Products decided to design a boat under 5m, they had some fixed ideas. Firstly it had to have a huge cockpit that would find favour with fishermen and yet still have an adequate cuddy cabin area that was essential for storage and getting out of the weather. It didn't need to have fulllength berths, but it had to have sitting headroom for at least two adults. As the cuddy cabin beam was taken right out to the edge there also had to be a walkthrough arrangement for ease of anchoring. The Chianti 485 has certainly scored top marks on each point and with it has come a whole new look. I would describe the style as 'bullish', with pronounced forward deck styling that contributes to the dry ride and a full-bodied hull that caters for the extra weight anticipated due to the helm being so far forward. Reflex is very proud of the walkthrough design, which is a combination of an opening central screen section and deck hatch. This allows you to carry out anchoring chores easily, without having to stand on any squabs and you have the full protection and safety of still being inside the boat.
It's also an excellent entry and exit point, especially if you have the boat pulled up on a beach. The anchor tackle is stowed in a bow shelf that is accessed via the forward hatch and the boat comes standard with a wide stainless fairlead and heavy-duty bollard. Split stainless bowrails are an option and a good handhold when you are getting the boat back on the trailer. The cuddy cabin has two short bunks with limited storage under and wide side trays for extra storage. There is sitting headroom for two adults and the bunks are long enough for kids to lay in comfort. A neat feature is the underfloor locker, which is accessed by opening the forward hatch and lets you slide in skis, paddles or fishing rods, up to 2m long. The cockpit sole of the test boat was fitted with a clip-on carpet, which when removed reveals a fully anti-skid patterned surface. Down the centreline, the 485 offers a moulded wet locker, where a 90-litre underfloor tank could be fitted if you didn't want to stay with the tote tanks. It's an ideal place for the dive gear and is even deep enough for a couple of dive tanks.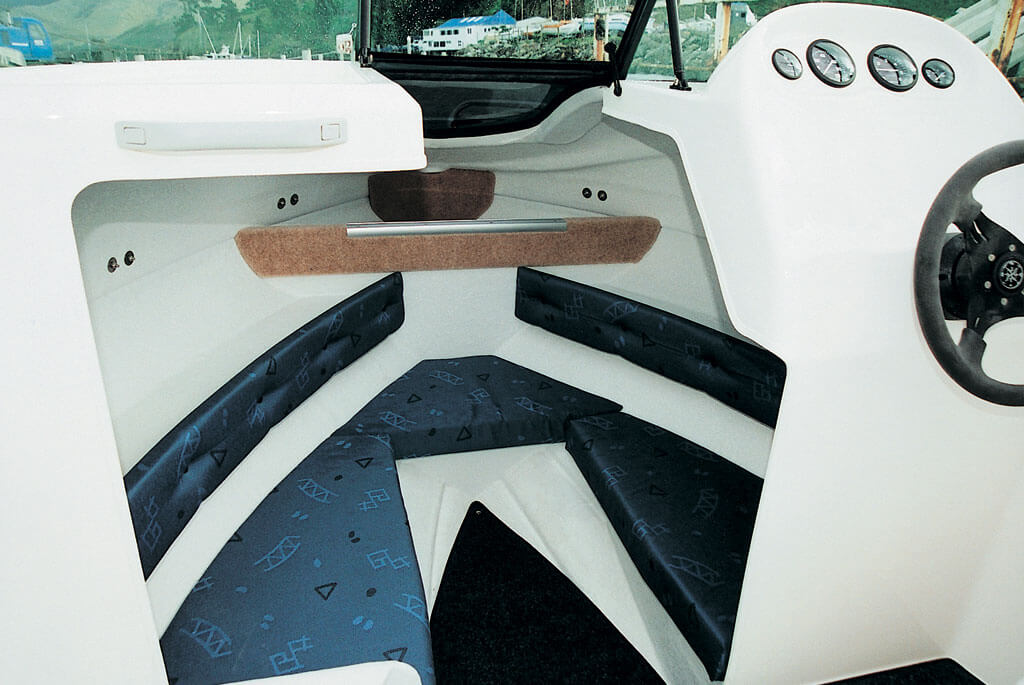 The Chianti 485, while being primarily a boat that will cater for the inshore fisherman, still provides seating for five. However, if you want to maximise the space you simply take out the two aft jump seats and the extra bin seat and you have a big useable area. A neat feature and unique to the 485 is the drop-in bin seat that transforms the twin forward seats into an instant triple bench seat. It's well conceived and very practical for a boat this size. As the inner liner includes the helm and passenger seat bases they are a fixed item, although you have the option of flat cushions or a bucket seat mounted on top. There is excellent dry storage under both front seats. Attached to the rear seat cushions are heavy-duty vinyl curtains, which conceal the aft space provided for twin tote tanks and the battery. Even when the seats are removed the tote tanks still slide well out of the way and don't encroach into the fishing space. If you have an underfloor fuel tank then this is a great place for the tackle boxes or a low profile fish bin.
The full cockpit liner means it's an easy boat to clean, with water and scrapes all ending up in a deep sump complete with bilge pump. The transom layout has a deep bait locker to port with cutting board lid and small moulded step and drop-down stainless ladder opposite. Provision has been made in the mould for a fuel filler in the engine well and all the cables are neatly directed below the boarding platform moulding. Drink holders are standard in the transom moulding and there is provision to mount an optional stainless steel ski pole. From a fishing aspect, the 485 has been intelligently conceived, especially in the cockpit area. To be able to give the fishermen enough toe space under the coamings, the side trays are raised off the cockpit sole. The coamings are at a good height to brace against the thickly padded side panels and the wide flat side decks have durable recessed teak cappings.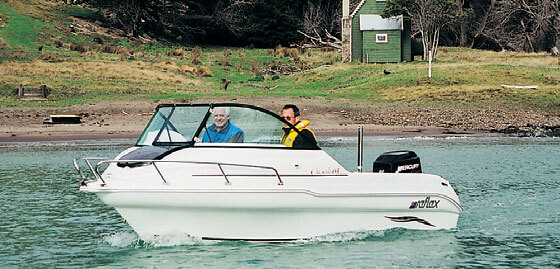 Four stainless steel rod holders are standard and there are built-in rod racks on the port side. For its size, the 485 offers a large workable fishing platform and would comfortably cater for three serious anglers. Thinking ahead again to those who would choose the 485 for fishing, Reflex has incorporated a large fascia with flat areas for flush mounted fishfinders or GPS/plotters. There is space for switch panels and extra gauges, compass and also enough area for small bracket-mounted electronics. The recessed tray ahead of the passenger is provided for items such as car keys, a mobile phone and a handheld VHF radio.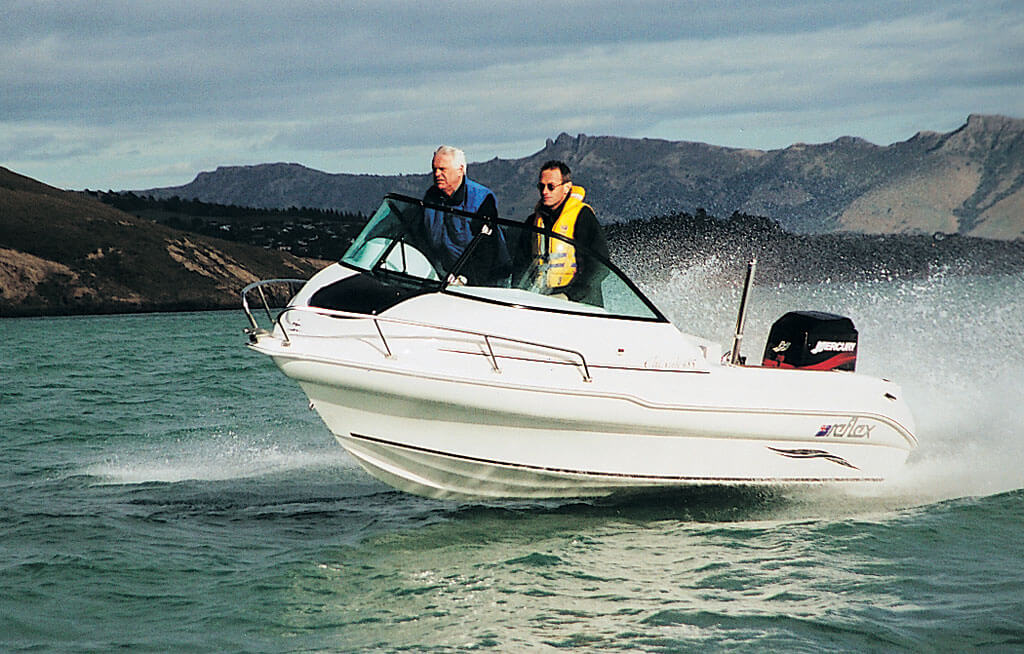 The hull shape is typically Reflex, with what Reflex likes to call its transitional deep V, that starts forward as a high lift convex bow, which then progresses to a concave gull wing aft. Because the helm position has been shifted so far forward for what is conventional for a boat of this size – about 800mm – there was a need to retain a lot of lift forward, hence the very rounded convex bow shape. To give stability aft this has been progressively transformed into a gull wing at the transom, with a wide flat plank along the keel. During my test on a windy Lyttelton Harbour, the Chianti 485 performed exceptionally well in the light choppy seas. A 20-knot Southerly, with the occasional gust over 25 knots and an incoming tide with a 1m swell at the heads, made for some very interesting water conditions. Remembering that it's still a 'small' boat, I drove out towards the heads at around 30 mph and even when the swells started to rise menacingly beneath us, the 485 provided a comfortable ride. Unfortunately the engine was mounted one hole too high so I was unable to get much more than 1/4 trim before cavitation set in. Interestingly in the following sea I was able to push the throttle to the stops and the boat felt great. Even when I trimmed the Mercury 75 hard in, the boat remained light on the helm and there was no bow steering or spray over the screen. The only negative point was the constant slapping noise against the wide forward strakes, something that Reflex hope to cure in future boats with the addition of balsa core panels in the laminate and blocks of foam buoyancy under the cockpit and cabin soles. Stability at rest is fine and as already mentioned the boat was dry and spray free. When I did find some calm water, I managed to get the GPS up to 39 mph @ 5500 rpm, which is about average for a boat package like this.
A real comfortable cruising speed across the choppy waters was around 32 mph and I found the boat better to drive standing, although if you do prefer to be seated, go for the bucket seats with softer seat bases, rather than the thin foam cushions. Reflex Products Ltd used to be very strong in the small fibreglass production boat market, but recent years have seen its emphasis move towards larger boats. The Chianti 485 is its re-entry into that under 5m market and it certainly provides an interesting alternative. While it is one of the smaller boats available, it is not being marketed as an 'entry-level' package, rather an all-round compact cuddy cabin that packs a load of features, ideas and innovations that give the 485 its own identity.
Reflex Chianti 485 Specifications
Model : Chianti 485
Price Boat Only : $15,500
Price as Tested: $29,700
Designer: Reflex Products
Material: GRP
Type: cuddy cabin
LOA: 5.20 m
LOH: 4.85 m
Beam: 2.20 m
Deadrise: 20 degrees
Trailerable weight: 940 kg
Engine capacity: 40hp – 75hp
Power Options: Outboard only
Fuel Capacity: Tote tanks pole.
| | |
| --- | --- |
| 800 rpm  | 3.0 mph |
| 1000 rpm  | 5.0 mph |
| 1500 rpm  | 6.5 mph |
| 2000 rpm |  7.5 mph |
| 2500 rpm  | 10.5 mph |
| 3000 rpm  | 16.0 mph |
| 3500 rpm  | 23.0 mph |
| 4000 rpm  | 28.0 mph |
| 4500 rpm |  32.5 mph |
| 5000 rpm  | 35.0 mph |
| 5500 rpm  | 39.5 mph |
Speeds recorded on an Magellan GPS and rounded off to the nearest 1/2mph