Text & Images by Richard Milner
The Sealegs Semi-Cab has been developed on a recently designed new hull that fits between two very successful sizes. The Sealegs 7.5 Semi-Cab is an advancement on the centre console Utility cockpit layout, which has resulted in a more robust day boat design. 
At first glance, the cockpit has been widened across both the port and starboard tubes. It cuts off the access forward, which for some users might be somewhat restrictive. The Semi Cab design is quite enclosed, and it has an extra-large windscreen that is relatively short. It looks very substantial and has a certain ruggedness about it.
At this point, I must confess I am tired of taking boats out that are designed to perform at their best in moderate to rough water only to find our test day conditions present calm, pristine waters. Some might say we plan it, but it was simply the day we could all find an excuse to take this new design out and put it through its paces. We decided to test the Sealegs 7.5 Semi-Cab in the same waters off Takapuna as the centre console version we trialled in September 2020.
I was again impressed with the ample storage that the boat offered. The 2 by 1 seating for the helm backs on to a large utility area with two large storage compartments, drink holders, speakers and everything you need to store your essentials. I never seem to travel light with the always needed drone and camera gear and a woolly jersey as we never leave the dock without one – however, this is two arm falls of stuff to keep dry. For the Sealegs 7.5 Semi-Cab, I could have had five armfuls, and there would still be space for lunch and a brew of brewskies.
It is always a pleasure, and I can't stress enough how nice it is for everyone to get on the boat dry. Takapuna ramp is one of the better ramps in Auckland, but we all know it's nigh on impossible unless it's a slack full tide with no other boats and no wind to get onboard without someone getting wet. Those three conditions don't even register with Sealegs. You don't even have to climb up the ladder – the wheels are lowered, and you can easily slide into the boat. Marvellous.
Upon the wheels and easily without effort, we were on our way down the ramp. It's a little embarrassing, I must admit, as all the wet, cold and miserable onlookers watch the boat enter the water with ease and grace. The Yamaha 225 fires up, and without any fuss, we are off the bottom and pottering out to sea.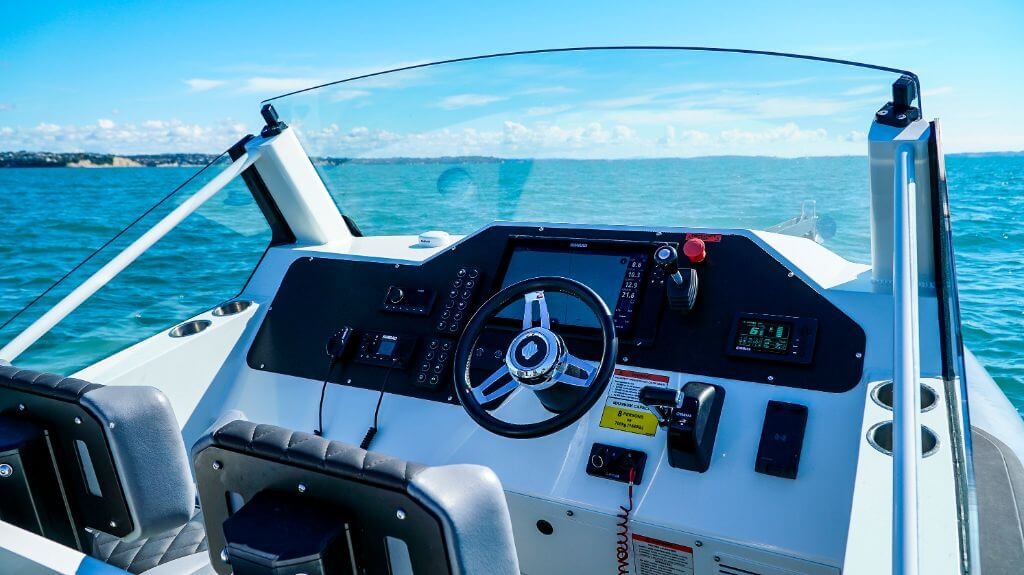 At this point, you probably think – ahh, he's an amphibious lover – nothing is further from the truth. When they first hit the New Zealand market, I was among their biggest critics but having had the time on a couple of them now, I can certainly see how they have changed the landscape of recreational and commercial boating for good.
Clear of the markers and comfortably offshore in true Richard fashion, no fuss, no delays, hammer down.
The Sealegs 7.5 Semi-Cab has been rigged with a slightly larger Yamaha 225hp outboard to combat the marginally heavier overall weight of the Semi Cab. It is straight away noticeably a great combination.
The hull easily slides through the water and planes comfortably a little nose up. I notice that the hull is difficult to pitch the nose down, but I've been assured that as it's a prototype that Yamaha had yet to rig the engine correctly. However, all will be set right before production.
While I have spent a fair amount of time in cabin RIBs over the years, as this is almost a centre console, lacking the wrap-around feeling, it feels oddly exposed. A neat feature of the windscreen is it can be raised to remove the wind from your face. It is a genuinely odd sensation to be on a RIB with a cap on and not lose it in 200m. How often is it the case that your hat comes off as soon as you power up and, if not gone over the transom, is stuffed in the console somewhere. I like it.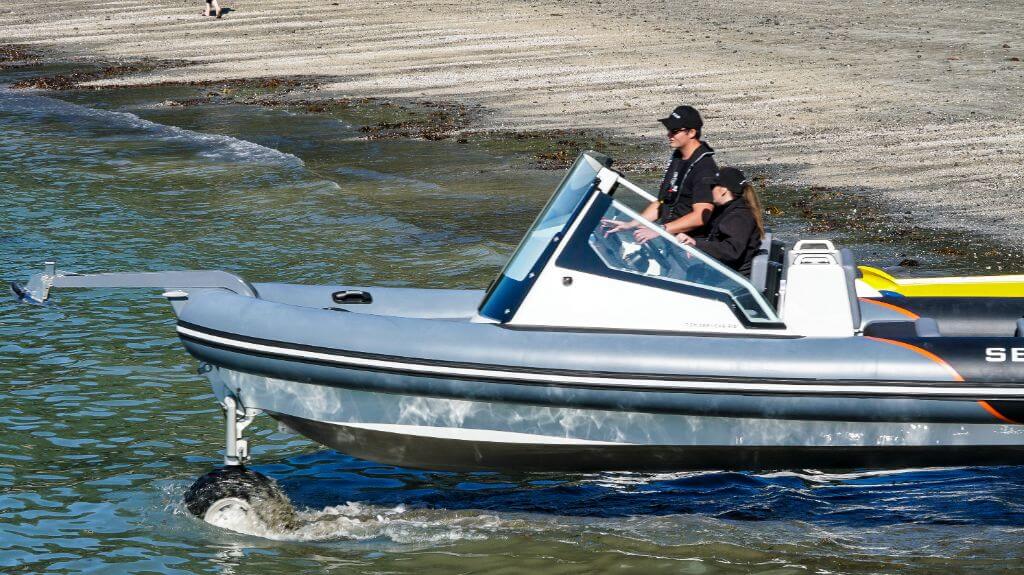 It's about this time I realise just how protected we are. At 1.9m tall, my head is below the screen. The 2×1 seating offers a great experience.
Not that long ago, I had a hard-sided centre console boat. A real oldie that had been rebirthed. I miss that boat, but one reasonably fine day, my wife decides we are off to Waiheke for a vino. We launch the boat at Birkenhead – back before the pontoon was destroyed. We power up to the bridge, realise it's choppier than expected and climb into full wet weather gear. The look on my wife's face tells me that I'm in for some expensive wine at the vineyard. She's not impressed. We get out there, and we are wet. I mean wet. Long story short, we have a fantastic time at the vineyard, and yes, I have just one as I have to drive the boat home. We get to the beach at Matiatia, and my wife says – I'll see you at home – I'm going on the ferry. Fantastic day ruined. Now you might say yes!! Hammer down on the way home, and I won't lie, there weren't many horses spared on the way home. But the point of the day was to spend it with my wife, and that didn't go entirely to plan.
It gets me wondering about the Sealegs 7.5 Semi-Cab – we are dry, warm in t-shirt and shorts, and having found some chop, we are still dry and warm. I now think this is precisely what the designers at Sealegs were thinking about. How do we combine ease of entry – wheels with comfortable riding – tubes, and now we have the semi cab for dry, comfortable boating? It's a winner.
The guys at Sealegs tell me that some photographers loved it for the dry, comfortable ride during a recent regatta, and all commented on its function.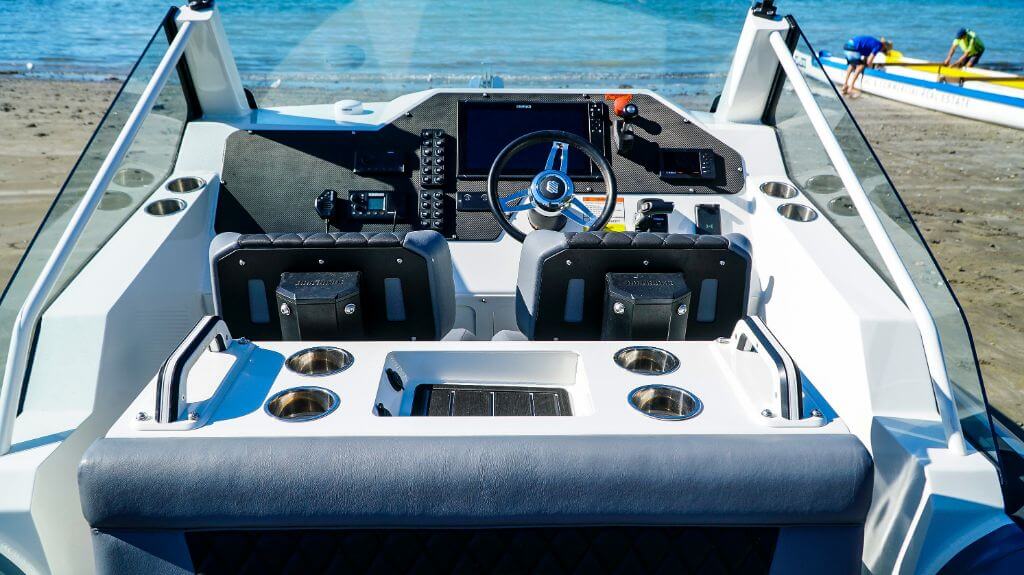 Before long, it's time to head in. I've put it through its paces, and it handles lovely. Sure it's not quite rigged right which is a shame, but it holds on in the corners, spreads the water away in the chop and sits nicely in the millpond we had.
A call comes in, and the boat is needed at Westhaven for a demo – I was quick to suggest we all thunder down the harbour, and it might give me an excuse to stretch its legs. Off we went, and you guessed it. Hammer down all the way home.
We have a quiet and comfortable ride in a side sea surfing the small half metre swell, and the boat sat beautifully. A slight right around North Head towards Tamaki and the high speed lane, we were treated to the short sharp chop of wind opposing tide. Using a little trim to keep the nose down, the boat cut through the chop nicely. The tubes cushioned the ride and the design of the hull spreading the water.
Down to 12knots, and the boat demonstrated that it just wanted to go – we had to calm it down constantly, so we didn't go too fast. This is encouraging, as at no time did I find myself having to feed power in to keep going continually. With three onboard and all my junk, we weren't the lightest either, so this was impressive.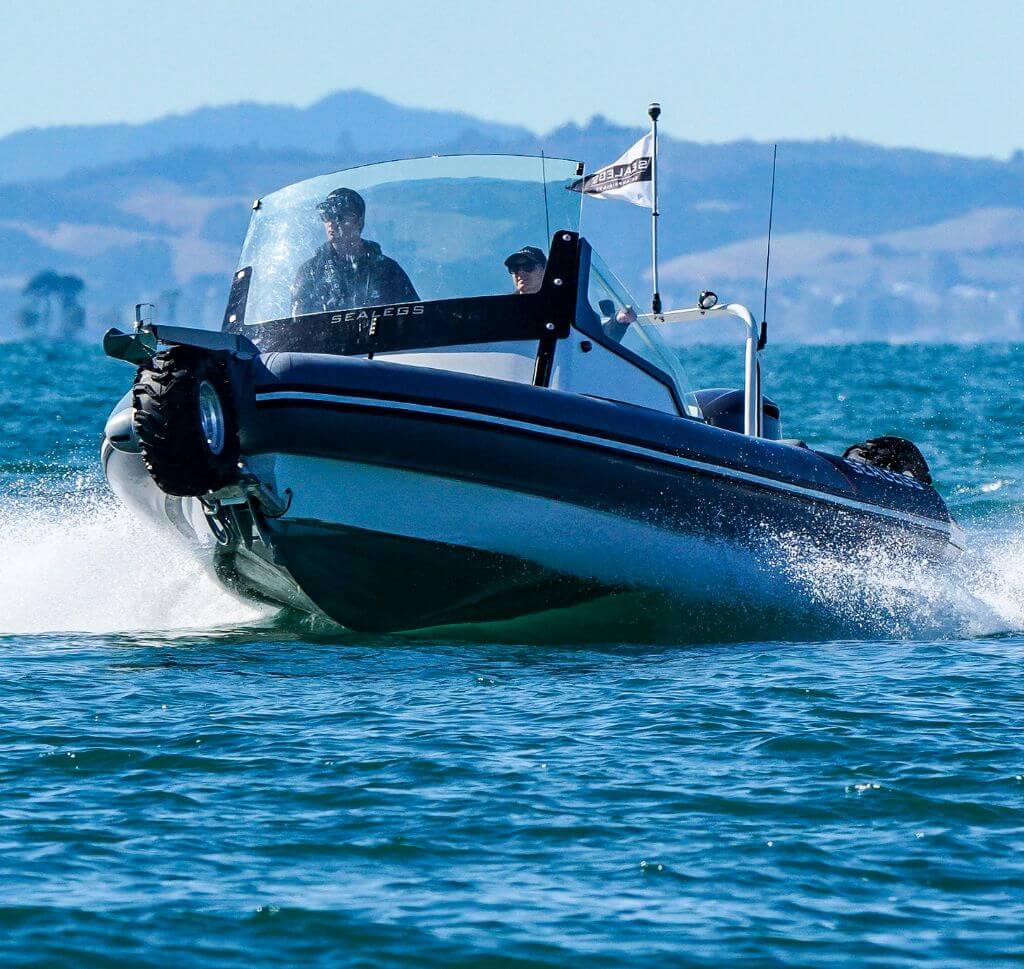 The only real gripes I have with the boat are features that can be ironed out as this is a prototype design. At 1.9m tall, the helm seats were too close to the console, so seated driving was uncomfortable. The Inboard engine air intake and exhaust, are in the centre console , with the  engine exhaust is at the bottom of the boat.  Also, the forward area that is accessible by walking over the tubes either side of the centre console. The forward cushion wasn't removable for someone to stand forward. If fishing or anchoring, this could be a bit of a gripe, but Sealegs promised more development in that area would see options of a smaller seat or no seat forward. I genuinely believe that it will be a fantastic design for the family and work alike with these couple of kinks ironed out.
Technically it is the same as the other 750 hulls with the Briggs and Stratton 35hp petrol engine neatly housed in the console. In the same stroke of brilliance, both the wheels and the outboard use the same fuel source, so no mistakes at the end of the day running out of gas before you come out of the water. There is an electric Electrosol option as well, which is powered by a 7kwh battery and a 1.5hr runtime which should be enough for a weekends use.
Overall, well, no, not Overall, is a bit of a well its average, and how do we dress it up. This boat does not suit overall at all. The Sealegs 7.5 Semi-Cab is a first for amphibious RIB style boats, and it's a winner. It's dry, warm, spacious and very practical.
I am looking forward to the further development of this series of layout from Sealegs, and I believe kiwis that have traditionally opted for a centre console instead of a cabin will find this a welcome change from wet, cramped centre consoles.
Boat Design Name: Sea Legs 7.5 Semi-Cab RIB
Builder: Sea Legs
LOA: 7.5m
Beam: 2.71m
Deadrise: 21 deg
Construction: Alloy
Fuel Capacity: 180L
Engine Range: 150 – 250hp
Test Power: Yamaha 225
Max Speed: 38knots
MFD: Simrad 10inch
Trailer Make: Voyager Trailer
Priced From: $NZ255,645
Price as Tested: $NZ307,659.50
| | | | | |
| --- | --- | --- | --- | --- |
| RPM | Knots | L/h | L/NM | Range  (NM) |
| 1000 | 3.6 | 3.1 | 0.870 | 150 |
| 1500 | 5.3 | 4.7 | 0.890 | 150 |
| 2000 | 7.0 | 6.3 | 0.900 | 150 |
| 2500 | 8.0 | 8.5 | 1.100 | 120 |
| 3000 | 11.0 | 15.3 | 1.400 | 96 |
| 3500 | 16.1 | 19.4 | 1.300 | 100 |
| 4000 | 24.0 | 24.0 | 1.000 | 130 |
| 4500 | 31.0 | 28.2 | 0.910 | 140 |
| 5000 | 34.0 | 31.9 | 0.940 | 140 |
| 5500 | 35.7 | 35.3 | 0.990 | 130 |
| 5800 (WOT) | 38.0 | 87.0 | 2.300 | 58 |