The Seaswirl 2601 walk around is an extremely versatile boat that delivers just about everything you need for a multi purpose boat that will suit fishermen as much as it will those keen on weekend cruising.
Seaswirl is one of those American brands that has established itself in the local market in recent years, but also comes with a history that dates back many more years. In the 1980's, OMC, the importers of Johnson and Evinrude outboards decided to have a go at importing boats. The Seaswirl, along with Four Winns and Donzi was marketed into the local market and although initial sales were encouraging, they failed to make a serious impact and were discontinued after only a few years.
In 2003, Seaswirl arrived back on our shores and after a mediocre response the brand has now gathered momentum. After a close examination of the 2601 walkaround, the second biggest of the range ( there is also a 2901 WA) which Auckland agent, Gulfland Marine, has made its own, it is easy to see why.
I was given a brand new 2601 Walk around to play with and when I say brand new I mean brand new! The first time the twin Mercury Verados murmured into life was when I turned the keys on the ramp at the Weiti Boating Club on the Wade River in Auckland.
I drove the boat to Gulf Harbour, a mere couple of nautical miles away, but I spent more than an hour getting there as I learnt more about the boat. The sea conditions were calm and the big offshore fishing boat was looking for rough water. Any boat would go great in these sea conditions. Unfortunately even after running the boat on the following day for our photo session there was never more than a ripple.
But let's face it, the boat's big, bulky and looks tough. It has a reasonably deep V, straight wide chines and strakes and is designed for bluewater boating. I have no doubt it's going to be a good performer in the rough and well suited to offshore fishing.
This is a boat that is destined for people who are experienced boat owners who know what they want. It's not for the first time boatie and it's not for anyone who is going to do all their boating in calm water.
To me it's a boat that loves to be run hard and mean. The more the power the better it goes. Our test boat was powered by twin Mercury Verado 150s that gave us a top speed of 47.5 knots on 17" four blade Mirage props. The engines both spun to their maximum of 6500 rpm, so with a pair of 19" Mirages, the speed would be up maybe 3 mph – 4 mph and a decrease of 200 rpm.
This is a boat that you would be right at home trolling for hours gamefishing and the Verados are totally perfect for that purpose.
At 1000 rpm on both engines we recorded 4mph on the GPS and a fuel miserly 4.6 L/h. At 1500 rpm this rose to 5 mph and 8.2 L/h and at 2000 rpm we jumped to 9mph and 13.6 L/h. This is when the big Seaswirl started to get on the plane.
For those into cruising, at 4000 rpm we recorded 30mph @ 43.4 L/h and at 5000 rpm this increased to 38mph @ 67.2 L/h. It's a easy boat to drive and responds instantly to steering commands. The Verados provided great acceleration from virtually anywhere in the rpm range.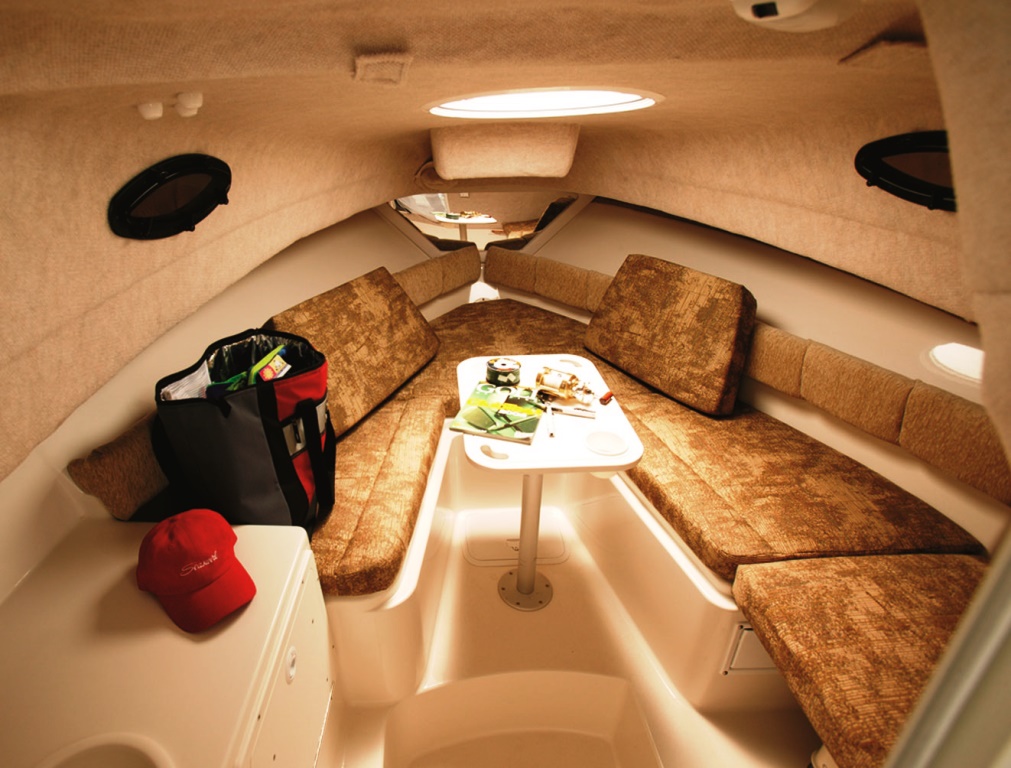 The interior of the Seaswirl 2601 has been set up for overnighting, be it a few guys away on a fishing trip or a couple on a weekend cruise. The versatility of the design is what makes the 2601 such a good boat and as is typical for American boats of this size, every available space is taken up with something useful.
For a start the accommodation features a full-length single berth to starboard and a 1.8m berth to port. There is also an optional infill that turns it all into a very comfortable double.
The Jabsco toilet is plumbed in under a removable squab, with a neatly compact moulded galley unit opposite. There is a hand pump for fresh water, a small bowl and a single burner alcohol cooker that is concealed when not in use. Should you feel the need for a larger cooker or even a microwave there is plenty of space left to accommodate them.
Storage is always important, especially if you are planning overnight or extended trips in the boat. The 2601 provides you plenty inside, with wide side trays and large areas under the three squabs.
If you do decide to dine aboard then the 2601 comes with a removable central table, which also doubles as the lid of the forward storage compartment. The recessed sole allows you to stand by the galley when cooking and the sitting headroom is excellent for three or four adults.
Ventilation is via a large circular opening hatch complete with bug screen and a mirrored forward bulkhead gives a feeling of a lot of space inside and small elliptical side ports let in extra light.
What I particularly liked about the cabin was the practical way it has been set up and the fact that it wasn't too cute. Lightly toned fabric lining makes it warm and appealing, while the GRP cabin sole adds a touch of practically..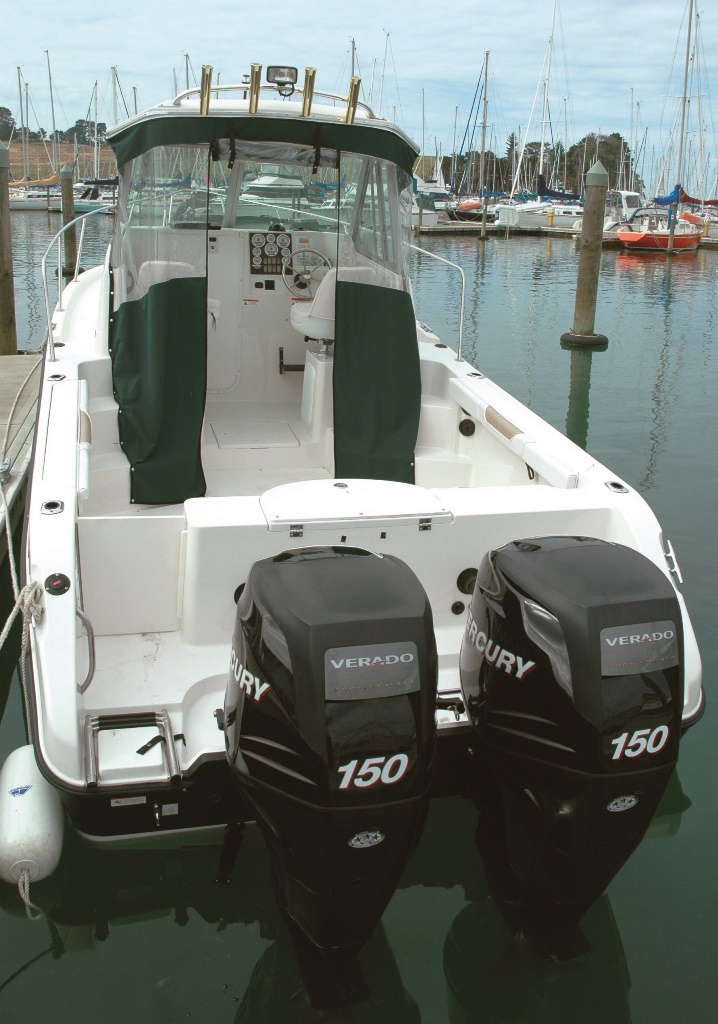 The cockpit is split into two distinct spaces with the raised helm forward and the open fishing area aft. The helm on our test boat was not yet fitted with electronics and came with the standard SmartCraft gauges for the twin 150 Verados. There is a huge recess moulded into the dash to allow the fitting of aftermarket electronics.
The helm driving position is excellent either seated or standing, with the full wrap around hardtop making boating in all conditions so much more pleasant.
There are drop-down foot rests for both the driver and passenger forward and the 2601 even comes with a built-in tackle box. Storage is provided in the moulded seat bases, which have swivelling fully adjustable bucket seats on top.
Anyone taller than me would find the hardtop a little low however, as maximum clearance is 1.84m. Sliding side windows let in some extra  ventilation, which I certainly appreciated on the hot days I tested the boat.
There are further huge storage compartments under the cockpit sole both fore and aft, in compartments behind the two seats and also a couple of kill tanks.
At the business end it's all about making the best use of the space and the 2601 has it done right. If you are a fisherman then you'll love this boat. The coaming heights have been kept down to 700mm from the sole, there is deep recess space below and good soft padding. Perfectly set up for serious fishing with 3 to 4 rods.
There are also no deck obstructions to catch your gear on, with flush mounted stainless steel rod holders. The cleats are set back well aft on the portofino and out of the way. Although the boat comes standard with a rear bench seat, this can be taken out when fishing takes over, so there is nothing but open cockpit space.
The centre of the transom features a cutting board with a huge elliptical kill tank with recirculation pump. The cockpit is fully self-draining with large scuppers. It's also an easy boat to clean when you come home or while you're fishing thanks to the onboard both wash-down hoses, one for salt water and one for fresh water.
For divers, the telescopic ladder is a handy feature, with generous deck areas either side of the twin outboards.
Being a walkaround, the fishing area is extended right to the bow. Wide 200mm side troughs lead either side to the forward deck area where there's also another seat recess and plenty more flat deck space to stand when fishing. Our boat wasn't fitted with an electric capstan but this can be included in the package, so that anchoring can be done without leaving the helm.
The 2601 WA is one of the biggest sellers in its class in the USA and while kiwi buyers are more attracted to aluminium hardtops, the 2601WA does offer an interesting alternative.  If you don't like the idea of twin outboards then there is the option of a single sterndrive with options from both MerCruiser and Volvo.
This is a boat that is going to suit anyone looking for a big hardtop but prefers GRP to alloy. It's a boat that has the power and the bullish looks to take on our local sea conditions with ease and can certainly offer the ultimate fishing experience.
Model : Seaswirl 2601 WA
Price As Tested: $170,000
Type: Walkaround
Construction: GRP
LOA: 7.08m
Beam: 2.59m
Deadrise: 20 deg
Height On Trailer: 3.60m
Trailerable Weight: 2600kg
Engine Capacity: 400hp Outboard
Engine:  2 x Mercury 150 Verado