Designed by Auckland based LOMOcean and built by Harkin Boatworks in Whitianga, SeaWolf is a compact, ultra-long range, ocean capable sport fish boat, tailored to charter fishing and exploring the remote islands of greater French Polynesia.
Tom Francis started as an apprentice boatbuilder in the mid-1990s, under designer and project manager Craig Loomes and foreman Brian Harkin at a boatyard in Auckland, working on an innovative, ground breaking project. 
That boat was to prove life defining for Tom – she was a 27m long, 10m wide wavepiercer sport-fisher named Ultimate Lady –  and the apprenticeship ended up going by the wayside as Tom followed his passion for game fishing and signed on as deckhand.  Remarkably, just one year later at the age of 23, Tom ran Ultimate Lady as Captain for the first time and, by the end of 2001, was the full time, permanent skipper.  Soon, stories started to filter back from the Wanganellas and far beyond – 24 marlin in a day, five fish hooked up and landed at a time – and record breaking marlin over 1000 lbs.  
Fast forward fifteen years and Tom was looking to the future.  Settled in Ultimate Lady's permanent home of Tahiti, the idea of SeaWolf Expeditions was born around the concept of a compact, ultra-long range, ocean capable sport fish boat, tailored to charter fishing and exploring the remote islands of greater French Polynesia. It had to be nimble and the faster it could go backwards, the better.  It also needed the ability to react quickly to changes in direction and to accelerate hard – either forwards or astern.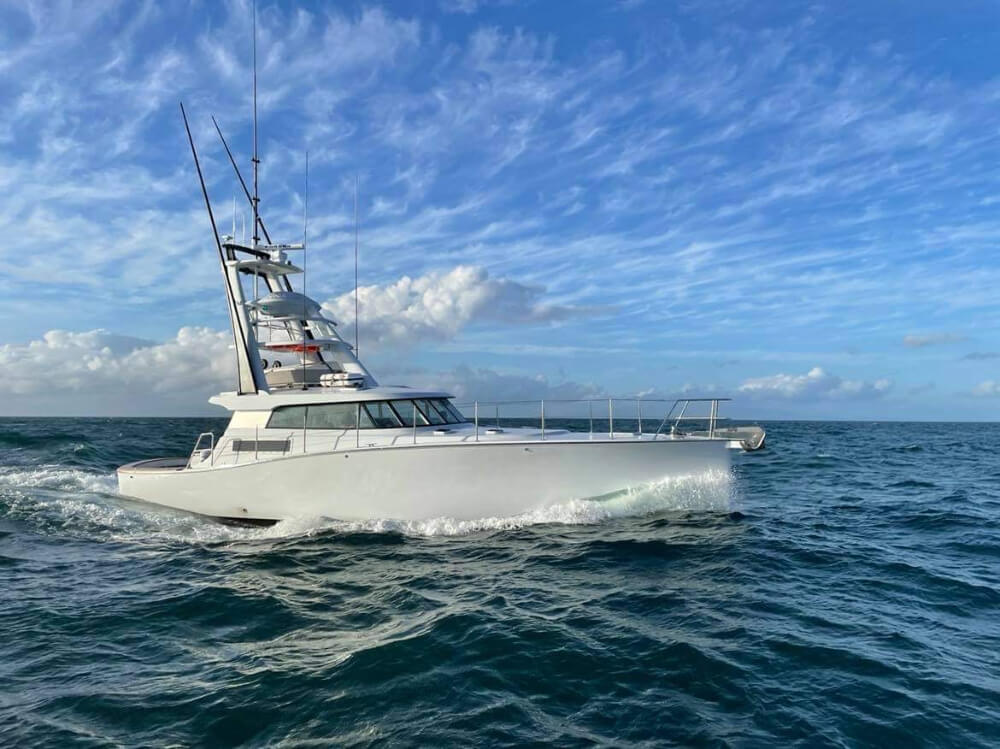 No enclosed flying bridge was required – although height above water for good visibility at the control station is vital –  and it needed to offer comfortable accommodation for charter bookings that could last for well more than a week's duration.  The long-range capability and comfortable accommodation would also offer opportunities for non-fishers keen to go places most others can't  for diving, snorkelling, photography and exploring.
Given his experiences on board Ultimate Lady, Tom turned to Craig Loomes, Andre Moltschaniwskyj and their team at LOMOcean Marine for design and naval architecture.  To complete the circle, Tom approached his erstwhile mentor and long-time friend, Brian Harkin, to build the boat with a small team in Whitianga. SeaWolf  was launched in the late summer of 2021 and we got to tag along during one of the commissioning trials. 
First impressions of the boat on the water are of old meeting new – a soft bilged displacement hull with graceful sheerline running back from a plumb bow, chased hard by a long foredeck but with an aggressively raking and sculptural tuna tower atop the crisp, modern pilothouse, resulting in something quite new and unique.
The boat was constructed without conventional moulds, from epoxy, E-glass, foam sandwich materials – plus a bit of carbon fibre where needed – and the Harkin team's craftmanship shines out in the crisp, fair lines,  perfect paintwork and custom componentry.  There aren't many yards left in New Zealand building bespoke composite boats anymore – and this adds to the special, artisan built feel of SeaWolf.  For those who know their boats, she could never be mistaken for a production built clone.
Although likely fodder for endless debate, SeaWolf has only one main engine – a 12.4 litre MAN diesel, continuously rated at 382 kW.  There are good arguments both for and against singles or twins and Tom picked a single.  He is also a keen kite surfer, so the "get me home" choice of a readily stowable, easily handleable French SeaKite sailing system was obvious for him, although future boats could use a number of interesting alternatives, including electric hybrids.   
An element of the driveline not commonly seen on a game boat is the Hundested controllable pitch propeller.  Often used in large sailing yachts to tailor engine load whilst motor sailing, SeaWolf makes excellent use of the ability to pitch the propellers from forward to reverse without a change in engine rpm, nor with the need to clunk through neutral and into reverse and vice versa.  With high rpm already dialled in, Tom can call almost instantly on a lot of horsepower to get the desired acceleration in either direction and keep the boat  pointing where he wants relative to a hooked up and energetic marlin.
Conditions on the day of our run on the boat out from Whitianga were good – a brisk but dying sou-westerly leaving a 1m+ surface chop on top of the usual easterly swell encountered on the ocean side of the Coromandel Peninsula.  The intention was to put some hours on the engine and to load the genset up hard for a few hours to shake things down, so it was a good opportunity to also tow some lures out the back of the Aldermans and get a feel for the boat doing exactly what she will spend much of her life doing. 
Given the gyro stabilizer wasn't operational on the day, it was also a good chance also to see if the round bilged hull 'rolled her guts out' as many (although not her designers!) expected.   We can report that the boat feels surprisingly stable with a very pleasant motion, particularly when underway. 
And a few weeks later, during the delivery trip from Whitianga to Auckland in more boisterous seas, the Italian made Quick branded gyro did an excellent job of locking the boat up in roll when the going got rough.  At trolling speed, the wake is surprisingly flat and offers a huge window within which to run lures.  And with fuel burn at less than 1 litre per nautical mile at 8.5 knots, remarkably, we could have cruised to Fiji and back and still had plenty of diesel left.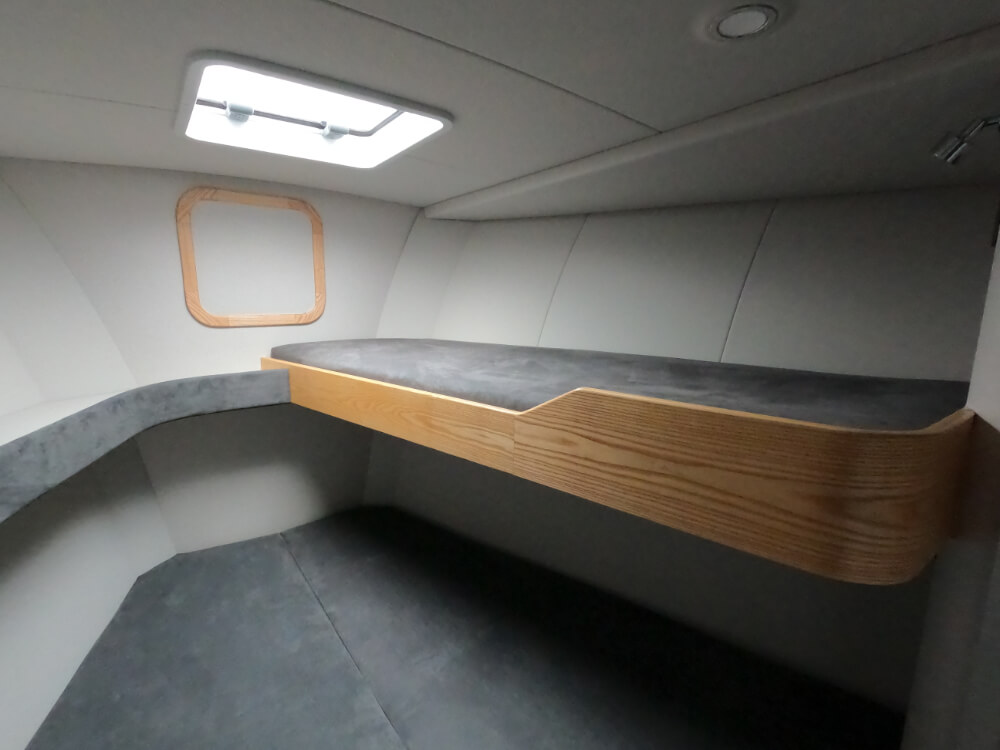 Waypoint Electronic's Wayne Limbrick was on board commissioning the sonars – so there were a few rapid changes in direction when a marlin mark was spotted onscreen – and we got to experience waves from every angle.  To her crew, the feel of the boat is very much like a conventional planing hull at slow speeds and those fast changes in direction showed that the "nimble " part of the design brief was well achieved.  The rudder is specially designed to be as effective when going astern as it is moving forward – and sea trials in reverse topped an astonishing 14 knots. 
The electronics package is the most sophisticated you could ever expect to see on a boat of this size and includes Furuno WAASP, Simrad ES80 and MAQ Omni sonars that are usually seen on superyachts or commercial fishing boats.  This gives SeaWolf the ability to mark individual fish nearly a kilometre away – and to read the bottom at around 4000m for unparalleled fishing finding capability.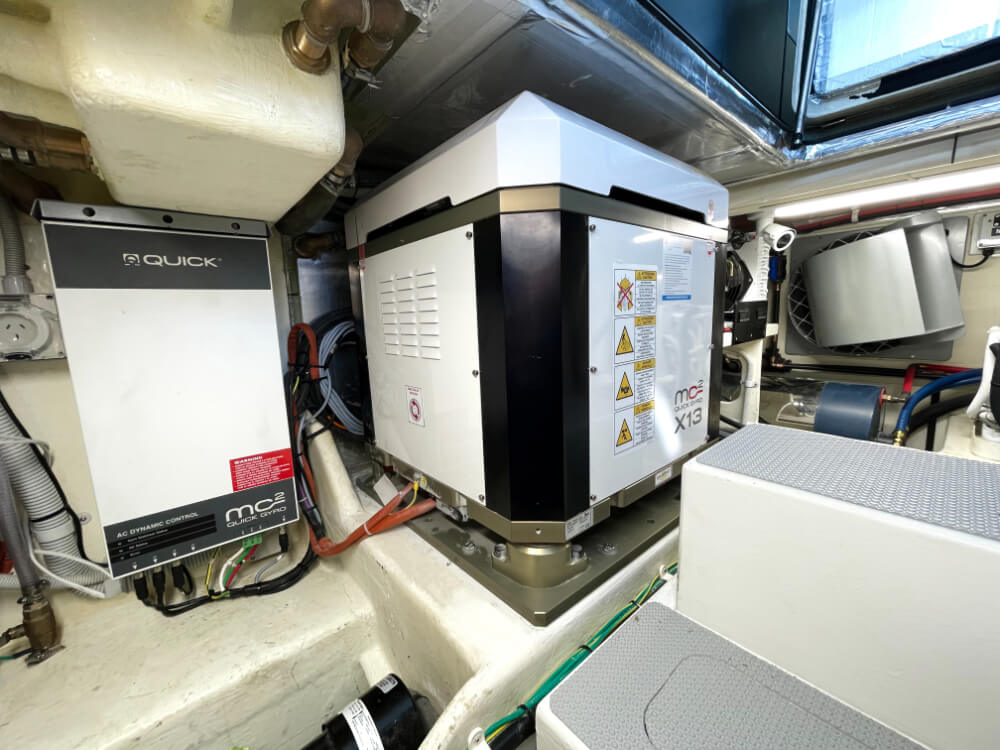 As expected of a dedicated game fisher, the cockpit is huge and equipped with an equally large custom built game chair, a discreet transom door, wide teak coverboards, underfloor freezers, a kill bin with icemaker – and big drains. Tuna tubes and live bait tanks are collapsible and can be set up when needed or stowed when not. Doors set into the forward coamings open to reveal super tidy stowage for tag poles and gaffs – and lockers abound for safety gear, lines, fenders etc etc. The overall impression of the aft deck is one of a clean, uncluttered work space with a singular focus on fighting fish.  
Moving forward, we found a an aft facing upholstered settee to port, for those watching the lures, with drawers in the seat front offering storage for tackle and gear.    On the other side is a workbench with lift up lid covering a wash basin.  Up a step and through the glossy black door and into the air-conditioned saloon, you are greeted by a modern, well laid out galley to port, with a big basin and plenty of bench space.  The interior has the feel of a modern apartment with hardwearing wood effect vinyl plank flooring complementing the charcoal upholstery and contrasting with the crisp white coamings and headliners.
Opposite the galley is a settee for those having a drink and chatting with the cook; forward is the generously sized dinette, directly across from the compact helm station.  For her New Zealand sea trials – conducted as autumn chill settled into winter cold – this was certainly treated as the main helm station and offers excellent visibility over that long foredeck and indeed all around.  In Tahiti this control station will be secondary to that mounted on the sculpted, carbon fibre tuna tower, where Tom will spend much of his time.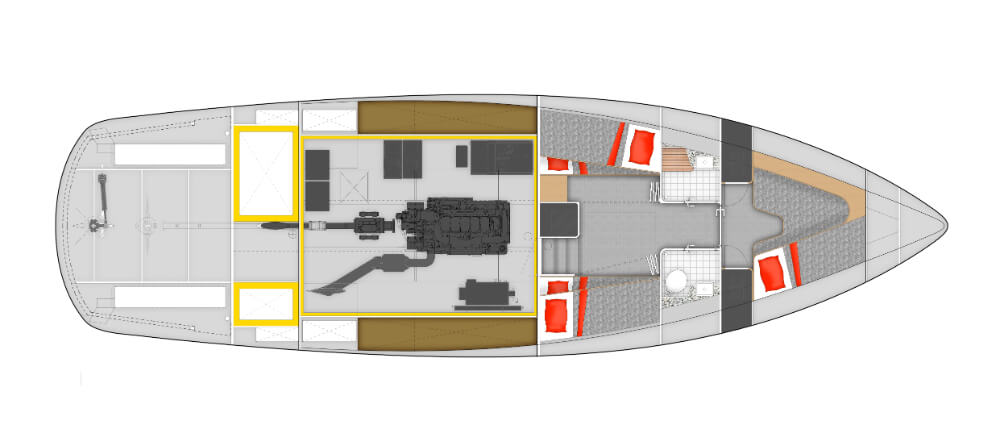 Access to the tower is a bit of a scramble via a stubby stainless steel ladder, up past the roof stowed tender to the lofty heights of the sheltered console, offering great views in all directions. The vintage styled game poles snugged up against the tower legs when parked are also made of carbon fibre and complement an integrated gantry that will allow Tom to weigh fish onboard. 
Down the companionway stairs and forward is the accommodation, which comprises two spaces – one aft with quad bunks that can be divided into two separate cabins by a cleverly hidden divider – and one in the bow, offering a two low bunks and one high.  Snakeskin vinyl upholstered panels combine well with the American ash trims and clean white upholstered headlining.  Splitting the two cabins are separate,  generously dimensioned toilet and shower compartments, neatly faired with coved corners and painted in easily cleaned white semi-gloss lacquer.
After a solid day at sea it was time to head back to Whitianga and the engine lever was pushed against it's stop – a place the engine is rated to stay at all day, so sprint speed is also cruise speed.   Proving that the term 'hull speed' is not an impassable brick wall for a displacement hull, SeaWolf lopes along at 16 knots into a head sea when fully loaded – and touched close to 20 knots surfing home on the long easterly swell.   The boat feels completely in control when surfing, the rudder offering plenty of steering authority.  The bow quickly pops clear as the boat accelerates down each wave, leaving a foamy, flat wake behind a dry transom and it was a happy crew that slipped back into Whitianga as darkness fell.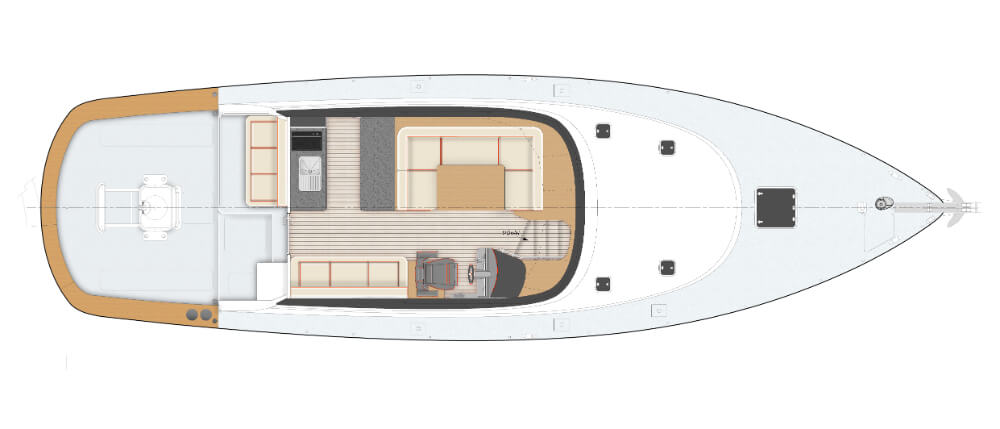 Ryan Castles from Pine Harbour Electrical installed the electrical systems on SeaWolf.  An experienced and accomplished game fisher in his own right, he served as commissioning skipper, so knows her systems and how she performs better than anyone.  His verdict?  "The long range achievable with this boat is amazing – and the flat wake is a winner for trolling lures.  It's a really comfortable boat at sea and I love the fact that it can go places – the Wanganellas for example – that other boats this size can't.  If I could afford it, I'd buy one tomorrow".  High praise that bodes well for the future South Sea adventures of Tom,  SeaWolf and those lucky enough to enjoy chartering her.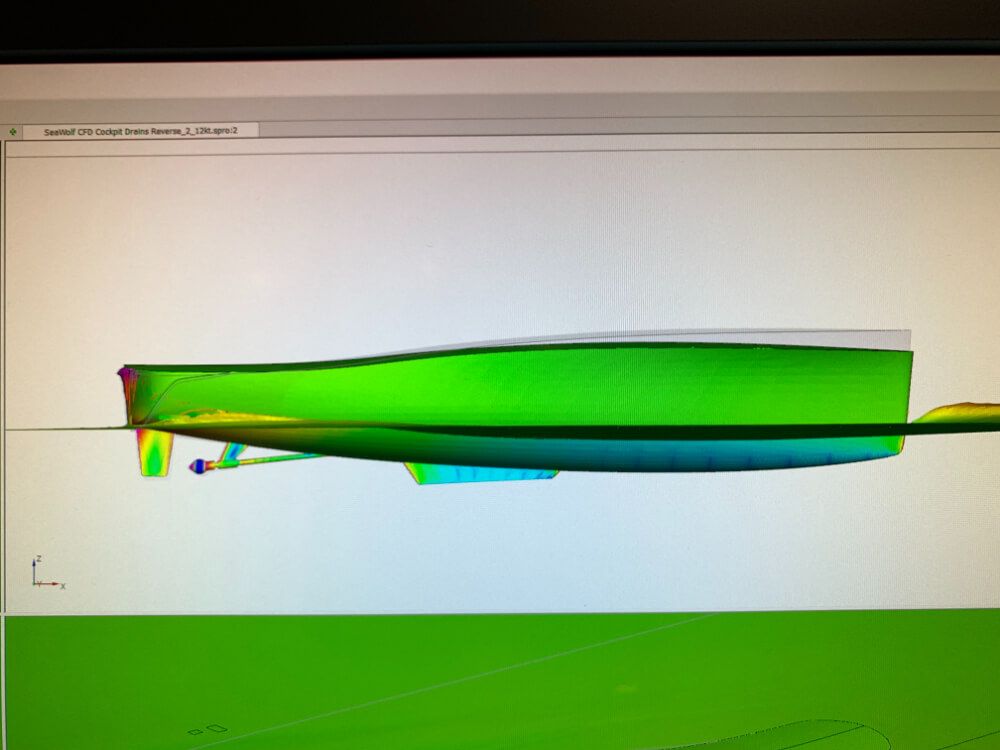 Name: Sea Wolf                     
Builder: Harkin Boatworks
Designer: LOMOcean Marine
Type: Sport Fisher
Construction: GRP Composite
Displacement (Heavy): 21418 tonne
LOA: 14.90m
LWL: 13.27m
Beam: 4.40m
Draft: 1.25m 
Power: 1x 12.4 litre MAN @ 512hp.
Propeller: Hundested controlable pitch propeller
Cruiser Speed: 12 knots
Electronics: Furuno WAASP, Simrad ES80 and MAQ Omni sonars
Paint: Awlgrip / Iternational                         
Anchor Winch: Lofrans
Stabiliser: Quick Gyro
Fuel Capacity: 4000 litres
Water Capacity:1700 litres
| | | | | |
| --- | --- | --- | --- | --- |
| RPM | Knots | L/h | L/NM | Range  (NM) |
| 613 | 6.5 | 4 | 0.62 | 4500 |
| 697 | 7.2 | 6 | 0.84 | 3300 |
| 794 | 8.4 | 8 | 0.96 | 2900 |
| 893 | 9.3 | 14 | 1.6 | 1700 |
| 1012 | 9.4 | 18 | 2 | 1300 |
| 1190 | 10.2 | 30 | 3 | 930 |
| 1299 | 11 | 41 | 3.8 | 730 |
| 1398 | 11.8 | 52 | 4.5 | 620 |
| 1587 | 13.3 | 75 | 5.7 | 480 |
| 1609 | 15.9 | 88 | 5.6 | 490 |
| 1783 | 16.1 | 96 | 6 | 460 |