In the realm of trailerable powerboats they don't come much bigger than Southern's XP 876. Freddy Foote steps aboard and goes through this eye-catching creation. It had been a number of years since I had tested a Southern. The company in recent years had gone through different ownership hands and a few tweaks in design, but now has stronger ownership whilst the brand itself retains it's core strengths that has made it always so popular on the aluminium boat market. As well as getting onboard another Southern, I was also pretty excited to get onboard one of the most talked about boats from this years Hutchwilco New Zealand boat show, and to see whether it deserved the $300,000 price tag.                                     
With that also comes a small yet strong dealer network, with Queenstown Marine retailing the brand in the Deep South, Boat City in Wellington handling the lower north island and upper south, while Family Boats in Auckland handles northern sales.
With a length overall of 9.43m, the Southern XP 896 is currently the company's longest production model on offer. Add to that a beam of 2.9m and it is also the widest. Basically it's big! Real big. This particular model was built as a spec boat for Southern's Auckland dealer Family Boats. And as far as a spec boat goes, it had pretty much everything you could ask for and more .This XP 896 was designed and built as an all rounder with all the amenities to be a very comfortable day boat with more than adequate overnighting capabilities, whilst still having all the features and space to appeal to the more serious fishing types. On the water, this design is quite apparent, the boat visually is well balanced with a good split between cockpit and cabin size compared to the overall length of the boat itself. Starting in the forward cabin, a large vee berth converts to a very sizeable double with the addition of an infill. The cabin is fully lined with carpet giving a warm feel, and has storage available underneath the bunks.                              
To the port side opposite the helm is a table with seating for four people. If needed, the dining table can drop down with an infill added it creates another berth big enough for two. When underway, the forward seat allows passengers to sit facing forward, or it too can be removed to allow passengers to stand if they wish. Opposite, a large comfortable helm seat gives the skipper a great-unobstructed view forward and to gaze over all the various instruments and controls mounted into the dash. Though a footrest wasn't fitted, it can be, with Family Boat's electing to wait on fitting one until a buyer indicates their preference on positioning.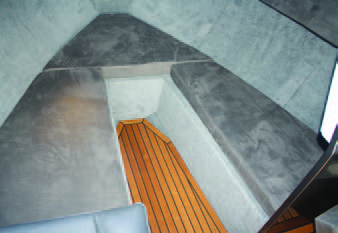 This XP 896 got the fully accompaniment of Raymarine electronics, including their E127 Hybrid Touch 12-inch screen. Also fitted in an around the tidy dash area was a Raymarine VHF, a Fusion stereo system, controls for trim tabs, the Marineco spotlight on the roof, and the Maxwll RC8-6 capstan for anchoring. Underneath the helm seat sits a sizeable fridge, which opens into the companionway. Behind the helm seat comes a small kitchenette unit with a gas hob and small sink alongside, the sink fed via a 100-litre fresh water tank, which can be specified to 150 litres if you desire the extra capacity. Underneath you get draws that store crockery and other kitchen items.
There are storage locations throughout the boat, including under the seat at the dinette. An underfloor storage locker in the sole of the cabin can also be specified at the time of construction. The interior of the cabin is finished with black vinyl and grey macro suede giving what I thought it's a really stylish finish. Add to this LED lighting throughout the entire vessel and it's going to look good day or night.
Stepping out through the double cabin doors into the cockpit a small sink unit is located in the front starboard corner, the gas bottle for the burner is housed here, and a califont is housed in a locker built into the gunwale. Opposite in the front port corner, is a full sized shower and toilet unit, and being lockable can double as storage for those valuable game rods when the vessel is unattended. The spacious cockpit has high gunwales with thigh padding to assist anglers. Double cockpit shelving takes care of storage for rods, and with full carpeting throughout, it'll keep them in good shape too. A walk through in the starboard corner gives spacious access to the boarding platform and accompanying dive ladder. Over to port, a boarding platform is mirrored from the opposite side, and the above transom section houses a sizeable live bait tank – neatly finished in teak above.                   
In the centre of the transom are two lockers which the batteries and can store various items, whilst below is housed the onboard systems for engines fuel filters and pumps etc. Above is the large and removable bait station, which features six-rod holders. For extra storage and seating, two large 70L Icey-Tek insulated bin seats can be housed under the transom corners.
A Teak finish is highly noticeable throughout, with the cockpit and coamings in a raw form, whilst the sole of the cabin gets a beautiful two pot polyurethane finish. Wide side decks around the cabin provide access to the foredeck, and should you wish there is provision above to store a small tender for going ashore.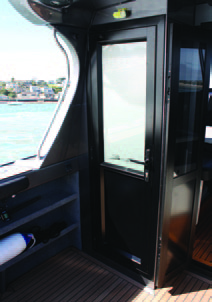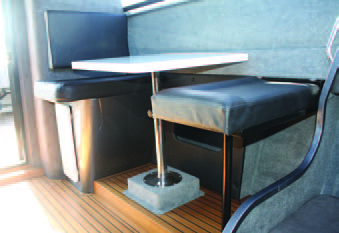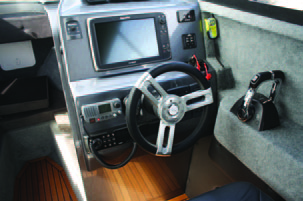 Bolted onto the transom were two of Yamaha's latest in-line four-cylinder F200XB outboards. These new generation outboards have a number of benefits, making them ideal for a twin rig application such as this XP 896. Firstly, they are just as light as Yamaha's 150hp outboard, but narrower than a 200hp V6 model, which allows builders to mount the engines closer together. 
Yamaha says that the four-cylinder F200XB outboards aren't as torque as their V6 counterparts, however on our test day you would hardly have noticed. The two F200XB's gave awesome acceleration and punch out of the hole, and mid range grunt was fairly exceptional too. Economy wasn't bad either 4000rpm and 31.0mph on the GPS, the twin Yamaha's had a combined fuel burn of 51lph. Peg that back a bit to 26mph at 3500rpm and the fuel burn is 38lph.
Other power options come in the form of single 350hp outboards, or diesel sterndrive applications are available too. At the wheel, the big XP 896 was a pleasure to drive. The throttles for the Yamaha's were within easy reach as were the controls for the trim tabs – a must for the blustery and choppy conditions we experienced on Auckland harbor. Out of the hole, there was very little bow lift and once up on the plane and underway it rides very level.
The hull ate up the chop with ease and as we blazed back to Half Moon Bay at 35mph we soon left out smaller Southern photo boat, an XP 676 with a Yamaha 150hp four-stroke in our wake. There really isn't anything like waterline length when you want to get somewhere quickly! Not to mention the extra 250 horsepower we had bolted on the back. Fuel supply comes via a sizeable 400-litre fuel tank, if that isn't enough, it can be fitted with a 500-litre option if you need.                                          
Though it is wide and it is long, the XP 896 isn't as big as you may think, particularly when it comes to weight. It weighs in at 3200kg on the trailer, meaning that it is still able to towed by a modern four-wheel drive double cab utility. The hull of the XP 896 is constructed from 6mm aluminum; whilst the hardtop section above is actually resin infused meaning you still get all the strength without a whole lot of weight.
Packages for an 896 start from $225,000 and that will get you a Yamaha F350 V8 outboard on the back, and without a trailer. Our test boat was priced a little higher than that and came with a trailer, as you would expect with a near on $300,000 price tag, the overall finish and presentation of the XP 896 is truly exceptional. Ultra high quality fittings have been used throughout almost with a no expense spared attitude, and the overall finish is certainly top notch. Worth $300,000? Absolutely every cent.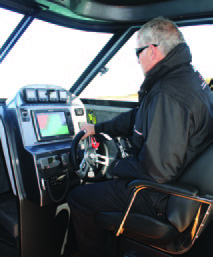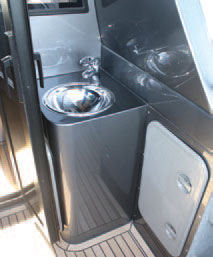 Make & Model: Southern XP 896
Manufacturer: Southern Boats
Priced from: $225,000
Price as tested: $299,995
Type: Hardtop
Construction: Aluminium
LOA: 9.43m      
Beam: 2.8m
Trailerable weight: 3200kg
Test Power: 2x 200hp Yamaha
Propeller: 18" Reliance
Power Options: Single/twin outboards, diesel sterndrive
HP Range: 300-400hp
Fuel capacity: 400L
Trailer: Custom
Contact: Family Boats Phone: 09 274 0511
Email: [email protected]z
| | | |
| --- | --- | --- |
| RPM | MPH | LPH (Combined) |
| 600 rpm | 3.0mph | 3.0L |
| 1000 rpm | 5.2mph | 6.0L |
| 1500 rpm | 7.5mph | 11.3L |
| 2000 rpm | 8.5mph | 16.3L |
| 2500 rpm | 13.5mph | 25.0L |
| 3000 rpm | 18.5mph | 29.0L |
| 3500 rpm | 26.0mph | 38.0L |
| 4000 rpm | 31.0mph | 51.0L |
| 4500 rpm | 35.0mph | 66.0L |
| 5000 rpm | 42.0mph | 98.0L |
| 5500 rpm | 45.7mph | 129L |
| 6000 rpm | 50.0mph | |